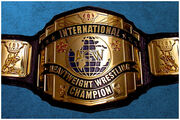 The ACW International Championship is the second highest ranked title in Anarchy Championship Wrestling. It has been a main title since it was created in 2005.
The current champion is Luke Wellington.
Title History
Won By
Won From
Event
Date Won
Spinegrinder
Vacant (1)
Breaking Point
March 30, 2005
Nathan Drake
Spinegrinder
Maximum Overdrive
June 30, 2005
Terry Nash
Nathan Drake
UnHoly Ground
September 20, 2005
Jason Young
Terry Nash
Uprising
March 25, 2006
Jason Young
Vacant (2)
Breaking Point
July 8, 2006
Evan Donovan
Jason Young
Forsaken
August 27, 2006
Zack Fame
Evan Donovan
EndGame
December 24, 2006
Trevor Houston
Zack Fame
Chaos Theory
February 25, 2007
Johnny Johnson
Trevor Houston (3)
Redemption
July 29, 2007
Johnny Johnson
SiC (4)
Damnation
November 2, 2008
DraVen Frost
Johnny Johnson
Breaking Point
March 21, 2009
Luke Wellington
Draven Frost (5)
Breaking Point
March 6, 2010
Notes
(1) Spinegrinder won a 15 man over the top rope Battle Royal to win the vacant International Championship.

(2) The International Championship was held up at Maximum Overdrive by Eric Storm as both Trevor Houston and Champion Jason Young fell off the ladder at the same exact time. The following week on Breaking Point, Jason Young won back the International Title in a rematch against Trevor Houston in Rage In The Cage.

(3) Title vacated & retired on October 28th, 2007.

(4) Title reinstated by New GM Ryan Phoenix and was put up between former champ Johnny Johnson against SiC at ACW Damnation. Johnson regain the championship for a second time.
(5) Luke Wellington won the title in a Fatal Four Way contest that also involved David Lee Townsend and Magnes Drachen. Wellington did manage to pin the reigning Champion in the contest.
Ad blocker interference detected!
Wikia is a free-to-use site that makes money from advertising. We have a modified experience for viewers using ad blockers

Wikia is not accessible if you've made further modifications. Remove the custom ad blocker rule(s) and the page will load as expected.