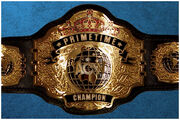 The ACW Primetime Championship is the lowest (fourth) ranked championship title in Anarchy Championship Wrestling. It debuted in 2006 for the up-and-coming stars of ACW.
The current champion is Tyson Sincade.
Title History
Won By
Won From
Event
Date Won
Knuckles Montego
Vacant (1)
Breaking Point
September 3, 2006
Davey Mac
Knuckles Montego
Underground
February 11, 2007
Ryan Phoenix
Davey Mac
UnFNSanctioned
April 29, 2007
The Great#1
Ryan Phoenix
Breaking Point
August 4, 2007
Davey Mac
The Great #1 (2)
Uprising
January 27, 2008
Kris Irvine
Davey Mac
Breaking Point
May 3, 2008
SychoSide
Kris Irvine (3)
Breaking Point
September 20, 2008
Joseph Goode
SychoSide
Breaking Point
October 25, 2008
Kat Rohling
Joseph Goode
Dawn of Existence
March 29, 2009
David Lee Townsend
Kat Rohling
Maximum Overdrive V
June 28, 2009
Evan Donovan
David Lee Townsend
Omega Effect
November 29, 2009
James Matthews
Evan Donovan
Dawn of Existence
March 31, 2010
Tyson Sincade (4)
James Matthews
Redemption
Auguts 1, 2010
Notes
(1) Knuckles Montego defeated Blaze MacLeod, SychoSide & James Cash in a Fatal Four Way Match on Breaking Point to become the first PrimeTime Champion.
(2) Davey Mac defeated The Great #1 To Win The Vacant PrimeTime Championship.
(3) In a triple threat match, SychoSide pinned Joseph Goode to win the title while then champion had lost the title without being pinned.
(4) Title was won in an Xtreme Ascent contest that also featured Mark Newcastle. The match starts as a 3 way dance and ends with a ladder match.
Ad blocker interference detected!
Wikia is a free-to-use site that makes money from advertising. We have a modified experience for viewers using ad blockers

Wikia is not accessible if you've made further modifications. Remove the custom ad blocker rule(s) and the page will load as expected.