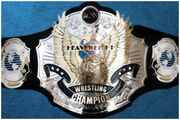 This article needs to be cleaned up.

A user has nominated this article for cleanup. This means it needs to be improved to comply with the standards set in the help guide. If not improved within a month of the notice being put up, it may be deleted.
The ACW World Heavyweight Championship is the highest ranked and most prestigious championship in Anarchy Championship Wrestling. It was created in 2005.
The current champion is Draven Frost
Title History
Won By

Won From

Event

Date Won

Vacant (1)

Unsanctioned

April 28, 2005

Inception

July 28, 2005

Uprising

March 25, 2006

Revenge

November 26, 2006

Chaos Theory

February 25, 2007

Forsaken II

August 26, 2007

Trevor Houston (2)

Uprising

January 27, 2008

Damien Paige (3)

Dawn of Existence

March 30, 2008

Vacant(4)

Forsaken III

September 2, 2008

Vacant(5)

UnFNsanctioned

May 3, 2009

Kris Irvine (6)

Bloodline 6

May 30, 2010

Draven Frost

Vacant (7)

Unsanctioned

June 5, 2011
Notes
(1) This was a match set up for the vacant ACW World Heavyweight Championship.
(2) Due to the closing of ACW in October 2007, all champions were striped of their titles. This match was a set up in the restart of ACW in early 2008.
(3) After defeating Damien Paige, Trevor Houston became the first ACW Grandslam champion.
(4) GM Johnny Chulia vacated the ACW World Title on 9/2/08 at Forsaken III due to Trevor Houston not appearing. Ryan Phoenix went on to defeat Magnes Drachen & Jason Young to win the vacatan World Title in a Xtreme Ascent Match.
(5) After defeating then champion Ryan Phoenix at Dawn of Existence, Phoenix brought forth to GM Johnny Chulia evidence that Irvine used an illegal hold to win the World Title. Chulia had vacated the World Title soon after and thus Irvine's reign as champion was removed from the record books. The title was put up in an Omega X match between Irvine & Phoenix. Irvine came out the victor in the end to become World Heavyweight Champion.
(6) At Bloodline 6, Kris Irvine and 5 others battled for the title in a Pick 6 scramble match. The main was between Irvine, SychoSide, Paige, Spinegrinder, Frost and Donovan. Each man to score a pin before the time ran out would be the interim champion and would not be considered a champion in the record books. SychoSide was the last man to score a pinfall before the timer ran out after pinning Evan Donovan in the last 30 seconds, making SychoSide the official champion.
(7) After many matches between World Champion SychoSide and Draven Frost all going to no contests, the Championship Committee decided to vacate the title. At Unsanctioned on June 5, 2011, Draven Frost defeated SychoSide for the title in a Last Man Standing Match.
Ad blocker interference detected!
Wikia is a free-to-use site that makes money from advertising. We have a modified experience for viewers using ad blockers

Wikia is not accessible if you've made further modifications. Remove the custom ad blocker rule(s) and the page will load as expected.