Anime Extreme Worldwide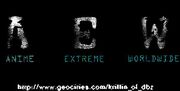 The AEW (Anime Extreme Worldwide)Federation was created in the fall of 1999, following a fallout between the current Owner of the UCTF, President Vegeta, and Weigraf. Weigraf stole several images that were copyrighted to the UCTF, and made an almost identical federation, also based out of Anime City.
Despite the shady means of its creation, The AEW Federation found success. The federation lasted for almost one year, giving the UCTF much needed competition.
One notable moment was in 2000, after a falling out between Vegeta and Jin Saotome. Jin was unceremoniously fired from the UCTF, and jumped to AEW, gaining main event status in the span of a week.
Vegeta, disgusted with the AEW, decided to bring the federation down. Tricking the Owner of the AEW into allowing some of his talent into the federation, Vegeta ordered Jeice and Burter of the Ginyu Force to compete. Not too long after their debut, Jeice and Burter won the AEW tag team championships. During an interview in the UCTF a week later, Team Ginyu placed the titles at the feet of a laughing President Vegeta.
After a few weeks, tired of the slim competition in AEW, Team Ginyu made an abrupt announcement in the locker rooms, dropping the titles, followed by Jin Saotome, who dropped his before returning to the UCTF. With the AEW's owner all out of talent, the AEW was forced to shut it's doors in early 2000. He handed the Federation to President Vegeta, who left the AEW Arena standing as a grim testament to what happens when you attempt to go against the Prince of All Saiyans. Also, the very website that housed all of the records for AEW was promptly destroyed and converted into a mirror for UCTF.com.
Cards
Anime Extreme Worldwide had a weekly show known as "Thursday Smash" throughout their six months of tenure.
They also had a successful, Untitled Pay Per View.
Titles
Anime Extreme Worldwide had a number of titles during its short stint in the business. Those titles included:
A.E.W Championship
A.E.W. Interworld Championship
A.E.W. Cruiserweight Championship
A.E.W. Tag Team Championship
A.E.W. Hardcore Championship
A.E.W. Stable Championship
A.E.W. Iron Man Championship
External Links
Ad blocker interference detected!
Wikia is a free-to-use site that makes money from advertising. We have a modified experience for viewers using ad blockers

Wikia is not accessible if you've made further modifications. Remove the custom ad blocker rule(s) and the page will load as expected.