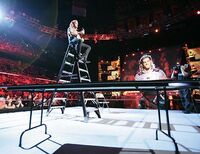 What is an Animal's rules match? It's pretty simple really. Bit of a cross between and table and a ladder match I guess. How do you win? You need to put your opponent through a table from the top of a ladder. You can do that with ever a high flying move with your opponent laid out on the table. Of you can drag your opponent up the ladder with you and hit a superplex or something along those lines from the top through a table.
- The Party Animal August 24th 2005
Match History
| Wrestlers | Event | Date | Winner |
| --- | --- | --- | --- |
| The Party Animal vs. Danger Liam | The Main Event | September 4, 2005 | The Party Animal |
| The Party Animal vs. Reich | Hallowe'en Havoc | October 29, 2006 | Reich |
| The Animal vs Danger Liam | Aggression | May 5, 2008 | Danger Liam |
Ad blocker interference detected!
Wikia is a free-to-use site that makes money from advertising. We have a modified experience for viewers using ad blockers

Wikia is not accessible if you've made further modifications. Remove the custom ad blocker rule(s) and the page will load as expected.