About the Title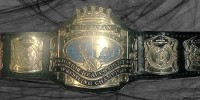 This is title is mostly defend at Super Card events and has a weight limit of 220 lbs and below. Since BPW shut down, Adam Leos received the BPW No Limits title to keep. He now holds it close to him and honors it as his first title belt, and the greatest.
Title Holders
1. Adam Leos def David Gage in Ladder Match at Final Conflict 12/04/07
Ad blocker interference detected!
Wikia is a free-to-use site that makes money from advertising. We have a modified experience for viewers using ad blockers

Wikia is not accessible if you've made further modifications. Remove the custom ad blocker rule(s) and the page will load as expected.