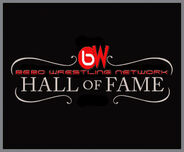 The Bebo Wrestling Hall Of Fame was officially created on September 9th, 2012. The induction ceremony was broadcast on the Bebo Wrestling Network. The inductees are decided by panel vote of a designated Hall Of Fame committee.
As of 2012, there are a total of 10 individual inductees. At present, Hardcore Nev is the only posthumous inductee.
Inductees
Year
Name
Notes
2012
James Williams
First Class
2012
Damien Muir
First Class
2012
TK Jones
First Class
2012
Drake Hearst
First Class
2012
Hardcore Nev!

First Class

Posthumous Induction

2012
Resso Scott
Second Class
2012
Clavo Cruz
Second Class
2012
Steve Awesome
Second Class
2012
Joey Harding

Second Class

Public Vote

2012
Alex Dinan
Second Class
Ad blocker interference detected!
Wikia is a free-to-use site that makes money from advertising. We have a modified experience for viewers using ad blockers

Wikia is not accessible if you've made further modifications. Remove the custom ad blocker rule(s) and the page will load as expected.