CM Banks
Talk

0
11,354pages on
this wiki
CM Banks

Billing information

Ring name(s)

CM Banks
CM Ronn

Height

6'1" (182.22cm)

Weight

222 lb. (90.71kg)

Born

October 15, 1993

Hometown

New Jersey

Theme music

"Bad News'' by G-Unit

Affiliation(s)

Lethal Consequences, Jaywalker, Y2Impact, Hurricane Hawk, Maria

Federation(s)

-

Previous federation(s)

AWF
Extreme Answers Wrestling
NWA
AWA
TTOW

Wrestling information

Alignment

Tweener

Wrestling style

High-flying

Signature Move(s)

Moonsault Variations
Suplex Variations
Crossbody Variations

Finishing Move(s)

Go To Retirement
Pepsi Plunge

Trainer

Mr DEDEDE
HRDO

Handler

{{{handler}}}

Professional career

Debut

June 2007

Record

{{{record}}}

Accomplishments

{{{accomplishments}}}

Retired

June 23rd, 2012
Christopher Ronald Bankerson IV, better known by his ringnames CM Ronn or CM Banks, is an American professional retired e-wrestler who performed in several different notable federations. The former two-time world champion of his own e-federation, Banks is known for both his talent in the ring and out of it. He is most known for creating Extreme Answers Wrestling, a federation that spawned off of Answers Wrestling Federation in 2007.
Career
Yahoo! Answers
CM Ronn started off on Yahoo Answers' wrestling section. He found his way onto the site after googling various wrestling questions and results from Y!A would frequently pop up. He payed it no mind for a while until eventually clicking on the links to see what it was about. From there he would view questions from the site which lead to him joining in early 2007.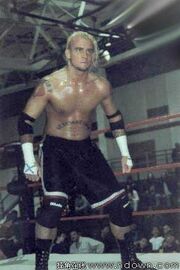 Ronn went by various names on Y!A as he struggled to find an identity to go by as an answerer until his admiration for at the time up and comer wrestler CM Punk helped him come up with a name. He was known on Y!A as "CM PUNK". With a avatar of a CM Punk wallpaper that would be known as his signature picture on Y!A and eventually chatrooms in the future. From there on out he made a name for himself by asking and answering questions on a daily basis for months, he became known for his hate for wrestler Batista by randomly saying "Batisteroids sucks" on various questions. That ended up becoming his slogan for a long time.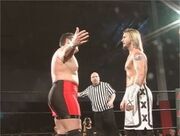 Ronn started to see advertisements in questions for a E-Federation named AWF and he noticed many popular Yahoo! Answers members and Top Contributors were a part of it and acknowledged it. Ronn decided to pay the website a visit after seeing advertisements for a FPV named "Pay Day" and spammed the chatroom anonymous. Weeks later Ronn showed up to AWF's chatroom again anonymous starting a fight with members HRDO, Mr DEDEDE, and Mak, until getting banned forever by WWEFan.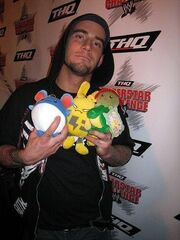 Ronn would end up coming back weeks later visiting under the name "RONN" but not revealing himself to be the Y!A user "CM PUNK" and making some friends in the process. The following morning he came on the chatroom when just Mr. DEDEDE was online and they had a conversation about various topics which eventually led to Mr. DEDEDE asking Ronn to join AWF, under his brand War. Ronn accepted and was officially a member of AWF.
The introduction to Answers Wrestling Federation
Ronn's first match was on a AWF FPV called "SNY Reunion" when he faced an 8 footer named Lights Out and won. He would go on to have various matches on War as a solid Midcarder and a rising star. Notable matches include CM Ronn teaming up with then midcarder, Mak, to take on the AWF Champion Crude in a handicap match in which they lost. Another one is CM Ronn vs Johnny Payne on Legacy, after racist comments made by Payne to Ronn, Ronn decided to ask HRDO for a match against him on Legacy and won in a squash.
The Creation of EAW
Ronn liked the idea of AWF so much that he wanted to make his own E-Fed in hopes of achieving the same success. While in AWF diva Jenny Orton's chatroom along with other AWF members.
Ronn asked around if people would like to help him create and run an E-Fed together. Mak and Evan were the only two people who volunteered, therefore
Extreme Answers Wrestling
was created. Aside from creating the name, Evan didn't do anything and to this day is one of EAW's biggest disgraces along with other people who shall remain nameless.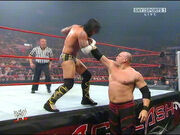 Mak helped build most of the EAW site since Ronn was very inexperienced and didn't know how to work the website much, so Ronn stuck to advertising on Yahoo Answers and brought in members, notable names include Jaywalker, Mr Kennedy's #1 Fan, and Curious Girl. AWF members also joined but AWF Chairman WWEFan didn't take a liking to that and got all AWF members to quit EAW.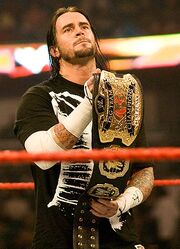 Arguments between Ronn and WWEFan, Johnny Payne, and Mr DEDEDE happened on the AWF chatroom which led to Mr DEDEDE banning Ronn on the AWF chatroom, this turned out to be Ronn and DEDEDE's last conversation before DEDEDE went on a 2 month hiatus. Meanwhile as EAW's first show came close, Ronn would ask Mak to see a part of the script but Mak refused to show him. Mak ended up postponing the date of the show and said it was because of Chris Benoit's death, to this day Ronn doubts that was ever the case.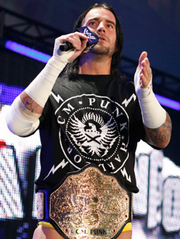 Once the day of the show was postponed to happen on came around, Ronn got a email from Mak who randomly quit EAW and the show never happened. Mak would end up messing up the EAW site making fun of Ronn and Ronn did the same back to him before Mak changed it back to making fun of Ronn and Ronn deleted it entirely.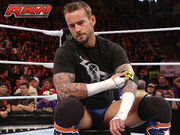 EAW Writer/General Manager
CM Ronn served as both a writer and a General Manager during his time in Extreme Answers Wrestling. It started when Ronn proposed the idea to WWEFan to bring EAW in as a third brand of AWF and WWEFan approved. Ronn included original EAW members and AWF members who werent in any important angles in script as a part of his roster and began writing the show. Ronn wrote the first ever EAW show in which he defeated Jaywalker who was known as Jayjayyyyy at the time capturing the EAW Title. Everything seemed to go good up until Ronn's laptop caught a virus and was unable to complete the second show and didn't have any access to a computer to inform people on his situation. Throughout the weeks AWF members started growing concern over what happened to Ronn and started accussing him of abandoning AWF. While Ronn finally got the chance to contact the people of EAW a month later, he came on to see Mak as EAW writer and champion and he didn't take a liking to it. He would later go on to argue with various AWF members and have animosity. When he got a new laptop he returned only as a E-Fedder and had no more athourity in AWF aside from being a moderator on the chatroom.
The road to AWF's death
CM Ronn played a big part in the leading up to the death of AWF. When he returned to AWF in August 2007, Mr DEDEDE returned from a 2 month hiatus shortly after. Like Ronn, Mr DEDEDE was robbed of the brand he created and wrote and wanted his job back. This would bring much heat to Mr DEDEDE from a group of AWF members which escalated to many problems. Mr DEDEDE would eventually be on the verge of getting fired from AWF over a lie. When Ronn heard Mr DEDEDE was about to get fired, he immediately took DEDEDE's side and it turned out he wasn't the only person on DEDEDE's side. Members such as Ronn, HRDO, and Mak all teamed up and formed a group called "AWF Revolution" which led to other members taking the current War writer, MOP's side forming "The New Breed". As things heated up MOP eventually quit AWF and continued to pursue his own E-Fed ACW with his supporters following. Throughout the next few months ACW continued to throw attacks at AWF and members of E-Feds would continue to argue. AWF was still the much bigger E-Fed at the time but as other E-Feds emerged such as TWL and AWA, AWF gained a bad reputation within those E-Feds and popularity decreased. Late in 2007 the chairman WWEFan decided to resign as chairman and give his spot to Mak while remaining a member of AWF in hopes that it would make things move faster. AWF was still a stable E-Fed up until December 2007 when one situation ruined everything. Up and coming AWF member at the time who was a part of the EAW brand, TWF(True Wrestling Fan) got verbally attacked by various members about his race which was Asian and that led to him quitting. Mak was enraged by the news and ended up quitting AWF while chairman. He gave the AWF password to Ronn and HRDO but shortly after Ronn's laptop was taken away and was gone for a few days. When Ronn finally came on the AWF site he went to the chatroom to see a link to ACW saying that AWF and ACW merged together, Ronn was utterly disappointed. He went to ACW's chatroom seeing plenty of AWF members there such as HRDO, Mak, and Mr DEDEDE and couldn't believe it. ACW members welcomed Ronn but Ronn quickly plotted. He decided to remake EAW as a E-Fed and the resurrection began.
The Resurrection of Extreme Answers Wrestling
Fresh off of AWF's death Ronn got Mak to be Co-Chairman with him and gathered key AWF members back to become members of EAW. While in the AWA chat he was talking to Masters and Masters who was popular on Y!A at the time was disappointed that AWF ended and proposed to help Ronn in any way if he ever needed it, therefore Ronn asked Masters to help recruit members to EAW and he did just that. EAW was kept a secret for the first few days because Ronn didn't want to reveal it until Christmas calling it "his gift to E-Feds" but eventually people got a hold of EAW before hand. Ronn went on the next few months to successfully run EAW and was a member of the Dynasty brand. His first feud was against WWEFan.
Feud with WWEFan
Ronn opened up the first ever episode of Dynasty cutting a promo for the fans welcoming then and announcing matches, but was soon interrupted by WWEFan. WWEFan dissed EAW and claimed to be a better chairman than Ronn and spit in his face therefore their feud was born. In the main event WWEFan faced Jaywalker in a WHC tournament and right when WWEFan was close to winning Ronn interfered and hit WWEFan with the GTS helping Jaywalker win. Throughout the next few weeks Ronn and WWEFan would go back and forth and WWEFan introduced his "new" masked protege which was a man named Zeon. Zeon and WWEFan would give Ronn hell for the next few weeks leading up to Ronn vs WWEFan at the Grand Rampage. Ronn defeated WWEFan and then unmasked Zeon revealing him to be former EAW extremist and AWF founding father and E-Fed veteran Mike Waggz.
CM Ronn the EAW Chairman on Dynasty