DJ Hipp
Talk

0
11,119pages on
this wiki
DJ Hipp
Comic Book Anime Shit
[Current] Life Form
Some kind of celestial being. Deceased
Nickname(s)
The Smoke-G, The Hood Immortal, The Hierarchial Sinner, The Hipp Machine,, Invader WCL
[Known] Powers Of The Hippnode.
Hippnosis, Hippertension, Hippoxia
Best place to find him?
None. He travels in the dimensions, portal to portal.
Main Goals
Universe Domination, starting with the obliteration of Prussia.
Items Carried
The Hippnode, Flashlight, Smoke Grenades
Who would he bang in Wrestling?
Queen Z, Carari Grey
Wrestling Type Shit
Finishing Blow
Mythodical Hipp-Step
Enemies
Carari Grey, Doctor Cube
Comrades
AveRage, Queen Z., Ko-Ko
Rival
Carari Grey
Nemesis
Doctor Cube
Debut
July 19, 2007
Date of Death
June 12, 2011
Group
"The Legion"
Greatest Achievement
2 Time Champion Of The UNIVERSE.
DXX Debut
Edit
DJ Hipp made his DXX debut on July 19th, 2007. Immediately, he found himself on a losing streak, realizing he wasn't comfortable in DXX. Soon, he gained the nickname of "The Anti-Hardcore Superstar" due to his disgust of Hardcore Wrestling. For three or four months, he put on many great matches but always came up short which lead to him having the first of many transformations.
James Kidd, who at the time was United States Champion, saw potential in DJ Hipp. They formed the Better World Order and Hipp finally began to get some wins. Just when the duo was gaining some momentum, James Kidd got arrested for attempting to blow up a building, leaving Hipp with no partner for the Survivor Series tournament to crown a new Hardcore Champion. DJ ended up teaming with, and eventually defeating The Boss to become Hardcore Champion.
Feuds: Orton and McMahonEdit
When James Kidd won the US Championship, Chloe Layfield became his number one contender. DJ got involved after Orton tryed to cheat to help his girlfriend Chloe. Hipp fought Randy a few weeks later but Orton sneak attacked him at the start of the match. DJ then fought Cloe and just as DJ was about to win, the ref was distracted and Orton ran in the ring only to give Hipp an RKO. Chloe ended up winning after Orton's blatant cheating once again. After finally getting his re-match against Orton in the Semi Finals of the DXX WHC Tournament, he had the match won until Carari Grey changed the rules in Ortons favor causing DJ to lose after four RKO's in a match where DJ Hipp suffered a de-tached Retina. As he began to heal his injury, Hipp entered a heated fued between Orton and Mr.McMahon, creating a 3 way fued. Hipp single handedly dstroyed McMac's faction, Corporation 2k8 and formed a stable of his own (The Immortal Sinners) to face Orton's Evolution. At Dead On Arrival, DJ Hipp defeated Randy Orton to win the DXX World Heavyweight Championship for the first time, in a Security Prison Guard Death Match. As a result, Orton left Mayhem and the fued ended.
Feuds: Nabeel
Edit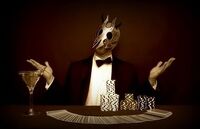 In what started out as a (Hardcore) Champion vs (World) Champion match, DJ had beaten down Nabz for the whole match until the opppurtunistic Nabz rolled up DJ and stole the victory. Then, DJ Teamed with Trish Stratus to defeat Nabeel Nawaz and Brittany Rivers after Orton attacked Rivers and Hipp beat down Nabz on the outside. At Final Destination DJ and Nabz fought once more, this time for Nabeel's DXX World Heavyweight Championship. Just when everyone thought DJ had the match won, Nabeel once again used his "tactics" to get the victory. The next week on Mayhem, Carari Grey fired Nabeel Nawaz, who would later sign with Massacare. A few months later Nabeel was traded back to Mayhem. Just two weeks later, DJ was granted his third chance to defeat Nabeel, and the now DXX World Heavyweight Champion DJ Hipp defeated Nabeel with a Cop Killa.
Feuds: Cube
Edit
Probably the most WTF of all Hipp's fueds was between Hipp (with Carari Grey) and Doctor Cube. At this point, Hipp was the face of DXX and Cube hadn't done anything yet. Cube was only given a title shot by Carari so that DJ would win easily, but in a shocking turn of events, the Master of Malpractice (Cube) de-throwned the champion (Hipp). This would only lead to the epic Pit of Death match invention by Carari Grey, pitting Randy Orton, DJ Hipp, Slain and Doctor Cube inside a revolving ring with a pit on the outside. To win you must put someone in the pit. The winner becomes champion, and the loser leaves DXX. After a classic match, Hipp was able to Yakuza Kick Cube into the pit, creating an internet meme, winning back the Universe Title and retiring Doctor Cube, but only for a short while.
The Immortal Sinners
Edit
The Immortal Sinners (aka IMS) were a stable on DXX Mayhem during 2008. Led by DJ Hipp, Carari Grey & Kenny Dykstra, the group also at times featured The Rock, Mike Vengeance, FleX, and Angel. In just a six-seven month period, the Sinners held every belt on Mayhem, including two separate times, where they held every belt at once. This group was not without controversy, as with Carari Grey as General Manager, some felt she had an agenda. More controversy came when Carari was put in a mental hospital and replaced as GM by Drake White. Not approving this decision by Assassin and the Board of Directors, DJ would go on to kill Drake White on Live Pay-Per-View, no legal action was taken.
DJ Hipp and Kenny Dykstra hold the record for longest Tag Title reign of any team in DXX history, and eventually were forced to vacate the belts when Hipp left DXX. While Hipp & Kenny worked wonderfully as a duo, they were equally as fun to watch fight against each other, which they did twice, once for the Millenium Championship, which Kenny would win, and one over the Undisputed Universe Championship, which saw Hipp get the victory. When DJ lost his belt to Josh Impact at Declaration of Retribution, Kenny would avenge DJ's loss and win the title for himself just a month or two later.
The Immortal Sinners were forced to split when Carari Grey quit over backstage politics, and DJ Hipp, in a move equal of loyality and buisness sense, walked out on DXX to join his friend Carari in her short lived promotion AoA. DJ Hipp became the first and only AoA World Heavyweight Champion before AoA closed down, leaving both DJ and Carari out of the buisness for the rest of 2008. At the end of 2008, The Immortal Sinners were voted DXX Stable of The Year, and individually they would all take home awards as well.
Team Mayhem vs Hood Tribe
Edit
DJ Hipp returned to DXX in 2009, after his induction into the DXX Hall of Fame in 2008. After placing in third for DXX fued of the year 2008 (DJ Hipp vs Doctor Cube), the duo seemed to still have a bit of heat between them. Infact, Hipp even declined joining a team of legends, "Team Mayhem", seemingly because Doctor Cube was on it. DJ Hipp had formed Hood Tribe with Kwhame Myles & Shad Moss, and they would begin a feud with Team Mayhem, DJ even defeating Crisis twice. Then in the final blow to "Team Mayhem," Doctor Cube would turn on them, and join the Hood Tribe. This lead to the Tribe's ultimate victory, and with Crisis taking another leave of Absence, "Team Mayhem" would disband.
DJ Hipp's reason for forming the Hood Tribe was to get either Kwhame Myles or Shad Moss to become World Champions. This was for two reasons. The first, they deserved it more than anyone else, and the second and most important to DJ, it would turn off DXX's racist fans, leading to the ultimate demise of DXX. This goal almost became true, as a match between Kwhame & Shad was scheduled for the vacant DXX World Championship. But the GM Jimmy James, added a third man to the match last second in Ted Dibiase. Dibiase won the match and the plan was seemingly foiled. However, Dibase and others like Kenny Wallace and the group Death Row being the new focus of DXX quickly lead to its downfall and collapse, so DJ's plan worked after all.
The Hierarchy: A New Evil Arises
Edit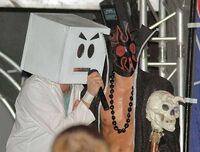 Possibly the best thing to come out of Hood Tribe though, was a friendship between former foes, DJ Hipp and Doctor Cube. The Hood Immortal even gave Cube a new look, including spiked hair, bling, and overalls. In the dieing days of D-Generation XX, Doctor Cube returned again. This time, as a manager for his two newly built robots, N.Average and Roboguy (now known as AveRage and AndroidDude). His robo tag team had started out on a win streak, but Roboguy was shot by Nick Awesome. Average, now on his own, was entered into a tournament for the DXX World Title, and advanced to the finals. However due to a switch in management, the finals never happened and the tournament was completely scrapped, with a new one put in place. On occasion, DJ Hipp would show up and teach the Robots some moves and tips for promos, and at one point, was even in a six man tag with the bots.
DXX would go out of buisness by 2010, once again leaving Hipp (who never officially came out of retirement) and Cube out of their main source of income. They tried welfare and it did them well, but offered a match in another now defunct leauge, Evolved, Hipp and Cube (now known as the Hierarchy of Evil, also with Carari Grey) were set to take on Steve Storme and Kyle Deathlocke, the silent e's. HOE would lose that match and many believe it was due to backstage politics. HOE was sure it was and so Carari and Hipp left as soon as they came, Cube tried to follow suit but was tied down to a contract. Luckily for him, Evolved closed about a month later.
HOE since split up as Carari didn't want to see her fanboys in person anymore sick of being sexually harrassed, but Cube and Hipp found a job for a cross promotion show called "Crossroads" featuring PWH, ROP, and WXWF, despite never working for either of the three, they would rep PWH. The match was scheduled to be a Hood Tribe re-union with Ghost, Cube and Hipp taking on Sin, Paige, and Anathema of WXWF on November 7th 2010. However, PWH went under before the show took place and Crossroads was cancelled
The Legion
Edit
After discovering his friends Carari Grey and Doctor Cube had entered a new federation called the World Combat Leauge, Hipp decided to check it out. By the time he had learnt about it, Grey had already been named General Manager. DJ was shocked to find that Carari and Cube had both betrayed him by turning "babyface." DJ decided to pay his former comrades in evil a visit by invading WCL.
One week on WCL's weekly TV show, Wildfire, the show opened with DJ Hipp on the titantron giving backstory between him and WCL's GM, before he made his way to the ring to reveal he had stolen Carari's trusty cat, Ko-Ko! Hipp tried to bait Carari into coming down to the isle, but she didn't until DJ mentioned Grey's adopted daughter, Olivia. But after just briefly talking about things with Carari, Hipp vanished and the scene ended.
A bit later on the show, Hipp, the mysterious Z.C.M. and Ko-Ko (now known as The Legion) invaded the broadcast and provided commentary. Hipp proceeded to threaten "Grey Fox" (Carari Grey), with an ultimatum, stating that if Carari did not shoot Drake White (who has recently been found alive) in the skull, Olivia will have a new father too, in the form of The Hood Immortal.
But Carari did not comply, and instead of shooting Drake White, she gave him a lap dance and probably a lot more in return for information on the location of Z.C.M. and The Legion. This information was faulty as in a twist, Drake White was not only a member of the WCL Board of Directors, he was also working with The Legion! Drake proceeded to hire on the commentary team of Z.C.M. and Ko-Ko, much to Carari's dismay.
DJ, giving one last offer of peace to his former friend Carari, returned her cat Ko-Ko to Grey's daughter Olivia. Hipp had hoped this would be the first step toward friendship with Carari, but soon after, Carari was attacked backstage and blamed it on The Legion. When it was revealed it was not The Legion who attacked the beloved "Grey Fox," Z.C.M. attacked Carari Grey and took back Ko-Ko.
Hipp, understanding there was no more chance for peace, decided to enlist the help of a man many consider to be on par with DJ himself, Steve Storme. DJ Hipp was offered a peace offereing by his former HT comrades Kwhame Myles and Shad Moss, but Hipp turned the lights off, and when he turned them back on, DJ and Steve were beating up Shad and his friend Ryan Black.
A match was made in advance for WCL Death March between DJ Hipp, Steve Storme & AoD vs Kwhame Myles, Shad Moss & Ryan Black. But at WCL's Winter of Our Discontent, there was a big blowoff match between "Pro Wrestling's" Doctor Cube & Carari Grey vs "Sports Entertainment's" Hollywood Hogan & Stephanie McMahon. Right as this match was about to begin, "The Legion's" DJ Hipp & Z.C.M. showed up, demanding to be added to the match, Carari Grey agreed, and it was made official. In what may have been the biggest match in WCL's history, DJ Hipp & Z.C.M. won the match for The Legion, when DJ hit Hogan with the Mythodical Mys-Step.
Taking this loss, and the addition of Steve Storme to The Legion into account, and the fact that Carari still had to deal with Stephanie McMahon and the rest of "Sports Entertainment," Carari Grey quit WCL. Not being able to find a replacement GM, WCL was forced to shut down. Just another Fed killed by DJ Hipp.
Enter: The Fourth Dimension
Edit
After the fall of WCL, Hipp and his new buddy Steve Storme decided to make their own Wrestling company, one that would be so different from the rest, it could only exist in a different dimension. Fourth Dimension Kombat only lasted a month however, as DJ Hipp sold the company while baked, thinking he was selling it to former friend turned enemy Doctor Cube, in an effort to re-up their friendship. But he was decieved, and not only was the man he sold the company not really Doctor Cube, but their was two fake Doctor Cube's running around to confuse DJ. One was former WWE Smackdown GM Teddy Long, and another (the man who bought 4DK from Hipp) was former WCW Champion and Booker Vince Russo.
Steve Storme was furious and couldn't believe what was happening. It didn't help that his cat diety was being all confusing that week. Hipp's girlfriend and 4DK commentator Queen Z, figuring things would never be the same in 4DK again, told DJ some news she had just learned, she's pregnant with his kid. Hipp didn't know what to think but knew he was happy. That's when Scott Steiner informed everyone there was a bomb in the arena that we later learned had been placed there by Russo. In an effort to save everyone, DJ smoke grenaded himself and the bomb to a fifth dimension, where it exploded. By the time the Queen, Storme, and Steiner got to DJ he was taking his last few breaths. He told Z he loves her and Storme to not let his kid grow up without a father, before dying in Queen Z's arms. This was the end of 4DK.
Hipp's Daughter: Girl Hipp
Edit
DJ Hipp has an 18 year old daughter named Girl Hipp. Her mother is Shad Moss's sister, Jennifer Moss. Girl Hipp is obssesed with "The Paradox," and tries to create it in order to go back and save her father from death. She was set to make her wrestling debut in World Kombat Syndicate, but it closed that same week.
Freaky Shit: Hipp's Powers
Edit
The Smoke Grenade - DJ uses smoke grenades to escape dangerous situations
The Black Out - DJ turns off the lights and smoke grenades to or from the ring. Used to avoid situations or to make surprise appearances. He also turns off the lights and points a flashlight at his face while cutting promos.
The Hippnode is DJ Hipp's magic staff, a long brown stick with a skull head on the tip of it. The Hippnode has many superpowers (that almost always fail to take effect). These include...
Hippnosis - The victim falls under the effects of Hypnosis.
Hippertension - The victim's blood pressure rises to that of someone with Hypertension.
Hippoxia - The victim suffers from the effects of Hypoxia, a pathological condition in which either the entire body or simply one region of it is "deprived from adequate oxygen supply."
Titles/Awards
Edit
Co-Owner of Fourth Dimension Kombat
DXX Superstar of the Year 2008
DXX Mayhem Superstar of the Year 2008
DXX Stable of The Year 2008 (Immortal Sinners)
DXX Undisputed Universe Champion (x2)
AoA World Heavyweight Champion
DXX World Heavyweight Champion
DXX Universe Tag Team Champion (x3)
DXX Trans-Continental Champion
DXX United States Champion
Finisher
Mythodical Mys-Step:: Stunt Rider Kick
Smoked Out:: Cop Killa
Signature Moves
Graveyard Minf666k:: Phoenix Splash Leg Drop
Trademark Moves
The Instant Sentance:: Top Rope Double Stomp
Starter Kit: : Slap, followed by an Irish Whip into a Spinning Wheel Kick
Armpit In Yo Face-Lock:: Headlock
Eminent Bisection:: Tilt-A-Whirl Fujiwara Armbar
Flippy-Flippy:: Tope Con Hilo
400 Degreez:: Tidal Wave
Money Side Lariat:: Spinning Lariat
Murda Side Lariat:: Burning Lariat
Smashing Surgery :: Rolling Back Chop
Problems by Twista:: Thunder Death Driver
The Ultimate Victory:: Chickenwing Clutch Suplex
Springy Fun Splash:: Springboard Spaceman Plancha
Affiliations
Edit
The Hierarchy of Evil
The Legion
The Un-Civil Rights Movement
Theme Songs
Edit
"Hail Mary" by 2Pac
"Last Muthafucka Breathin" by 2Pac
"Lose My Mind" by Young Buck
"The Rain" by DMX
"What Kind of Man" by Trae tha Truth
"Sword of Doom" by BlazBlue Official Soundtrack
Non-CanonEdit
Hipp, Cube, The Robots, Carari Grey and Angel of Death would form for one time only, a group called Army of Cube, with the goal to defeat the imposter "Cube!" and his group of midgets who looked like DXX wrestlers. Cube's Army won a 40 Man Punjabi Prison Fight To The Death, and the Army as well as the midgets and imposters were never heard from again, while some didn't quite die so much as be Yakuza Kicked out of the arena but the ones that did were blown up thanks to some C4 that DJ had strapped to a midget Charlotte Cross's ass. No fans were injured, Carari Grey was naked, and there was more carnage than you ever seen in one place.