Derick Felix
Talk

0
11,338pages on
this wiki
Derick Felix
Statistics
Real name
{{{realname}}}
Ring Names
"Dynamite" Derick Felix
The Haitian Kid
Height
5'11"
Weight
220 lbs.
Date of birth
July 24
Place of birth
Newark, New Jersey
Date of death
{{{death_date}}}
Place of death
{{{death_place}}}
Resides
Metuchen, New Jersey
Billed from
The Brick City, New Jersey
Haiti
Trainer
{{{trainer}}}
Current
federation(s)
{{{current_efeds}}}
Previous
federation(s)
{{{previous_efeds}}}
Handled by
{{{handler}}}
Win/Loss Record
{{{winloss_record}}}
Debut
{{{debut}}}
Retired
{{{retired}}}
Derick Felix is a Haitian-American professional wrestler known for his stint with Lock Wrestling Federation, or LWF. Felix is a 1-time LWF World champion, LWF Cross-Hemisphere champion, and 2-time reigning LWF Tag Team champion. As LWF closed its doors on March 21, 2010, Felix is currently signed to United Global Wrestling Coalition or UGWC still teaming with Lopes as the Brick City Boyz.
Early life
Born in Newark, New Jersey of Haitian descent, Derick Felix grew up watching no other sport but wrestling. He then took up amateur wrestling throughout high-school until he toured Mexico and learned multiple styles through underground circuits. He became a well-skilled technician in not only the amateur style, but lucha-libra as well. Some say that his in-ring style resembled Shelton Benjamin, in which he adapted his look to. Wrestling under the moniker "The Haitian Kid", Felix paid homage to his roots by wearing red and blue. He found very little success in Mexico so he then return to his home of New Jersey going under his real name. Blown away by his style, he was given the nickname "Dynamite". He wrestled along chilhood friend, David Lopes as they form the stable The Brick City Boyz (Brick City being the nickname for Newark, New Jersey) wearing black and white. They were a dominant force in the tag team scene as well as serious trouble makers and pranksters. They were reminiscent of a young, slightly more censored D-Generation X with Hardy Boyz flavor. Felix would soon branch out of the underground circuit and landed a deal in Lock Wrestling Federation.
Lock Wrestling Federation
(2009)
"Dynamite" Derick Felix made his solo debut on LWF Warzone, though still under his "Brick City Boyz" gimmick, in a losing effort against Nate Webb on March 16, 2009. He would then make his Lockmania debut in the Ladder to Glory match. Felix scored his first victory on the April 6th edition of Warzone against Nomad. He would later go on to win the Sadistic Madness match at Maul. He would later lose to "The Lord of Pain" Donovan Hastings the following Warzone.
After Felix pinned Matthew Carter for the win at Maul, Carter would claim that Felix ruined him. They would square off on April 27 where Carter came out the victor. Still not satisfied, the two would continue to trade insults. Carter would bring former LWF champion Darius Jermaine into the quarrel, comparing Felix and Jermaine as ..."[men who speak] too much of ignorance and goals...". Jermaine would then insult Carter and Felix, calling them both "newbs". Felix retaliated by interfering in Jermaine and Carter's first one-on-one match on May 4 to what would look like an attack on Carter, but instead hitting Fade 2 Black on Jermaine.
Felix would go on to lose a triple threat match with Carter and Jermaine as Carter pinned Jermaine after Red Fusion interfered and hit Jermaine with the Virus of Life. As Jermaine focused on the King of the Hill match at Resurrection, Dynamite and Carter continued to feud up until their cage match where Dynamite vowed to end their feud and "...turn around and go [their] separate ways." Felix defeated the debuting Medos while Mr. Carter sat by on commentary, unimpressed. During a hard fought battle in the steel cage match, Felix would've appeared to have the match won until Carter tied his leg to the cage as Felix was on the outside ready to touch the arena floor. Carter would then climb over the cage and hit a proned and helpless Dynamite with a leg drop on his way down to touch the floor and win the match. At the end of the match, Felix and Carter would shake hands backstage outside of Felix's locker room, showing a sign of good sportsmanship.
After being booked in a tag match with his former rival, Carter, against Donovan Hastings and Lone Wolf, Felix showed interest in winning the Cross-Hemisphere championship. Felix would go on to pin Lone Wolf after hitting him with the Fade 2 Black. The next week, Lone Wolf would attack Felix in his match against J.W. McCammon by laying him out with the Wolf Charge. Felix would get his payback by once again pinning Lone Wolf with the Felix Rising the following week in a tag match featuring Felix and Phoenix facing Lone Wolf and Red Fusion. After being doubted of his ability to defeat Lone Wolf in a singles match, Felix finally captured his first title in the LWF, the Cross-Hemisphere championship, at Lord of the Ring 2009, continuing his winning streak against Lone Wolf.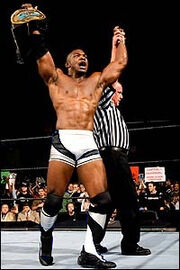 Felix would then go on to defeating Lone Wolf in their rematch at Revolution in a Two out of Three Falls match with a DQ and pinfall victory, losing by submission in the second fall. Felix felt that defeating Lone Wolf again and retaining his title would garner him some respect in the locker room, but he has recently been battling in tag team contests on Warzone. Though with a title defense on Meltdown against former opponent, Donovan Hastings, "Dynamite" has vowed himself to focus on Day of Reckoning 2009 where he is confident that he will be in the Champion vs. Champion match to gain both titles. In what later became a 4-Way Ladder match, Felix would go on to lose the Cross-Hemisphere championship to his original opponent, Donovan Hastings.
Felix would then go one to determine a number one contender's bout for the LWF World title at Vengeance 2009 against Chuck Randall and Phoenix. After winning the bout, Felix was confronted by Psiko who would try to convince Felix to campaign for Psiko to be the commissioner of LWF. Once Felix refused, Psiko struck him with a Psikotik DDT. Felix would make a campaign speech parodying Barack Obama telling the fans that the LWF needed "change". He would focus on Psiko's disregard of the World title and said that he would be the champion. Felix would go on and win the fans vote to face Psiko for the World title at Vengeance. After a hard fought battle from both men, Felix came up short and was defeated, disproving his statements of Psiko. The match received a lot of praise from many wrestlers in the locker room.
The Warzone following Vengeance, Felix faced and defeated fellow fan-favorite, Travis Pierce with Felix Rising. The following week, Felix would go on and face the new Havok champion, Jason "Inferno" Grant with Matthew Carter at ringside. Felix would lose the match due to unseen outside interference from Carter and would then proceed to be assaulted by both men. The assault would not last long as the debuting Hitman Lopes would come to Felix's rescue. The two quickly established their tag team as the Brick City Boyz and entered a feud between Carter and Grant who dubbed themselves the Walking Legends. The Brick City Boyz (or the Boyz for short) would make their tag team debut at the Day of Reckoning pay-per-view where they would win the LWF Tag Team championships from the Walking Legends, who only just won the gold 6 days on Warzone prior, in a Flaming Tables Elimination match.
On the November 9th edition of Warzone, The Boyz defended their Tag Team titles against Kyle Tacker and John Russo. At Betrayal, the Boyz would then lose their titles to Tacker and Russo under the Regime due to outside interference from the Regime leader, Lock in a Prison Break match featuring the Lunatic Fringe and the team of Lone Wolf and J.W. McCammon.
(2010)
Tacker and Russo would then go on and attack the Boyz for a few weeks in a row since winning the titles. At Massive Melee, the Boyz were unsuccessful at regain the Tag Team titles in an Elimination Table match featuring Tacker and Russo and the eventual winners, Metalhead Matt Marauder and Lone Wolf, the Metal Militia. They also were unsuccessful in the Massive Melee match itself. The Boyz would finally regain the Tag Team titles on the February 1st edition of Warzone defeating the Metal Militia in a Maniacal Multiple Massacre match due to (unwanted) outside interference from the returning Diablo.
Felix would then go through a segment where he would be randomly attacked by inactive LWF wrestlers and "eliminate" them from Vigilante month. Felix would go on and survive Vigilante month with Diablo and Medos to face Triple M for the World title at Maximum Carnage in a Vigilante match. There Felix would win his first and only LWF World championship by defeating Triple M himself due to commissioner Psiko's stipulation that a challenger could only win the title by defeating the champion. This would be the second time Felix defeated Marauder for a title in a month's time. The Boyz were successful on winning their last Tag Tam match on the March 8th edition of Warzone defeating the Freak Show Central. Felix went on to headline the final Lockmania in LWF history in an Elimination Chamber match. Felix would drop the title to Red Fusion in the match that featured Diablo, John Russo, Lone Wolf, and Medos.
United Global Wrestling Coalition
(to be filled)
In Wrestling
As The Haitian Kid

Caribbean Cutter (Rolling cutter)
Rouge-Bleu Press (Shooting star press)
As "Dynamite" Derick Felix

Dynamite Impact (Knee neckbreaker into rolling cutter) - current
Fade 2 Black (Super kick)
Felix Rising (Shooting star press) standing variation done as signature move
Game Over (Double underhook sit-out facebuster) - 2009
Signature Moves

Air Dynamite/Flying Haitian (Over the top rope suicide high angle senton or cross-body)
The Crossover (Outside slinghot into hurricanrana)
Diving Clothesline
Dropkick
(Dynamite) D-Vise (Double arm DDT into ground butterfly lock with body scissors)
Dynamite Deathlock (Heel hook in standing single leg crab position, knee into opponent's back)
Dynamite Kick Combo (Corner moonsault kick followed by enzuigiri) - "Dynamite"
Explosion Suplex (Exploder Brainbuster) - "Dynamite", also performs a super variation
Flying Forearm Smash into kip-up
Haitian Legsweep (Headscissors into Russian legsweep)
Knife-edge Chop
Missile Dropkick
Multiple DDT variations

Back Springboard Tornado
Falling Reverse
Headscissors
Rockin' DDT (Arm twist into flowing snap, followed by kip-up)

Nitro Bomb (Spin-out powerbomb) - "Dynamite"
Powerslam
Running Calf Kick
Running Lariat Takedown
Sharpshooter
Spinebuster
Spinning Back Thrust Kick
Springboard Clothesline
With David Lopes
Finishing Move

Brick City Death Drop (Fireman's carry flapjack - Hitman into cutter - Felix)
Fade 2 Blackout (Superkick - Felix into Swinging reverse STO - Hitman)
Signature Moves

Double Rockin' DDT (Double snap DDT followed by double kip-up)
Eat Your Hart Out (German suplex - Lopes / running lariat takedown - Felix)
Jersey Drive-By (Haitian Legsweep - Felix / Speeding Bullet (Running STO) - Hitman)
Kamikaze Attack (Hitman gets on his hands and knees near the ropes as Felix steps off his back for an aided Air Dynamite, usually on multiple opponents)
Salt & Pepper (Corner high knee - Hitman Irish whipped into running calf kick - Felix)
Superman Killer (Electric chair - Hitman / Springboard clothesline - Felix)
Signature Gestures

"East-coast" hand sign holding ring finger in with thumb while index, middle, and pinky fingers are outstretched in the air then across his chest
"Cutthroat" taunt signaling the Dynamite Impact
Nicknames
As "Dynamite" Derick Felix
As The Haitian Kid
Entrance Themes

"Encore / Numb" performed by Jay-Z / Linkin Park - LWF debut
"Stronger" performed by Kanye West
"Lights Out" performed by P.O.D.
Championships and Accomplishments
Lock Wrestling Federation