Dolo Bentswinger
Talk

0
11,352pages on
this wiki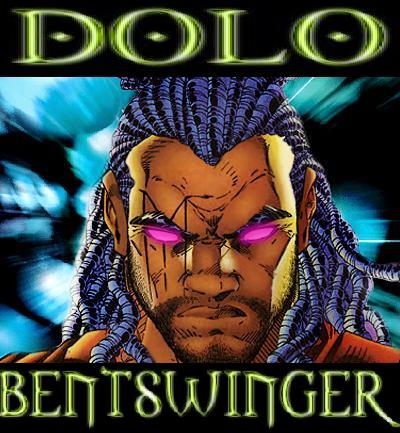 Dolo Bentswinger
[[Image:{{{image}}}|{{{image_width}}}px|Image of Dolo Bentswinger]]
Statistics
Real name
{{{realname}}}
Ring Names
{{{names}}}
Height
6ft 8in
Weight
285 pounds
Date of birth
unknown
Place of birth
Da Bronx, New York
Date of death
{{{death_date}}}
Place of death
{{{death_place}}}
Resides
Parts Unknown
Billed from
{{{billed_from}}}
Trainer
{{{trainer}}}
Current
federation(s)
Free Agent
Previous
federation(s)
{{{previous_efeds}}}
Handled by
{{{handler}}}
Win/Loss Record
{{{winloss_record}}}
Debut
Under debate
Retired
{{{retired}}}

Dolo Bentswinger is a former football player for thhe New York football Jets! and current wrestler for hire. He had a promising football career until his wife and kids were kidnapped. That was turning point in his life .He turned to a life of crime in search of his family. Only to find them in the morgue. After altering his identity to keep him from being red flagged by law enforcement authorities,he traveled all over to only find his talent in wrestling.Dolo adopted a gun for hire personae in the wrestling world as his family killers were never brought to justice; and he hopes to travel the globe as a "sports entertainer" while tracking down his family killers unnoticed. Along with a couple of buddies "The Body Snatchers" they have dominated every fed in their path.His trademark bodybag and business cards are not only a marketing tool for wrestling, but a promise that one day he will avenge his family and their killer will be the last person he'll have to put in the bodybag and drop his business card on (each card is marked with a special one reserved for this occasion). Most recently he has partnered with wrestler Malcolm Dred-King.
The Fall and Rise of DOLO
Dy'Angelo Roberts; the man who eventually become Dolo Bentswinger was drafted by the New York Jets of the National Football League in 1999. Roberts a defensive end from the University of Miami was selected in the 7th round by legendary coach Bill Parcells. Roberts made his way onto the team via the practice squad and onto the roster proper when an injury befell starting DE Ernie Logan. However his ascension into the starting position brought out the worst in professional sports, as an organized crime lord decided to use this rookie for their own benefits. He was asked to help throw a game in week 10 of the season against the New England Patriots at Foxboro stadium. Roberts pride was too great as he knew this was a statement game for him being his first start. He didn't do as instructed and the Jets beat the Patriots 24-17; more importantly he had the game changing sack, that caused the fumble which he ran back for the touchdown to seal the victory for his team.
However the storybook ending was not such as his wife and children were kidnapped from the stadium after the game. Frantic he assisted the authorities by giving them all the evidence they needed to take down this crime lord; but it wasn't enough as his family was found murdered before the week 13 game against the New York Giants, in Giants stadium parking lot…each one wearing a variation of his Jet's jersey, a game the Jets lost 41-28. Despondent and distraught…..he looked for the legal system to bring these men to justice, however no charge would stick, no judge would convict. Fed up with the legal system Dy'Angelo Roberts took a leave of absence from the team and decided to carry out vigilante justice. Roberts left a trail of broken bodies in his wake as he started eliminating all he believed involved ; but the criminal mastermind that was responsible for his pain fled the country, but not before paying off law enforcement agencies to prevent Roberts from following.
Disgusted and now a wanted fugitive Dy'Angelo Roberts did the only thing he could do…he "killed" himself. Erasing all of what was his past, but armed with a mission of vengeance he started working in the only profession that would allow him to travel internationally without being raising suspicion….that of professional wrestler. He found himself at The Hartford Wrestling Academy and started learning the business with another young wrestler named Demetrius Black who soon became Malcolm Dred-King; while the former Dy'Angelo Roberts became reborn as….DOLO BENTSWINGER.
Global Fantasy Wrestling Alliance-Old School Wrestling
GFWA: Dolo partnered up with someone named The Vertabreaker to start off his wrestling career. His intention was to find out who murdered his family and by using wrestling he could travel the world without being detected as having this hidden agenda. Both he and Vertabreaker formed The Body Snatchers; wrestling team for hire going to the highest bidder. Dolo thought by establishing this as his personae this would put him in touch with the people who might help him achieve his ultimate goal. The Body Snatchers would come to the ring with body bags and leave business cards on the bodies of their fallen opponents. The Body Snatchers first stop was the GFWA; what he found was someone they trained with by the name of Malcolm Dred-King. To keep up his ruse he totally bought into his wrestlign identity and entered a bloody feud with MDK and 1001 Holds.This feud caught the attention of the World Tag Team Champions Men of Science. The MOS helped The Body Snatchers defeat King and 1001 Holds for American Tag Team Championships. This gave The Body Snatchers their first major championship and made them collectively a force to be reckoned with. Soon after MDK and 1001 Holds turned their attention to the World Tag Team Titles and in a reversal hired The Body Snatchers to betray the MOS. This led to King/1001 Holds capturing the World Tag Team Titles; but more importantly to Dolo this solidified his wrestling personae as someone who could easily be bought in this business. Body Snatchers realized there was more money being World Champs as opposed to American Champs and attacked MDK and 1001 Holds leaving 1001 Holds injured and forcing MDK to vacate the World Tag Team Championships. Soon after the Body Snatchers were fired from the company causing the American Tag Team Championship belts to be vacated also. Dolo Bentswinger had accomplished what he set out to do however, he made a name for himself in the wrestling world and soon various promotions were calling for The Body Snatcher's services.
UEEWF/TCW/TWF: The Body Snatchers after leaving GFWA had ventured into the UEEWF and soon become this promotions World Tag Team Champions. Around this time someone had started to piece together Dolo's true identity and started to leave him clues to that effect. However he didn't have much time to dwell on that as a new tag team made their way to the UEEWF and it was Malcolm Dred-King and 1001 Holds, much to The Body Snatcher's surprise. Another bloody feud ensued that lasted three months which culminated with King and 1001 Holds winning the World Tag Team Titles and 1001 exacting a measure of revenge on Vertabreaker by ending his career. Shortly after UEEWF closed and Dolo found himself without a company and a partner or so he thought. Vertabreaker risked his career to team with Dolo again. Vertabreaker actually hired Dolo to have his back as he ended the career of 1001 Holds. The duo found King and 1001 Holds in a Florida based promotion called TCW. The promotion's World Tag Team Champions issued an open challenge for his World Tag Team titles ; So of course King and 1001 Holds answered the challenge and won the titles, however right after the match The Body Snatchers entered the arena and challenged the newly crown champions for their titles. Even with the odds stacked up against them King/1001 Holds defeated the champions and Bentswinger/Vertabreaker to win/retain the tag team titles their first night in the promotion. Unfortunately the promotion was struggling and was bought out by the TWF. The TWF stripped all champions of their titles and forced their newly signed talent to work their way up to their champions. Vertabreaker was unable to continue on, so Dolo became a singles wrestler.King and 1001 Holds quickly rose to capture the World Tag Team titles. While Dolo Bentswinger took the North American Title. MDK took exception to Dolo holding the strap and challenged him for his newly won North American Title and defeating him.MDK then lost it back to Bentswinger a week later.Looking to put the upstart King in his place; management booked him in a match for their World Championship against his very own tag team partner 1001 Holds. King fought off 1001 Holds as well as interference from Bentswinger to capture the World title and be the only man in TWF history to hold all three titles (World, North American, and World Tag Team) at one time. Dolo quickly saw a potential ally in Malcolm Dred-King but a letter from Japan in what would be his dead wife's hand-writing would make him pursue that alliance at another time.