EAW Interwire Championship
Details
Current champion
Moongoose McQueen
Date won
January 6th, 2018
Promotion
EAW
Brand(s)
Voltage
Date created
2007
Date retired
N/A
Formerly
AWF Interweb Championship
EAW InterWire Championship
Past design(s)
Statistics
First champion
Mister K
Most reigns
Vic Vendetta / TLA / Carlos Rosso (2 reigns)
Most defenses
Unknown
Longest reign
Mister K (9 months and 28 days)
Shortest reign
Drastik (<1 day)
The EAW Interwire Championship is a professional e-wrestling mid-card championship in Elite Answers Wrestling (EAW). It is currently part of the Voltage brand and is one of the three mid-card championships, complimenting the EAW National Elite Championship on the Showdown brand and the EAW Hardcore Championship on the Voltage brand. It was first established when EAW was introduced as a brand within Answers Championship Wrestling as the AWF Interweb Championship. This championship eventually went over to EAW when it became its own federation and the name was changed to the EAW Interwire Championship. Its extensive history is a testament to its distinguishing value to Extreme Answers Wrestling and, most often, its strong mid-card. The Interwire Championship has been held by some of the best competitors in the mid-card, eventual world champions, and Hall of Famers.
History
Origin
The Interwire Championship was a part of AWF before its time in EAW as an independent federation, but the first match to decide an inaugural champion for the EAW Interwire Championship was between Mister K, Lethal Consequences, Partymaniacs, Irish Assassin, Stereoraptor, Erik Benjiman, Kira, and The Great One. At Mid-Summer Massacre, Mister K won by eliminating Lethal Consequences to become the first-ever EAW Interwire Champion in the independent Extreme Answers Wrestling federation.
Prominence
The EAW Interwire Championship has become a very coveted in the company as many future world champions and Hall of Famers have claimed the championship in their quest for eternal greatness. The first and longest-reigning champion, Mister K, was able to bring much prestige before having it fall in the hands of The Dark Emperor. After his reign with the Interwire Championship, he soon was to become a world champion and make his way towards becoming a Grand Slam Champion and Hall of Famer. For a long time, no man was able to hold the championship more than once until Vic Vendetta won the championship from Norman Hellion, making a record of being a two-time champion. Many other world champions like Brian Daniels, HRDO, Kevin Devastation, Tyler Parker, Kawajai, Scott Diamond and more have also won this championship to bring more prestige to the belt in their career.
Reigns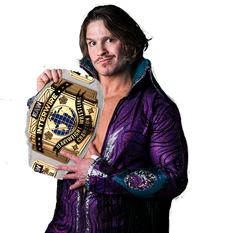 The EAW Interwire Championship was introduced 2007 (later in 2008 in the independent EAW). The inaugural champion was Mister K after he defeated Lethal Consequences. There have been thirty-five (35) different official champions, with Vic Vendetta, TLA, and Carlos Rosso all having the most reigns at two each. The longest reigning EAW Interwire Champion was Mister K who held the championship for approximately nine (9) months and twenty-eight (28) days (between Mid-Summer Massacre and Grand Rampage). The shortest reigning EAW Interwire Champion was Drastik, who retired the title the same night he won it, ending his reign. The current champion is Moongoose McQueen, who is reigning in his first tenure in his career. He won the championship at King of Elite 2018 after defeating Carlos Rosso.
Title History
Key
| | |
| --- | --- |
| Reign | The reign number for the specific set of wrestlers listed |
| # | Indicates what number the reign is |
| Event | The event promoted by the respective promotion in which the titles were won |
| N/A | The information is not available or is unknown |
| — | Used for vacated reigns so as not to count it as an official reign |
Names
| Name | Span of Time |
| --- | --- |
| AWF Interweb Championship | AWF-Showdown (2008) |
| EAW Interwire Championship | Showdown (2008)-Present |
History
As of March 22, 2018.
† indicates reigns and title changes not recognized by EAW.
| # | Extremist | Reign | Defeated | Event | Lost to | Notes |
| --- | --- | --- | --- | --- | --- | --- |
| 1 | Mister K | 1 | Lethal Consequences | Mid-Summer Massacre | The Dark Emperor | This match was a Debut Battle Royal Match including Partymaniacs, Irish Assassin, Stereoraptor, Erik Benjiman, Kira, and The Great One. Mister K still holds the record for longest reign |
| 2 | The Dark Emperor | 1 | Mister K | Grand Rampage II | Viper | |
| 3 | Viper | 1 | The Dark Emperor | Pain for Pride II | Latino Game | As part of RoViper, Viper would also win the EAW World Tag Team and Tag Team Championships as well. |
| 4 | Latino Game | 1 | Viper | Dynasty | Vacated | |
| - | Vacated | - | - | - | - | Vacated due to the departure of Latino Game |
| 5 | Adam & Speedy | 1 | Hurricane Hawk, Robbie V, and Jon Kelton | Dynasty | Jon Kelton & CB Cool | Adam & Speedy won the match with a draw and thus, both men would be co-champion. |
| 6 | Jon Kelton & CB Cool | 1 | Adam & Speedy | Dynasty | James M. Johnson | Both men defeated the co-champions, thus becoming co-champions themselves. |
| 7 | James M. Johnson | 1 | N/A | Dynasty | HRDO | |
| 8 | HRDO | 1 | James M. Johnson | Dynasty | Kevin Devastation | |
| 9 | Kevin Devastation | 1 | HRDO | Dynasty | Vacated | |
| - | Vacated | - | - | - | - | - |
| 10 | Vic Vendetta | 1 | Various Extremists | Pain for Pride 3 | SG2 | First Pain for Pride title change |
| 11 | SG2 | 1 | Vic Vendetta | Mid-Summer Massacre II | Tyler Parker | |
| 12 | Tyler Parker | 1 | SG2, Drake Blake, and Superior Quality 85 | No Regards | Vacated | This was a Fatal 4-Way Match |
| - | Vacated | - | - | - | - | - |
| 13 | Kawajai | 1 | Power | Reasonable Doubt | Power | |
| 14 | Power | 1 | Kawajai | Grand Rampage IV | Scott Diamond | |
| 15 | Scott Diamond | 1 | Power | Pain 4 Pride | Erik Yung | |
| 16 | Erik Yung | 1 | Scott Diamond | Showdown | Colin Kaline | Won the championship as a result of cashing in his 24/7 Contract |
| 17 | Colin Kaline | 1 | Erik Yung | Road to Redemption V | Superior Quality 85 | |
| 18 | Superior Quality 85 | 1 | Colin Kaline | Showdown | Diamond Cage | |
| 20 | Diamond Cage | 1 | Superior Quality 85 | No Regards | Vacated | |
| - | Vacated | - | - | - | - | - |
| 21 | Rami | 1 | Suicidal VIP | Territorial Invasion | Hades the Hellraiser | |
| 22 | Hades the Hellraiser | 1 | Rami | Justified Reckoning | Johnny Ventura | |
| 23 | Johnny Ventura | 1 | Hades the Hellraiser & Rami | Reasonable Doubt V | Liam Catterson | |
| 24 | Liam Catterson | 1 | Johnny Ventura | Pain for Pride VI | Drastik | This match was also contested for the Answers World Championship |
| 25 | Drastik | 1 | Liam Catterson, StarrStan and Johnny Ventura | House of Glass III | Retired | Shortest reign due to retiring the title the same night won. |
| - | Retired | - | - | - | - | Retired due to Drastik leaving the company. |
| 26 | Carlos Rosso | 1 | Lucius Creed | Dynasty | Norman Hellion | Won the championship during a tournament. |
| 27 | Norman Hellion | 1 | Carlos Rosso | Reckless Wiring | Vic Vendetta | The match was a Falls Count Anywhere Match. |
| 28 | Vic Vendetta | 2 | Norman Hellion | Pain for Pride VII | Matt Miles | Won the championship as a result of cashing in his 24/7 Contract. |
| 29 | Matt Miles | 1 | Vic Vendetta | Showdown SuperShow | Scott Oasis | The match was a Casket Match. |
| 30 | Scott Oasis | 1 | Matt Miles | Road to Redemption 8 | Zach Genesis | |
| 31 | Zach Genesis | 1 | Scott Oasis | Showdown | Vacated | This match was a Ladder Match. |
| - | Vacated | - | - | Showdown | - | Vacated due to the departure of Zach Genesis |
| 32 | Chuck Scene | 1 | Brett Kennedy | Showdown | Cameron Ella Ava | |
| 33 | Cameron Ella Ava | 1 | Chuck Scene | Showdown: Redemption | TLA | |
| 34 | TLA | 1 | Cameron Ella Ava | Showdown | Mexican Samurai | |
| 35 | Mexican Samurai | 1 | TLA & Merek Blackfyre | Showdown | TLA | |
| 36 | TLA | 2 | Mexican Samurai | Pain for Pride 9 | Drake Jaeger | |
| 37 | Drake Jaeger | 1 | TLA | Road to Redemption | Mr. DEDEDE | This match was a Lumberjack Match. |
| 38 | Mr. DEDEDE | 1 | Drake Jaeger | Grand Rampage | N/A | |
| - | Vacated | - | - | EAW Draft | - | Volentarily vacated the championship after becoming CEO. |
| 39 | Amadeus | 1 | Harvey Yorke | Voltage | Carlos Rosso | This was a Ladder Match. |
| 40 | Carlos Rosso | 2 | Amadeus | Shock Value | Moongoose McQueen | This was a Triple Threat High Voltage match which also featured Moongoose McQueen. |
| 41 | Moongoose McQueen | 1 | Carlos Rosso | King of Elite 2018 | | Current champion. |
 

  Championships
EAW World Championship · EAW National Elite Championship
EAW Answers World Championship · EAW Hardcore Championship
EAW World Heavyweight Championship · EAW Interwire Championship
EAW Women's Championship · EAW Specialists Championship
Interbranded
EAW Openweight Championship · EAW New Breed Championship · EAW Unified Tag Team Championships
Inactive
EAW Hall of Fame Championship · EAW Pure Championship · EAW Vixens Championship