EAW Women's World Championship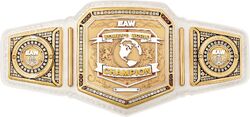 Details

The EAW Women's World Championship is a professional e-wrestling world championship in Elite Answers Wrestling (EAW). It is an Empire exclusive championship, able to be competed for on Empire shows and EAW Free-Per-Views. It was first established on December 17th, 2016 when HRDO and Cleopatra introduced the new championship at Road to Redemption. The EAW Women's World Championship has since replaced the EAW Vixens Championship after the latter was retired.
History
Origin
The title was first competed for on the tenth-annual Road to Redemption show where the reigning EAW Vixens Champion Sheridan Müller would be placed against the 2016 Empress of Elite winner, Cailin Dillon. In the match, Cailin Dillon would be victorious and be crowned the first-ever champion.
Reigns
The inaugural champion was Cailin Dillon when she was able to defeat Sheridan Müller at Road to Redemption. There have been four official champions, with Cailin Dillon, Cameron Ella Ava, Aria Jaxon, and Stephanie Matsuda being tied for the most reigns with 1 each. The most recent EAW Women's Champion is Stephanie Matsuda who won the title via submission after cashing in the Iconic Cup at EAW Grand Rampage (2018).
Title History
Key
| | |
| --- | --- |
| Reign | The reign number for the specific set of wrestlers listed |
| # | Indicates what number the reign is |
| Event | The event promoted by the respective promotion in which the titles were won |
| N/A | The information is not available or is unknown |
| — | Used for vacated reigns so as not to count it as an official reign |
Names
| Name | Span of Time |
| --- | --- |
| EAW Women's World Championship | December 17, 2016–present |
History
† indicates reigns and title changes not recognized by EAW.
 

  Championships
EAW World Championship · EAW National Elite Championship
EAW Answers World Championship · EAW Hardcore Championship
EAW World Heavyweight Championship · EAW Interwire Championship · EAW New Breed Championship
EAW Women's Championship · EAW Specialists Championship · EAW Empire Tag Team Championship
Interbranded
EAW Openweight Championship · EAW Unified Tag Team Championships
Inactive
EAW Hall of Fame Championship · EAW Pure Championship · EAW Vixens Championship