FMW Circus Maximus (2007)
Talk

0
11,354pages on
this wiki
FMW Circus Maximus was the second FMW Pay Per View held in 2007. A "Saturday Night's Main Event" type event, the show had was the culmination of many feuds and the introduction of the Mount Vesuvius structure. The event took the place of the "3.2" cycle of shows. Circus Maximus became the show that ended jobs, careers, and nearly in some cases, lives.
The Mount Vesuvius Structure
The cage structure used for the Mount Vesuvius match was massive, daunting, and dangerous. First off, a normal Hell-in-a-Cell cage was placed around the ring. After 15 FMW Superstars entered the match, a second cage was lowered. The second cage was a regular steel cage with a few modifications. First off, the cage had a roof. On this roof, turnbuckles and ring ropes were placed.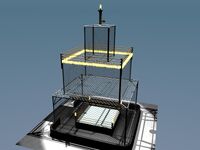 After the thirtieth superstar entered, the third cage and the Mount Vesuvius torch were brought into play. The third cage, unlike the second steel cage, had no door, ring ropes, or turnbuckles. However, directly in the center, there was a ten foot pillar with the much coveted Mount Vesuvius torch atop it. Before someone could grab the torch and win the match for their guaranteed Full Metal Championship shot at FMW Ultimatum, they had to switch the gas tap on, igniting the torch. However, the torch was not the only thing that became lit once the tap was switched on. The "apron" around the "ring" atop of the second cage also became engulfed with fire, as did the turnbuckles of the ring inside the Hell-in-a-Cell cage. This provided many perilous moments as well as a new degree of excitement to the Mount Vesuvius match.
Results
Red ██ and Anarchy indicates an Anarchy superstar, blue ██ and Alchemy indicates a Alchemy superstar, and green ██ and NEW indicates a NEW superstar.
External links