Hacked is a WCSF fan interactive Pay-Per-View in which the fans get to decide on match types, stipulations, and competitors. There have been two editions so far, the first taking place on 12/19/2005, the second on 2/6/2007. It is by far one of the most popular WCSF events, due mostly to its interactivity with the fans.
Results: Hacked 2005
Hacked, live from Washington DC.
Results: Hacked 2007
High Voltage
Tomohiro Matsuda def. Greg Gasket
Austin Daniels def. Jake Thompson
---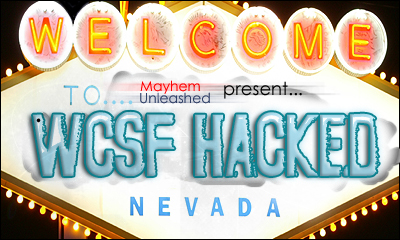 Hacked, LIVE From Las Vegas, Nevada
---
---
Mayhem Tag Team Championship Match - Sacrificial Turmoil
The Carnage Crew(30%) def. The Union Jacks(23%) & The Gamers(c) to become the new Mayhem Tag Team Champions
---
-Charisma def. Kurisutaru, Tiffany, and Dayton Michaels(c) in a Hardcore War(48%) to become the Women's Champion.
---
---
WCSF Cruiserweight Championship Match - Choose the Stipulation
-Axis def. Chris Jackson and Cyanide Lee in a Falls Count Anywhere match(40%)
---
-Vincent Viazon(c) def. Chris Osbourne in a Ladder match(62%) to retain the WCSF International Championship
---
Winner Faces Champion at Battlefield
-Executioner def. Merrick Brycen by DQ
---
WCSF Unleashed Tag Team Championship - Choose the competitors
-The Mafia (Devine & Trotter) (71%) def. The Untouchables
---
Sledgehammers Legal Match
-Jack Cannon def. Delroy Andrews
---
-Jason Daniels def. Baker J
---
Triple Threat for Automatic Battlefield Entrance
-Rage Mishima (30%) def. Bale (25%), and Steve Sinistra -(17%)
---
WCSF Unleashed Championship Match
-Bray(50%) def. Alex Morgan to win the WCSF Unleashed Championship
---
Davis's role in the Mayhem Title Match
Guest Ref. -30%
Enforcer -10%
Play-By-Play Announcer -60%
Although later it was revealed by WCSF CEO Ralph Pierce that Dynamite's stable, the Monarchy had rigged the voting, and in reality the fans had voted for Davis to act as a guest referee. The match was then restarted, with Davis as the ref.
---
*WCSF Mayhem Championship Match
-Reaper Def. Dynamite via countout
Despite the two losses, Dynamite still left with the Mayhem Championship due to the circumstances in which he lost.
HACKED 2008
September 27, 2008 from Las Vegas, Nevada.
Johnny Devine d/ Johnny Briggs & Muntari Mebah in a triple threat reward match.

Devine falls on top of Briggs for the pin after a Mebah kick knocks them both down.
Devine becomes GM of Rampage for a week as his reward.
Craig Bell d/ Sean Knight in an Opponents Choice Match.

Due to the loss, Knight will be forced to wear a dress until he wins again.
Dynamite d/ David Logan in a Steel Chain Match.

Dynamite begins to strangle Logan with the chain and refuses to let go until Logan is unconscious.

Categories: WCSF pay-per-view events
HACKED 2009
Hacked 2009 was held on December 28, 2009.
PRE-SHOW:
MAIN CARD:
Mark Thomas d/ Max Gamble

Thomas' Gold Rush Contract (61%) was on the line.
Thomas wins with the Triple Play.
Anthony Blake d/ Amen in a Falls Count Anywhere (52%) Match

Blake moonsaults off the stage into Amen on the roof of a car.
Johnny Briggs draws Sinistra in a Last Man Standing (71%) Match.

Neither man could answer a 10 count after falling out of the ring off a ladder through the announce table.
Reaper d/ Mike Maverick in a Caged Deathmatch.

Reaper pins Maverick under the unhinged cage door for the three count.
HACKED 2011
Hacked was held at the O2 Arena in London, England on June 6, 2011.
David Logan comes out and announces that due to a voting problem, all UK votes will not be counted and therefore Mark Thomas will get the title shot in the main event and not Alex Morgan.
Tag Team Blitz
Jailbreak Ladder Match
WCSF International Championship
Ad blocker interference detected!
Wikia is a free-to-use site that makes money from advertising. We have a modified experience for viewers using ad blockers

Wikia is not accessible if you've made further modifications. Remove the custom ad blocker rule(s) and the page will load as expected.