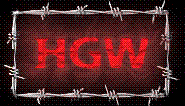 Hardcore Global Wrestling is an e-fed that was founded in Atlantic City, New Jersey in 1997 by Justin Henry. The promotion ran from January 25, 1997 until September 12, 1998; for a second time from August 9, 2000 until October 7, 2006; and began for a third time on April 11, 2007. Up until April 11, 2007, the "G" in HGW stood for "Garbage", until a changeover was made to "Global" to signify a new era for the promotion.
Current Roster
Active
Ad blocker interference detected!
Wikia is a free-to-use site that makes money from advertising. We have a modified experience for viewers using ad blockers

Wikia is not accessible if you've made further modifications. Remove the custom ad blocker rule(s) and the page will load as expected.