Inara Charrington
Statistics
Real name
Inara Serra Charrington
Ring Names
{{{names}}}
Height
5'8
Weight
135 lbs
Date of birth
15 September 1962
Place of birth
London, England
Date of death
{{{death_date}}}
Place of death
{{{death_place}}}
Resides
{{{resides}}}
Billed from
{{{billed_from}}}
Trainer
Mal Charrington
Current
federation(s)
DJW
Previous
federation(s)
{{{previous_efeds}}}
Handled by
{{{handler}}}
Win/Loss Record
{{{winloss_record}}}
Debut
{{{debut}}}
Retired
{{{retired}}}
Inara Charrington is the wife of Mal Charrington and mother of Xander Charrington and ECFW Diva Kitten Charrington. She is also the CEO of DJW, a British wrestling company
Marriage
Inara Charrington was born on September 15th 1962 in Primrose Hill. She married Mal Charrington on August 6, 1980. Inara was 18 and Mal 20 when they wed. 18 August 1981 they welcomed their first child into to the word (Xander) and June 3rd 1983 their second child was born (Kitten)
Children
She is the mother of DJW executive Xander Charrington and ECFW Diva Kitten Charrington and the mother-in-law of their respective spouses Francesca Lacey-Charrington and Sam Wilde.
DJW
Mal Charrington inherited the wrestling company DJW from his father in 1985; Inara has served on the Board of Directors since 1988 and was largely responsible for the growth of DJW merchandising. In addition, she is widely involved with the charitable work of DJW. In May 1997 she became CEO of the company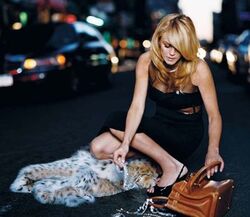 Ad blocker interference detected!
Wikia is a free-to-use site that makes money from advertising. We have a modified experience for viewers using ad blockers

Wikia is not accessible if you've made further modifications. Remove the custom ad blocker rule(s) and the page will load as expected.