James Shark
Talk

0
11,354pages on
this wiki
James Shark

Billing Information

Ring Name(s):
Trash Talk Royalty
Height:
6'0
Weight:
190
Date of Birth:
July 5th 1988
Place Of Birth:
Brooklyn NY
Resides:
Los Angeles, California
Billed From:
Brooklyn NY
Theme Music:
DMX - Intro
Federation(s):
PDW & PWP
Brand(s):
N/A
Previous Federation(s):
SCW, ASWF, IWF, WEW, TIW, CCW, NHW

Wrestling information

Alignment:
Neutral
Wrestling Style:
Striker
Finisher(s):
Swag Out
Manager:
Brooklyn Carter
Trained By:
Clayton Paris

Career History

Debut:
September 2009
James Shark (born July 5, 1988) is an American professional wrestler and Hip Hop recording artist from Brooklyn, NY, engaged to Brooklyn Carter. James Shark is currently signed with the Platinum Dynasty Wrestling and is their current PDW Bloodshed Champion.
James made his debut to the sport of wrestling in September of 2009 and was scouted by the No Limit Wrestling Federation due to his exposure in Brooklyn with the street fights that he had competed in. He recorded his first hip hop freestyle in 2011 entitled Yep
James Shark is a five time world champion with nine championships in the sport of professional wrestling. He has appeared in Hollywood Films such as: Hard Time (2009), Shark (2012) and The Guillotine (2013) He has faced off against all sorts of respected names, champions and legends and has beaten most of them.
Other than his heavy hands and improved wrestling skills, James is mostly known for his loud mouth, and calls himself "Trash Talk Royalty" due to the amount of hype he is able to generate in a match with the talking he does. Make no mistake with Shark and his trash talking, most of the time, James Shark is able to back up every word.
Early life
James Shark was born into a very rough child hood. His mother was a drug addict and due to her drug addiction, Jame's father abandoned both Shark and his mother, leaving Shark to be raised by his mother alone. With barely any money, James was unable to be enrolled into school. He was home schooled for a while by one of his mother's friends on the block that he lived in, however after his mother's drug addiction got worse, her mother began to lose friends and family members, as she did not want to be helped, and contact was lost between them.
Approixmately at the age of Six years old, James watched his mother die before his eyes due to a drug overdose. James ran away from home, and police were called due to neighbours being alarmed by the front door being open in the home for more than 24 hours. When police arrived they saw the body of Shark's mother, and later tracked James down and took him in.
The police officers tried their best to find a good home for James, but every family that took him in, just had problems with him, as he would just run off. After a while, James was hard to track down, and from that point on he lived on the streets. He was homeless and really had no childhood. In the streets, he had to be an adult, and really do his best to survive.
He learned some very hard lessons on the streets, he learned about trust, dangerous people, and how hard life truly is. At the age of 12, James began street fighting. He would fight men half his age, and men twice his age. Most of the time, James would get beat up, and almost beaten to death, but he learned from every single fight to better himself and get better.
By the age of 17, James was already a big name in street fighting. Jumping in and out with his speed, and storming in with brutal power. He had many videos on different sets of websites, and was already being hyped up at such an early age.
He began to get involved in some underground boxing, and some underground MMA. He perferred boxing more as he was so used to street fighting. When the fight hit the ground, they were stood up, when he got into underground MMA, most guys would take him down and mount him, something that he was not used to.
James was approached by a variety of different wrestling companies and MMA promoters but he was never interested in them. He wanted to get into the sport of boxing but most promoters did not believe he had enough skill and that his street fighting videos were overrated and overhyped.
No Limit Wrestling Federation (September - December 2009)
When James Shark was approached and scouted by the NLWF, he was hesitant at first. He didn't like wrestling at all and did not understand why people loved it. He was very outspoken about professional wrestling and said some very negative things about the sport in general. He liked "stand-up fighting" and thought that anything involving "ground work" was stupid.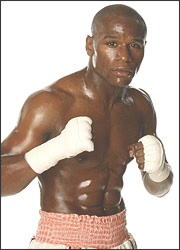 The NLWF saw something in James and didn't give up, he was offered a very high paying three month contract that James couldn't help but sign. It was a contract that he couldn't believe, never was he ever paid this much before, or offered as much money as the NLWF was willing to pay him, so he had to jump up on the opportunity.
James made his debut on September 2009 backstage by knocking out not one, but two NLWF Stars including their champion, Aaron O'Shea.
Many did not like James because of his "cocky" persona, as well as the way he carried himself, as many believed, and still believed he acted like a "stereotype" and still does. Regardless of what they thought, week in and week out, James would continue to give the NLWF Fans and Wrestling fans a chance to hate him.
He was quickly moving up the rankings in the NLWF with back to back knockout victories and was becoming very hyped in the sport. He went from living in an apartment building, to a big house, and was becoming pretty wealthy.
James even began to date, very popular at the time model, Karly Zedic. Karly was very well known, and was on FHM's Top 100 Hottest Women's list. James Shark was truly living a life he never thought he could have.
Because of being so hyped and talked about, James was then put against tougher opponents, opponents with very good wrestling backgrounds, and as soon as the bell rang, his opponents did not waste anytime in taking James down, getting ontop of him, and outwrestling him to a pinfall or a submission.
This was the story of James Shark's NLWF Career. He would win against people who weren't good wrestlers, but the moment he took on someone who was even a "decent" wrestler, he would choke.
James Shark's hype began to slowly go down, but his confidence was always high. James Shark would later take on a big NLWF name in Demetrius Randall, in which many believed he would lose the match. Demetrius was riding a lot of hype, and was even starring in NLWF Films: Hard Time, this was Shark's match to lose, and many believed that James Shark was given this match, to just increase Demetrius's hype even more.
James Shark came into the match calling himself "the baddest negro on the planet" and told the world that Demetrius was a disgrace to black people. James did his usual trash talk, and although Demetrius told the world he would do his talking in the ring, that wasn't done. It was James who pulled the upset and dominated Demetrius Randall. Demetrius was unable to take James Shark down to the ground, and many were impressed with the wrestling that was on display by James Shark. He kept the match standing and was able to knock Demetrius out.
Shortly after the match, Demetrius Randall was released from the NLWF, and he announced his retirement. He was also pulled out of the NLWF Film: Hard Time, and it was James Shark who stole his movie role. James Shark began to get his hype back, and many believed that he was now able to compete with wrestlers due to the fact that he was able to neutralize all of Demetrius's takedowns.
James Shark was drafted to Direct Hit a few weeks later, and with all the hype he was receiving he began to go out to parties and clubs. He was becoming very used to the life of being famous and liking everything about being a Star. Somewhere down the road, pictures were leaked online of James Shark partying in the club with a bunch of women. In most of the pictures, James was making out with the women, and would even be making out with two women at the same time.
Karly Zedic brokeup with him, and after the breakup, James continued to party. He was suspended by the NLWF after an incident in the club, that landed him in Jail with a charge of Sexual Harassment on one of the strippers and Assault on one of the men in the club. James Shark pleaded not guilty to the Harassment charge and pleaded "White boy desereved it" on the Assault charge.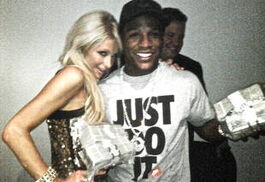 James was bailed out of jail by the NLWF but was still kept under a two week suspension. When James Shark's suspension was lifted, he made his return to NLWF with more wins, and even became the #1 contender to the NLWF Junior Heavyweight Championship.
While he was suspended, a man named Nick Ridicule had made his debut into the NLWF, and was becoming very hyped. Nick was receiving the same amount of hype that James did when James made his debut, only the hype was growing stronger than any other superstar had in the company.
James was very outspoken when asked about Nick in interviews and even told the world that Nick Ridicule was overhyped and just a "desperate bitch craving attention". Nick Ridicule fired back and told the media that James was just describing himself. Nick Ridicule then went on to call James Shark out, and told James to put his #1 Contendership spot to the Junior Heavyweight title on the line.
Never shying away from a match or a fight, James Shark didn't hesitate to accept the challenge. The match was hyped up due to the hatred both men had for each other, but the match itself wasn't a close one. Nick Ridicule dominated Shark from the opening bell to the end of the match, and never gave Shark a chance. Nick Ridicule beat James in the wrestling aspect and the standing aspect of the match.
Nick then went on to win the Junior Heavyweight Championship. James did not show up on NLWF television for a few weeks after that match, and after a few days, it was announced that James Shark had quit the NLWF and retired from the sport of wrestling.
No Holds Wrestling (February - March 2009)
James Shark was back on cameras on Feburuary when he announced in an interview that he would be making a return to the sport of professional wrestling, but it would not be in the NLWF.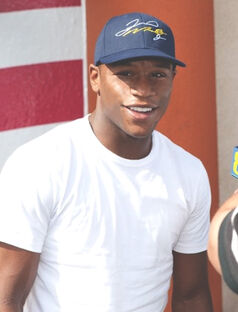 James also mentioned that he had improved a lot in his wrestling and that he was hungry and motivated to win a championship belt. When he was asked about Nick Ridicule and NLWF, he told the media
"Fuck Nick, Fuck NLWF, I'm better than those guys man"
James Shark made his return in the No Holds Wrestling promotion. A Wrestling promotion much smaller than the NLWF. The NHW still had a good talent pool of high level wrestlers and well respected men and women, and James Shark took that company by storm.
Although he was getting back to back wins and defeating the companies top guys, he still showed some trouble in the wrestling department. Although James was able to stuff a few takedowns and get back up to his feet, he still showed some fusturation.
After a 6-0 Undefeated streak, James Shark earned a title shot for the NHW World Championship, but lost. Wrestling still proved to be a problem for James, and he couldn't deal with the wrestling of the champion. He lost the match. The match was however a close one, and a rematch was being built up, but before James could get the rematch for the title, the company closed down.
Life Without Professional Wrestling (2010)
James Shark took the rest of 2009 to take a break from Profesional Wrestling. He had hunger and motivation to still become a champion and be in the sport but at the same time, he didn't like the sport. When NHW closed down James was offered many contracts with other wrestling promotions but decided to just take a break to figure out other options for himself.
During his break, James was still involved around talk in the media due to his appearances in talk shows, magazines and his twitter wars with various wrestlers and fighters. The one thing that grabbed the most attention was James Shark's arrest in mid 2010 when a warrant was placed for James Shark's arrest due to an allegation against him for an assault on a security guard in a parking lot.
On the police report it was described that James Shark was approached by a few security guards outside of a club after he was instigating a fight between two intoxicated females. When he was approached and the altercation between the two females was beginning to end, James Shark allegedly struck the security guard in the face and took off. He was later tracked down in his hotel room for questioning and taking in by police.
James Shark was not convicted for assault but was charged with Public Mischief.
Insurgency Wrestling Federation (2011 - May 2012)
James Shark made his return to professional wrestling the following year in 2011. James was originally set to make a return to NLWF after a high paying contract was offered to him, however when the NLWF shut down, it was the IWF that was formed and created by former NLWF Superstars who were tired of how they were being treated in the NLWF.
James Shark was happy to join the company as he saw it as "unfinished buisness", there were a lot of superstars and divas who believed he was still overrated as he was in 2009. He saw this as a great opportunity to not only show them, but the world, that he could win, and win at the highest level possible.
Shark made his debut against Chad Mason, a former NLWF Champion, and knocked Chad Mason out. It was an upset win that many believed Shark was going to lose. James then went on to qualify for the Full Throttle Championship Tournament, and ended up making it to the finals, and winning the title, becoming IWF's first ever Full Throttle Champion.
His title reign was a short one however. Jason Hawk surprised the world by appearing when everyone else thought he was dead. He came back to challenge Shark for the title, and ended up beating James for the title in a triple threat match for the championship. James was furious but vowed to get the title back around his waist. At the very next PPV, James was in another triple threat match for the title, but many fans noticed that James was hurt from the beginning of the match.
It was obvious that James had entered the match injured, and he lost his opportunity to regain the Full Throttle Title. After the match, he announced that he had came into the match injured.
James Shark then went on to take on top competition. He defeated Vincent Van Rose multiple times, Death Angel multiple times, and defeated other big names such as Chuck Matthews (retiring Chuck before Chuck chose to return) After back to back wins, James Shark was knocking on the door for a title shot over at the time champion, Dan Alexander.
However, before he could have the title match, it was Nick Ridicule who made his return to professional wrestling. James Shark was the first to challenge Nick. Nick Ridicule seemed better than ever before after he came off of a total destruction over Corey Casey, however James Shark got his revenge as he dominated Nick Ridicule, and signed autographs while doing it. Before the match ended, James knocked Nick out in the middle of the ring.
Being the first person to ever defeat Nick, knock him out, AND dominate him, there was no denying James Shark's title shot. He went on to face Dan Alexander, and defeated Dan, before taking him on once more for the title.
James Shark defeated Dan Alexander, becoming the IWF World Champion, however, just like his Full Throttle title, James could not defend the world title. He headlined IWF's biggest PPV by defending his title against Corey Casey and Brandon Macdonald, and lost the title to Corey Casey.
Once again injured, James Shark did not want to take time off and heal his injuries. Instead, he chose to compete. He took on one of NLWF's biggest names in Shadow Demon, and knocked Shadow Demon out cold, but was controlled by rhe legendary Frank Hart, forcing him to really take time off from the sport and take surgury to heal his injuries.
When James returned, he did it bigger than the first time. James defeated Stygian and Connor O'Shannon in a triple threat match, then took on Stygian for the High Impact Championship in a match of the year candidate. Although he came up short, he had knocked Stygian out for a matter of minutes but could not score the pinfall due to no referee being in the ring.
James brushed off the loss, and went on to win the IWF Tag Team Championships only a few weeks later with Robbie Hart. A few weeks later, James went on to win the High Impact Championship in a triple threat match against his own partner, Robbie, and former teammate Ruben Ricardo Leon. James Shark then handed the title to Robbie Hart right after he got his hand raised.
Only a week later, James went on to retain the Tag Team Championships with Robbie AND win the IWF World title at the same day.
Unlike his history of not being able to defend his championships, James defended his championship against IWF Rising Star and New comer, "Sho No Mercy" in a match that SNM challenged James to, a match in an abandoned school. James defeated SNM in devastating fashion and also retired SNM from wrestling.
James Shark then went on to defend his title against a very hungry challenger in Corey Casey. Corey Casey, one of the baddest men in IWF, multiple time world champion, and a man who had defeated James not only in NLWF, but also in IWF. Casey had multiple wins on Shark, where as Shark had a few wins on Corey. This was Shark's match to lose as Corey was the man to take Shark's championship the first time.
However history did not repeat itself. James Shark defeated Corey and retained his title in true James Shark fashion, by landing his right hand on Corey's jaw, and dropping Corey unconscious.
A few weeks later, James Shark took on Corey Casey once again, as Corey teamed up with Robbie, and Shark teamed up with Team Swag member, Cody Taylor for 1/2 of the IWF Tag Team Championships. Shark and Cody won the match, defeating both men, to retain the titles.
During that time, Steel Angel, a man who James spoke out about being "overrated" and "new blood trash", won the Battle for the Briefcase, which gave Steel Angel the right to challenge Shark for his title, at any given time and place.
James Shark did not worry about Steel, for he took on Steel Angel twice leading up to their match at Isolation, once in a Tag Team bout where Steel teamed up with Hostyle Jones, and another in a one on one match. In both matches, James had knocked Steel Angel out. Catching him in mid-air in the one on one match, and tagging him in the middle of the ring in the tag team match.
Everytime Steel Angel had tried to cash in the briefcase, James Shark made Steel Angel look foolish. Beating Steel Angel up constantly, it was Steel Angel who signed a contract agreement to give up his breifcase powers for a Main Event one on one Championship Match at Isolation.
James Shark was ready for the match, but was quickly attacked backstage by a group of IWF Rookies led by Chad Mason, it was then, when Steel Angel cashed in his breifcase and beat James for the title. Although the match was still booked for the Main Event, James did not show up.
He was furious with IWF management as Steel Angel broke his contract. He felt angered by the IWF staff for their lack of care for him, and them not willing to do anything, so he left the company. James had been suspended twice from the IWF, and this was the last straw, he left the company and never returned.
James Shark was supposed to return to the IWF in September to defend the Tag Team Titles with Cody Taylor, the tag titles that they never lost, however multiple wrestling websites report that James Shark had gotten into an argument with Rick Christian and Corey Casey, leaving Shark to choose not to return to the company at all.
World Elite Wrestling, Total Impact Wrestling, Chaotic Championship Wrestling
Many won't forget about the time James Shark was competing in four companies all at the same time. After already making his return to the IWF and cleaning out the whole company with wins against literally everybody, James Shark signed up with CCW, a week later he signed up with WEW, then two weeks later it was TIW.
James Shark's CCW Career was short lived. With the company going in on a biweekly programming schedule, James Shark got one win, and one loss, before walking away from the company due to a dispute with management.
Shark's career in WEW was the longest out of the three. Only being in WEW for a month, James Shark had felt like he was there for a year. Wrestling four times a week, sometimes five days a week, every time he stepped into the ring, it felt like he had wrestled already that day.

Losing to a few WEW names, James Shark also made quite the impact in WEW. Although many will deny it, James Shark took the fight to their champion Slash, dominating him the whole match before getting distracted by the referee and losing via roll up pin. He also defeated Twin K, and defeated one of their biggest name's in SM Raye, in what the commentators called "Upset of the Year 2011".
James also made a huge impact in TIW. In the debut of the company, the first show had a main event battle royal for the TIW Heavyweight Championship. The battle royal was open to everyone and many wrestling fans already had a good idea of who would appear in the battle royal based on superstars announcing their involvement. However James kept his involvement a secret.
Shark went into the battle royal, handing out many opponent's their first loss, before throwing Cody Taylor over the top rope and becoming TIW's first ever world champion.
Due to Shark's busy schedule, he could not be at 100% and lost a few matches that he believes he could have won if he was healthy. James Shark even had a boxing match with Germany's own Stefan Raab, in which resulted in a draw.
All Star Wrestling Federation (August - July 2012)
James Shark signed with the ASWF after a one month absence, showing the world he still had the heaviest hands and an underrated wrestling game. His first match came in the form of Former IWF High Impact Champion and one of the best in WEW, Cody Taylor. The match ended in a draw when both men knocked each other out, James Shark's next match would be against Brooklyn Carter, but after Brooklyn pulled out, she was replaced by a few jobbers.
James also took on rivals Stefan Raab and Dan Alexander, rematching them both and defeating them. James was only in the IWF for a month before he was fired for having a sexual incident with ASWF Diva Syndel Michaels. James left the company undefated with a 6-0 record.
Sin City Wrestling (July - October 2012)
Before joining the ASWF, James Shark called out (at the time) SCW Heavyweight Champion Rage. The two of them went on a twitter war for months, and when James Shark was released from the ASWF, he finally had the opportunity to make the match happen.
James Shark signed with Sin City Wrestling and immidietly called out Rage, however the SCW Booking staff wanted to see if Shark still had what it took to make it in the game. Many believed he had it easy in the ASWF so the SCW Staff put him up against newcomers Anthony King and Argento. James talked his talk, and backed it up after knocking Argento out cold and winning the match.
After the huge statement Shark sent in his impressive debut, the "superfight" was made. Former SCW Heavyweight Champion, Rage, to take on Former IWF and TIW Heavyweight Champion, James Shark.
James hyped up the match with a barrage of "trash talk royalty" any chance he could. He did it in interviews and on Twitter. When the match came, it was James Shark who backed up his talk once again, and defeated Rage by knocking him out cold.
Many people believed that after James had defeated Rage he would leave the SCW, however that wasn't the case. James revealed that he hadn't joined the SCW to face Rage and instead, he used that as an excuse to see his current girlfriend Brooklyn Carter, who was at the time his rival. His intentions were to squash the beef.
Before he even had his first match, it was Brooklyn who was able to do it before James did. The two of them squashed their beef and after his huge win over Rage, the two of them announced their relationship to the world.
However James Shark's stay in the SCW wouldn't last much longer. James was not placed on the next SCW card as punishment for his controversial rants that he had posted on Twitter, and even with not being placed on the card. James Shark showed up to the show and called out Casey Williams, an SCW original who he had been beefing with for days. Casey refused to come out, and James was escorted out of the building by SCW management. Once in the parking lot, there were damages to cars that many speculated James had done, but there was no proof.
James would get his match with Casey Williams the week after in a six man tag team match. Three days before the match, the match was cancelled due to SCW finding out about the marijuanna use that James was doing. He was also suspended for getting #FaggotCasey to trend worldwide as well as getting #FuckYouSCW to trend.
After hearing about his suspension, James just got up and walked out of the company. Leaving the company undefeated with a 2-0 record, as well as with the SCW Future Star of The Year 2012 Award.
No Limit Wrestling Federation (October 2012 - May 2013)
On October 1, 2012 the No Limit Wrestling Federation made its heavily anticipated return to the wrestling world. With James Shark's huge unbeaten winning streak, he was among the first one's contacted, and with the news, he did not hesitate to sign a contract with the NLWF. James signed on the dotted line along with other familiar names such as Alison Williams, Jason Hawk, and Nick Ridicule.
The possibilities of match ups for James Shark were endless, however there was one match that stood out the most for the fans. A third encounter between James Shark and Nick Ridicule. The two men had first men during their rise in the NLWF back in 2009. Nick dominated Shark throughout the match. Both men then met again in the IWF back in 2011, and this time it was Shark who dominated Nick Ridicule.
At City Of Evil 3, Nick Ridicule vs James Shark 3 took place. The match generated lots of hype and media attention with 11.5 million PPV buys worldwide. Before the match took place, an HBO 24/7 series took place leading up to the bout.
However James Shark's 24/7 series were cancelled due to the star being arrested for a "Hate Crime" when James was accused guilty for an assault on a group of gay men who just so happened to be friends with London Carter, the brother of James Shark's girlfriend Brooklyn Carter.
Once Shark was locked up on a six month sentence, many were worried that City Of Evil would have to be cancelled as a whole, due to the fact that the main event, Ridicule vs Shark 3 was the most anticipated on the card. James Shark agreed to keep the match going, and the judge granted James Shark permission to leave the prison for his matches.
The match itself was an all out war with both men coming on top with the fans thinking each one would get the win in different points in the match. In the end it was Nick Ridicule who got the victory after Shark passed out from a submission refusing to tap out. The match itself won the "Match Of The Night" award, and potential "Match Of The Year" award.
Many of the fans wondered how things would have went had Shark not been arrested and had he been given the proper preparation to train for the match.
Although there were already talks of a fourth encounter between James Shark and Nick Ridicule, that match would have to wait as James Shark never backed out of a match, and it was London Carter who challenged him to one. London Carter was the NLWF Freedom Champion and had called out James on numerous times, at Legends of the Fall, James Shark appeared live via satellite right before London's match to address him and accept his challenge.
With his "Trash Talk Royalty" James Shark was able to get into London's head and cost him his match with his verbal onslaught.
London Carter came so close to defending his Freedom Championship but lost the title to David Zombie. It was then James Shark who continued his onslaught on twitter once he was put out on house arrest. Calling London a fake champion, bragging about how London couldn't even defend his championship once. The rivalry grew bigger as Brooklyn Carter and James Shark grew closer and stronger as a couple. Both London nor Dana (Brooklyn's best friend) approved of their relationship which made for twitter wars between the three almost an everyday thing.
Before people knew it James Shark vs London Carter set to take place at Ultimate Glory was already the most talked about match on social media. Many fans created debates and arguments, taking picks on who would win this match, and the match only grew even bigger when it was announced that Brooklyn Carter would be the special guest referee.
On the Mercedes Show, all three of them (Brooklyn, James, London) showed up to talk about their rivalry and match. The show was also a strong test for Brooklyn Carter to see if she could be able to control both her boyfriend James and her brother London so that they wouldn't kill each other.
The show quickly came to an abrupt end after the two men came to blows, with the two of them going back and forth and messing up the entire set, until it was James who landed a stiff punch, busting London's nose up. Immdietly after the show, the two of them went back at it on twitter.
Not only was James facing London and participating in the Ultimate Glory main event, but he also signed up to take on Steven Angel aka David Zombie in the PPV opener for the NLWF Freedom Championship. The same title that London couldn't defend, the same title that London once held.
Many people thought James did this to send a message to Carter, to try and win it and get in his head even more.
With the match hype and demand growing each and every day, it was announced that James Shark and London Carter would meet in the ring before Ultimate Glory. At the debut of Exile Vindication, NLWF's newest weekly show, James Shark teamed up with London Carter, Brooklyn Carter and Anthony King to take on Robbie Hart, Loca Rocsi, Caleb Hart and Frank Hart.
Both James and London agreed to put their differences behind them and work as a team, but both men also stated that if either one went out of line, neither of them would hesitate on swinging.
This match was a must win for the team of Shark and London, with a lot of bragging rights on the line. In between all of the Shark/London drama, Robbie Hart and Anthony King were going back and forth with the trash talk leading up to their co main event match at Ultimate Glory.
Loca Rocsi and Brooklyn Carter were also going back and forth with one another, throwing personal shots at each other. James Shark also had a lot of history with everyone across from him except for Caleb Hart. James Shark had stolen a pair of Loca's shoes on the debut of IWF after finding her knocked out backstage, a few months later, James Shark was defeated by Frank Hart. However when James returned after an injury he defeated Robbie three times.
Leading up to Exile, Robbie Hart had addressed Shark and had told him that his father (Frank Hart) had owned Shark and that Shark was his father's bitch. James Shark wanted to shut Robbie up and get revenge on Frank Hart, and that's exactly what he did, as he led his team to victory by knocking Frank Hart out cold in the middle of the ring.
However a knockout wasn't enough for James Shark, after knocking out Frank Hart he covered him with a blanket. Almost as if tucking him into bed. The humiliation didn't last long though, because it was London Carter who understood that as soon as the win was scored, James Shark was no longer his tag team partner. The two men got into each other's faces with Anthony King and Brooklyn Carter separating the two apart from one another.
After that match, James Shark participated in an over the top rope battle royal in the main event that very same night, which had him winning the whole thing. Sending a message to everyone at Ultimate Glory which was that he would win the Ultimate Glory Main Event, a long with his match with London, and his match against Steven Angel.
Ultimate Glory started off with a wild start with James Shark backing up his talk, right from the start of the event, James Shark would defeat Steven Angel and all the other competitors to capture the NLWF Freedom Championship. Many people did not approve of how Shark won the match as they saw him stealing the victory from Psycho as Psycho unhooked the Freedom Title and all James Shark did was catch it.
James Shark then put his Freedom Championship on the line that same night against London Carter in a Last Man Standing Match with London's sister and Shark's girlfriend Brooklyn Carter as the special guest referee. Right from the sound of the bell, James would stalk London in the ring, landing at ease and knocking London Carter down to the floor over and over again. London showed James how much heart he had as he would get up from Shark's shots every time and continue coming forward, trying his best not to allow Shark to back him up.
As the match progressed, London began to find his openings against a very fusturated Shark who couldn't put London away. Brooklyn Carter struggled to keep both men fighting clean as they both gave each other nasty shots with foreign objects. Once London got the better of James and had Shark down and out, London grabbed a ladder and began to climb it. He stood at the very top of the ladder prepared to jump down and stomp on Shark's head. London Carter was prepared to kill James Shark who had insulted him for his homosexuality, he was ready to end Shark.
As Brooklyn Carter pleaded her brother not to go that far, James Shark used all his energy he had left to kick upwards, pushing Brooklyn right into the ladder, causing the ladder to tilt and London to crash and burn into a table filled with barbed wire that he had set up earlier. London would not survive the ten count, and James Shark would retain his Freedom Championship.
Only a half hour later, James Shark would come into the ring once again to use his #1 Contendership right that he won in the first match and use it against Nick Ridicule who was in the ring cutting a promo. As Nick saw Shark coming, he quickly threw his devastating Nick Kick, but Shark would duck under it and deliver a vicous right hook, putting Nick Ridicule to sleep, causing Shark to capture the NLWF Championship.
Already leading into the Glory Battle, it was a James Shark night with three wins and two championships. The odds were not stacked against Shark's favor though as he had to participate in a battle filled with every member of the roster. James Shark was one of the first people to enter the ring, and he fought his heart out to survive. During the match, David Zombie got his mask stolen, and once James made the last elimination and was the last man in the ring, many thought that James Shark won the match. However it was a Fake David Zombie who entered the ring wearing David's mask.
The Fake Zombie would batter Shark up with a barbed wire steel bat and elminate James Shark, stealing the win from him.
After the event, James Shark was furious and eager to find out who it was behind the mask. Another man who was furious was Steven Angel as he wanted to know who had his mask. James Shark would have to take the thoughts of the mask off his mind to prepare for his next match, as he was scheduled to put his NLWF Championship on the line against Anthony King, Nick Ridicule, and long time friend Brandon Macdonald in a fatal four way last man standing match.
James would experience some problems outside of the ring with Brooklyn as she began to act strange towards him. Once the match came around, all hell broke lose, with each men showing the world that they wanted to walk out with the championship.
The match would end with Anthony King becoming the new NLWF Champion unifying the title with the NLWF Universal Championship and Shark's Freedom Championship.
Many of the fans called for a rematch as they didn't feel that the match truly ended. James Shark was not out and Anthony King had only made it to his feet a few seconds before James did. The rematch would take place at Tournament to the Title on February 3 with the NLWF Undisputed Championship on the line.
It was Shark's chance to show the world that he didn't desreve to lose his championships and he did exactly that by stopping Anthony King and defeating him to become the new NLWF Undisputed Champion. It was a tough match, and a match that left Shark gassed. Right after James was declared the winner, his rival Steel Angel came out to the ring and cashing in on his #1 contendership spot.
Back in IWF, Steel got the better of Shark by cashing in on his spot and defeating Shark for the IWF Championship and just when it looked like history was about to repeat itself, James Shark shocked the world by knocking out a fresh and healthy Steel Angel and remaining the NLWF Undisputed Champion.
James Shark's celebration did not last long when Brooklyn Carter, the love of his life, admitted to him that she was the one who stole the mask of Steven Angel and she was the one who bashed him in the face with a barbed wire steel bat. She told Shark that it was just business and that she didn't mean to do it, but felt horrible about it afterwards and that it had been eating her up inside.
Surprisingly, James Shark forgave her, but it was James who was the one acting weird around her now. At Valentine's Day Inferno, Brooklyn Carter defeated Alison Williams for the NLWF Women's Championship. Right after the event, James Shark broke up with Brooklyn Carter for the Ultimate Glory incident. He told the media that he tried his best to ignore it, but it was something that he just couldn't ignore.
Both of them went back and forth on Twitter and were on each other's throats for weeks. Brooklyn Carter began to hang out with her ex-boyfriend Kai who was in a relationship, but Shark began to hang out with his ex Chante who was single.
Chante Rich would play a big role in the drama between Shark and Brooklyn as she lied to the media telling them that Brooklyn had been cheating on James.
She would also fill up her Instagram account with pictures of James and her. Pictures from the past when they were dating as she entitled "Memories" and then recent pictures of them hanging out in clubs and in restaurants.
Once Brooklyn Carter and James Shark were announced as lead roles in NLWF Films: The Guiollotine, Chante was also announced as a cast member. Brooklyn would get her revenge on Chante one day on set by assaulting her. No charges were pressed on Brooklyn, but it would cause Chante to butt out of the drama abit. Chante was no longer posting pictures or talking to the media but she was still reportedly hanging out with Shark. James told the media that him and Chante were just friends and Brooklyn told the media that her and Kai were also just friends.
As the drama between the two former lovers cooled down, they began to slowly show the world that familiar Love/Hate relationship that everyone had been used to. Some days they would be bashing each other, other days they would be complimenting each other and telling everyone how much they missed one another.
At Dangerous By Design, both Brooklyn and James were pit on Super Fights. James Shark would take on Axle Vengeance from the IWF and Brooklyn Carter would take on Tiami Tyler from several different promotions. Both of them would go on to win their superfights and compliment each other afterwards.
Leading up to the match both of them had tweeted saying that they were rooting for each other's opponents, but after the match, they both said they had money on each other to take the victory. The next event came Battle Lines and that's when the drama returned.
Just when things looked to be going good for the couple known as "Sharklyn", James Shark unexpectedly kicked Brooklyn Carter out of his team for the Pay Per View. Brooklyn was angered by his decision and wanted answers, but James wouldn't give anyone an explanation as to why.
Brooklyn Carter would then form her own team and win the whole match. Before the match, Angel Kash would kiss James Shark in the middle of the ring, and during the match, Brooklyn would get back at James by kissing Nick Ridicule. The tension soon cooled down as James would save Brooklyn at different moments of the match as Brooklyn would do the same for James.
Leading up to Warrior Games, James then finally admitted that he had kicked Brooklyn off his team because although the two of them were "cool", he felt disrespected by Brooklyn as she would try and get him jealous with Madison Monroe, which worked.
Their Main Event match at Warrior Games for the NLWF Undisputed Championship was one of the most anticipated matches in quite some time with lots of hype and build up, but it failed to deliver and the fans at attendance threw garbage in the ring with both James and Brooklyn flipping the crowd off.
During their match, neither of them wanted to hurt each other, and with Brooklyn wearing the mask, James did the minimal to win by knocking the mask off of Brooklyn's face to be declared the winner of not only the match but the Glory Battle that took place a few months back. Shortly after the event, Brooklyn and James got engaged.
After the PPV, both Brooklyn and James began to get a lot of heat and criticism for not putting on a show while being in the main event of the biggest PPV in NLWF. Neither of them cared about what the fans or their co-workers were saying. They put themselves before the fans and were in love, to them, that's all that mattered.
There began to be rumours that both Shark and Brooklyn were about to make the NLWF more upset with the two of them by calling it quits. This rumour had everybody talking since Shark was the Undisputed Champion of the company and Brooklyn was the Women's Champion. Inside sources said that both Brooklyn and James did not care for the company or the titles they were holding. At the next PPV King of the Throne, those rumours came to be true.
James was scheduled to defend his title, he showed up for the match but was clearly not interested. Instead of trying to defend his title he was out in the ring being more of a clown and showed no desire to retain his title. With his loss, he walked out of the company and Brooklyn walked with him.
Insurgency Wrestling Federation (May 2013 - Current)
To Be Added.
Platinum Dynasty Wrestling (April 2013 - Current)
Despite his reputation for lackluster performances once competing in more than one company, James Shark decided to finally step into the PDW in April while still competing in the NLWF. James Shark promised that things were different this time around and that he was doing things the right way.
Upon joining the company, he campaigned for a match against Zack Lifer, accusing Zack of "ducking" him and being scared of him. For days, James Shark would trash Zack verbally on camera and on social media, even taking things to a personal level by bringing up the death of Zack's baby that was miscarried by his wife Saylor.
Many thought that the match up would happen in Shark's debut, but instead, James Shark would take on D-Dawg and Cyrstal Hilton in the co-main event of PDW's hottest new show, Ascension. Many saw James Shark with a tough challenge ahead of him in D-Dawg as he had a long list of championship reigns with more experience and over seven hundred wins. James Shark wasn't phased by D-Dawg 's past and accomplishments as he told the media "I can beat this guy, and I will".
James Shark promised that he would pick up his 80th victory and he did just that in dominating fashion as he ended the match by knocking out Cyrstal Hilton to pick up the win. After his victory, he told the fans that he wasn't interested in a potential match-up with Zack anymore. He told them that he was done "chasing Zack around" and that it was time to set his eyes on a worthy opponent. A few days after Shark's announcement, it was Zack who finally brought the match up on his Twitter Account, telling his followers that he wanted that match since day one.
The two men went back and forth on Twitter before it was announced that James Shark would team up with Brandon Banks to take on Zack Lifer and Yun Goen on the next edition of Disclosure.
Leading up to the match, James Shark continued to verbally bash Zack and include Yun into his trash talk by saying things like: "I hope Yun got a lot of back strength, cause she gonna have to carry Lifer's ass this whole match".
As the match started, the fans had their eyes glued onto the ring as the tag team match started with James and Zack. Shark immedietly started landing on Lifer, but to the disappointment of the crowd, it was Lifer who immedietly tagged in his partner Yun. Yun would end up getting pinned by James as Banks attacked Lifer to end the match as the two of them gained the victory.
Shark's next match would come in the form of a triple threat match. James was scheduled to take on Marcus Enderton and Zero Mchannon. Both Zero and Shark were the favorites as they both went back and forth with trash talk while Marcus remained under the radar. As time went on, it seemed as though the match was a one on one match between the two men and they had forgotten all about Enderton. However, after a few days all the trash talking stopped from Shark and he remained quiet, something strange coming from him as he usually got more verbal as his matches came closer.
A day or two before the match, there was a leak from Shark's circle that he had injured himself during training, an injury that was already there from his NLWF Championship Match that he lost. He had apparently aggrivated the injury during training for his PDW match-up but was more than fine in continuing with the match due to not wanting to pull out.
James took on the two men in the triple threat match but seemed off. Instead of being his usual aggressive self, he was more defensive and did not throw his combinations. When he threw his punches, they came in ones and not in bunches. The match ended with James knocking Zero out of the ring and Enderton hitting Shark with a spinning heel kick to get the pinfall.
After the match, James Shark was sidelined as his injuries got even worse. He was out of action for a few weeks before returning to PDW to take on rival, Jakob Alexander.
Jakob and Shark's rivalry started in 2012, the same way most of Shark's rivalries start, with James Shark talking trash. Shark insulted Alexander, calling him a weak and untalented wrestler. There were a number of times where both men were calling each other out and telling one another that they could defeat each other, but a match was never made due to both of them being in different companies with neither of them coming to an agreement.
When Jakob joined the PDW, the window of opportunity opened and Shark immedietly called out Jakob. Both of them agreed to a one on one match and the match was made. James bragged on Twitter about how this match was going to be another easy win and another easy pay day whereas Jakob ignored the comments and did his best to not let Shark's trash talk get into his head.
Jakob had the speed in the match, immedietly getting Shark early and getting the upperhand, the two men went back and forth until James knocked Jakob down and removed the padding from one of the turnbuckles. As Jakob got up to his feet, Shark played possum in one of the corners. As Jakob got up and ran towards Shark, Shark quickly ducked out of the way and watched as Jakob went face first onto the exposed turnbuckle, just as that happened, James quickly rolled Jakob up and scored the victory.
Shark was not booked for the next show however, and it was later revealed that James Shark had failed a drug test. The PDW had came up with a new rule while Shark was injured which worked with the wellness policy, all superstars and divas would have to be drug tested before their matches. It was revealed that James Shark's test indicated that he had been smoking a lot of weed leading up to his match with Jakob.
Instead of taking away the win and changing the outcome of the match, the PDW decided to punish Shark by suspending him.
Almost a month later, James Shark made his return from his suspension in PDW's biggest PPV: Legendary, where he was placed in a triple threat match against both Jakob Alexander and the PDW Bloodshed Champion Dom Harter. Many fans did not like the fact that James Shark was placed in this championship match because they felt like PDW was rewarding him for his bad behaviour. James lashed back out at fans claiming that they were all just worried for the undefeated champion Dom Harter, who he called "overhyped".
Both Shark and Dom exchanged in the war of words leading up to their match with Shark backing up his talk in the end once again, by capturing the PDW Bloodshed Championship. After the match, Dom Harter left the PDW as Shark laughed about his departure.
Although it was an impressive win, many found it even more impressive that James Shark had a match-up in IWF that very same night against legendary Flex Johnson, winning both matches.
It marked three wins in one week, but the next week, James Shark wouldn't be so sucessful, losing to Inferno in bad fashion. Before the match, James Shark tweeted to the world that he was done with the sport. Altough he did show up to his match with Inferno, in a post-match interview, James said that he just gave me to take his ass whooping and his pay cheque, that he gave Inferno the win, and that this was the last people would see of him in wrestling.
He took a lot of heat for that from not only his haters but his own fans as James Shark has been known to pull stuff like this. Many people disapproved of his decision not only because he was still young with a lot more left to give in the sport but also because he's the PDW Bloodshed Champion.
Regardless of the talking people were doing, James Shark repeatedly told the world that he was done with wrestling.
Past Relationships
Throughout his on going career James Shark has not only been labeled as the "Bad Guy" of sports entertainment and the "Villian" but he has also been labeled names such as "Player" and "Manwhore". The cocky superstar has had his share of one night stands and relationships, however here is a list of his known girlfriends/wives that have been made public from television and his promos.
Latoya Banks - Dated for 5 Years - On and Off
James Shark and Latoya Banks met in Brooklyn NY. The two of them were child hood friends that started dating around that time. Both of them came from rough backgrounds and ran away from home at a young age. They've known each other for years and had been lovers for the majority of that time.
Since both of them had a lot in common, they were easily attracted to one another and were able to tell each other anything. The two of them were also able to grow a strong bond and trust for each other.
In interviews, both of them claimed that their relationship was perfect and they saw each other as a perfect couple with both of them planning to spend the rest of their lives with one another. Something they had planned since they were kids. The problem was when the fame came.
Once the two of them became professional wrestlers, Latoya mentioned that the fame had gotten inside Shark's head. Although men around the world enjoyed Latoya's presence and in-ring abilities, she didn't let that get to her but Shark allowed the women to get to him. James had a problem with commitment once the fame came around and was doing nothing but getting Latoya jealous by partying and hanging out with other females. After a few months of being together while famous the two of them realized that they probably weren't meant to be a couple like they thought when they were kids, so  they continued to remain best friends. Latoya Banks is a person James could trust as well as a person that could put her on trust on Shark.
Till this day the two of them remain the best friends.
Karly Zedic - Baby Mom - Dated for 3 Years - On and Off
Karly Zedic, an underground boxing ring girl, dated Shark for quite some time, even dating back before Shark's pro wrestling days. The two of them were appaerently seeing each other during the weeks where James and Latoya would be taking breaks. The two of them became an official couple a month or two after James and Latoya broke up, however the relationship didn't last long as Karly broke up with him while he was in the NLWF and they were for the same reasons James and Latoya broke up. The partying and trouble shark was getting in was too much for Karly to handle, and she didn't feel like she needed to go through the arguing as James didn't see any problems with what he was doing.
After the breakup the two of them never spoke to each other again, but It was later then revealed to Shark by Karly in 2011 that she had been pregnant with his child while they were separated.
The two went through a large custody case in which James won after bringing up Karly's alcohol problems that she had but after a month of taking care of his child with Serai Leone and Kadri Ilves, he sent him back to Karly after realizing he couldn't raise a child and was not a good father to the boy as he still did not even see the boy to be his own, even though he knew it was.
Since the break up, the two of them bump heads almost every time they see each other. Getting into large verbal arguments whenever Karly drops off Shawn Zedic (Their son) to Shark's house.
Lillian Martinez - Dated for 1 Year
James Shark and Lillian Martinez met in early 2010. At the time Lillian Martinez was a Maxim Cover girl, and a model with a huge fan base and following who was very popular in magazines. The two met in a UFC Event that the two of them attended. Both of them recognized each other and took a picture with one another and kept in contact.
Lillian's family was very rich and when James Shark and Lillian became a couple, her family did not approve of James Shark, a superstar who came from the ghetto. At the time that they were a couple, James Shark's hype was nearly dead as he had left the NLWF after a losing streak and was wrestling in the NHW. He was not very famous nor did he have a ton of money and that didn't fly with Lillian's parents either.
However, Lillian stayed with him and ignored her parent's dissaproval. Since Lillian was very close to her family, she had also been living with them, and when they did not have nice things to say about James, she moved out of their place and went to live with James who was living in a normal sized home. Lillian told the media that she liked the change and that it was nice to live somewhat of a "normal life".
In the start of 2011, James Shark would jump to the IWF, a company that was made by the former NLWF Stars once the NLWF Shut down. The NLWF fans were already on board with the IWF and ready for the IWF to make its debut. Since Shark had been training Lillian, he talked her into signing with the company and she quit her job as a model. 
After several months of being in the company, Lillian was kidnapped by Dan Alexander and Corey Casey as a plan to get into Shark's head before his World Title defense. Leading up to his match, there would be videos posted of Lillian being tortured, the mind games would work as Lillian was brought back to Shark a few days before his defense in which he lost.
The kidnapping of Lillian proved that aside from James Shark's "Player" Personality he did care for Lillian as it drove the superstar crazy. The two of them were together for one year until Shark broke it off with Lillian and left her for WEW Starlet, and former pornstar Serai Leone. A woman that he had been hanging out with while dating Lillian. James.
Till this day to the remain friends with minimal contact.
Chante Rich - Dated for 6 Months
Before Shark returned to the sport of wrestling in 2011, he was still making headlines outside of wrestling due to his relationship with Chante Rich, another very popular magazine cover girl.
Not much was known about their relationship other than the fact that they dated for 6 months before ending it. There are many different rumours as to why the couple broke up, but none of them have any solid truth. Their breakup came as a shock to the media because it came out of nowhere. They seemed happy with each other. After their break up, the two of them remained in contact and had been seen with each other in clubs and different events, but both denied being back together.
After a while, the pictures stopped surfacing and the two of them had reported to have lost contact with each other. When questioned about it in interviews, both of them stated that there was no bad blood and that the talking had just stopped.
In February 2013 the media started to report that James Shark and Chante Rich were meeting up with each other again and even seeing each other on a daily basis. Leading people to believe that they had gotten back together, it created quite the stir as James was broken up with Brooklyn at the time. However Chante killed the rumours in a magazine interview, claiming that the two were nothing more than friends.
As of right now the two remain in contact and are close friends.
Serai Leone - Dated for 2 Months
James Shark and Serai Leone were together for a little over two months. They were with each other in both the WEW, IWF and TIW.
Their relationship was going smoothly and fans instantly took a liking to them calling them "Seraimes". However things quickly began to change and It first started when Serai told James that when she first arrived to America she got into the Porn Industry and was a Porn Star to make her money.
That did not float Shark's boat at all as he was not only furious about her past job, but angered by her decision to take so long to tell him. Inside sources from Shark's circle reported that James was not only "ashamed" of Serai's past but also "disgusted" by it.
While they were dating, James held two world titles in two different companies and was being talked about to be the #1 wrestler in the sport as he was holding both the IWF World title and TIW World title all at the same time.
When all the hype began to get to him there were rumors of him cheating on Serai with Karly Zedic backstage before the whole "custody cases" and his relationship with Serai began get even more dramatic, including the way he treated her. James kicked her out of his house, and threw all of her belongings in the pool and even trash talked about her for months after they broke up.
Surprsingly, As of right now the two of them are on speaking terms as James apologized for everything he did.
Kadri Ilves - Dated for 1 Month
The moment Kadri Ilves walked into the IWF Doors, James Shark was all over her. The very same day she got signed to the IWF, Shark brought Kadri back to his house and made love to her. He saw her as the most prettiest girl in IWF, and she saw him the same way everyone else saw him. The best in IWF, possibly the world.
A week later after meeting him, Kadri was already moving into his house. A week after that, the two of them had released a sex tape to the public. The relationship started quickly and also ended quickly. They only dated for a month or two until their relationship started to get rocky. The news soon broke out that James Shark had gotten arrested in a hotel room and was caught in bed with XWE Diva Paige Ryan.
The police were called into a hotel room for a "noise complaint" and "noise disturbance" once they came into the room they found James Shark in bed with Paige. The police report stated that both of them were naked and caught off guard. They arrested Shark for an alleged assault on a police officer as well as possession of firearms that were found in the hotel room.
Kadri moved out of Shark's place while Shark was arrested, but a family member of Kadri's bailed Shark out, once Shark was out of prison he reached out to Kadri and told her that he wanted nobody else but her and also denied the allegations of him sleeping with Paige. Paige Ryan also tweeted on her account that the police report was false and that the two of them were just hanging out with nothing sexual behind it.
Kadri Ilves forgave James Shark and believed him and the two of them were back together again. The apology didn't seem sincere from James because it was he that cheated on Kadri a second time with Paige Ryan once again. Not only did he cheat on her but after that he dumped Kadri and even got her deported back to Estonia. Both James and Paige bragged about it afterwards and laughed at how much of a fool Kadri had been.
Paige Ryan - Dated for 2 Weeks
After the breakup with Kadri Ilves, James Shark and Paige Ryan no longer became "fuck buddies" but boyfriend and girlfriend. It became the second shortest reported public relationship of Shark's as the two of them lasted only two weeks before James dumped Paige over an argument they had in Shark's place.
Neither of them informed the media about what the argument was about, however James Shark joked with reporters, claiming that he had dumped Paige because she had dropped a plate of fried chicken on the floor by accident. He claimed the she had no respect for fried chicken and that got under his skin.
After the break up, Paige Ryan got a new boyfriend only a few days later, many think that it was Paige's way of trying to get Shark jealous but Shark responded with his Trash Talk Royalty, calling Paige out to be nothing but a slut.
Both Paige and Shark have no contact as of right now with their last interaction being James Shark trashing her on Twitter.
Cassandra Richardson - Dated for 5 Days
The unlikely couple of ASWF Diva and Olympic Wrestler Cassandra Richards and James Shark became a reality but just as many expected, it didn't last, and it didn't last longer than his previous relationship with Paige Ryan either.
Many didn't see them as a likely couple in the first place due to James Shark's loud mouthed bad boy attitude and Cassandra's innocent and always respectful approach. As well as Cassandra's muscular built as James had history for trashing girls like that, calling them "manly".
Both Cassie and James came to an agreement that they weren't meant for each other and that they were both just completely opposite from one another. They both decided to end their relationship after one week. It was another one of those situations where it was "Relationship now, Get to know each other later"
They are still on speaking terms and still friends.
SHARKLYN
Brooklyn Carter - Baby Mom & Fiancée - Currently Engaged to James Shark
"Sharklyn" is the name the fans have given the crazy couple. A combination of Shark and Brooklyn: "Shar-Klyn"
Brooklyn Carter and James Shark have quite the history together.
The two of them first met for the first time on June 9, 2012 and started hanging out with each other and becoming good friends until a rumour circulated that Brooklyn had bashed Shark behind his back.
It would cause James and Brooklyn to trash each other with insults over Twitter for three days or so until Brooklyn blocked James. The two of them didn't talk or have any sort of contact with each other until two months later, when James Shark joined SCW (the same company, Brooklyn was in) and Brooklyn told James she wanted to end the beef, James agreed and just like that, they started hanging out again.
After a week or two, Brooklyn confessed to James that she was pregnant with his baby and that she was afraid to tell him due to Shark bashing her on Twitter. It was then revealed that she was talking about him behind his back in a negative manner two months back because she was angry when she found out she was pregnant and just didn't know how to react. The two of them took a week off from each other before talking to each other once more and confessing their feelings for each other, and becoming a couple.
Two months after making it official, it was Brooklyn Carter who broke up with James Shark due to some comments James had made to her brother London Carter, insulting him for being homosexual. A week later, James Shark was arrested for a "hate crime" involving an assault on a group of men who were London's friends outside of a night club in New York. However there were rumours circulating that Brooklyn Carter had been making visits to James Shark in the prison, just a month after, Brooklyn revealed on Ellen that she was indeed visiting James in the prison and that she was still with James Shark. She claimed that nobody understood Shark like she did, and that Shark wasn't a homophobe nor did he have any hate towards London Carter. She not only defended James but defended their relationship, stating that people can have their opinions, but her and Shark loved each other. That wasn't the only announcement Brooklyn made, on that same night, she told the world that she had misscarried with Shark's baby.
The announcement made by Brooklyn stating that she was still with James caused a lot of controversy and anger towards some of her fans, and towards her family who believed that James Shark wasn't the right person for her. The controversey didn't end as just a week later, news broke out that the pair had broken up again. Brooklyn confirmed the rumours by claiming that James broke up with her through a letter he had wrote on prison, but once Shark was released from prison to be put on house arrest, it was James who claimed it was Brooklyn who broke up with him with a letter.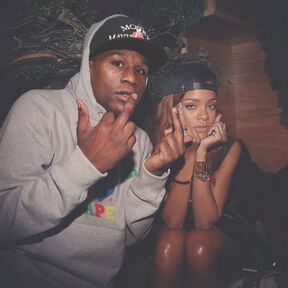 Many people began to think that all of this was planned for publicity as just a few days after butting heads on twitter, the two met up and got back together yet again. Not to mention the fact that James Shark had gotten a tattoo on his arm with a heart that read
Brooklyn Carter's
name on it.
Once James Shark and London Carter faced off in a Last Man Standing Match, things got ugly and Brooklyn who was the special guest referee in the match, could not control her boyfriend or her brother. During the match there was a lot of taunting from Shark as he did the best that he could to humiliate London. Brooklyn didn't like that. In the end of the match, James Shark who was laying on his back, kicked his feet up, pushing Brooklyn Carter into the ladder that London was on top of, causing London to fall straight down to a table filled with barbed wire.
The couple broke up moments after the match as Shark tweeted to Brooklyn "I was in a do or die situation. If you're mad at me because of that, then break up with me." as Brooklyn replied with "That word came out of your mouth, but this is what you wanted. Take Care and Enjoy life" Many speculated that it wouldn't be the end of the two and those who felt that way were correct. The break up lasted a little over a few hours before the two of them were already joking around with each other. "You gonna be like all my other Exes and not talk to me?" James tweeted her as she responded "EX? you're still my baby, come see me"
Both Brooklyn and James remained together and seemed stronger then ever, until Brooklyn began to act weird around James, the fans could even tell from their promos together and interviews, after a while, Brooklyn and James began to take some time off from each other, and were even spotted hanging out with their exes. James Shark hanging out with his ex Chante Rich raised more eyebrows then Brooklyn because Brooklyn's ex Kai was already in a relationship. Despite the two of them hanging out with their exes and not seeing each other, both of them claimed that they still loved each other and that they were just taking some time off. They also told the media that they were still together.
After a few weeks of space, Brooklyn explained herself to the world and told everyone that she was the one who attacked James Shark at Ultimate Glory during his battle royal match with a barbed wire steel bat. She told everyone that it was just business and she wanted the victory. She revealed to the world that she was "Fake Zombie" the name given by fans of the "masked man" that attacked Shark.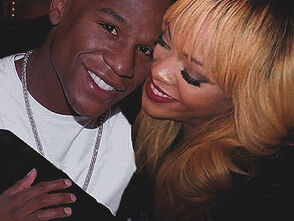 James Shark forgived Brooklyn and the two of them even hung out on Valentine's Day, buying each other expensive gifts. Brooklyn buying James a car, James buying her a house. However, it was James turn to shock the world as he broke up with Brooklyn and told everyone that he "never really forgave her". He claimed that he tried to let it go, he understood Brooklyn's motives but couldn't respect them. In his opinion, he saw the whole thing as Brooklyn putting Business before their relationship. The two of them argued on Twitter with both of them making interviews stating that the two of them would "NEVER" get back together and that the break up was real this time.
They remained broken up for a month and a half, the longest break up of their relationship, however it wasn't really a break up because during that one month and a half, the two of them were questionable. Some days they hated on each other, other days they tweeted each other expressing how much they missed one another. One weekened, Brooklyn Carter flew out to L.A and stayed the night in Shark's place with inside sources claiming that the two of them "had some fun together". A week later, Brooklyn moved to L.A where Shark lived and bought a house over there.
After their match at Warrior Games which involved rare physical contact, Brooklyn Carter tweeted a picture on Twitter with a ring on her finger and James Shark kissing towards it, with the tweet reading "Enough Said". It then became public that the two of them were engaged. Once they got back together, it was discovered that James wasn't the only one with ink on his body dedicated towards Brooklyn. Brooklyn also got a tattoo on her chest area with a small heart that reads J.S on it, initials for James Shark.
A few weeks after the two of them left the NLWF and got engaged, Brooklyn broke the news out to her fans on Twitter that she was once again pregnant.
Championships and Accomplishments
Platinum Dynasty Wrestling
Championships
PDW Bloodshed Championship
Insurgency Wrestling Federation
Championships
IWF Heavyweight Championship (2x)
IWF High Impact Championship
IWF Tag Team Championship (w/ Robbie Hart/Cody Taylor)
IWF Full Throttle Championship (first ever)
Awards
2nd Place for IWF Superstar of the Year 2011
2nd Place for IWF Match of the Year 2011
3rd Place for IWF Rivalry of the Year 2011
Total Impact Wrestling
Championships
TIW Heavyweight Championship (first ever)
Sin City Wrestling
Awards
SCW Future Star of the Year 2012
No Limit Wrestling Federation
Championships
NLWF Undisputed Championship
NLWF Championship
NLWF Freedom Championship
Awards
NLWF Superstar Of The Night (January 5, 2013)
NLWF Match Of The Night (January 5, 2013)
NLWF Move Of The Night (January 5, 2013)
NLWF Impact Of The Night (January 5, 2013)
NLWF Match Of The Night (November 10, 2012)
Other:
Ultimate Glory Battle Winner 2013
Tag Teams
Upper Limit - James Shark & Robbie Hart - IWF Tag Team Champions (IWF)
Team Swag - James Shark & Brandon Macdonald (IWF)
Team Swag - James Shark & Cody Taylor - IWF Tag Team Champions (IWF)
Team Swag - James Shark & Anna Stone (IWF)
MAFIA - James Shark & London Carter (NLWF)
Bad Attitude - James Shark & NEON
Stables
New Age Disciples James Shark, Brandon Macdonald, Alison Williams (IWF)
Upper Limit James Shark, Brandon Macdonald, Carmine Vesiteri, Chuck Matthews, Corey Casey, Robbie and Hart (IWF)
Team Swag 2.0 James Shark, Latoya Banks, Sir Mixer and Victor Luthor (IWF)
Shark Attack Victims
Below are a list of names from both Male and Female wrestlers whom James Shark has defeated. This is an on-going list of names updated after every match. Note: There are names missing
Males
Anthony King
AJ Wreckless
Bobby O'Day
Bulk Bogan
Chad Mason
Chuck Matthews
Connor O'Shannon (2x)
Corey Casey (3x)
Craig Hemming
Dan Alexander (2x)
David Zombie
Death Angel (3x)
Demetrius Randall
Dom Harter
Effin Rox (2x)
Frank Hart
Hostyle Jones
Jakob Alexander (2x)
James Betterman
Joey K
Justin Underwood
Kameran Ingram
Knife 2 Know U
Lord Blackwing
London Carter
Nick Ridicule (2x)
Parker Wayde
Psycho
Ryan Apollos (2x)
Ryan Hall
Robbie Hart (3x)
Ruben Ricardo Leon
Shadow Demon
Sho' No Mercy
Sir Mixer
Steel Angel (4x)
Stefan Raab (3x)
Storming Raven
SM Raye (2x)
SNH
The Last Angel
Titus Black
Tyson Darden
Vincent Van Rose (3x)
William Darlington
ZIF
Females
Ashley Matthews

Audrey James
Rap Songs