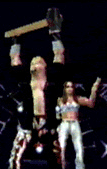 Kate Young, formerly known as Kate Young-Harmen, is the divored wife of professional wrestling's
High Flyer
. She has participated on many on screen occasions, including wrestling in an all women's battle royal in 2000. She has since left the business in 2002, and the fact that High Flyer continued put an incredible stress on their relationship, forcing them to eventually divorce.
Ad blocker interference detected!
Wikia is a free-to-use site that makes money from advertising. We have a modified experience for viewers using ad blockers

Wikia is not accessible if you've made further modifications. Remove the custom ad blocker rule(s) and the page will load as expected.