Kimberly Williams
Talk

0
11,354pages on
this wiki
Kimberly Williams
Statistics
Real name
Kimberly Williams
Ring Names
Kimberly Williams
Height
5'6"
Weight
120
Date of birth
October 1st, 1984
Place of birth
Boston, Massachusetts
Date of death
--
Place of death
--
Resides
Boston, Massachusetts
Billed from
Boston, Massachusetts
Trainer
Emma Frost
Current
federation(s)
Global Division of Wrestling<b>Millennium Wrestling Alliance
Global Championship Wrestling
Previous
federation(s)
Southeastern Wrestling Conference
Handled by
The Matt
Win/Loss Record
--
Debut
--
Retired
--
Biographical History
The Early Years
Marie Williams thought she had her entire life figured out, that is until she learned that she had a half-sister; same father different mother. Sean Williams and Emma Frost conceived a daughter before Marie, one they named Kimberly Williams. Kimberly trained in the art of professional wrestling for one single purpose: to exact revenge upon her half-sister and the Jones dynasty. After receiving the necessary training, she began jumping Marie from behind during GDW shows and events, under the guise of a mask, until she revealed herself and her intentions to the entire world.
Wrestling History
Southeastern Wrestling Conference (2010)
Kimberly Williams got her start in the SWC, advancing to the finals of the SWC Heavyweight Championship tournament only to fall short against Carrie Storm. A rematch, a submission match, would give Kimberly the advantage she needed and she won the Heavyweight title. But in their rubber match Marie, desiring to gain a measure of revenge for the stalking, Marie cost Kimberly the Heavyweight title. Marie tried to use her connections to black ball Kimberly out of GDW but Kimberly earned a contract by winning a match against Marie.
Global Division of Wrestling (2010 to Present)
As a member of the GDW roster Kimberly quickly befriended Dazz. The mysterious pair revealed their alliance at Civil War. They managed to kidnap and brainwash Marie's mother Angelica and forced her to don a mask, calling her the Dark Phoenix, and as a faction known as Tribulation they made it their goal to burn GDW to the ground. The plan was almost successful until things came apart seemingly overnight as Angelica would snap out of it, Dazz would leave GDW, and Kimberly was left all alone. Kimberly kept up her plot of revenge though, trying unsuccessfully to destroy Marie and her family on her own, but in the end the reverse happened: Kimberly and Marie befriended one another, earning each other's respect for the time being.
It wasn't long, though, that after Marie resurfaced in GDW Kim would return as well, demanding that Marie embrace her "true heritage." What Kim means by this is still unknown but the two are scheduled to face off in a street fight at Purgatory 2012.
Millennium Wrestling Alliance (2011 to Present)
Kimberly signed a deal with MWA to compete on their Turmoil show. It was there that Kimberly defeated Summer Collins to become the first ever MWA Turmoil Women's Champion.
Global Championship Wrestling (2012 to Present)
Global Championship Wrestling recently announced that it was going to reopen its doors and Kimberly has once again followed her half-sister Marie into a new federation with cryptic purposes in mind. Kimberly will be a part of the upcoming GCW World Heavyweight and International Title Tournaments at their Resurrection 2012 pay per view.
Gimmick/Personality
Kimberly Williams is cold hearted and vindictive.
Style and Strategy
Kimberly is a mat technician through and through. She will always use technical wrestling 101 and submission holds to out-wrestle her opponents.
Strengths
Few can match her mat wrestling ability.
Weaknesses
Her merciless attitude can become a hindrance as she may throw the rulebook out the window.
Moves
Submission Moveset
Triangle Lancer
Inverted Figure Four Leglock
Arm Bar
Triangle Choke
Dragon Sleeper
STF
Leg Grapevine
Bow and Arrow Submission
Million Dollar Dream
Crossface Chicken Wing
Haas of Pain
High Risk Movset
Miscellaneous Moveset
Lightning Spiral
Capture Suplex
German suplex
German suplex into the turnbuckle
Elevated delayed German suplex
Release German suplex
Full Nelson Suplex
Dragon Screw Leg Whip
Scissors Kick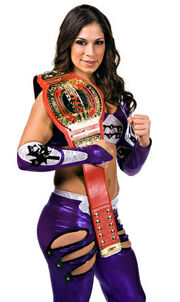 Finishing and Trademark Moves
Submission Finisher: Scorned (sharpshooter)
Knockout Finisher: Shadowblade (code breaker)
Trademark Move 1: Homage To The Queen (Crucifix Armbar with Neck Submission)
Trademark Move 2:Morrigan's Wrath (superkick)
Achievements
Southeastern Wrestling Conference
SWC Heavyweight Champion 1x
Millennium Wrestling Alliance
MWA Turmoil Women's Champion 1x
Global Championship Wrestling
None yet
Global Division of Wrestling
None yet
Queen City Wrestling
QCW Queen City Champion 5x
QCW World Tag Team Champion 1x
Notable Feuds
Carrie Storm (SWC)
Marie Williams (GDW)
Notable Matches
vs. Marie Williams ; Winner: Kimberly Williams
vs. Carrie Storm ; Submission Match ; SWC Heavyweight Championship ; Winner: Kimberly Williams
vs. Summer Collins ; MWA Turmoil Women's Championship ; Winner: Kimberly Williams