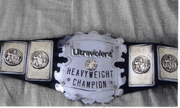 The King of Ultraviolence Championship is a Mutli-federation Title which can currently be defended in Fearless Championship Wrestling, Elite Superstar Wrestling, and Hardcore Pro Wrestling. It is based on Deamon Cohln's premise of ultraviolence and is currently in a tournament to crown the first champion.
History
After Deamon Cohln retired from wrestling in 2007 he decided he wanted to do something he has been wanting to do for a long time. He started a multi-federation Championship which uses his favorite style of wrestling ultraviolence. He began recruitign federations to join and soon, his old fed, Fearless Championship Wrestling and another fed, Elite Superstar Wrestling Joined the alliance. FCW sent six wrestlers into the tournament and ESW sent one, Deamon then found 5 other independent wrestlers and the first ever King of Ultraviolence Tournament began. Round One is still going on.
The King of Ultraviolence Tournament
The first King of Ultraviolence Tournament began May 6th, 2007 with 6 matches of normal hardcore persuasion.
Round One

Round 2
Finals
Ad blocker interference detected!
Wikia is a free-to-use site that makes money from advertising. We have a modified experience for viewers using ad blockers

Wikia is not accessible if you've made further modifications. Remove the custom ad blocker rule(s) and the page will load as expected.