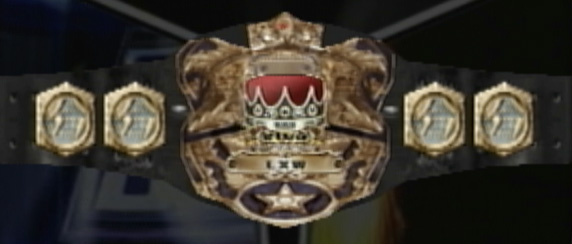 The LXW Championship was created in the inception of The League Of Extraordinary Wrestling as it's top title belt. As of the first LXW season only two have benn LXW Champion, with Jonny Pyro being the first and holding the belt until the last PPV of LXW's 2006 season, Pantheon I, where he lost the title to Dragon in a 20-Minute Ironman Match.
The title has since then been phased out and replaced with the LXW World Championship.
Title History
The LXW Championship was crowned during the first LXW Pay-Per-View event knowns as the "Champion's Classic". The main event was an over-the-top rope Battle Royal featuring a majority of LXW's first superstars. Pyro had drawn the last number in this match and was in a position to win it easily, but was deterred by the remaining two participants in Nathan "The CanKnuckler" Michaels and Fay Anderson. Pyro managed to eliminate Anderson as was crowned the first LXW Champion (later that night Anderson and Michaels would then wrestle for the now defunct LXW GrandSlam Championship).
He would then defend the title successfully for the majority of the 2006 season, besting the likes of Hussein Fatal, Jennifer Drew and others before he lost the championship to Dragon, who stands as the last holder of the championship.
Previous Title Holders
Ad blocker interference detected!
Wikia is a free-to-use site that makes money from advertising. We have a modified experience for viewers using ad blockers

Wikia is not accessible if you've made further modifications. Remove the custom ad blocker rule(s) and the page will load as expected.