Liliana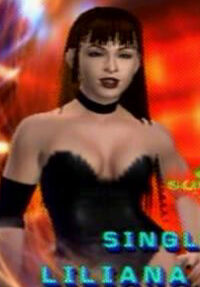 Statistics
Real Name
Liliana Ciccone
Ring Name(s)
Liliana
Height
ft in
Weight
lbs
Born
Hometown
Long Island, New York, USA
Trainer
Reiko Hikawa
Debut
Vs. Amy Chen (06/24/06)
Entrance Theme
Who's That Girl - Madonna

Liliana is an American born professional wrestler of mixed Italian and Hispanic descent. She is a former model for various men's and automobile magazines. She now works for Olive Japan: FWA and is known for her extremely strong chop, often used as a finisher, and her short temper backstage.
Signature & Finishing Moves
Signature moves

Lariat
Northern Lights Suplex
Spine Buster
External Links
Ad blocker interference detected!
Wikia is a free-to-use site that makes money from advertising. We have a modified experience for viewers using ad blockers

Wikia is not accessible if you've made further modifications. Remove the custom ad blocker rule(s) and the page will load as expected.