Mack "The Knife"
Name
Mack
Ringname
"The Knife"
Height
6'2"
Finisher 1
Going Down!
Finisher 2
The Sine Qua Non
Current Fed
NRWL
Mack in Season 2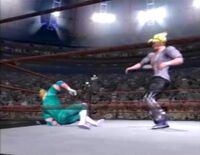 Mack "The Knife" came into the NRWL as part of the NRWL's experimental "Minor League" during season 2. Mack showed lots of potential and turned lots of heads early on. Unfortunatley, Mack suffered a season-ending injury during a match with another Minor Leaguer, Demon Dude. During the match, Demon Dude grabbed Mack by the neck and threw him over the turnbuckled and Mack landed squarly on the steel steps. The vicious landing cracked several of Mack's ribs. That was the end of Mack's Minor League run.
Mack in Season 3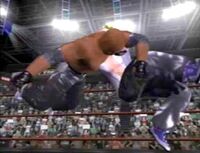 When the NRWL started its 3rd season, Mack had raised enough eyebrows during his Minor League run to earn himself an NRWL contract. Misfortune struck again, however, as Mack sustained an injury in one of his first matches. During a triple threat match against Crag and Viking, Mack was hit in the chest with a thrown chair, and given a devastating Rock Crusher (chokeslam) by Crag. The combination reinjured his ribs, but not to the severity of the Season 2 injury. Mack was out of action for about a month before returning.
Mack's most noteworthy event(s) in Season 3 was his long feud with WarHead. WarHead had stated he was reminded of himself when he looked at Mack. In what started off as a small match between a veteran and an up-and-commer, exploded into a violent rivalry between the two men. Neither would admit defeat, even after a loss. Each match became more extreme. The feud climaxed at the Pay-Per-View "State of Emergency" where the two wrestled in a 3 Stages of Hell match, each stage being Last Man Standing. The match went through all three stages and eventually, WarHead emerged the victor. The end of the match had WarHead extending his hand for a handshake; thus Mack earned the respect of the legendary veteran - something some will claim is worth more than a victory.
Entrance Music
"Believe" by Breaking Benjamin
Ad blocker interference detected!
Wikia is a free-to-use site that makes money from advertising. We have a modified experience for viewers using ad blockers

Wikia is not accessible if you've made further modifications. Remove the custom ad blocker rule(s) and the page will load as expected.