Welcome to the eWrestling Encyclopedia
The eWrestling Encyclopedia is the first fully interactive e-wrestling knowledge base. It was formed in July of 2005, and is hosted by Wikia.
As an editable website, EWE is a collaborative attempt to document the past, present and future of everything related to the 'hobby' of e-wrestling. This includes information on the characters, federations, inter-federations and handlers and anything which can be written about to an acceptable level.
The eWrestling Encyclopedia strives to change the face of e-wrestling, and to prevent the inevitable situation where the stars of today will be forgotten in ten years time. We plan to become an indispensable tool to all handlers and e-federation fanatics, and with your help, we might be able to do just that.
Content

We are currently working on
13,614 articles
. To browse eWE, visit the
main article category
, or directly browse
characters
,
federations
or
handlers
. Along with this, Featured Federations and Featured Wrestlers are updated by the administration of EWE. Users of EWE are encouraged to nominate characters, championships, and federations to become featured on EWE's homepage. For nominations, please contact
RRS
and see if you qualify!
Featured Wrestler of the Month
Stephanie Matsuda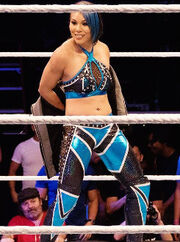 (born April 18, 1989) is a Japanese-American professional wrestler currently signed to
Elite Answers Wrestling.
She appears on the promotion's Empire brand, where she is the current
EAW Women's World Champion
in her first reign, and the last
REVOLT! Freeweight Champion
after unifying both titles to become the
EAW
UnIfIed Women's Champion
. In addition, she is also a one-time
Specialists Champion
and won the first-ever Specialists Rampage. She is also the first holder of the
Iconic Cup
. Outside of the company, she is best known for her work on the independent circuit in North America, for promotions including San Diego Wrestling, and Diva All-Stars. In Japan, she worked for
Joshi Extreme Takeover
where she held the JET World Championship. (
Read More
)
To be our Featured Wrestler, contact and admin to nominate your wrestler.
Participate
To learn how to start today, visit the quick guide to editing. You can use this page for test edits.
To add a new page about eWrestling, enter its title in the box below:
Information
About this site · Community Portal · Help · Forum · Maintenance
---
Site News  (edit this section)
July 2009 -- The eWrestling Encyclopedia is now on Twitter. Follow US today and get the latest news.
Week of June 16 through June 22, 2013 the Administrators will have the annual meeting and will discuss the rules and other things. It is hinted from Twitter Account Feed that there will be a podcast coming or something new social media platforms (unconfirmed). Stay with us and a blog from Sundogs will give out a full report with commentary from other staff members.
Featured Federation
Please note that the Featured Federation is looking to have new federations be showcased here! If you have a proper nomination or believe that your federation should be the featured federation of the month, please contact an administrator with reasons why your federation should be nominated. To submit a Featured Federation nomination, please contact RRS.
Featured Federations For:
Featured Championship
Please note that the Featured Championship is based on a 28 day cycle and will go to the next name on the list. Former Featured Championships can not qualify until 3 months after their month is over. To submit a Featured Championship nomination, please contact RRS or check out the schedule for Featured Championship, please see Wilberj page.
Featured Championships For:

November 2008-January 2009
February 2009-May 2009
June 2009
Our Sister Projects