Maxxx Hardcore
Talk

0
11,354pages on
this wiki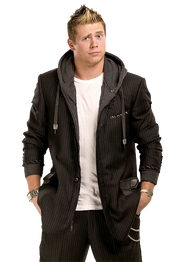 Stage Name: Maxxx "The Bastard" Hardcore
Birthname: Maxwell Harding
Age: 31
Date of Birth: Unknown
Weight: 220 pounds
Height: 5 foot 11 inches
Hometown: Orange County, California, USA
Alignment: Heel
Present Entrance Theme: "No Heroes" by Converge
Past Entrance Theme(s): "The Offer" by Greeley Estates/ "You Should Be Ashamed of Myself" by The Bled / "Vanity" by Eighteen Visions
Present Picture Base: The Miz
Past Picture Base(s): Joaquin Phoenix, Val Kilmer, and James Hart of Eighteen Visions
Wrestling Styles: High-Flyer, Hardcore, and Brawler
Finisher and Signature Moves:
XXX (signature move) The XXX, triple ex, is the name of a pair of brass knuckles that Maxxx keeps stashed in his trunks. Along the knuckles, as presumed, he has a triple ex design that gave it is's name. When there is nothing around to wail his foe with, these always come in handy.
The A2M (finisher) Depending on the size and weight of the opponent, it's either a Fisherman's Suplex to a Hangman's Neckbreaker or a Musclebuster to Hangman's Neckbreaker.
Wrestling Debut: (WGWF BRAWL) February 12, 2008
Maxxx interfered a woman's title match, attacked the current champ and made a pinfall on her. Despite the final and official outcome of the match, Maxxx walks away as the self-proclaimed WGWF Champion of Ladies and denies the rightful champion her title.
Present Contract: PrYde Wrestling Federation
Past Contracts: WGWF, CWF, LWF, and WCWF.
Accomplishments: WGWF Champion of Ladies, WGWF Tag Team Champions, WCWF World Tag Team Champion x2, WCWF World Heavyweight Champion, WCWF 2008 Pagano Cup Winner, WCWF 2008+2009 Match Beyond Winner, Pryde Evolution Champion
Background
Maxwell Harding was a neglected single child from an abusive family. During a freak accident when he was eleven, the trailer where Maxxx and his mother was momentarily living in caught ablaze killing his mother and her abusive boyfriend. Maxwell was reportedly killed inside the inferno, but he actually fled the scene moments before the fire department arrived. Maxwell remained homeless as a young teen until he was caught by local police committing a petty crime. Upon researching his case, they moved the phantom, clean slate, young Maxwell to an orphanage where he remained until he was an adult. Aimless, Maxwell did what desperate people do with their free time and expenses, take drugs. He lived the rock'n'roll lifestyle, taking numerous illegal substances and having nightly promiscuous sex. Eventually, if only be accident, Max musted the will and aim to stumble himself into the business of adult films, where he continued to emerge as a well-known face and popular iconic figure. Only until he was forced to retire from performing in pornography, he wandered out, taking his stage name with him, and tried his skills at something as ridiculous and self-promoting - pro wrestling. Maxxx was quickly accepted into his first wrestling contract, because of his status as a sex icon but soon proved himself as one of the most hated and feared villains in wrestling history.