Michael Hayden (born Michael Thomas Corral on August 28, 1986 in Mt. Shasta, California) is a professional wrestler, competing in the Neon Generation Independentl Wrestling. Hayden has also competed for POWER Championship Wrestling (PCW), European Wrestling Evolution (EWE), Wrestle Power Wrestling (WPW), Kapoutland Pro Wrestling (KPW), Extreme Wrestlecrap Threaderation (EWT), Extreme Wrestling Corporation (EWC), 101 Colony (101C) and the Freakin' Awesome Wrestling Alliance (FAWA)
Before wrestling
Michael Hayden
Billing information
Ring name(s)
Michael Hayden
Height
6"2
Weight
93 kg.
Born
August 28, 1984
Hometown
San Diego, California
Theme music
CjR - "Call Me Uprising"
Affiliation(s)
Anturai 2.0
Federation(s)
101 Colony, FAWA, FIW
Previous federation(s)
EWT, KPW, GWE, WPW, EWE, PCW, EwC
Wrestling information
Alignment
Tecnico
Wrestling style
Strong Style
Will
Shake hands before a match
Won't
Strike a woman
Trainer
Brandon Cross
Handler
Hayden
Professional career
Debut
August 2002
Record
N/A
Accomplishments
101 Campeon del Hormiguero
Retired
N/A
Born in Mt. Shasta, California to a Japanese-Mexican Mother and Irish father, Mike Corral knew what he wanted to be at a young age. Upon his many visits to Japan, Corral's grandfather, Kazushi Kobayashi, would often reflect on the days he saw Shoehi Baba live in action and give his grandson the latest All Japan Pro Wrestling releases. The legends Misawa, Flair, Inoki, Fujinami, and Kobashi were his personal heroes. Above all, however, was Keiji Mutoh. Unfortunately, Corral suffered the first loss in his life when his mother died in a battle with cancer. Mike was only 8.
Although he was lazy in his schoolwork, Corral was nothing of the sort when it came to his passions: wrestling
, women, and Root Beer. At the age of twelve, he, along with his step-brother Chad Michaels, bargained his way into the Mt. Shasta "House of Extreme" as an errand boy. He worked constantly, all the while keeping close watch on the local wrestlers and imagining himself in the ring. Unfortunately, tragedy struck once again when his father died when Mike was 13. Using this to push himself harder, Mike continued working at the Dojo, all while studying the wrestlers and emulating the moves during half-hour breaks with Chad. By 16, head trainee Brandon Cross had taken him under his wing and began to show him the ropes, hoping that the young Corral would truly realize what wrestling was all about.
Career to date
Humble Beginnings

Two months after his 18th birthday, Corral officially graduated the House of Extreme and made his debut in the California Wrestling Association. His first match as a handicap match; He and Chad, two scrawny youths, were beaten in minutes by "The Real Deal" Andrew Reynolds. Everything went up from there, however. Corral transformed skin and bones into a toned frame and found a niche with the local crowds. Although still small, Corral attacked relentlessly and quickly became renown for his stiff style of wrestling. Over the next two years, he traveled up and down the west, often with tag team partner Chad, and wrestled his way into local stardom. Word of his prowess spread south to Mexico and he was soon invited to compete in the MWA. His puro style of wrestling captivated the lucha fans, especially in his matches with Chad against El Puma and El Psycho.
Returning to the States, Corral tried his hand at singles wrestling. Corral had his first standout performance against relative newcomer TJ Stylez in UWSA when they both battled to a 10-minute draw. He would keep the momentum rolling when, returning to California Wrestling Association, he had blistering duel with company ace Chris Evans. Evans, a man who prided himself on being stiff, was blasted by youngster. By the time the match was over, Chris was covered with bruises and he had been knocked unconscious. "Danger" Mike Corral was born.
Even with the singles success, Corral would rarely work a one on one match over the next year. Instead, he and Chad embarked across the independent promotions of America and took on the best tag teams they had to offer. The combination was money. They became two of the hottest commodities on the independent circuit, never settling down in a fed, instead touring and collecting big pay offs for one off "Dream Matches", each one of them fan favorites. Still, even with growing respect, Corral had never tasted gold.
Ultimate Fighting Alliance (UFA)
His reputation in America was more than enough to warrant an invite from the Ultimate Fighting Alliance in Japan. On his first tour of the Orient, Corral took on "Fighting" Shane Hoffman. Despite truly being a gaijin, the Japanese crowd accepted Corral as one of their own, and Corral won in an exciting bout. One night later, his career would change forever.
He stepped in the ring against Japan's hottest rising star, Seto Uchiha. Many fans, Japanese as well as American, predicted an impressive bout. What they got was a classic. For thirty minutes, the two fought in a high-speed match unlike anyone had ever seen before. The match would end up in a time limit draw, as both competitors received a standing ovation from the crowd.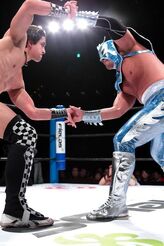 After leaving UFA, Corral began to come up with a move that he hoped would be able to defeat Seto Uchiha once and for all. He did end up using it, but it was not used on Seto like he had hoped.
One year after their groundbreaking match, Mike Corral and Seto Uchiha were chosen to team up and take part in the annual Hokkaido National Tag Team Tournament, hosted by UFA. The two men meshed together perfectly, with Corral not finding such a partner since his step-brother Chad. Together, Seto and Mike dominated every tag team in their path and ended up winning the tournament. Corral, armed with his newest maneuver the "Triple X", was stronger than ever and finally succeeded in winning his first title of any kind.
The Triple Crown
Once again leaving Japan with a world of momentum, Corral would experience an influx of titles around his waist. First, he returned to CWA and won the "Tournament of the Stars" as well as the CWA World Title, defeating Christian Hernandez in an exciting 20-Minute bout. Then, in his second match with Andy Warsaw, he once again defeated him in an epic match, this time winning the Wrestling Revolution Federation World Title with it. Weeks later, he'd topple American Fighting Association champion 'Arial Messiah' Benjamin Stone and Maxx Cross to capture the title. In the space of a month and a half, he gathered his own personal American Triple Crown championship. He'd tour for the next six months from city to city, defending his triple crown against the likes of "The Real Deal" Andrew Reynolds, Santiago Guererra, and "The Son of Tokyo" Eric Lee upon his return to UFA. Eventually, he'd lose all three titles in one go, but each federation pulled their titles, making his Triple Crown title lineage one person long.
Around this time, Mike traveled to the Omega Wrestling Federation to compete in a Dream Match against their top wrestler Dante. The match took its toll on Mike physically and mentally, with the preparation before the match dealing a huge blow to him. The match still haunts him, as it happened right before his wife Gabrielle left him.
Extreme Wrestlecrap Threaderation
Year One
In the fall of 2005, Gen-X (Under the name of the Third Street Warriors, a Second City Saint rip-off) debuted in EWT, demanding title shots upon their debut. Chad was immediately thrown into several high profile matches against relative newcomer Virus over respect, while Mike did his own thing. During a match against Torch and Missile, Mike injured his wrist after taking a T-Bone Suplex. This turned out to be a blessing in disguise, as Mike found time to compete for the ACW, where he defeated "Roughhouse" Mosca to win the ACW Title. Almost a week after the match, Mike married Gabrielle.
After Chad's feud with Virus, Chad thought of himself as a "player" in EWT. Later, Mike would say that Chad "got a huge head over the feud, and thought that he was too great for the company." Mike knew that he had to bring Chad to reality, and set out to do so. On an episode of the Heartbreak Hotel (which Chad was a guest on), Mike attacked him, putting him through a table with a Bolt From The Blue. Chad swore revenge, bringing in two rookies: Jason Maverick, and "The Risen Devil" Scott Andrews.
The OX-Division Title
After Mike's split with Chad, he was booked to be in a 6-man gauntlet match at Toomi's House Party II against Curly Long, Virus, Chad, Deamon Cohln, and then-OX Division Champ Spaz. Mike fought valiantly, but ended up losing the final fall to Spaz. Mike would not be deterred, as he challenged Spaz one-on-one for the title. Spaz accepted, and the two embarked on a bitter and vicious feud. At the PPV entitled "Magic; The Gathering", Mike and Spaz faced off for the first time. Mike and Spaz competed in a grueling match that ended in a no-contest after both men couldn't answer the 10 count.
Mike would not be satisfied with the result, and challenged Spaz to another match. Spaz accepted, and the two fought on February 17, 2006. After a hard fought battle, Mike was victorious, becoming OX Division Champion. After the match, Spaz and Mike shook hands, showing respect for one another.
Mike Corral: Champion
Mike's run as champion wouldn't be easy. Almost immediately after winning the title, Mike was booked in a PPV match against A-Bomb, Virus, and Stevie Richards (yes, that Stevie Richards.) Mike would emerge victorious, reversing a top rope Infection (Suplex to powerbomb.) Later on in the night, Mike would show up in the Chad vs. Deamon Cohln match, preventing the Cohlns from inflicting more damage onto Chad and the rest of the New Warriors (Scott and Jason.) Mike rejoined the Warriors and began a long and bitter feud with Deamon Cohln.
Mike vs. Deamon
After Deamon's match with Chad, Deamon set his sights on the newest member of the Warriors in hopes of claiming the OX Division Title. Mike accepted the challenge, and the two fought on March 27, 2006. After a hard fought battle, the match was ended after neither man could answer the 10 count. Deamon would not be satisfied with the result, challenging Mike to another match at the PPV "Full House". Mike accepted the challenge, vowing to put Deamon away once and for all. Unfortunately, it seemed that Mike would not make it to Full House, going up against former EWT Heavyweight Champion Moxie in a title match. Both men gave it their all, with neither man able to get the 3 count. Near the end, it seemed as if Moxie would walk out with the OX Title in hand, but Deamon saw to it that Bolt would walk out with the title. After hitting Moxie with a Deamon Doom DDT, Mike (unaware of what happened) hit Moxie with the V.2 and got the win, ensuring that Deamon would get his shot against him. At the PPV "Full House", Mike managed to defeat Deamon after reversing a Deamon Doom DDT attempt and hitting the V.2 for the win. After the match, both competitors shook hands, with Deamon vowing "This isn't over."
Mike vs. Koda
After Full House, Mike found himself taking on the #1 contender, Koda Kazar. Mike let Koda know that he meant business, which Koda took exception to. Koda and Mike fought backstage, with Koda knocking Mike out with the OX Title. The attack seemed to have changed Mike, who helped Koda defeat Twizted and Billy Jack Haynes. When Koda questioned Mike's actions, Mike said that he saw something in Koda and wanted him 100% healthy for the match. Koda seemed to accept the answer, as Koda and Mike took on Ken Patera and Billy Jack Haynes. After winning the match, Mike and Koda raised their arms before Mike caught him with a sucker punch. Mike assaulted Koda, laying him out with the OX Division Title before hitting him with The V.2. After the match, Mike explained his actions, saying that it was retribution for Koda attacking him with "his" title. The two continued their now-bitter feud, with Mike taking a one-week break to compete in the last Third Street Warrior's match alongside the Warriors against the Spirit Squad. After the match, Mike resumed his feud with Koda, eventually leading to Kingdom of Hurt. Towards the end of the match, Mike looked to have Koda beat, until Jester Colt Jackal (Koda's friend/tag team partner) came in and attacked Mike, helping Koda gain the win.
Rated X
Following the match, Mike found himself lost, without direction. Chad managed to find the cure, bringing back their old Gen-X gimmick under the name "Rated X". The two teamed often, defeating the Handsome Boy Modeling School (Billy Ubermark and Ultimo Chocula). After the match, Rated X found themselves in the midst of a feud with then-Tag Team Champions, The Prophecy Reborn.
Rated X vs. The Prophecy Reborn
When the Prophecy Reborn issued an open challenge to any team in EWT, Rated X answered the call. Immediately, both groups went to war with each other, a war that included an amazing tag bout between the two. Near the end, it looked as if either team could win as Chad was locked in Moxie's Iron Cross and HitmanMark was locked in Mike's Chicago Drive-By. Finally, the ref stopped the bout as both Chad & HMark were unable to continue. Unfortunately, HMark was not the legal man, yet Chad was. The end result was the Prophecy Reborn retaining their titles as Rated X vowed to have another shot. Unfortunately, it was not meant to be. Due to travel problems and miscommunication, the Rated X-Prophecy Reborn feud never got farther than that. Still, Mike fondly remembers it as "One of the best times in my life."
Mike vs. One
At the March 4th PPV (Entitled "March 4th") Mike Corral wound up taking on Joe One after taking a break due to a nagging back injury & wandering around aimlessly in EWT. Corral wound up in a losing effort to Joe, but it wasn't over. After Joe issued the challenge to a tag-team match to Rated X at Dead Man Walking, Corral quickly answered the challenge. Although Rated X lost, Chad & Mike wound up assaulting MiniPax (Joe One's stable) until TJT joined in. As the rest of MiniPax kept Chad & The Wrestle Posse (Jobby McJobberston & Axel Halloway) away from the ring, Christopher Indigo brought Mike's pregnant wife Jessica into the ring. As Indigo brought her, Corral attempted to attack Indigo, but was thwarted with a POUNCE!! from One. Indigo kept Corral at bay while One focused his attention on Jessica. One took over from there, slapping Jessica before hitting her with a belly to belly suplex. As Jessica was lying on the mat, One climbed up the turnbuckles, patting his elbow. As Corral screamed at him, One leaped off, delivering an elbow drop to Jessica's midsection. Immediately afterwards, One & MiniPax exited the ring as Corral tended to Jessica. Unfortunately, they lost their son.
Mike went into a deep depression after this, dressing in black to mourn the death of his unborn child. As Mike still mourned, Mike Ragnal appeared and made a joke of the situation that happened. Corral snapped and attacked Mike Ragnal, giving him a bloody nose. Ragnal would go on to wrestle Joe One, for the World Heavyweight Championship, as was promised should Ragnal win the title. Before either man could win the match, Mike Corral interfered and took out both men.
(Around this time, EWT held a tournament to decide who would be the newly crowned Stable Champions. Mike took part along with Chad Michaels & Marcus Saxton, though they never got past the second round.)
Corral continued on his path to vengeance, showing up during a promo involving Joe One & Mike Ragnal. EWT Owner Toom E. Dangerously came out and made the match: Mike Ragnal vs. Joe One vs. Mike Corral at Crapamania. Toom E. let Ragnal pick the stipulation, which turned out to be the first ever "Remember The Name" Tables match.
Unfortunately for Mike, he almost didn't get to compete. Former champion Maelstrom returned after a hiatus, demanding to be included in the title match. Corral came out and challenged him to put his money where his mouth was, challenging him to a match. The stipulation to that match was that if Maelstrom defeated Corral, then Corral would give up his spot to Maelstrom. Towards the end of their match, it looked as if Maelstrom would go on to compete in the main event. Luckily, Chris Indigo came and distracted Maelstrom long enough for Mike to hit the V.2 (Shooting Star DDT) on Maelstrom and get the win.
At Crap-A-Mania IV, Mike Ragnal defeated Joe One and Mike Corral to retain his EWT World title after he and Corral put Joe One through both of their tables, with Joe's foot going through Ragnal's table first. Mike was not pleased with those turn of events, vowing to win the title.
Ragnals vs. Rated X
Around this time, Chad Michales had been getting into it with Mike Ragnal's brother Joe over Synthy Eris, who was Joe's protege and the object of Chad's affection. Their rivalry grew so big that Corral & Ragnal were dragged into it, making the two rivalries into a humongous rivalry. Both teams interfered in their matches, most notably Corral & Mike Ragnal vs. The Wrestle Posse. After they won the match, Corral and Ragnal began fighting until Chad showed up. Chad looked to deliver a superkick to Mike Ragnal when Joe came out of nowhere and delivered a springboard dropkick to Chad. The Ragnals exited to safety while Rated X swore revenge. Yet, much like their program with the Prophecy Reborn, no PPV match took place. Corral & Michales accidentally missed a plane to the arena where the PPV took place, coming just after the PPV ended. Mike's program with Ragnal ended, as Corral turned his focus back to the man that cost him his child: Joe One.
Mike vs. Ragnal & One: Split between two hatreds
As Corral began to focus on One once more, Mike Ragnal made a shocking statement: At the following PPV Old School, Mike would take on Corral, Joe One, or Dave Davies in the first ever "Pick My Poison" Match. As part of the build-up, Corral was forced to team with Davies, One, and Indigo vs. The Cidal Squad (Andy Duke, Jonathan Doe, Crauswell, & Mike Ragnal). Towards the end of the match, Indigo & One bailed, allowing Davies to be taken out with a leg lariat from Crauswell and Corral to be decimated by The Cidal Squad. Corral would go on to Old School, where he (along with Davies) were the two not chosen to compete for Ragnal's title. One ended up with the chance to face Ragnal and won the match, thus becoming the new Heavyweight Champion. Needless to say, Corral was not pleased.
Mike Corral: End of an Era
After Joe One won the Heavyweight Title, Mike teamed regularly with Chad as "Rated X", taking part in the tag division while never really making an impact. Mike would leave shortly after along with Chad.
Kapoutland Pro Wrestling
The Beginning
In January 2005, Mike began to look for other feds to expand his knowledge. He stumbled across KPW accidentally as they were running a show near the EWT Arena. After seeing KPW in action, Mike knew that this was the place for him. Mike met with owner "Reverend" Psycho James and told him of his intentions. James signed him to the roster, knowing that Mike had the fire inside him. Mike debuted two months later at KPW Revolution, interfering in a "Loser Leaves KPW Forever" Match between Dennis Stamp & Terry Funk. The end result was both men were fired thanks to Corral, who interfered and caused a double-DQ. After the match, Corral had this to say:
"Why did I attack Funk and Stamp? Well, you all might have heard of the phrase 'Out with the old; in with the new.' KPW doesn't need two old decrepit has beens hogging the spotlight. I just did KPW a favor by ridding this place of those losers. I have made an impact my first night here, and I'll continue to make an impact in KPW. To all in KPW, know this: Thy kingdom hast come. Mine will shall be done."
Mike was immediately placed in a Triple Threat Match at Awakening against PrimeTyme and the man that would make his life a living hell for over half a year: D2. PrimeTyme won the match after D2 powerbombed him and body pressed him through the French Announcer's Table. Mike blamed D2 for the loss, and the two engaged in the most infamous feud KPW ever experienced.
Mike vs. D2: The Unholy War
At the KPW Special Monday Night Mope, D2 took on Moe Damus (who was really Mike Ragnal in disguise). Near the end of the match, Mike walked out, distracting D2. Mike blinded D2 with a poke to the eyes, allowing Moe/Ragnal to hit him with the Wrapping The Joint (Twist of Fate). In a moment of Deja Vu, D2 blamed Mike for the loss and challenged him to a "Welcome to the Asylum" Match. Mike brushed that challenge aside until D2's mentor Hannibal appeared. Mike seemed unafraid, promising to bring in a friend if necessary. Mike went to Insanity to compete in a Fatal-Four-Way Elimination Match for the KPW Euro-Continental Title against Merc, Smarky, and D2. Although Mike put up a valiant effort, he wound up being eliminated by D2 after getting hit with The Medication.
After Insanity, Mike decided to bring in a friend. After interfering in a match between Robby Rage & Kip James, Mike introduced his newest partner, former ROH Heavyweight Champion Austin Aries. Mike prepared for the worst, not knowing that the worst was yet to come. At the KAOS Tournament, Mike was scheduled to take on Smarky in the first round. Unfortunately, D2 attacked him while he was in his locker room, incapacitating him (D2 later replied, saying this was payback for Mike attacking Hannibal during his match). Mike would make a recovery and attack D2 during his Boiler Room Brawl match against Darth Violence, costing him the match. D2 felt that this was the last straw, and challenged Mike to a "Best of Three Falls" type deal.
The Gathering vs. The Unholy Soldiers
As tensions between The Gathering and The Unholy Soldiers grew, KPW Owner Psycho James decided to end it once and for all, announcing a set of three matches over the course of three PPV's. Both teams quickly accepted, and at KPW, both teams competed in the first ever "Generation Gap" Match. After much turmoil and blood loss, The Gathering were declared the winners after Mike busted D2 open. After the match, Hannibal revealed something that would change the tone for their next match: The Soldiers had kidnapped Mickie James, the valet of The Gathering and Mike's then-girlfriend.
In the weeks leading up to Blood Debt, Mike nearly went insane as he watched promos of Mickie being tortured by Hannibal, D2, and Maria. The second match of the Best-Of-Three series was announced, a "Welcome to the Asylum" match, and the Unholy Soldiers did everything short of killing Mickie in order to throw Mike off of his game. Once Blood Debt came, Mike and Austin entered the Asylum, with Mike searching frantically for Mickie while Austin was frightened by the Asylum (and rightfully so). In the end, Mike and Austin found Mickie bound and gagged in the torture parlor. As they went to free her, the Unholy Soldiers quickly attacked them, laying in shots before leaving them lying on the ground. As the Soldiers exited the Asylum, they had their newest disciple set fire to the Asylum with The Gathering still inside.
As the Soldiers entered the arena and bragged about their victory, The Gathering (including Mickie) quickly rushed into the ring and proceeded to brawl with the Soldiers, including their newest disciple, Skitzo. After being separated by security, The Gathering quickly left to their hotel room, with Mike tending to an emotionally scarred Mickie.
The final match in the Best-of-Three Series was to be decided by the roster of KPW. As Double or Nothing drew closer, it was decided that the final match would be a "Stairway to Hell Remix" Match, where the only way to win was to escape the cell, make your way to the top of the cell, and use the ladder to grab the contract. Unfortunately, Hannibal fell deathly ill, forcing D2 to come to Mike on the day of the PPV and ask for a straight-up one on one match. Mike agreed, and the two put on a classic for any hardcore fan. Near the end, it looked like Mike would walk away with the victory, but Shawn Franklin (aka Hannibal) made his way down to the ring and quickly scaled the cell. Mike met him on the top and the two traded blows, until Shawn dodged a punch from Mike and set him up for the Sword of Damocles, sending Mike and himself through a set of stacked tables. D2 would end up with the victory while Mike and Hannibal lay on the ground, unconscious. Later on, the announcers said that Mike had broken his leg and suffered a concussion, while Shawn "Hannibal" Franklin passed away. It was truly the end of the battle, and the war.
Epilogue
In the aftermath of Double or Nothing, Austin Aries and Mickie James cut a promo during a KPW House Show, turning on Mike and revealing that they had a relationship ever since he came to KPW. Austin also revealed himself to be Chris Matthews, a guy that looks a lot like Austin Aries but isn't. Chris and Mickie then proceeded to make out live, with Mike stuck in a hospital bed watching the entire thing. Mike seethed, vowing revenge by any means necessary.
Road to Vengeance
As Chris continued to make fun of Mike, Mike was in the hospital, rehabbing his injured leg. At the KPW Helloween Press Conference, Matthews was booked to participate in a battle royal consisting of 19 other KPW superstars. Near the end of Chris' speech, the lights died out before coming back on, revealing Mike Corral standing in the back. Mike vowed revenge on Matthews and Mickie before the lights went out once again. When the came back on, Mike was gone.
Mike continued to haunt Matthews and Mickie. During the Helloween Battle Royal, the insignia of Mike (A cross with wings on the side) appeared on the KPW-Tron as well as the voice of Mike himself, distracting Chris long enough for Maxx Awesome to eliminate him. Mike continued this into KPW Hungry For Blood, distracting Chris during his match against Mike Ragnal. Finally, Mike came back in December, cutting a cryptic promo before challenging Chris to a match at the next PPV. Chris was forced to accept, and ended up being put out of commission after a savage beating from Mike. Truly, he had arrived.
Mike Corral: Unholy Saint
During this time, KPW was in turmoil. With Kaos' Army, The Church of Sanch, The Unholy Soldiers, KPW's Elite, and The Combine. Every other group had announced the members of their team, save the Unholy Soldiers. When asked about the 5th member, D2 simply responded by saying that he would be revealed at the PPV.
Unholy War came, as the wrestlers prepared themselves for a match that would change the face of KPW. Finally, the Unholy Soldiers came out, still missing their partner. Until the sounds of a deep sinister laugh rang throughout the arena. As fans wondered what that laugh was, an unmistakable voice called out...
"God.... Forgive Me..."
Mike Corral emerged from the back as the newest Unholy Soldier, shocking the fans in the arena and around the world. Corral acknowledged every member before bowing at the feet of D2, signifying the deal. The Unholy Soldiers would go on to win the match and, thanks to a stipulation agreed on by all leaders, gained control of KPW.
Mike would play a minor role in the later part of 2007, until D2 challenged him to step up and earn his keep. Mike would go on to Double or Nothing 2007 and defeat the MIlfys in a 2-on-1 Handicapped Match. Mike would win, proving to the world that he still had what it took to be called a soldier.
Mike Corral: 2008
As KPW entered 2008, Mike found himself in a Number 1 Contender's Match against Sinister1 at Opening Bets. Mike would go on to win the match and the right to face Champion Smarky after forcing Sinister1 to tap via A False Sin. Corral would use this momentum to defeat Smarky at KPW All In, winning the KPW Heavyweight Title. Corral would go on to defeat Sinister1 again before teaming with D2 in a tournament to decide the KPW Tag Team Titles. Mike and D2 would be eliminated in the second round before D2 challenged Mike for the title. Mike would go on to defeat D2 in a vicious and bloody match.
Mike's next title match would be a Triple Threat Match against Sanch Simmons and Merc. Unfortunately, Mike would end up losing his title after Sanch pinned Merc. Mike would use this as incentive to advance in the annual KAOS Tournament, eventually making it into the final two wrestlers, leaving him and Sanch. Once again, Sanch would end up winning. In a final confrontation, Mike would regain the KPW Title at Double or Nothing, with assistance from fellow Unholy Soldier Synthy Eris. Mike would make another appearance at the PPV, attacking Sinister1 in his "Loser Leaves KPW" Buried Alive Match. After Sinister1 was barely able to stand, Mike turned on his allies, bashing Synthy over the head with a shovel before taking D2 out with the Suspended Belief. Mike would push both of his former allies into the empty pit before dumping pounds of dirt on them, effectively taking D2 out of the company. Synthy Eris would also disappear from the company.
Mike Corral: 2009
After returning to KPW in 2009, Mike would take on Hiroshi Tanahashi in an inter-promotional match, winning in Tanahashi's native Japan. Mike would then take on Sinister1 in a title match, once again losing his title after Sinister1 hit the Sinister Edge. Corral would regain the title three months later before becoming embroiled in a feud with former ally and enemy D2. At the final KPW event, D2 and Mike would compete in the Stairway To Hell Remix match once again. Mike would retain his title in a hard-fought contest before celebrating with the entire company.
Extreme Wrestling Organization
Marcus Riot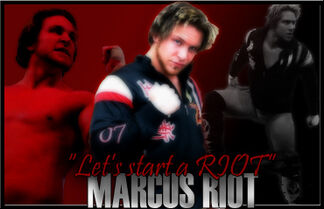 Corral would enter the EwC in March 2007 under the name Marcus Riot, quickly winning his first two matches. Unfortunately, his luck went south from there. As his losses began to exceed his wins, many people wondered if the fire that existed in Mike Corral had gone out forever.
His luck seemed to turn however, when he was chosen to join Happy Pete, Sean Ferguson, and Moses Lake to form the Retribution Solution. Sadly, Mike would end up being kicked out of the group after a week. After that incident, Mike would continue with his losing ways.
Making a Statement
Eventually, Mike shed his Marcus Riot persona, allowing the true Mike Corral to shine. After some hardships, he ended up feuding with James Chambers for a while. Chambers would end up winning the feud, and Mike would vow to become better.
In the days leading up to Mike's match against Jesse Nunez, Stephanie Clark (Mike's girlfriend) ended up confronting him about their relationship as well as Mike's relationship with his wife Gabrielle and if he really did love her. Mike told Stephanie that he did, and that's why he couldn't stand to see her go. Stephanie ended up accepting Mike's apology, but ended up leaving him.
Mike would use this to boost his game up and ended up defeating Jesse Nunez to advance to the King of the Cage. Although Mike lost in the first round, he proved that he could hang with the main eventers.
Proving Himself
Mike did not have any time to relax after KotC. Hardcore Champion Lance Fiennes called Mike out and challenged him to a match for Lance's Hardcore Title. Mike accepted and came close to winning, but due to a missed Corkscrew 630, ended up losing after Lance hit him with his "Fiennes-O-Matic". Mike would continue his three-week losing streak by losing to Draven. In a "last chance" match, Mike ended up defeating John Green in an impressive bout to take part in WrestleFest IX. Mike would go on to defeat Jackal and a returning Stung in a Flaming Trench Triple Threat Warfare Match. Mike would end 2007 with momentum on his side, momentum that he would need.
Quest For Gold
Entering 2008, Mike found himself on Rampage in a Battle Royal where the last two people would end up as Tag Team Champions. Mike went through the Vixen Sisters, Gladiator, and Jesse Nunez before ending up Tag Team Champion alongside Jamal Jackson. Mike would continue making January a month to remember, defeating Zortalk before going to Hardcore Revolution '08 and defeating Money Man, winning a #1 contendership for the International Title.
Mike Corral: Tag Team Champ
Jamal came to Brawl thus giving Corral and Jackson (using the name Team Co-Jack) a home show (Jamal had been on Rampage while Mike was on Brawl). Their first match as a team was against Stray and John Green. Unfortunately, Jamal was taken out before the match, leaving Mike to fight both men by himself. Near the end, Jamal came down and interjected himself in the match, getting pinned. The losing streak of Team Co-Jack would continue when they lost to current EwC Champion James Chambers and then-Hardcore Chamnp Lance Fiennes with Sean Ferguson as special guest ref.
At the Memphis Reigns Memorial Super Show, Team Co-Jack was scheduled to defend their titles in a Steel Cage Match against The Vixen Sisters. All four competitors gave it everything they got as the fans cheered for the match itself. Near the end, Mike was climbing the cage when he saw Destiny Vixen about to exit through the door. In a last-ditch effort, Mike performed his Chargersault off the cage, crashing onto the announcers table and narrowly winning the match. After the tribute show, Mike found himself on the wrong side of Sean Ferguson, his former team member. Business came first however, with Mike and Jamal defending (and losing) their tag team titles to Angel and Haven's Outlaw. Mike unexpectedly left without any explanation after losing the titles. Many wondered where the enigma had gone, when it turns out he was recovering from injuries and working with animals in Africa with his then-girlfriend Stephanie Clark.
Mike Corral: Cloud?
After returning under the name "Cloud", Mike would go on to have a less than stellar return, defeating Jowee Bliss before losing to Noah Rodgers and Tommy Victor. After his match with Victor, it was revealed that Mike was fatally poisoned while working in Africa. His brother Tyler and Seto quickly found a way to extricate the poison, saving Mike's life. After taking part in the King of Brawl tournament, Corral took another sabbatical from the ring (traded to Rampage during his time off) before returning just in time to take part in the strike led by BDC. Once the strike was resolved, Mike decided to leave Rampage in exchange for returning to Brawl.
Mike would go on to leave EwC after the strike, yet still remains on good terms with the company.
Wrestle Power Wrestling (WPW)
Mike entered WPW in mid-2006, being noticed for his aerial ability before turning on WPW in their battle against PCW. Once WPW won and PCW officially closed, Mike would disappear.
Upon his return to WPW, Corral was noticed by Matthew "Twizted" Clark, who took Mike under his wing. Mike prospered under his tutelage and became a force to be reckoned with, going so far as to become a serious threat to PCW Legend "Masterful" Michael Karver. After defeating then-Champion Scorch in a non-title match, Corral wold end up narrowly losing against the Champ in a Title Match. Mike would go on to complain about the decision and even go so far as to get a petition to get his rematch. However, the petition was forgotten as Mike would team with Martin Cameron to face two random opponents (later revealed as Dan Murph and The Royal Knight) for the Number 1 Contendership to any title they wished. Mike and Martin would go on to win the match and the right to challenge for any title, with Martin picking the Florida State Title and Mike choosing to go after the Heavyweight Title. Almost one month after earning his shot, Mike took on then-Champion JMC in a losing effort once again. Mike would not be deterred, defeating The Royal Knight to earn a shot at the Florida State Champion, Martin Cameron. Mike would lose that match as well before taking a sabbatical from the ring.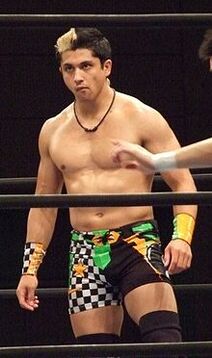 Upon his return, Mike teamed with Justin Dreamer as "Extreme Airborne", feuding with the "Innovators of Wrestling", Chris Cage and Jeremiah Ranks. Extreme Airborne went on a losing streak, ultimately losing to the IOW before Mike took time off yet again. Rejoining WPW in mid-fall, Mike joined up with rising star Xavier Ray to defeat the LaVigne Dynasty twice to claim #1 contendership for the Tag Team Titles at When World's Collide. However, Mike sustained an injury at the hands of Mike Adams and Chris Cage, forcing him to miss action for quite some time.
During his recovery, Mike received a call from him brother Thomas at Christmas, with the elder Corral asking Mike to meet him. After a few days, Mike met up with Thomas. Thomas explained that he had discovered a secret about their parentage, specifically, Mike was his half brother. After Mike overcame the initial shock, Thomas explained that their mother had strayed only once, with the result being Mike. Thomas instructed Michael as to his father's whereabouts, and soon after Michael met the man that was his "father". Upon meeting Alex Hayden and realizing his intentions, Mike came to accept the man as his father, adopting his last name. After learning that he also had a half-sister, Michael set forth to care for her while still keeping his relationship with Gabrielle Mendez strong and training.
European Wrestling Evolution
Upon hearing that Wrestling Evolution was starting another company, Michael (know referred to as "Hayden") traveled to Europe, ready to make an impact. He would go undefeated for three weeks before taking part in a Scramble Match to determine the Number One Contender to the EWE Title. Hayden would gain a victory over and lose to The Judge in the same match before vanishing once more.
Upon his return, Hayden seemed to have a new fire lit under him, ready to prove his worth. He would fall short in his return match against Dust, but would rebound as he found himself teaming with James Moriarty Cassius. This uneasy partnership would culminate with Hayden and JMC winning the WE Tag Team Titles from Risen Shyne at Wrestling Evolution Rebirth. The partnership would dissolve after the match, as Raelis Shy would attack Hayden before revealing herself to be JMC's protege. The team of Hayden and JMC would defend the titles once again before an ultimatum was given: Raelis Shy vs. Michael Hayden, Ironman Title vs. WE Tag Team Title. In a close contest at When World's Collide, Shy was able to defeat Hayden. Though he lost, Hayden won the respect of the fans for continuing to stick to his morals, never once striking Shy.
After When World's Collide, Hayden found another adversary, this time in the form of former EWE Champion The Judge. Having willingly losing his title to T-Dog and reforming Royalty with JMC and Raelis Shy, Hayden would target The Judge, claiming that The Judge had let him down. Hayden and the Judge would meet twice in the ring, each time Hayden getting closer and closer to victory. At the Brawl For It All, Hayden would receive his last chance, taking on The Judge and Dan Murph in a triple threat match. Hayden would lose once again, this time to Dan Murph.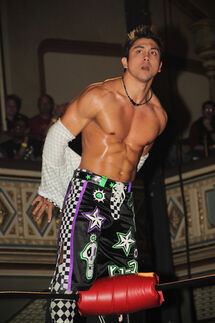 Hayden would get a shot at vengeance, taking on and defeating Dan Murph in what was billed as "Dan Murph's last match". Hayden would then earn the title of "Icon in the Making" by GM of America Jesse Long, as well as a match against Raelis Shy. Hayden would lose before finding himself adrift, as sources at the time said that the failure to defeat The Judge rocked him to the core. Hayden would bounce back, competing in the Sell Your Soul Match, but would lose to eventual winner 2. Hayden would find himself facing Elijah Edwards before EWE suddenly closed.
POWER Championship Wrestling
Three months after the closure of EWE, Hayden would find himself joining PCW. Hayden would find himself on the losing end twice before being recruited by Elijah Edwards and Jacob Senn into becoming an Agent of Salvation. This partnership would be tested on Live! #3, as Hayden and Senn teamed up to face Justin Dreamer and Mike Adams. The Agents would be victorious, though their night was not over. Near the end of the show, the Agents would surround Ryan Blanchette and Dan Murph, intent on sending a message. However, the numbers game would be too much, as The Judge and Jesse Long would come to the aid of The One 'N Son Connection. Hayden would compete on Adrenaline 4 against Justin Dreamer in a losing effort.
Hayden would continue his crusade, including a one-on-one match against The Judge at Spring Fling where he would finally emerge victorious. Hayden would continue his war against POWER before the company went under.
During this time, an off-shoot promotion known as SPIRIT Pro was formed. Hayden competed in the main event, defeating Simon Sezz to lay claim to the SPIRIT Pro Championship.
Freaking Awesome Wrestling Alliance
Hayden burst onto the scene to moderate fanfare, earning a Television title shot within three weeks of his debut. Defeating Mr. Potato, Hayden would go on to become one of the most popular champions. After a seven-week reign as Television Champ (the longest reigning TV Champ to date), Hayden became a man with a chip on his shoulder, taking offense with the man who beat him for the TV Title, Jonathan Michaels. After co-winning the 2012 BattleBowl with hated rival Jonathan Michaels, both men would go onto the main event of Gookermania V against then-champion Ryan Blood. Though Hayden put a valiant effort, Michaels would walk out champ. After securing a spot in the Four Man Chamber of Horrors match at Night of the Wrestling Zombies, Hayden would make it to the final two before once again being bested by Michaels.
Hayden developed a harder edge about him, being booed by a section of fans for his anger towards Jono. Still believing himself right, Hayden focused his efforts on becoming the Ultimate Survivor at WrestleCrApocalypse, making it to the final two before losing to Seth Drakin. Not to be deterred, Hayden would go on to enter the Lord of the Ring tournament, defeating Jason Flynn, Antihero, and Connor Mackenzie to claim the crown. By virtue of his victory, Hayden earned a shot at Gus Richlen for the FAWA Title.
Around this time, both Hayden and former FAWA Champion Aaron Enigma developed a rivalry with Gus Richlen. Believing that Enigma was robbed of his title, Hayden would stick up for his friend as well as counteract the presence of Marshall Wesley Coventry. With a friendship formed, the two decided to team up and take the FAWA Tag Team Titles from Richlen and Coventry, dubbing themselves The Hollywood Engimas.
Things began to pick up at Comic Book Chaos, as Hayden would defeat Gus Richlen to finally claim the FAWA Heavyweight Title. Hayden would go on to face Gus Richlen and, by virtue of a loss on Niteraw, Seth Drakin in a triple threat "I Respect You" match at Wheel of Misfortune. Also on the card, The Hollywood Enigmas would take on Seth Drakin and MiscreAnt for the vacant FAWA Tag Team Titles. The night would not go well for Hayden, losing the tag team match as well as his Heavyweight Title.
Not to be deterred, Hayden would continue on, competing in the Money In The Bank or Botch match at Summerfest. Hayden would capture one of the briefcases, only to receive a pink slip. As fate would have it, Connor Mackenzie would intervene on Hayden's (as well as other pink slip recipient The Dream) behalf, vacating the FAN-Forums Title and persuading Disturbance!BRB to keep both men on the payroll, enrolling them in a tournament for the title. Hayden would defeat The Dream in a qualifier, taking on FAN-Forums Champion William Anderson at Battlebowl in a losing effort. Hayden would rebound with a victory over TMK at Gookermania VI, claiming the Television Title for a third time. Hayden would lose the title to Jan Hamala in his third defense.
Hayden would remain a fixture in the main event scene until he was taken out of action by "Black Gold" Jordan Mac. However, he has since announced his intentions to return to the company.
101 Colony
Having joined the colony at the Season 4 Premiere, Hayden would defeat Tiger Ant II before winning a 6-person Elimination match. Hayden would take on then-Campeon de Limpieza, MiscreAnt, only to lose after Misc resorted to cheating. After the divide took place, Hayden would join the Envoy, defeating Disco Fox and Jack O'lANTern. As the 101 Colony was reformed, Hayden would take part in the Lords of the Underground 2013, defeating MiscreAnt in the first round before falling to PagAnt in the semis. After the match, Hayden would be approached by the Masters of Wrestling and join the guild.
As Season Five progressed, Hayden would find success, earning the title of "King of Flight" after defeating Limitless Altitude, Lion Ant, BotchAnt, and Jack O' lANTern in a High Fliers Showcase at Don't Call It A Comeback. Hayden would wind up on the bad side of CanadiAnt leading up to DCIAC, leading to a gauntlet set by both men at Volume V. Both would win their respective gauntlets, though when Hayden went for a handshake, British Ant would interrupt and attack both men as well as AmericAnt.
At The Last Option, Hayden would cash in his points to take on Antmare in a Barbed Wire Ladder match for the Lord of the Underground Title. Hayden would emerege victorious, shaking hands with Antmare after the match before celebrating with the Masters of Wrestling guild. Hayden would reign as LOTU until his unification match against Rob Draven, where he lost the title.
Hayden would find himself in a holding pattern until he was brought into the 101 vs. Void war. Hayden vowed to take charge against The Void, determined to take the CdH off of The Dark Sin. This would culminate in a first round match at King of the Anthill 2014 against The Dark Sin, where Hayden would lose. Hayden would win the Second Chance Battle Royal and make it to the finals, where he eliminated British Ant but fell to eventual winner MiscreAnt. Afterwards, Hayden would disappear before reemerging as an Anturai at the request of Replic Ant. At Rise of the ReplicAnts, Hayden would defeat Borama after a shocking display of violence, stunning even the Spiked Mohican himself. Consumed with the need to become champion, Hayden would take on The Dark Sin, Cyrik Brainy, and Rob Draven at Only The Devil Laughs, emerging victorious after being hit with a low blow in full view of the referee. Desperate for a final chance, Hayden would put his spot in the Anturai 2.0 as well as all future title shots on the line in a final match against Draven at King of Trios 2015. Despite injuring his arm early in the contest, Hayden would power through, forcing Draven to submit to The End and finally claim the Campeonato del Hormiguero.
Hayden know seeks to lead the charge against The Void, desperate to eliminate the threat once and for all.
Appearance
In-Ring: Black tights that end at the knee, covered in designs that are white, blue, or both. Black knee pads that sit atop black boots with blue Japanese-style kickpads. A black band is wrapped around Hayden's right bicep, while white taped fists are covered with a black "X". Finally, a black chain is around Hayden's neck, which he never takes off.
Out-of-Ring:

White or black tanktop
Denim Jeans (Black or Blue)
Converse All-Stars (Black and White)
Silver chain around the neck
Rubber bracelets (various colors)
Moveset
Finishing moves

​Haydenism - Flip DDT. This leads to...
The La Jolla Lock- Horns of Aries/Last Chancery
The End - Gogoplata
Killshot - Boma Ye
Once In A Lifetime Experience - Cravat into a Front Russian Legsweep

Reserve finishing moves

The Highlite Reel - With the opponent set up in the Dominator position, Hayden flips the opponent over before blasting them with a knee
The Triple X - Release Dragon Suplex into the Killswitch
Somebody Down There Likes Me - Surfboard/Dragon Sleeper Combo from the Regal/Benoit Velocity match.
Judgement DDT - Edgecution with a stronger downward pull

Rarely used finishing moves

​God Bless You - Tower of London
Suspended Belief - Corkscrew Brainbuster
The Rapture - STO to Backbreaker, then pulls the opponent up and delivers a Shellshock before floating over into a Koji Clutch

Signature moves

The Hand of God - Spinning Backfist
The Omega-Plex - Half-Dragon, Half-Tiger Suplex
A *BLANK* dedicated to "BLANK - Uses opponent's move against them. IE, "A Pedigree dedicated to Triple H"
Qualcomm-sault/Padresault - Corkscrew Shooting Star Elbow Drop
Chargersault - High Elevation Moonsault
Welcome to the Gaslamp - Pendulum Elbow
Torrey Pines Driver - Triple vertical suplex and brainbuster combination
Kana-Kazie - Spinning Backfist, followed by a strong right hand
RONALDO!! - Pele Kick
RONALDO DOS!! - Olé Kick
RONALDO TRÉS!! - Bakatare Sliding Kick
The Sagat Special - Busaiku Knee Strike
Spirited Away - Gamengiri
God Complex - Half-Nelson Barrel Roll Backbreaker
Championships & Accomplishments
CWA

CWA World Heavyweight Champion (x1)
WRF

WRF World Heavyweight Champion (x1)
AFA

AFA World Heavyweight Title (x1)
EWT

EWT Ox-Division Champion (x1)
Best Wrestling Spoof 2006 (Bolt Bacana)
HHH Hog The Spotlight Award 2006
KPW

Best Feud in KPW 2006-2007
Best Promo 2006-2007
Match of the Night (x3)
Greatest feud in KPW
Competed in the First Ever Generation Gap Match, Welcome to the Asylum Match, & Stairway to Hell Remix Match
KPW World Heavyweight Title (3x)
GWE

GWE World Heavyweight Champion (x2)
GWE Extreme Rumble Winner 2006
UFA

Hokkaido National Tag Team Tournament 2006
EwC

EwC Tag Team Champion (with Jamal Jackson) (x1)
EwC 24-Hour Combat Champion (May 2008)
Honored as #3 in the "Top 25 of January 2008"
Honored as #5 in the "Top 25 of February 2008"
Honorable mention in the "Monday Night Brawl Top 5" 2/4/08
Honorable mention in the "Monday Night Brawl Top 5" 2/25/08
Honored as #16 in the "Top 25 of March 2008"
Honored as #5 in the "Monday Night Brawl Top 5" 3/10/07
Fastest Person to Claim The 24 Hour Title
Wrestling Evolution

Made Michael Karver a credible threat once more
Has defeated every WPW champion (Non-Title Matches) (WPW Heavyweight: Scorch, Florida State: The Stallion, Hardcore Champion: Justin Dreamer, God of Live: Blade LaVigne, WPW Tag Team Champion: Michael Karver and Martin Cameron)
Honored as #24 in the "WPW Top 25 of 2008"
WE Tag Team Champion (with James Moriarty Cassius) (1x)
Honored as #25 in the "WE Top 25 of the Decade
SPIRIT Pro Champion
WE Wrestler's Choice Champion

Freakin' Awesome Wrestling Alliance

FAWA Television Champion (3x)
Longest reigning Television Champion
FAWA 2012 Battlebowl Co-Champion
FAWA 2013 Lord of the Ring
FAWA World Heavyweight Champion (1x)

101 Colony

Lord of the Underground (1x)
Campeon del Hormiguero (1x)
Nicknames
"The Saint"
"The Prophecy"
"The Highlite"
"The Spiked Mohican"
"Mr. 300%"
"The King of Flight"
Stables
Rated X (EWT)
The Unholy Soldiers (KPW)
Agents of Salvation (PCW)
Masters of Wrestling (101C)
Anturai 2.0 (101C)
Associates in Wrestling
"Straight Up" Seto Uchiha (2005–Present)
Chad Michaels (1993–Present)
Marcus "Stylez" Saxton (2004 - 2009)
Jesse Nunez (2007 - 2008)
Skitzo (2006 - 2009)
D2 (2006 - 2009)
Matthew "Twizted" Clark (2007 - 2009)
LA Riot (2007-2009)
Elijah Edwards (2012 - 2013)
Jacob Senn (2012 - 2013)
Borama (2012 - Present)
PagAnt One-Eye/Aeron Traveler (2012 - 2015)
Ash Murdock (2014 - 2015)
Antihero (2013 - Present)
Cyrik Brainy (2014 - Present)
Ann Archy (2013 - Present)
Vito Romanalli (2015 - Present)
Entrance themes
CWA
WRF
AFA

Elvis Crespo - Suavemente
Mach & Daddy - Pasame La Botella

UFA

DJ Tiesto - Nyanna
DJ Furax - The Final Countdown (Jumpstyle Remix)

EWT

Barry Manilow - Copa Cabana
Kanye West - Jesus Walks
Sum 41 - Fat Lip
Black Eyed Peas - Anxiety (as part of Rated X)
Mike Corral feat. Proof - The Day My Faith Died
Papa Roach - ...To Be Loved
Faith No More feat. Marilyn Manson - Another Body Murdered (Personal Jesus Intro)
DJ Shadow feat. Mos Def - Six Days (The Remix)

KPW

Marilyn Manson - Personal Jesus
Proof - Forgive Me
Versus The World - Forgive Me
Living Colour - Cult of Personality
Oasis - Fuckin' In The Bushes

GWE

Marilyn Manson - Personal Jesus

EwC

Three Days Grace - Riot
Eminem - Square Dance
Faith No More feat. Marilyn Manson - Another Body Murdered (Personal Jesus Intro)
AFI - Miseria Cantare (The Beginning)
DJ Shadow feat. Mos Def - Six Days (The Remix)
Twista feat. Freeway, Memphis Bleek and Young Chris - Art and Life (Go 2 Sleep Remix)
WPW

Marilyn Manson feat. Depeche Mode - Disposable Teens (Never Let Me Down Again Intro)
Marilyn Manson - Personal Jesus
Motorhead - Orgasmatron
AFI - Miseria Cantare (The Beginning)
Wu-Tang Clan - Triumph
Twista feat. Freeway, Memphis Bleek and Young Chris - Art and Life (Go 2 Sleep Remix)
EWE

DJ Shadow feat. Mos Def - Six Days (The Remix)
Dino MC47 & Viktor Tsoi - Changes
Kid Cudi - Heart of a Lion
PCW

Kid Cudi - Heart of a Lion

FAWA

CjR - Call Me Uprising
Barbarian Overlords - The Ambassador
Hole - Celebrity Skin (with Aaron Enigma as the Hollywood Enigmas)
The Illuminoids - Gimmie Shelter

101 Colony

CjR - Call Me Uprising
m.o.v.e. - Dogfight
Northern Kings - Sledgehammer
The Limousines - Internet Killed The Video Star
Europe - The Final Countdown
3 Inches of Blood - My Sword Will Not Sleep (as part of the Anturai 2.0)
Trivia
Is fluent in Japanese.
Co-founded Rated X alongside his step-brother Chad Michaels.
Oddly enough, both he and Chad are the only two members to remain in Rated X. Everyone else has left the group due to various reasons.
Had a cameo in "The Wrester", but was not credited.
Influences: Delirious, Human Tornado, CM Punk, Austin Aries, Hayabusa, Colt Cabana
Favourite cities to wrestle in: San Diego & the Southern California area, New York, Chicago, Tokyo, Orlando and the Florida Area
Least favourite cities to wrestle in: Stamford, Atlanta, Tennessee, Charlotte
Uses The Rapture as a tribute to HitmanMark, an EWT legend.
Has been married once, though it ended in divorce.
Do not mention Superbowl XXIX...
Links
Ad blocker interference detected!
Wikia is a free-to-use site that makes money from advertising. We have a modified experience for viewers using ad blockers

Wikia is not accessible if you've made further modifications. Remove the custom ad blocker rule(s) and the page will load as expected.