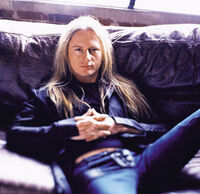 Real Life:
Born as Michael Vallenson, in a small town of North Carolina on December 11, 1981 Mike took notice to his first love of Basketball around the age of four, which went on through high school. Basketball became his second love as Professional Wrestling found its way into his heart around the age of 12. Though he would still play basketball but would devote more attention to wrestling. Also has a band called "The Raven Effect" who have realised one cd entitled "Sacried Beliefs."

Professional Wrestling:
"Captain Credible" Started training while he saw his older brother, who is eight years older, win a title. Michael was only ten years old at this time and thought it was the coolest thing ever. He was sent to live with his uncle in Boston shortly after this because of family problems. In Boston he met a friend who was a few years older than him and his friend was training to become a professional wrestler. Mike saw this as an opportunity to perhaps start his dream and from that point on he went with his friend four times a week to a local training gym owned by Sylvester Van Zandt, a local legend in both amateur and professional wrestling. Sylvester continued to train Mike for nearly four years until Mike moved back to Los Angeles after his mother died to live with his father. Still focused more than ever to become a professional wrestler, he found another trainer by the name of Jayson Walken, who is known worldwide from the sixties and seventies from his various international matches and appearances. Jay worked with Mike for the next 3 years and put him in a few opening matches in local high schools. People quickly took notice to Mike's high energy matches. Months Later, Mike and his older brother, Brent, were wrestling in the same show, as a scout was interested in signing Brent to the XWP. Brent had injured his right knee a week before and was not able to put forth a good effort, but Mike still put on a good match against his friend "Big." The scout, known as Jon Brooks, signed Mike on the spot and the XPW is where he began his career. Mike quickly became friends with Josh Madrix and Dillen Jaymes, who each went the SWC after the XPW closed its doors. Mike Won the first ever hardcore title and his first ever title against Madrix, and lost it a week later. Mike also had a deal with the EOW and became the EOW's first ever and last cruiserweight champion, never losing the title. After going on the longest losing streak in SWC history, management felt Mike needed a makeover and killed off the "Mega Man" character that he was and brought forth the "Raven Rose" gimmick, a man who came to the SWC in search of answers as to who he was. After rejoining his good friend Josh Madrix, they won the tag team titles and became known as the "Wildboys." Mike quickly turned into "The Real," telling people what the truth was whether or not they liked hearing it and the "Raven Rose" gimmick was killed off. The Wildboys became the one of the greatest tag teams ever, and remained undefeated. After the SWC went down Madrix, Dillen Jaymes and Mike went to the UCW as the stable Supreme EXtreme better known as s.E.x. They didn't stay long, as Mike had legal issues involved with the music industry and Madrix and Jaymes were released from the UCW. A year and a half later Mike rejoined the UCW, now the legal guardian of his younger sister, and brought forth his friends Xander Cage, Sebastion Stone and even after not speaking to Josh Madrix in nearly a year somehow managed to bring him back. While the UCW remained open for 4 months Mike became the Intercontinental Champion, the North American Champion and became the first ever UCW superstar to hold multiple titles as well as the longest winning streak in UCW history, at an unmatches ten and zero. After a failed attempt at merging with another fed, Mike is now searching for the next chapter in his life, where he can continue on and maybe become world champion one day.
Early Life: Most people who have followed the superstar from his first professional matches know that Mike has had a relatively strange life. His friends even claim that he is who he is because of his past. What really has him acting like the 13-year-old kid who farts and blaims it on the girl sitting next to him nobody may ever know. Born December 11, 1981 as some reports have him born in 1982 and 1980. This is due to a combination of him lying to get various jobs and playing practical jokes.
Television:
Aqua Teen Hunger Voice - (Voiceover)
VH1 "I Love The 90s"
Tonight Show with Jay Leno - (Guest)
Movies:
Copymat - Jesus
The Greatest Journalist in The World - Nona
The End of The World - Scottie Polo
Albums:
"Sacried Beliefs" - (The Raven Effect)
-Sometimes credited as Mike Valens or Michael Valens.

Ad blocker interference detected!
Wikia is a free-to-use site that makes money from advertising. We have a modified experience for viewers using ad blockers

Wikia is not accessible if you've made further modifications. Remove the custom ad blocker rule(s) and the page will load as expected.