MoFo Steve Bradley is a character played by JP(no full name given). It is based on the real wrestler who goes by the same name. Bradley is an American born wrestler who's known for his "bad ass" gimmick and his "screw the rules" attitude. He's also known for bringing out a steel baseball bat with white letters on the side spelling out "MOFO". He's well known in the MSN E-Fed world, especially in Feds such as The Asylum, WWE Action, CWF, XCWA, WWE4, UCW, and WWECR. He used to own WWEA/The Asylum before it closed in May 2008.
Early life
Steve Bradley was born on December 10, 1975 in Boston, Massachusetts. At a very young age he knew he wanted to be involved in wrestling. At age 15, Bradley made his debut and wrestled on various East Coast promotions. In 1998, Bradley signed a 3-year contract with the World Wrestling Entertainment, and wrestled in their development territories. He began training in private lessons with Tom Prichard and a young Kurt Angle at WWE Headquarters in Stamford, Connecticut.
Bradley was then assigned to Memphis based promotion-Power Pro Wrestling. Bradley and Kurt Angle then started a feud which would be voted as "Underrated Feud of the Year" by Pro Wrestling Illustrated in 1999.
He then went on to win the third annual ECWA Super 8 tournament. Defeating the likes of Ace Darling, Devon Storm, and Christopher Daniels in the finals.
Bradley then went on to Puerto Rico and wrestled in IWA: Puerto Rico. He was known for his bloody feud with Savio Vega and winning the IWA Tag Team titles.
Getting Recognized
After his contract expired with WWE, and they both parted on good terms, Bradley went on to create Top Rope Wrestling Academy in Manchester, New Hampshire. He then made a promotion called Wrestling Federation of America(WFA)that toured New Hampshire, Massachusetts, and Vermont. He held the first show in the historic Littleton Opera House in Littleton, NH. A long time friend of his who owned the promotion, WWECR, was in attendance for the event. After the event, the owner asked him if he would be interested in signing a contract.
WWECR
A few days later, he made his debut by coming down to the ring, and beating RVD and costing him the match in a tournament for the World title. A week later, he won the Hardcore title against Goldberg. In a matter of just a few months, he won the Intercontinental Championship, the Tag Team Championship(with Psycho Luke), and getting awarded the United-States title. His most notable feud in WWECR was with Acid. The climax of the feud ended when Bradley faced Acid in an Ambulance match, which he won. After the match, Bradley ran over the ambulance with a monster truck. MoFo was also known for his "MoFo Challenge" segments. Were he'd open a challenge to everyone in the building. It was mostly accepted by wrestling legends and local wrestlers. He also brought in his real life wife, Pamela Lee. Where they did a storyline where she was pregnant. At the end of the storyline, MoFo and Lee were in a staged argument where MoFo stormed off with Lee running after him. MoFo got into his car, and "accidentally" ran over his "pregnant" wife. Though, the whole thing was staged, Lee's and Bradley's infant was not hurt and they used a stunt double for the segment. Shortly after, Bradley asked for his release from WWECR, and they both parted on good terms.
WWE Action
After Bradley asked for his release from WWECR, he went off and bought WWE Action. He then immediately started a feud with O.Z. Craven. The feud was about five months long with Bradley as World Champ, and O.Z. acting as the hero. O.Z. then left the company, and TNT Steve Hunter was his replacement.
Bradley/Watson Connection
Bradley and Isaac Watson(owner of XCWA)began negotiations for an XCWA vs. WWEA invasion. The feud began in early 2003. However, the feud ended before WWEA's February Pay-Per-View, Code Red. The reason being that Watson didn't get along with a fellow higher up and preceded to pull XCWA out. Bradley and Watson became better friends with Bradley coming over to Watson's promotion, XCWA a few times. Bradley and Watson(who's notable to play such great athletes as Christian Cage and Randy Orton)started the first ever New Evil Alliance outside of WWEA/The Asylum. Bradley was said to come up with XCWA's second show, Revolution X, and was set to be the General Manager for it. However, Bradley left due to personal issues.
MoFo Steve Bradley/Psycho Luke
In what some say is the "greatest feud in WWEA history", Bradley and Luke had a long, and grueling feud. Their matches may have been the best seen in a long time, but the segments were said to have put the feud and possibly WWEA right on the map. One memorable segment was Steve Bradley and on screen girlfriend, Stephanie McMahon were about to engage in sex. However, Psycho Luke sawed off the door off it's hinges with a chainsaw and began to saw off everything in the room. Minus, of course, Bradley and McMahon who left and called the police. Luke blamed the incident on Bradley, and Bradley was arrested in an on screen segment. The climax of the feud was when Bradley defended his title against Psycho Luke and Randy Orton in Luke's creation, "The Psycho Cell" at Wait and Bleed 2003. The Psycho Cell is an Elimination Chamber type structure with a Hell in the Cell over it. The match still stands as the "most hardcore match ever". Luke scored the pin due to the interference from Epic(Acid's alter-ego). After that the Psycho Luke and MoFo feud was finished.
Here's an out of character quote from Bradley on his feud with Psycho Luke:
"Luke was an up and comer who was always underrated no matter where he went, so I decided to give him a helping hand. The feud was extraordinary and it was a lot of fun, and wasn't hectic at all. I really enjoyed it and hope we can feud again someday."
WWE4
In 2003, when WWEA went on a short hiatus, Bradley went off to explore other promotions. Bradley then joined WWE4. WWE4 was known as a "jobber promotion" by most in the MSN E-Fed circuit. Bradley, however, has always been known to help the smaller promotions out. Bradley made an impact in the promotion, but due to problems between him and management, he left. He shortly came back in 2004, and won the Intercontinental Championship and the World Hardcore Championship. He then left, but a reason is not given why.
New Evil Alliance
In late 2005, in October, WWEA returned once again. In the first week, it was being seen on edition's of WWEA/The Asylum's flagship show, Blood Bath, that Eddie Rabbit and MoFo Steve Bradley were forming an alliance. On an episode of Blood Bath, in the next few weeks, Bradley came out and said that there's a new faction that will dominate WWEA, and then he called out Eddie Rabbit. Eddie was, at the time, managing Team Xavier(Jack Xavier and Solveig). The original NEA consisted of: Steve Bradley, Eddie Rabbit, Team Xavier, and Big John Poe(Bradley's bodyguard). At Super Brawl IV, Steve Bradley and Eddie Rabbit faced Team Xavier in a "Loser Leaves WWEA" match, Bradley and Eddie won, and Team Xavier left . After that, the NEA got new members: South City Thrillers(Hade Vansen and Raj Ghosh) and Sasha Ressetar. In 2006, Christian Cage came in and there was a jealousy storyline between Cage and Eddie. Eddie then turned on MoFo, and Cage became the new co-leader with Bradley. Shortly after, Cage left, and Eddie was back in NEA as the co-leader once again. The faction is still active even to this day. Bradley and Eddie faced off against Chet "The Threat" and Punisher at The Asylum's reunion show, Immortal, on November 9, 2007. The Alliance was broken up when The Asylum closed down in May 2008. NEA was the longest running stable in Asylum/WWEA history. A lot of people say that NEA is one of the best stables in E-Fed history as all the competitors in the stable were very much hated at their prime of their careers.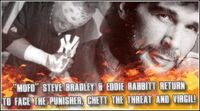 New Evil Alliance Alumni:
MoFo Steve Bradley(co-leader) Eddie Rabbit(co-leader) Team Xavier(Jack Xavier and Solveig) Hade Vansen Carley Vansen Sasha Ressetar Raj Ghosh Big John Poe Edge Christian Cage Jake Benson Acid Judge
The Asylum
Due to that Bradley wanted WWEA to be more original, he decided to change the promotion's name. In November 2006, Bradley held an all personal meeting and announced that the name "WWE Action" was going to be discontinued and there were going to change it's name to WWEA's nickname, The Asylum. However, throughout The Asylum's one year reign, Bradley has been rarely seen and is known to be "once on a blue moon" type of competitor since he's more of a backstage person now. Due to the Asylum coming back, Bradley recently stated that he will be seen a lot more on TV.
CWF
In early 2006, Bradley got asked by long time friend and on screen nemesis, Psycho Luke, if he'd like to join his new promotion, Championship Wrestling Federation(CWF), Bradley accepted the invitation. Bradley's most notable feud there was with "The Punisher" Eric Key. Even though Bradley has a good track record with Punisher, he was said to never make Punisher look bad. Bradley and Punisher are great friends outside E-Feds. Shortly after that, Bradley teamed with former rivalry, Edge(played by Jon Hawke). Edge and Bradley were supposed to face off against the Hardcore Kings for the Tag Team titles and were set to win them, but CWF then announced it was going to close.
Bradley then returned to being a full-time backstage personal at the Asylum.
The Asylum's Last HIATUS
In mid-2007, Bradley was getting burnt out very easily. He then decided it was time to take a break. He gave ownership to fellow friends Diego Sanchez(Mike Kruel), Eric Key(Punisher), and Eddie G. Eddie G and Kruel soon parted ways with the company for unknown reasons, but Key stayed with it most of the time. Bradley then told Key to just shut down the promotion.
Back to CWF
Bradley then decided to come back to the wrestling world in August 2007. He returned to the new and a more powerful CWF. He was promised a spot to the top, however, things didn't work out that well. He immediately started a feud with a new comer by the name of TJ Rocker, however, Rocker left the company before the feud could even get started. Bradley then started to just wrestle new comers who didn't even have a name in wrestling yet. Trying to redeem himself he made a CWF.com column called, "The MoFo Bat". There was only two columns before he left the company with a bitter taste in his mouth. MoFo explained in an interview that he left CWF, because he felt like he was "just floating around, and couldn't find a place to land." He was promised a spot in the main event scene, but it was taken away. He then just felt like he should just leave before his feelings for the company and Psycho Luke got even worse.
However, Bradley has stated to many friends within CWF that he will return at some point. Over the 2007 period, he has made spontaneous promos, but they were said to be one time only deals.
Back to the Asylum
Bradley announced that, once again, The Asylum will be making a full return in January 2007 after a few warm up Pay-Per-Views. Bradley has also stated that he will be seen a lot more this time around, and would like to be in the World title scene once again. Currently, JP(MoFo) and Diego(Kruel) are the owners at this time.
Bradley vs. Acid
The Asylum legend, Acid, announced in early November 2007, that he is taking an extended break from e-wrestling, and wanted his last opponent to be MoFo Steve Bradley. Acid said that "Bradley jumpstarted my singles career", and he wanted Bradley to be his last opponent before he goes for awhile. Bradley and Acid are set to face off against each other at SuperBrawl VI(TA's 2nd biggest PPV)on November 30, 2007. The match is for the Coast to Coast Championship, and Bradley is rumored to win the match. The "screwjob" storyline was, however, cancelled due to both sides could not get an agreement. The match was changed to a Tower of Terror(3 Cages Stacked on Each Other where you have to climb a ladder on the last one to retrieve the belt)was named as the match at the beginning of the PPV. Bradley won the match and after the match, Bradley shook Acid's hand. Joel(the man behind Acid)was said to be mad about the finish, but came to his senses later on.
The Asylum's Closure/Ultimate Supremacy Wrestling
After the match with Acid, and Bradley winning the Coast to Coast Championship, he began to face random people, but always won. However, he didn't defend his title about a month before the Asylum closed. The Asylum closed down due to management problems, and everyone was let go, and most went to CWF. MoFo, however, disappeared, but not for long. On June 20, 2008, MoFo made his return to the scene as he announced that there was going to be some slight changes to the way USW is ran. Bradley claimed in the promo that he was called the night before to show up on a house show the following day. This is not a lie, as several websites have claimed that Steve Bradley showed up to visit some friends and signed the contract that day and headed out to the ring to his return promo a few minutes after signing. He didn't give too many details on his return date and said that he would at the USW Heatwave Pay-Per-View that Sunday, June 22. At the end of the event, Hardcore Jack and CJ Tyler we called out to the ring. Steve Bradley then came out and introduced himself as USW's first Commissioner. It's being said on backstage reports that MoFo is already talking about an in ring return with USW in the near future, but nothing has came about to who he's going to come after yet.
Bill Dumas/MoFo Feud
As of July 2008, it was announced that MoFo is returning to the ring, but he has stated backstage that he's not going to be in a match every week and may be just a monthly wrestler. He has also stated that he wants to get back into the grove, and get some ring rust off of him, but backstage personal and other wrestlers have claim that he is just about the same, and is only getting better. His first feud was with Bill Dumas. The back story to this was that Trish Stratus debuted in USW, Ashley Dumas(Bill's wife)came out and they had a "reunion" of sorts. MoFo came out and disrupted it, saying obscene things to both women, and propositioned Trish to give MoFo a blowjob in the middle of the ring and he'd give her a World title shot, instead of just a Women's title shot. Trish acted as if she was going to, but Ashley and Trish ended up giving a double low blow to Bradley. MoFo was angry about this, and said that whoever loses has to be his servant for an unforseable amount of time. Currently, the match is not on the card even though beforehand CJ Tyler(real life owner of USW)loved the idea, but CJ Tyler's real life girlfriend and real life co-owner, Ashley Adams didn't like the idea of women going for the World title, because "what's the point of having a Women's title then?" as she stated. But, Ashley did like the Ultimate X Steel Cage match that MoFo made, but the match was eventually nixed.
After this, Bill Dumas came out and attacked Steve Bradley. Bradley then did a counterattack at a Gold's Gym where he bashed Bill threw a full body mirror and after hit him with a dumbbell and threw Ashley into a treadmill. Word went around backstage that Bill was mad, because he believed Tyler was giving Bradley too much leverage in the storyline, and wanted to stop the feud right away. Backstage sources reported that Bill Dumas is actually scared of feuding with Bradley, because he knows Bradley doesn't like him in real life and that Bradley outshines him in the ring. Bill Dumas then came out to the ring and asked Brady Mathews(on air co owner)to come out and apologize for Bradley's actions. In kayfabe, Brady was supposed to come out, but MoFo came out instead and attacked Bill, but Bill complied even though he came backstage very mad. He then got Tyler behind closed doors and began to threaten Tyler if they don't cancel the feud then he was going to quit. MoFo then got into the room and started "chewing Bill out" about how quitters never win, and that he's nothing but a "punk ass loser." Bradley's words convinced Bill to stay, and Bradley announced on television before the Bill/Tyler/Bradley backstage incident that Hade Vansen signed a contract to USW and it will be MoFo teaming up with Hade to face Bill and Ashley Dumas in a Hell in a Cell/Tables, Ladders, and Chairs match where the only way to win is to climb the top of the Cell, climb a ladder and retrieve a briefcase with two separate contracts. If Bill wins, then MoFo, in non-kayfabe(for real)has to resign from his manager duties and quits USW. However, they told the fans this, but they only said Bradley was to varnish his Commissioner duties. If Bradley wins, then MoFo get's a World title shot at the next Pay-Per-View. As of this point, it is said that MoFo is slated to win as Tyler isn't a big fan of Bill Dumas himself. The match is slated to take place on July 19, 2008 at the Solitary Confinement Pay-Per-View.
At Solitary Confiment, Bradley won by giving his finisher, Roll the Dice to Dumas. The match was brutal in a sense with most of the brutality going towards Bill and Hade Vansen. Ashley Adams substituted for Ashley Dumas in the match since Bill Dumas did a couple of promos where he was complaining about Ashley's injury and that the Vice President of the United States, Dick Cheney, sent USW a letter of cease and desist in regards of Ashley Dumas competing in the match. USW complied even though they showed no belief in Cheney actually sending the letter, and Bradley came in, and put Bill's head threw a wall during the segment. The feud is said to be done and Bradley has commented that it was the worst feud he's ever been in since Bill was a "whiny little bitch" throughout the whole thing.
Post Dumas Feud
After the feud with Bill Dumas, Bradley was set up in a match against the new USW World Champion, Chett "The Threat" on the following episode of Apocalypse, which took place on July 22. During the match, Bradley came out and told the crowd that the match is now a No DQ match, and proceeded to hit Chet over the head with a steel chair three times, and made him bleed. Bradley then got on the microphone again, and said that he had a deal for Chet. If Bradley won, then the stipulation from Solitary Confinement where if he won against Bill, then Bradley get's a World title match is set in stone, but if Bradley lost and Chet won, then Bradley had to give up his World title shot then and there. Bradley then started talking trash to Chet and Chet rolled Bradley up and scored the three count. Bradley acted mad and proceeded to go on a rampage as he started hitting everything around him with his "MOFO" Bat. Bradley then beat a cameraman senseless with the bat as the show went off the air.
MoFo/Sting Feud
After the Bill Dumas feud and Hade temporarily left USW due to some personal issues, MoFo then got into a feud with Sting. The feud with Sting started on the July 29th edition of Apocalypse. This was a week after his lose to Chett, and that he had to give up his World title match, so on that weeks edition, Bradley was still mad about it. Jay Pinkham, of Asylum fame, came in to do a promo for The Asylum reunion show, Death Before Dishonor, and did a match run down. However, Bradley wasn't even mentioned. Bradley came in, and said that he doesn't care that he doesn't have a match and that The Asylum is a "piece of shit" anyways. After the promo, Bradley bumped into Sting, as Sting apologized and Bradley attacked him. A week after, on the August 5th edition of Apocalypse, Bradley made a Fatal Four Way for the number one contendership to face Alonzo Parker for the title. Bradley made the match between him, Chett the Threat, RTF, and CJ Tyler. During the match, Sting's music played and MoFo waited for him to come out, but Sting didn't. This caused CJ to do the 720 DDT, and get the pin on MoFo. On the August 12th edition of Apocalypse, MoFo came out and challenged Sting to come out. MoFo used a female ring announcer as bait saying that if Sting doesn't come out then he's going to "break this cunt in half." Sting's music hit, but no Sting. It did this a few times, but MoFo gave up, and got the women set up for a Piledriver, the lights went out, and came back on, and the women was gone, but MoFo still had his arms up like he was about to do a Piledriver to nothing. MoFo then said to stop playing games, and then the music hit again, and when they came back on, a dummy of Sting was in back of MoFo. MoFo, not knowing it was a dummy, attacked it with his "MOFO" Bat, and then after, the lights went out again, and Sting was on the other side. MoFo thought that this was a dummy too, and when he went to hit Sting, Sting grabbed the bat, went to swing, but the lights went out, and when they came back on, MoFo had the bat back in his hands. After this, the match was announced between the two, as they faced each other at USW Abomination on August 23 in a Ladder match, where you have to grab a bat, and you can use it on your opponent. The match was pin based, but you had to grab the bat first before you can pin someone. During the match, MoFo grabbed the bat, but Hade came out, grabbed the bat, and hit MoFo with it and Sting won the match. This was the conclussion to the Sting/MoFo feud.
Hade/MoFo Feud
The Hade Vansen/"MoFo" Steve Bradley feud is said to be long awaited. On August 27, USW did a segment where MoFo's car was set on fire. Bradley then set out to look for who did it. However, came short on suspects. On the September 16th edition of Apocalypse, Bradley came out and did a promo on Hade when Hade showed up on the titan tron saying he was the one who did it. Hade then attacked Bradley from behind and gave Bradley the Unknown on the Coast to Coast Championship.
CWF-Third Time
It was announced on wrestling news site, that MoFo has signed a contract with Championship Wrestling Federation, and is expected to make his return to the promotion soon. He is rumored to feud with Psycho Luke, which a lot of people have been waiting for. The details of the feud came at the July 17th, 2008 edition of Redemption. Even though Bradley didn't make his official debut at the show, the message was clear that Bradley is in fact making a return. The episode started out with Psycho Luke looking through on air owner, Ivan Spades letters. He found a letter with an unknown writer that called Luke pathetic, and said that he or she had Luke's son, and that Luke will soon find out the writers identity by unscrambling the letters on Ivan's desk. Luke do so, and at the very end of the show unscambled them all that came to "Steve Bradley."
At CWF Survival, which took place on July 28, 2008, Bradley made his official return to CWF. He came out masked, and attacked Psycho Luke. After the attack, Ivan called for the mask to come off and it was Bradley.
After Bradley being revealed as Luke's son, Gannon's watch dog for Ivan, Bradley was booked in an over 20 man battle royal for the vacant CWF Xtreme title. Bradley did a few segments where he had Gannon in it, tied up. However, on the third segment, Gannon wasn't involved and Bradley was alone. On the fourth segment for the Xtreme title, Bradley told CWF interviewer, Chasity that Ivan told him to give Gannon back. However, in truth, the storyline with Bradley and Ivan keeping Gannon hostaged has been dropped. However, Bradley is still in line to feud with Psycho Luke after CWF Malevolution and that Luke is done with his feud with current CWF World Champion, Aaron Masters.
On August 14's edition of CWF Redemption, Bradley faced off against 20 other CWF names for the vacant CWF Xtreme Championship, however, and surprisingly lost to Tweeks. He was eliminated third. In real life, this didn't make Bradley happy. Bradley had also been telling friends that he was considering leaving CWF if things didn't go great for him there. Bradley then faced off against Joker on the August 21st edition of Redemption. Bradley lost due to a roll up, which he thought made his character look weak. He then asked for his release from the company which as of August 31 hasn't been granted. Bradley has been booked for the September 4th edition of Redemption. Some internet sources are claiming he will committ to his match to not disrespect CWF, Psycho Luke, or former Asylum employee and his opponent of that night, Eddie G. However, he said as soon as his release papers due come in he's leaving. Here's a transcript of what Bradley had to say in a E-Wrestling Talk interview:
"When I first got there, I was suppose to be one of the main guys. [Psycho] Luke was promising me big matches, main event status, big storylines, and the World title. However, just like last time, it was like deja vu again. Aaron Masters comes back in, and his promise goes to Aaron instead. I got nothing against Aaron, me and him are working on trying to revive our once decaying friendship. But, Aaron understands my views as well. I told Luke one day that I'm not going to be able to make it due to other commitments. He didn't believe me, and I finally told him the truth. He didn't understand it. He thought I came in to have fun, which I did, but I also came in, because I thought CWF would be my final home and maybe instead of being known as the "Asylum guy", I could actually make a name for myself in all of the wrestling world, and be remembered for not only being the owner of the Asylum, but for also being known for being one of the greats. Not like I'm demaning it, but I'd just like to leave with a legacy is what I'm pretty much saying. But, I can understand Luke in a way as well. He's doing what's best for his company, and if that's to let someone else have a go at the big times, then so be it. I respect Luke's decisions regardless of what they are. He just needs to understand my decision of not wanting to tarnish my character. Hopefully, he will, and maybe we can still be great friends at the end of the day again."
After his match with Eddie G(which neither showed for), Bradley was given his release papers. There is no word at this moment of time if Steve will come back to CWF or not.
Death of a Friend
On August 8th, 2008, Bradley's good friend, and co-founder of the NEA, Eddie Rabbit passed away after a six year battle with lung cancer. Bradley and Eddie were considered by wrestling peers as being "very tight" and "where there was one, there was always the other." Bradley just got Eddie to sign with USW on August 5, but Eddie died three days later. Bradley actually found Eddie dead, sitting on a stool, with his trademark guitar in his hands. Here's a transcript of Bradley telling a Nashville, TN news affiliate about the death.
"I went over to his house, just to go over plans we had for him in USW and to visit with him, and he sounded really excited about getting back into wrestling. So, anyway, he wanted to have a cigarette, and the only place in his house that he smokes in is his guitar room. So, me and Hade [Vansen] who came along with me, just to visit, hung out in the living room, because I have asthma and I can't be around smoke and Hade wanted a drink, so we just hung out, and we were going to watch "NEA: Face Your Fears", our stables DVD, to go down memory lane, and Eddie really wanted to watch it. But, besides the point, we noticed he was gone for awhile. Eddie, he was a chain smoker, he would go through probably six cigarettes in just a matter of a half an hour, but he would never take any more than a half an hour. So, me and Hade though this was weird. I mean, he'd been gone for almost forty five minutes. I went in to see what was taking him so long, and when I got into the room, I could smell smoke, but Eddie had a vent installed to get rid of the smoke, so the smoke wouldn't damage his guitars. That wasn't even going. When I looked, he was on his stool, which is where he would play his guitar, and he had his signature guitar in his hands. But, if he didn't have his head down, you would have swore he was just jamming. I tried to wake him up, and he wouldn't come to, so I knew something was up. I ran to the phone which was in there, dialed 9-1-1, and he was pronounced dead at the scene. Died the way he wanted to, and he always told me that was either going to be in an Asylum ring, or playing guitar, and it was the latter of the two, so he died the way he wanted to. I knew Eddie was going to go soon, because the doctor gave him a year to live three years ago, so when the first year came, and then the second, we just thought that the doctor was just talking B.S., but now he's gone. He was one of the best friends I had in this business, and I don't have very many. I'm going to miss him, for sure."
Bradley, of course, showed up at Eddie's funeral, and was said to be really distraught at the funeral. As one source who went to the funeral said, "Steve and Eddie were very close. Almost like brothers. Steve was the first one there, and I heard he didn't leave until they had to move the casket from the funeral home to a convention center for the fans funeral. Steve also went there as well. He spoke about his friend at the podium they had there, and before the funeral ended, they played Eddie's entrance theme ["I Love a Rainy Night"] in hommage to him, and Steve just lost it right there."
MSN E-Feds MoFo's Been In
Ultimate Supremacy Wrestling, WWE4, XCWA(Mike Kruel/Chazz promotion), XCWA(Isaac Watson promotion), CWF, WWEA/The Asylum, CWF, UPW.
Death
(Note: Due to the Real MoFo Steve Bradley's death; JP, decided to drop the character in respect of Steve Bradley.)
Steve Bradley was found dead in his car on December 4th, 2008 just outside the studio where his once wrestling school, Top Rope Wrestling Academy was in Manchester, NH. The cause of Steve's death is unknown. He was six days shy of his 33rd birthday. He was planning on continuing his feud with Hade Vansen, however, that of course has been dropped. Hade was suppose to do a skitted eulogy of Steve's death "but, I guess I have to do a real one," a audibly saddened Hade Vansen said in an on phone interview with Rock 101 in Manchester, NH. The skit has also been dropped an USW plans on doing a tribute to MoFo Steve Bradley on the Apocalypse that followed Steve's death. A few wrestlers, including Punisher and Alonzo Parker both spoke highly of Steve Bradley. Chett the Threat also did a 10 second silence in his memory as well. CWF nor UPW mentioned Steve's death on their shows or website, however in hommage of Steve UPW inducted him into their Hall of Fame which was a joint UPW/XCWA Hall of Fame, Steve was apart of both, but more so XCWA. CWF did not have any comment on Bradley's death and none of his former employees mentioned it there except for Punisher. MoFo was also inducted into the USW Hall of Fame.
Notable Feuds
Psycho Luke, TNT Steve Hunter, O.Z. Craven, Punisher, Edge
With the New Evil Alliance:
Pain and Suffering, Edge, Jake Benson, Dante Centario, Psyche Ward(Acid and Tweeks)
Title History
WWEA:
World Heavyweight Champion(3x), United-Continental Champion, Hardcore Champion(4x)
XCWA(Not Watson's):
Danger Zone World Champion, Tag Team Champion(with Prince Charming Chazz)
UCW:
Television Champion
WWE4:
World Hardcore Champion, Intercontinental Champion
WWECR:
Hardcore Champion, Tag Team Champion(w/Psycho Luke), Intercontinental Champion, United-States Champion
The Man Behind the MoFo
The man who plays the E-Fed version of MoFo Steve Bradley is James P. James lives in a small town in New Hampshire, and is known for being "old school" when it comes to Feds. He's also known to give everyone a chance, regardless of how well they type, or how long they can type. He is known to everyone on the internet as JP. JP has been Role Playing since 2002, and started out in IWA which was owned by a women by the name of Michelle. JP then decided that he wanted to create one and created WWE Action(which was changed to The Asylum in 2006. In 2003, JP went to a local WFA event in Littleton, NH which is where he discovered Steve Bradley. Here's a qoute from JP:
"At the time I was playing the Undertaker, and Rob Van Dam. I tried my share of created characters, but they didn't really work out. I went to WFA, saw MoFo, and was amazed and that night, on my 15th birthday, I debuted him, and people loved the character and still do. I've kind of altered him a little bit over the years. Showed emotions(Pamela Lee getting runned over). However, I only alter him a little bit, and always have that same intensity that the real MoFo has."
Ad blocker interference detected!
Wikia is a free-to-use site that makes money from advertising. We have a modified experience for viewers using ad blockers

Wikia is not accessible if you've made further modifications. Remove the custom ad blocker rule(s) and the page will load as expected.