Morgan Simmons
Talk

0
11,328pages on
this wiki
Morgan Simmons
Billing information
Ring name(s)
Jamie Synn
Morgan Simmons
Nickname(s)
"The Sinister Bitch"
Height
5'5"
Weight
134 lbs
Born
February 14th, 1983 (age 30)
Place of Birth
Boston, Massachusetts
Date of Death
{{{death_date}}}
Hometown
Boston, Massachusetts
Billed From
Boston, Massachusetts
Theme music
"Du Hast" by Rammstein
"Psychosocial" by Slipknot
"Toxic" by Brittney Spears
Brand(s)
Stable/Tag Team
Toxic
Wrestling information
Alignment
Heel
Wrestling Style
Technical
Will
{{{will}}}
Won't
{{{wont}}}
Notorious Feuds With
Talia Skye
Team Lethality
Danielle Lopez
Generation Next
Ashley Rose
Heather Monroe
Heather Fox
Stacy Hobbs
Lindsay Jenkins
Jennifer Williams
Breanna Barker
Stella
Rosa Rodriguez
Notorious Partnerships With
Alexis Landry
Stevie Fabulous
Jesse Wright
The Disciples of Syn
Christina Fierce
Mariella Lopez
Melanie Ramirez
Kevin Smith
Joe Grizzly
Jenna Martin
Jimmy Gambino
Christina Perez
Ivette Hernandez
J.T. Banks
Rosalie
Nicole Allen
Trainer
{{{trainer}}}
Handler
{{{handler}}}
Professional career
Debut
2002
Record
{{{record}}}
Accomplishments
ECCW Womens Champion
XWF Womens Champion
LPW World Women's Champion
AJW Champion
AJW Junior Champion
PWW Womens Champion
Previous Federation(s)
Elite Class Championship Wrestling (2002 - 2004)
All Japan Womens Pro-Wrestling (2005)
Xtreme Professional Wrestling (2006 - 2008)
Premium Womens Wrestling (2011 - 2012)
Retired
{{{retired}}}
Current Federation(s)
Premium Championship Wrestling (2012 - Present)
Latin Pro Wrestling (2006 - Present)
Morgan Renee Simmons (born February 14, 1983) is an American professional wrestler currently working for Premium Championship Wrestling as the General Manager, Pride Wrestling where she is the current Pride Wrestling Champion, as well as competing on the Independent circuit, and competing in Mexico and Japan for various promotions under her real name. She was signed to Premium Womens Wrestling where she competed under her real name. She was the final PWW Womens Champion, as well as being the leader of the promotion's heel stable, Toxic. She is widely known for competing in Elite Class Championship Wrestling and Xtreme Professional Wrestling under her Jamie Synn gimmick. Between ECCW, AJW, XWF, LPW and PWW, Simmons has held sixteen championships.
Professional Wrestling Career
The Beginning
Simmons signed a contract to compete for ECCW and debuted in a backstage segment on WarZone where she adopted the ring name Jamie Synn. At Night of Champions 2002, Synn appeared as a Face as she competed against Ashley Rose to crown the first ever ECCW Womens Champion. The two ladies put on a clinic, but in the end, Rose came out with the victory after spraying hairspray in Synn's eyes. Those series of events is what started the long standing rivalry between Rose and Synn that still goes on to this day. She would get a couple more shots at the title, but was unsuccessful.
Finally Winning the Gold
On January 19, 2003 at The Rumble 2003, Synn received a shot at the title against Breanna Barker. The two put on a back and forth contest, and Synn finally won the championship when she hit Breanna with the Synn-Full Ride to Hell. She turned back a few challengers, but lost the title to Ashley Rose on March 16 at Redemption 2003. The next night on WarZone, Synn got a rematch but lost to Rose. It would take a bit longer for her to gain another title match, but she gained it in a three way dance against Rose and Jennie Lee. Synn pinned Rose to win her second Womens Championship. This reign as champion was just like the first. Holding it for two months before being defeated by Jennie Lee.
Departure and Appearances in the Rebirth version of the company
After losing the championship, Synn kept trying to get into contention for the belt, but was proved to be unsuccessful. In a match against Heather Fox on WarZone, Synn injured her knee and was forced on the injured reserve list. A few months after, Synn was released from her contract. On October 5, 2011. ECCW returned, and Morgan Simmons made her first appearance in an ECCW related show in eight years as she took part in the Beat the Douchebag Gauntlet match as she beat the hell out of Dick Taylor, hitting him with the Synn-Full Ride to Hell among a few moves executed on him. Before the participation, she cut a promo, insulting the crowd and talking more about PWW which got major heat from the crowd.
Japan, Mexico and Independent Circuit (2005 - Present)
After recovering from her knee injury, Synn made her comeback as she signed a contract with All Japan Women's Pro-Wrestling. In her first match for the promotion, she defeated Ayako Suzuki to win the AJW Championship. She dropped it three months later back to Suzuki, but later on in the night, she won the AJW Junior Championship. She held the title all the way until AJW closed.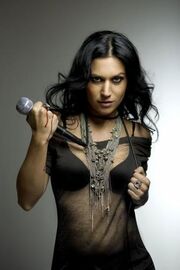 From there, Synn moved on to Latin Pro Wrestling. She engaged in a rivalry with fellow ECCW alumnus Rosa Rodriguez that spanned for two years, trading the World Women's Championship back three times a piece. She eventually moved on to a feud with Stella, trading the title with her as well. By the time 2010 hit, Jamie was already a five time LPW World Women's Champion and held the title for almost a whole year, but she ran into rising Mexican American female wrestler,
Danielle Lopez
. Synn and Danielle put on a classic match up, wrestling for forty-five minutes. At the forty-five minute mark, Danielle hit Jamie with Potential Brain Damage to become the LPW World Women's Champion.
After losing the title to Danielle, their rivalry was cut short as Danielle suffered a neck injury at YCW's Battle Finale I, and Synn decided to feud with Breanna Barker again. Once Danielle came back, the two of them continued their rivalry. Jamie was the one who ended Danielle's second reign as champion. Shortly after winning the title, she began going by her real name and started dominating the ranks once more. In the months of November and December, she had a series of matches against Taylor Youngblood, Jessica Smith, Candice Young and Rachel Allison with her title at stake. She retained it against all of them before heading into an LPW World Women's Championship defense on New Year's Eve against Samantha Gentry. After going 50 minutes with Young, Simmons finally got the win when she hit Gentry with the Synn-Full Ride to Hell. After the match, there was a surprise appearance by her fellow Toxic teammates Christina Fierce, Christina Perez and Ivette Hernandez and they along with Simmons, beat down Gentry to end the show.
On an LPW show that took place on January 15, 2012. Simmons went one on one with Sandra Allen in a non-title match up and defeated her with the Synn-Full Ride to Hell. She continued to wrestle for LPW, and went undefeated for the majority of the year until being defeated by former Synn-Full Devils teammate Nicole Allen for the LPW World Women's Championship, ending her almost two year run as the champion. Eventually, she regained the LPW World Women's Championship for a record seventh time by defeating Nicole with the Synn-Full Ride to Hell.
On the 700th episode, she defeated Nicole in a rematch with the Synn-Full Ride to Hell and then cut a promo afterwards talking about how she is the most dominant woman in LPW history and how she will continue to be dominant despite the "inferior" competition the company brings. On episode 701, she defeated Mya Fox with the Synn-Full Ride to Hell. She attacked Mya from behind after the match and as she locked in the Texas Cloverleaf, longtime rival Ashley Rose came out and made the save for Mya. On episode 702, Simmons came out and ranted about Ashley not minding her own business. The two engaged in a war of words where Simmons went below the belt and stated she would have stolen everything Rose had going for her... including her family. Ashley snapped and beat up Simmons, hitting her with The Rose Kick, heating up the ten and a half year rivalry between the two.
Xtreme Professional Wrestling (2006 - 2008)
Feuding with the Sexy Syndicate
After the closing of All Japan Women's Pro-Wrestling, Synn went over to XWF where quite a few fellow ECCW alumni's were wrestling after ECCW closed. Synn once again keeping her face character, came out of the gate on a hot streak. She defeated Stacy Hobbs to win her first Womens title in XWF. While being champion, she formed an uneasy alliance with her long time nemesis, Ashley Rose, due to the problems that the two of them had with the Sexy Syndicate that consisted of Hobbs, Heather Fox and Jennifer Williams. Synn and Rose managed to work together long enough to eliminate the Syndicate from the XWF.
Rekindling the Synn/Rose feud and feuding with Lindsay Jenkins.
Shortly after, the two of them had a match against one another. Synn retained the championship, but shook Rose's hand afterwards. It proved to be a trap as Synn turned Heel and laid Rose out with the Synn-Full Ride to Hell. The roles would be reversed in this rekindling of the rivalry as Synn now was the heel and Rose as the face. The two competed in a three way match, that also included Stacy Hobbs with the title at stake. In the match, Hobbs won the title but the feud between Synn and Rose intensified.
To settle the rivalry, both agreed to compete in an I Quit match where the winner would go on to face now-champion Lindsay Jenkins for the title. The match rolled around and it was a brutal one. Both women brought everything including the kitchen sink. The end result was Ashley Rose making Synn utter the words "I Quit" and become the number one contender for the championship.
After the feud with Ashley Rose died down again, Jamie bidded her time and waited for the thing between Rose and Jenkins pass. Once Rose departed from XWF after Jenkins won the championship, Synn interjected herself into the picture and shortly after, defeated Jenkins to win her second XWF Womens Championship. However, she lost it back to Jenkins at a House show, but was able to gain it back to begin her third reign as champion, but that too was short lived as she lost to Jenkins yet again. After months and months of not being in the picture, Synn finally received a match. A four corners match between her, Lindsay Jenkins, Stacy Hobbs and Jennifer Williams. This was held on the final night of XWF as it was closing up shop. In the end, Synn won the title for the fourth time and became the final XWF Womens Champion.
Toxic's Leader and Feud with Heather Monroe
Simmons signed a contract with PWW after it was revealed that the company was looking for women's wrestlers, both younger and experienced talent. Simmons came in at the end of the first edition of PWW's Sunday Night Knockout and helped Toxic lay out it's former leader Heather Monroe. Simmons was announced under her Jamie Synn gimmick throughout that period, and part of episode two. But at the beginning of the second episode, she announced that she was going to be known by her real name, Morgan Simmons (which is indeed her real life name) and got into a scuffle with Heather Monroe, that also included beating down Desiree Miles and her LPW rival Danielle Lopez. On that same episode, she had her first match in an American wrestling promotion in three years as she faced local talent Lila Vasquez. She easily disposed of her with the Synn-Full Ride to Hell.
On the third episode of Knockout, Simmons teamed up with Toxic teammate Rosalie and CHAOS to face Monroe and Black Rose Mafia members Talia Skye and the Xtremely Lethal Ladies in an eight woman tag team match, and they got the victory. Towards the end of the match, Simmons and Monroe brawled throughout the ringside area and eventually took their brawl away from ringside, basically preventing both from being involved in the finish of the match. At PWW: Here to Stay (2011), Simmons had her first match in America in three years as she went one on one with Heather Monroe. It was a brutal contest with both ladies giving it their all, but Heather reversed a Synn-Full Ride to Hell into a victory roll attempt for the victory. Morgan was livid, destroying things at ringside before getting face to face with Ashley Rose. Later on in the night, Morgan paid Terra and Lillith an unspecified amount of money for causing damage to The Black Rose Mafia.
Pursuit of PWW Womens Championship and Feuding with Talia Skye and Hikari Richards
On the fourth edition of Knockout, Simmons defeated Hikari Richards to become the number one contender for the PWW Womens Championship. At the beginning of the show, she cut a promo stating about the mistreatment that management has been towards Toxic, as well as supposed backstage politics being used by The Black Rose Mafia. These same sentiments have been relayed by The Glamorous/Vicious Combination. On the fifth edition of Knockout. Simmons was at ringside for Alisyn's match against Talia Skye. However, other events went on at the fifth episode, such as getting into a heated discussion with long time rival Ashley Rose and kicking Rosalie out of the group while adding her childhood BFF Christina Fierce into the stable.
On the sixth episode of Knockout, Simmons faced her long time nemesis Ashley Rose in what is billed as one of two main events of the evening. The two competed in what was a classic match up. Both women gave it everything they had, and even hit each other's finishing move. The end of the match came when Ashley missed the Rose Kick and nearly hit the referee, only for Morgan to hit her with the Synn-Full Ride to Hell to get her the victory. Later on in the night towards the end of the second main event known as Weapon X (Damon Warrens/Talia Skye) versus The Legion of Shadows (Hikari and Terry Richards), Simmons hopped the barricade after the referee was distracted following the brawl between Legion of Shadows members and Weapon X/Generation Xtreme members. Once Talia turned around, Simmons threw a fireball to her face, and costed Weapon X the match when Hikari pinned Talia for the win. After the match was over, she beat down Hikari while Syn did the same to both Terry Richards and Damon Warrens. The two of them celebrated to boos as PWW went off the air.
At Eve of Destruction, Simmons faced Talia Skye in a Stretcher Match with the PWW Womens Championship at stake in what is the main event match on the show. Both ladies came in and just beat the holy hell out of each other. Morgan made Talia bleed, while Talia did the same to Morgan. In the end, Talia hit Morgan with the Barbie Killer, and managed to place her on the stretcher and used her last bit of strength to win the match and retain her championship. On the seventh edition of Sunday Night Knockout, it was announced that Morgan, along with Hikari Richards would battle Talia in a triple threat match at Femme Fatale with the PWW Womens Championship on the line. On the second episode of Saturday Night Bombshell, Morgan went one on one with Desiree Miles in the main event of the show with the LPW Womens Championship on the line, and got the victory by holding the tights to retain the title.
PWW Womens Champion
At Femme Fatale, Simmons faced both Talia and Hikari with the PWW Womens Championship on the line in a triple threat match. The match was back and forth, with Hikari and Talia working together for the most part. But at the end, Toxic interfered and hit Hikari multiple times with lead pipes, as well as Alisyn taking her out with The Killing Joke. The Black Rose Mafia intervened and brawled with the Toxic members. As the brawl was continuing, Simmons capitalized and crawled towards Hikari's beaten body, draping an arm over her as the referee counted to three and Simmons became the new champion. After the match, the brawl escalated into even more chaos. Toxic was slayed at the hands of Talia, Hikari and Heather Monroe, but Morgan escaped their grasps with both of her titles. At the PWW Awards Show, aired on Christmas Day, Simmons won the Heel of the Year award, and the match of the year award for her contest against Talia Skye at Eve of Destruction. Her and Talia got into a huge brawl. As Talia was going to hit her with the Botox Injection, Simmons crushed her with the PWW Womens Championship belt before laying her out on the stage with a Synn-Full Ride to Hell. On the January 22nd edition of Knockout, Simmons faced Hikari Richards in a non-title match up and won the match. The next day, PWW closed its doors and Simmons had to give up her championship belt.
Asserting her dominance and feuding with The Black Rose Mafia
It was announced that Morgan Simmons has been given an opportunity to impress officials on a future PCW show. It was announced that her opportunity would be on the July 8th edition of Insanity against Jasmine Valdez, but she lost due to a roll up after getting into an argument with guest referee, Adrien Cochrane. Since the match, Morgan has reformed Toxic with Christina Perez and Ivette Hernandez, but also added Alexis Landry and J.T. Banks to the group, as well as Stevie Fabulous and Jesse Wright. On the August 4th edition of Rapture, Simmons along with the rest of Toxic attacked Kevin Styles until Generation Next made the save. Mariah Lopez and Lexi Reiyne also came out and evened up the sides, aligning themselves with the group and definitely indicating that the Toxic versus Black Rose Mafia feud is back on. Morgan appeared at Wrestle Extravaganza II: Beantown Brawl which is in her hometown of Boston, Massachusetts and despite working the event as a heel, she got a massive ovation from her fellow Bostonians. She engaged in a war of words with the Black Rose Mafia.
Alliance with Syn and Feuding with Team Lethality and James Baker
On the September 15th edition of Rapture, she along with Toxic broke the ankle of longtime nemesis Talia Skye, effectively ending her PCW career. Also that night, she had a conversation with Syn about the future of the alliance between Toxic and The Disciples of Syn, as well as themselves. On that same night, her and Toxic began a feud with Team Lethality, whom formed after the departures of Talia Skye, Lexi Reiyne and Generation Next. On the March 16th edition of Rapture, Simmons made a challenge to longtime rival and recently rehired Talia Skye for a third match at Battle Finale III. Later that night, she and James Baker got into a personal war of words and made a match to fight for the General Manager spot. With her heelish actions towards Baker and her respect for Talia, Simmoms began acting like a Tweener. On March 30, she revealed her team comprised of Mariella Lopez, Melanie Ramirez, Stevie Fabulous and Jesse Wright. On the April 13th Rapture, she had her first match on the show as she faced and defeated former friend Nicole Allen with the Synn-Full Ride to Hell. She also appeared on the Reaping Death Show and got into a verbal confrontation with James Baker before sending her troops to attack him and TJ Parks (who was filling in for Reaper) until Team Baker made the save. After the Talia Skye/Alexis Landry match up, Morgan turned against Alexis as her and Talia beat up Alexis with their finishing moves, effectively kicking Alexis out of Toxic.
PCW General Manager
At Battle Finale III, Morgan faced Talia and won the match as she made Talia pass out once she had her locked in Begging for Mercy for quite sometime. After the match, she helped Talia to her feet and showed a sign of respect to her longtime rival. Later in the night, she became the new PCW General Manager after Terrell Ryder shocked the world and helped Mariella Lopez pin Tom Pendergrass in an eight person tag team match. Since then, Morgan reverted to her heel ways.
Personal life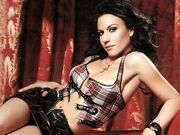 Simmons was born Morgan Renee Simmons in Boston, Massachusetts to her parents Greg and Lisa Simmons. Her parents split up when she was thirteen years old. Simmons' interests as a child (and still are as an adult) were reading, drawing and wrestling, having watched it since she was young. She has many siblings including one full sister, one half-sister, a half-brother, and three stepbrothers. She is also an avid fan of the Boston Red Sox, often seen wearing Red Sox apparel.
Outside of wrestling, Simmons went to Boston College where she received her Associate of Arts degree in business administration and is studying for her Bachelor of Arts degree in operations management. She currently resides in Boston, Massachusetts. She owns a chihuahua named Speedy and a Golden Retriver named Charles. During her free time, she volunteers at Animal shelters, gives speeches about her life story and takes care of her ailing grandmother.
She was in a short-term relationship with James Baker in 2004 after a brief separation that happened between him and Desiree Miles (they reconciled, but broke up for good in 2006, where Baker is now married to Danielle Lopez and Miles is married to Kevin Styles). She also dated fellow professional wrestlers Alex Brand and Sean Jamison, as well as previously being engaged to Adam Jenkins, known professionally as The Afro Kid but the two of them broke it off. At the end of September 2012, Simmons dated Michael Rollins, better known around the wrestling world as Syn but for unknown reasons, they split up and remain good friends. On March 27, 2013, she received the William V. McKinney award, which is the highest honor bestowed by the Alumni Association. The award recognizes a Boston College graduate whose outstanding service to a chosen profession, community, or cause reflects honor on the University.
Accomplishments
ECCW Womens Championship (2 Times)
XWF Womens Championship (4 Times)
AJW Championship (1 Time)
AJW Junior Championship (1 Time)
LPW World Women's Championship (7 Times, current)
Pride Wrestling Champion (1 Time, current)
PWW Womens Championship (1 Time, final champion)
2011 PWW Heel of the Year
2011 Match of the Year - for her match against Talia Skye at PWW: Eve of Destruction (2011)
In Wrestling
Finishing Moves

Synn-Full Ride to Hell (Brainbuster)
Begging for Mercy (Texas Cloverleaf)
Synnfullness (Sharpshooter) - mainly used in association with the Jamie Synn gimmick, but still gets used on occasion

Signature Moves

Discus Clothesline
Droppin' Bitches (Running STO)
Figure four leglock
Michinoku Driver II
Spear

Normal Moves

Chop Block
Dragon Suplex
Dropkick
Elbow drop
Knife-edged chop
Multiple Suplex Variations

Back
Belly to back
Belly to belly
Delayed Vertical
Double arm
Exploder
German
Inverted
Northern Lights
Snap
T-Bone
Vertical suplex powerslam pin

Lariat
Leg trap sunset flip powerbomb
Multiple knee lifts
Spinning wheel kick
Tiger Bomb
Victory roll, as a wheelbarrow bodyscissors counter

Nicknames

"The Sinister Bitch"
"The Bitch from Hell"
"One Sinister Woman"
"The Psychotic Bitch"
"Toxic's Psychotic Bitch"
"Toxic's Sinister Leader"
"Miss Synn-Full"
"Miss Technical"

Stables

The Synn-Full Devils (with Christina Fierce and Nicole Allen)
Toxic V1 (with Christina Fierce, Alisyn, Christina Perez and Ivette Hernandez)
Toxic V2 (with Christina Perez, Ivette Hernandez, Alexis Landry, J.T. Banks, Stevie Fabulous and Jesse Wright)
Toxic V3 (with Christina Fierce, Alexis Landry, Mandy "the Monster, Alisyn, Stevie Fabulous, Jesse Wright, Mariella Lopez, Melanie Ramirez, Katie Chason, Kevin Smith and Joe Grizzly)

Entrance Music

"Smells Like Teen Spirit" by Nirvana
"Hells Bells" by AC/DC
"Toxic" by Brittney Spears (used with Toxic)
"Psychosocial" by Slipknot (used with Toxic and the Disciples of Syn)
"Du Hast" by Rammstein (used in singles competition)