Mr DEDEDE
Talk

0
11,352pages on
this wiki
Ryan Adams

Billing information

Ring name(s)

Mr. DEDEDE
Dr. DEDEDE
The Gawd
Methuselah

Height

6'4" (190.5cm)

Weight

240 lb. (108.86kg)

Born

October 30, 1990

Hometown

Bridgeport, Connecticut

Theme music

Kanye West, Jay-Z, Pusha T, Prince Cyhi - So Appalled

Affiliation(s)

Extreme Answers Wrestling

Federation(s)

Extreme Answers Wrestling

Previous federation(s)

Answers Wrestling Federation
True Wrestling League
Xtreme Wrestling Federation

Wrestling information

Alignment

Face

Wrestling style

Hardcore, Showman

Signature Move(s)

DEDEDE DDT
DDD-O-Matic
Wings Of Hell

Finishing Move(s)

Spear

Trainer

Uncle Fred, Rocky Johnson, Stu Hart

Handler

Professional career

Debut

AWF: February 19th, 2007

Record

Unknown

Accomplishments

• EAW World Championship
• EAW World Heavyweight Championship
• EAW Unified Tag Team Championships
• Complete list

Retired

Semi-Active
Ryan "Mr. DEDEDE" Adams(Born on October 30, 1990) Also known as The Gawd and occasionally as Methuselah or Diamond Dallas DEDEDE is a semi-active, American mixed racial Latin-American/Irish Professional e-fed Wrestler who is currently signed under a Legend's Contract, serving as the current Chairman of EAW. Mr DEDEDE is known and evaluated for his Scripts being quoted as the best E-fed, his legacy and longevity of time in E-feds, his titles and his Promo work... also in building up fellow stars as well as controversial alliances with the likes of King, CM Ronn, Captain Charisma among others. He is also known for his Charismatic/Showman type of character during and after Shows. As well as his eccentric and sometimes erratic personality.
Personal life
Adams was born in Connecticut, moving to Northern Atlanta, Georgia at 10 years old. Adams returned home at 13 along with his 2 brothers, Cody and Rick, with a Sister Natasha and Father Gary. Mr DEDEDE is Double Jointed, and able to write with his right and left Hands. DEDEDE in Kayfabe has had a History with Injuries. his First Injury was in Cinder Block Hell in a Cell against Undertaker-rip, Deadprez and Legions Descender on an AWF FPV, Battle Front. As DEDEDE Fell through a wall of Cinterblocks, he Had Injured his lower back, putting him out for months. DEDEDE was again injured against a BLT Match with Mike Waggz, first being a minor Neck and Collar Bone injury, but fighting through the injury in TWL, he was badly hurt in his match against Masters, injuring His Entire Arm, neck and collar bone, taking him out for the late spring and early summer.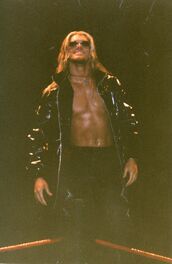 Saturday Night Yahoo (2007)
For the time span of January 2007-February 2007, Adams underwent a Series of Gimmick changes thruought his Career. But his first ringname, The Alterbridge defined him as he captured the Rated R Championship Gold. The Alterbridge defeated 5 other men, and as The Short lived E-federation, Sunday night Yahoo, Created By Mike Waggz that can STILL be visited at this link... http://www.freewebs.com/sundaynightyahoo/ .. DEDEDE Carried the hardcore title thruough The Cyberspace Universes, DEDEDE realized that as a Loner, Face Chararacter was thrilling, it was not who he wanted to be... Because he knew he would not reach any goals with the Alter Bridge Character.. and As The next E-federation came, so did the next Mr DEDEDE.
Answers Wrestling Federation (2007)
The Alterbridge quickly changed his name to Mr DEDEDE, regarding his E-federations days. And Mr DEDEDE Was first evaluated as The # 1 Edge Head, from the Span of March 2008 to his nearly 2 month departure on July 29. In that timespace of Mr DEDEDE's first Run in AWF.. Mr DEDEDE was able to success the AWF Championship, in an undocumented show on the following website link.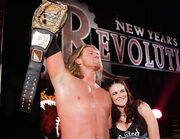 http://www.freewebs.com/awfederation/
The First AWF Website. But The Reign came to an end shortly after, as Mr DEDEDE was sent to The AWF Brand War. And At his time there, Mr DEDEDE captured 5 World War Championship reigns, 2 Tag team Title reigns ( 1 with Dirti Diva, 1 with King ). A National Answers Championship reign, and was Writer for AWF War. DEDEDE in the middle of it all was in a fireey feud with CM Ronn, Deadprez and Undertaker-Rip. But shortly after his success of his 5th World War title reign, Mr DEDEDE was sidelined with an injury as well as a lack of motivation concerning backstage matters and affairs, bringing him to inactivity for the mid/late summer. He Returned, approximately on 3:53 pm, September 5... Mr DEDEDE returned into a Brand new AWF.
http://www.freewebs.com/awf07/
Mr DEDEDE returned to a lot of controversy, the current fill in War writer, Master of Puppets was filling in temporarily until Mr DEDEDE returned. MOP was unaware of this, and for months has been plotting the destruction of Mr DEDEDE's AWF career. In storyline, Mr. DEDEDE had engaged in several feuds with Undertaker-rip including what was a lengthy dispute over the World War Championship during the summer.and his young mentor Scrappy which he had faced at AWF FPV Night Of Supremacy. After his NOS DEDEDE had sporadic feuds until the company closed down in December due to the chairman relinquishing ownership over to ACW.
Extreme Answers Wrestling (Early 2008)
Mr DEDEDE was on a negotiable role in ACW, as plans to write for ACW Brand, Burninnation came to an abrupt end when Extreme Answers Wrestling owner, Ronn offered him a contract as Showdown brand Writer. Extreme Answers Wrestling was created by both Ronn, Cassidy and Evan, as Ronn is the final of the 3 still in the EAW Federation. http://www.freewebs.com/eaw08/index.htm Mister DEDEDE was side by side with HRDO on a writing team, just as The Same with AWF till the destruction. And Mr DEDEDE went a long 3 months until Mr DEDEDE and Ronn went through a dispute, with Dirti diva, the ex of both Mr DEDEDE and Ronn lighting the fire. Mr DEDEDE in his time of EAW was roled as a nurturing trainer to Tyler. A, and on the first Showdown episode, led him to an EAW World Championship reign. But from his release, DEDEDE's then-allies Tyler. A and Book of Wrestling defected to upcoming Federation.. The Wrestling Lounge.
The Wrestling Lounge (2008)
Mr DEDEDE was nurtured as a successful Superstar in TWL. The website which does not exist anymore. Mr DEDEDE in his short period of 1 month and a half, stuck to the federation in the end until it died do to Separation between the two owners of the site, Book of Wrestling and Shane 101. Mr DEDEDE stuck with the separated half of the E-fed, making a new TWL, but this time named, True Wresling League. The Federation after a short 3 or 4 weeks, but managed to fit in a World Tag Team Title reign with long time friend, Regulator. as TWL Died, Mr DEDEDE than decided to accept ronns job offers, and rejoin EAW as Showdown writer, just in time for pay per view, or in E-feds, Free per view.. The Grand Rampage.
Extreme Answers Wrestling: First/Main Stint (2008-10, 2010-11)
Mr DEDEDE as Writer of Showdown has been making decisions, but for himself as well, as he got into a fiery feud with HRDO. fellow Script writer of EAW Brand Dynasty. at The grand Rampage, DEDEDE was announcing his kayfabe retirement announcement, but met HRDO with a Chokeslam. Later that night in the 30 man battle royale, known as The Grand Rampage, HRDO was on an elimination streak, but was thrown out of the ring by Mr DEDEDE, which than again sparked a feud. Mr DEDEDE and HRDO again met on Showdown as during a match with
The Heart Break Boy
, HRDO chased him out of the building. but posed as Mr DEDEDE"s limo driver who later that night, plummeted DEDEDE's retreat Vessel also known as his limo, into a brick wall. Mr DEDEDE found a new self-evaluation for his time in E-feds, known as The Gawd.. Where he underwent a Rock Gimmick, and with his new finisher, The Grand Slam hyped himself more than ever with a huge ego. Mr DEDEDE and HRDO battled it out in their feud on the 10th anniversary of Showdown, where Mr DEDEDE threw HRDO off of a Bridge, as HRDO sunk into the Long Island Sound in Bridgeport, CT. The feud culminated at Pain for Pride 1, where they met in what would be regarded as one of, if not the best match and most important match in EAW History as well as being recognized as Match of the Night and winning Match of the Year for 2008. DEDEDE was victorious in this match including interference by the guest referee, CM Ronn. The Pain for Pride 1 DEDEDE vs HRDO match was met with universal acclaim, noteworthy because despite the stacked Pain for Pride 1 card it was well established as the best on the card. DEDEDE vs HRDO is well-regarded as one of the most legendary feuds and matches in EAW and E-fed history and is remembered as an instant classic of a match. On a Showdown after Pain for Pride, Mr DEDEDE was in tag team action with Mr. Knocka, taking on DX, the team of The Heart Break Boy, and the then EAW World Champion Masters. After a brief argument inside the match Knocka attacked DEDEDE, leading him to a Pinfall loss to Masters after the pedigree. DEDEDE Swore revenge and faced Mr Knocka at a Midsummer Massacre match in which DEDEDE Wore out his Rock Gimmick, and Hit his last Peoples Elbow to end Knocka's streak. Later that night, DEDEDE taking on the Rated R Superstar gimmick Captured the latest in one of his many World Titles as he Defeated Masters and Captain Charisma to become The EAW Undisputed Hardcore Champion. On the Following Showdown DEDEDE Was forced to Defend his title against The Rated R Shaman of Sexy, there was when Mr Knocka interfered, but DEDEDE Wound up Capturing victory, retaining. The Following week DEDEDE was forced to defend both the Hardcore and the EAW World half of his undisputed title. DEDEDE Lost his hardcore Title, and DEDEDE Regained it in the main event against Masters and Game. DEDEDE went on to face Captain Charisma at King of Extreme, where he Lost from the F-U.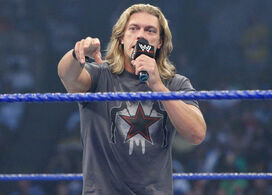 A week later Mr DEDEDE introduced the EOW Roster to all of EAW in controversial fasion, by ending the show only minutes after it started. After the short-spanned feud between EOW and EAW, Mr DEDEDE prepared for the Extreme Elimination Chamber now that EOW was pummeled by EAW's forces and its chairman, Ronn. Mr DEDEDE two weeks before his Chamber match was taken out of commission by an unknown person, and was replaced in the chamber with his alter/ego (but onscreen "Brother") Methuselah. Methuselah fought in the Chamber in a losing bout, and was going to fight in a rematch for the title but was taken out by the Dark Emperor. It is important to note that on December 20, 2008 Mr. DEDEDE was named EAW Champion of the year as well as the 2008 Extremist of the year, the first ever carrier of those prestigious awards. Methuselah in early 2009 at the Reasonable Doubt FPV had been defeated by The Dark Emperor in a singles match and mugged by DE's associates, which caused him to no-show a booked EAW Championship fatal 4 way.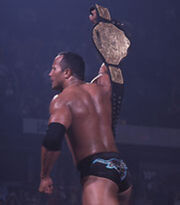 Meanwhile after a period without action, Mr DEDEDE returned to action but this time was a Dynasty Superstar (the brand he has been on predominantly since), as a face, and returned with the Gawd gimmick. Mr DEDEDE was voted by the EAW Fans and is now the Number 1 Contender to RRS' World Heavyweight Championship and was scheduled to face him, but was uncertain after Y2Impact appeared to have dropped an elevator on Mr DEDEDE before the event on a previous Dynasty. Regardless DEDEDE met Impact at Reckless Wiring, defeating him and Rated R Shaman back to back to win the World Heavyweight Championship. This match would begin a reign that eventually led him to being named 2009 World Heavyweight Champion of the year. After this match, Regulator, DEDEDE's supposed ally turned on DEDEDE and attacked him embarking on a World Title hunt, which DEDEDE ended at the Grand Rampage match in a streetfight where DEDEDE left the winner. Mr.DEDEDE than went into a feud with Jaywalker in which he lost the World Heavyweight Championship after Jay used his VP authority to win it off him on a Dynasty episode. DEDEDE challenged Jay at Pain for Pride, taking up the brash "Diamond Dallas DEDEDE" gimmick for weeks until meeting Jaywalker in a critically acclaimed match at Pain for Pride 2, this contest ultimately winning Match Of The Year of 2009 and DEDEDE's 2nd consecutive match. DEDEDE returned to his Rated R classic persona, in which hes remained ever since for the mostpart. DEDEDE, despite carrying a fantastic display lost against Jaywalker at PFP 2. Mr.DEDEDE quoted this loss as being the start of a new chapter in his career...
It was after Pain for Pride on Dynasty, when Mr.DEDEDE defeated Adam 1 on 1 and had a confrontation with the newly appointed Dynasty General Manager, Killswitch. After things started heating up, Killswitch summoned an entire army of ACW Superstars from the deceased E-fed of ACW to brutally attack DEDEDE, and mug him. Killswitch wreaked havoc on the EAW shows and vowed that ACW would overthrow EAW and it would first take out its leader, Mr.DEDEDE. Mr.DEDEDE answered by spearing a large collection of ACW stars lead by HBB and was scheduled to face Killswitch in a Philadelphia Street Fight. The match came where Mr.DEDEDE was hit with the Cole Cut off of a crane, sparking Cole's betrayal against EAW. And Cole lifted a Car with Mr.DEDEDE in it using the crane, and tossed it through a wooden warehouse, demolishing it although DEDEDE escaped from the wreck. But it was not long until DEDEDE got retribution against Killswitch, Cole and Heart Break Boy through a series of matches and feuds that spanned weeks and months, although the most notable contest was the result of an EAW vs ACW 5 on 5 clash, in which DEDEDE's team led EAW in a losing effort in ACW at the first Territorial Invasion. After that came a trouble Mr. DEDEDE who began a feud with Mak, after Mak and DEDEDE lost a tag team bout. The following week DEDEDE had screwed Mak out of a potential EAW Championship match and also engaged in a feud with HRDO that let to a largely emphasized match at Road To Redemption 3, in which DEDEDE was unsuccessful in winning.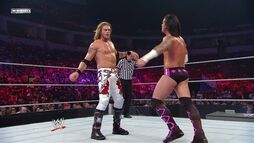 Early in the year 2010, DEDEDE after a series of matchups and sporadic feuds including a run at the King of Extreme tournament, met Captain Charisma in a Dynasty Main Event, and introduced a tag team alliance between himself and CC the following week titled "MC Squared", also known as "D&C" and they quickly captured the Unified Tag Team Championships, defeating the team of the Order of the Angels consisting of Y2Impact and St. Anger. CC and DEDEDE had a run as Tag Team Championships putting on some of the best tag team rivalries and matches in EAW history. The duo then met Kevin Devastation's 'Black Hand' henchmen of Cyclone and Adrian Christ and Ricky Razor, and at the same time met the threat of Reg and Matt Ryder and continued their run until Charisma betrayed DEDEDE and left him alone to fend for himself, until DEDEDE eventually dropped the titles. During this Ryding Regulationz feud between MC Squared, DEDEDE's feud with Regulator intensified even worse and it was clear tensions from 2009 were boiling over. Adams would go on to make his last appearance under the "DEDEDE" title at the Grand Rampage III, when on the following Dynasty he was brutally assaulted by Regulator and claimed was not to return again; but carried the rivalry with Regulator under his alter-ego, Methuselah leading into Pain for Pride 3. Methuselah defeated Reg in a winning effort facing off in an extremely well praised and critically acclaimed match against Regulator at Pain for Pride III. although it was the last of Methuselah seen in EAW until present day and the last seen of Mr. DEDEDE until a large portion of the year later when he would guest referee a high-profile match between Captain Charisma and Rated R Shaman at Territorial Invasion 2.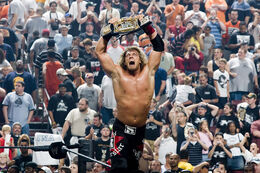 Nearly 9 months later after there seemed like no sign of DEDEDE returning to the ring, DEDEDE was booked in a match against Kevin Devastation at the Road To Redemption FPV where a contract where any wish or desire that the extremist had would be granted to the winner. DEDEDE won the matchup with the support of the audience, but quickly lost that support when he later returned at Road to Redemption IV inside of the Extreme Elimination Chamber as a surprise entrant that same night, coming out of retirement and winning the EAW Championship to become a four time World Champion. This return came with much flack and controversy, with fans and extremists alike upset that he may have came in spite of the younger generation. He returned as a heel. DEDEDE to silence the critics vowed to fight valiantly on a weekly basis and defended his EAW Championship in a triple threat match against the Heart Break Boy and Alexander Da Vinci at No Regards 2010. DEDEDE as Champion continued his run but later dropped his title when at King of Extreme III in 2011, Mr. DEDEDE lost the title after interference from Heart Break Boy to Cyclone. For several weeks afterwards DEDEDE was absent from Dynasty as he was on Turbo competing regularly and guiding the younger stars on that brand. HBB was easily DEDEDE's loudest critic at the time, believing that DEDEDE's facaad as being the best was untrue and that he didn't deserve the EAW Championship. This was the start of what would be a legendary feud between Mr DEDEDE and Heart Break Boy as they pursued the worst for each other for weeks and weeks. At Reckless Wiring on 3/12/11, Mr. DEDEDE competed against Heart Break Boy in a Last Man Standing match that would see the end of the career of the loser. After back and forth action between Heart Break Boy and DEDEDE, including several near 10 counts to end the match, DEDEDE finally lost and consequently was forced to retire due to the promised termination of contract for whomever lost the match. As a visibly irritated DEDEDE left the set, a mixed reaction including "Na Na Na, Hey Hey Hey, Goodbye" chants and those clapping as a form of respect was received. This match against Heart Break Boy has been hailed as a classic, received universal praise from e-fed fans and competitors alike and went on to win the 2011 Match of the Year award, DEDEDE's third in his career. Mr. DEDEDE appeared on the Dynasty the next night after his retirement at the hands of HBB, revealing his plot of getting reinstated; he was then allowed to return under the basis that he wins the Grand Rampage. This ofcorse would have fallen in line with DEDEDE's ultimate goal of regaining his EAW Championship as explained and detailed in DEDEDE's speech. Due to interference from CM Banks, another extremist who came out of retirement and returned at the Grand Rampage, Mr. DEDEDE was eliminated from the Grand Rampage and was foiled from his return plots although his contract was not yet terminated. It wasn't until the week after that when Banks revealed his motives for screwing DEDEDE out of the Rampage, and then met face to face with Mr. DEDEDE where a match was set for Pain for Pride 4 between both men, where DEDEDE would be forced to retire for good if he could not beat CM Banks. DEDEDE accepted the wager as the contract was signed and the stage was set. Following that, a series of skits, segments and matches hyping the feud between the two legends occurred. At Dynasty vs. Showdown: Triple Threat, Mr. DEDEDE's team defeated CM Banks' team after DEDEDE speared Banks following DEDEDE's elimination, allowing the sole survivor of the match, Heart Break Gal to pin CM Banks and secure a victory for the team.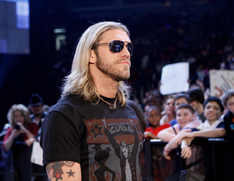 DEDEDE and Banks continued their rivalry, heating it up even more as it turned out if Mr.DEDEDE were to lose at PFP 4 he would not be permitted to return and would be forced to retire. Also introduced as a guest referee to the match was HRDO which would return the cycle to Pain for Pride 1 when the three of those men were involved in a Guest-referee situation. DEDEDE and CM Banks, in a match refereed by HRDO battled at the PFP 4 event in what was considered a classic match and was a serious contender for Match of the Year, losing only to DEDEDE's Reckless Wiring bout against HBB. Despite DEDEDE's strong effort and going tit for tat with a CM Banks who was stronger than ever before, DEDEDE lost this match and was forced to be put out in what seemed to be for good. After this match Banks continued an onslaught on DEDEDE in a rage-filled attack, although HRDO stepped in and both men put Banks down and DEDEDE and HRDO shook hands in what was looked at as a settlement to their longtime rivalry.
Extreme Answerz Wrestling: Chairman stint/Feud with Enterprise, Kawajai & Near-fatal fall (2012 -)
After 2011's Pain for Pride 4 DEDEDE seemed gone until in late 2011/early 2012 a Stock Broker was seen interested in the purchase of Extreme Answers Wrestling. Much chaos was amuck in EAW, much changed, faces left and it was CEO Matt Daniels whom was in charge. Daniels, stepping down from the place after being defeated by WWEFan, has announced the Stock Broker had purchased EAW. That, whom ofcorse was Mr.DEDEDE. DEDEDE returned to an EAW at the Grand Rampage as a surprise number 30 contestant to the shock of everyone. Though DEDEDE eliminated many, he was taken out by LC whom he had eliminated and put a start to their inevitable feud. DEDEDE on the next Dynasty showed up as a face for the first time in two years where he began a campaign to motivate the EAW roster and fanbase even by means of himself competing. It's notable that his personality has been equally if not more aggressive and stern personality-wise as any other time in his career. In his return appearance on Dynasty he had announced that he had purchased EAW and named himself the Chairman of the company. DEDEDE returned to an EAW in disarray and unmotivated, but was faced with a new group The Enterprise led by WWEFan and consistent, LC, Ashten Cross (who was soon removed) and Johnny Nova. DEDEDE and The Enterprise were soon at odds and throughout the weeks a match was made pitting The Enterprise against their foes, Eddie Mack and the enterprise defunct, Ashten Cross at EAW FPV Defiance inside a Hell in a Cell match. During the contest DEDEDE aligned himself with Cross and Mack in the middle of the Hell in a Cell confrontation, leading to the defeat of The Enterprise. Things continued, though, as DEDEDE had his eye on Lethal Consequences who had not yet gotten the proper put-down DEDEDE wanted to serve to him. Unsatisfied, and constantly challenged by LC and The Enterprise for his reasons of being in EAW DEDEDE booked himself in a match against Lethal Consequences for Pain for Pride 5. The stipulation soon became that if Consequences defeated DEDEDE, DEDEDE would have to step down from his role as Chairman for good; but if DEDEDE defeated LC WWEFan would no longer be Vice President and The Enterprise would be dismantled immediately.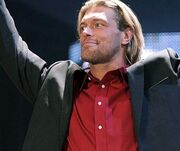 After weeks of back and forth between Consequences and DEDEDE, DEDEDE went on to defeat Lethal at Pain for Pride V in a high impact and high profile match, thus ending The Enterprise and assumingly removing WWEFan from power.
Following Pain for Pride, DEDEDE announced WWEFan as Showdown General Mananger, and on the Draft Show the week removed from PFP5, DEDEDE fired several EAW extremists and vixens including Lethal Consequences. That same night Mr. DEDEDE called out extremist Ashten Cross on his work ethic and performance and beckoned a match that would put Cross' career on the line, in which DEDEDE defeated him in subsequently firing Cross. Cross attempted to bring DEDEDE and EAW to a legal battle, which eventually fell under. Meanwhile on Showdown DEDEDE caught interest in a match stipulation set up by WWEFan for the No Regards 2012 FPV pitting World Heavyweight Champion Dark Demon against EAW Champion Kawajai in a match where the loser would have their title stripped from the company. Although DEDEDE had a neutral opinion on both stars DEDEDE heavily pressured Kawajai into winning due to his personal regard to the EAW Championship. At the event, Kawajai failed to do so despite DEDEDE's interfereances; as Project EGO's late-match interference sealed the deal defeating Kawajai and removing the EAW Title from EAW. This caught DEDEDE's wrath as he promised Kawajai a horrible rest of his career, and challenged Kawajai the following week to a contest at the fourth ever Territorial Invasion which would later be stipulated into an 'I Quit' match where the loser who Quits would literally be quitting the EAW company. At the event DEDEDE and Kawajai battled in a highly anticipated and well received event, where Mr. DEDEDE eventually won after nearly tossing Kawajai off of the top of the Titantron. As Mr. DEDEDE celebrated on the top of the titantron after the match he was attacked by the then-unemployed Kawajai from behind being shoved off the top of the titantron taking a 90 ft. plunge from the top through a table, injuring one worker and being taken out by ambulence moments later. This attack severely injured Adams leaving him comatose and putting him in a medical facility. On the following Showdown, WWEFan in his medical update informed the audience that Mr .DEDEDE's injuries were most severe on his head and back, and that the EAW Board of Directors made the decision to make WWEFan the indefinite replacement chairman until it is possible for DEDEDE to assume his obligations again. This was so until Ashten Cross had later announced himself as the new Chairman of EAW, which seemingly has ousted DEDEDE and later WWEFan out of power in EAW. It was announced by Adams' medical crew during a detailed explanation that he had clinically died for 40 minutes, but returned to life and to consciousness after being revived by his medical team. He has since left the Las Vegas medical facility and is currently rehabbing his injuries after undergoing an array of surguries. A time table has been set for an EAW appearance sometime in the year of 2013. 
 "

Mr. DEDEDE's survival came from some factors. One was the fact that he landed into a table, which somewhat broke his fall and saved Mr. Adams from a deadly second bounce that could have caused a fatal head injury. Mr. Adams wisely rolled miliseconds after the impact of the fall spreading the damage to his entire body instead of one spot. This made things easier for DEDEDE's possible chances of recovery" - Dr. Eban Alexander, head of Ryan Adams' medical team.



Answers Championship Wrestling (2007/8)
While Mr DEDEDE's time in ACW is still short, his history with him an the E-federation is long. ACW, also known as Answers Championship Wrestling was created by Mr DEDEDE's once mortal enemy, Master of Puppets, who even in his EAW days, DEDEDE attempted to kill. DEDEDE Stated that he wanted to put the past behind him, and for that he joined ACW as they took him in with open arms. He competed for a short stint in 2008, winning his 4th E-fed Tag Team Titles there but left to further pursue his EAW career.
Xtreme Wrestling Federation (2009)
Xtreme Wrestling Federation, or XWF was run by Regulator, Mr DEDEDE"s former tag team partner, in a team they called " The Ruff Ryderz" Both DEDEDE and Reg refer to each other AS "Ryderz" And XWF was first created in TWL days. As Regulator matured as an E-feder, so did XWF which lead to a Success. DEDEDE had joined XWF the first day Reg showed him it, and DEDEDE is still an active Wrestler, defeating The likes of Mr. Kennedy's # 1 Fan, a former XWF Championship. DEDEDE embarked on a feud against Reg, in kayfabe DEDEDE claims to have made regs career, and to have "picked up reg when everyone else left him dieing in the freeway". DEDEDE and Reg embarked on the feud which lead to DEDEDE vs Killswitch, where DEDEDE came victorious. XWF was deleted by who many say was Mr DEDEDE's 3rd E-fed, EAW. Mr DEDEDE went out of his way to help the rebuilding of XWF, and DEDEDE tried to restore EAW's name, until Regulator found it, that Rated R Shaman of Sexy, and Captain Charisma had Deleted the site. E-fedders of Yahoo Answers are still Disputing on the innocence or guilty of CC and RRS. But nothing is certain. DEDEDE Defeated the first ever XWF Champion Glacial in a buried alive match. And DEDEDE teamed up with The Dark Emperor, an associate also in EAW to take on Killswitch and Master of Puppets, in which he lost in controversial fasion. DEDEDE and HRDO Interfered in a Cena29 vs Jaywalker Match and is scheduled to face all 3 men for the IC Title, but went out in a losing effort. DEDEDE months later made a surprise Return, attacking Than champion, Tyler from behind and Stealing the Intercontinental Championship. DEDEDE is scheduled to defend his title against Abdul Zaheer Ali, RTZME and Gage the Rage Smith in a fatal 4 way match. [[File:DDD.jpg|thumb]|DEDEDE making his way to the ring] DEDEDE After that has contended for The XWF Championship on several occasions, and had won it until Starr/Stan defeated him for the Title. The Same Night The Ruff Ryderz, DEDEDE's tag team with Regulator was reunited and Mr DEDEDE Than engaged in a feud with NAD involving the Contendership to the XWF Championship. He won that Bout and defended his Resistance brand during the Resistance vs SNA Rivalry. Mr.DEDEDE soon won the XWF Championship in a Hell in a Cell Match and met an upcomer, Gage the Rage Smith... Mr.DEDEDE lost his Championship to Gage at Xtremeamania 3 and Lost again at Xtreme Rules... the XWF has now closed down but will be remembered in quote, by DEDEDE as one of the best breakout E-feds of all time.
Championship Titles
The World Titles Mr DEDEDE have won has defined most of his E-fedding Career. Mr DEDEDE Has won many Titles and Championship Reigns Spreading thruough his Illustrious Career. Some of Those Titles include...
The EAW World Heavyweight Championship (1)
Won 2008 EAW Champion of the year
Won 2008 EAW Extremist of the year
Won 2009 World Heavyweight Champion of the year
Won EAW Match of The Year 3x, 2008 (vs. HRDO, won) 2009 (vs. Jaywalker, lost) 2011 (vs. Heart Break Boy, lost)
The NSWF Tag Team Titles (1)
The EAW Hardcore Championship (1)
The XWF Championship (1)
The ACW Tag Team Titles (1)
The AWF Championship (1)
The World War Championship (5)
The NWA World Championship (1)
The AWA Tag Team Titles (1)
The AWF Tag Team Titles (2)
Chairman of EAW
The National Answers Championship (1)
The AWF Midweight Championship (1)
The SNY Rated R Champion (2)
The General Manager of War (2)
The Showdown Script Writer (2)
The XOW Champion (1)
Legacy
Mr.DEDEDE has been a rather notorious and controversial presence in E-feds since 2007, and has constantly been hailed as an instant legend even in his rookie year. DEDEDE has spent a long majority of his career as a villainous egomaniac with an unusual thirst for Championship gold. As a villain he'd go to remarkable lengths to get the gold, and as a face would do well keeping it. DEDEDE is hailed as one of the best promoers as well as the most influential promoer, writer and Superstar/Extremist in E-feds. DEDEDE was inducted to the EAW Hall of Fame in 2009 and is known to be a high-asset to any company he's involved in, being known as one of the most valuable free agents ever. He is generally known as a perfectionist and writing genius.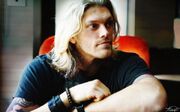 DEDEDE's also been well associated with his relationships and with drama that's been spread across E-feds and within. He's had highly publicized dramatic encounters with CM Ronn, MOP, Killswitch among others. His personality started off as highly volatile (which is still the same in some cases), but has generally calmed down over the years and is much more calm and controlled-tempered compared to his younger days. DEDEDE is also known for the grandeur of his matches, where he is constantly in the big-match situation no matter what company he's in nor the storyline he's dealt. Some even question his consistency and versatility for the number and exclusiveness of high-profile matches he's been in through the years. He's been in game changing feuds/rivalries with some of E-feds best; his most notable feuds including HRDO, Heart Break Boy, CM Banks, Regulator and Captain Charisma amongst others. He is also looked at as a role model especially to writers, but to many new age E-fedders as well who often look up to his innovative promo style .DEDEDE is considered along with the Heart Break Boy, Mak and Jaywalker to be among the most influential promoers and e-fedders ever.
Rated R Superstar / Ultimate Opportunist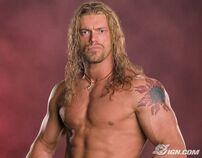 Mr DEDEDE is known for having several personas, his most prominent, aged and popular being the Rated R Superstar persona which involves Adams with long blonde hair grown out. The Rated R persona is known for being manipulative and extremely egocentric with mental instability, but not to the extremities of the Methuselah persona. Usually the only thing on this persona's mind is championship gold and will use any means of manipulation to obtain so. Although historically the Rated R persona has been a heel, Mr. DEDEDE has also spent much time as a tweener and face in the 'recent years', first time being in the 2009-10 EAW stint and his Chairman of EAW stint. The trademark move of Rated R DEDEDE is the Spear.
Methuselah Persona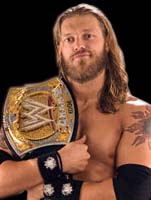 Methuselah is a persona of Mr.DEDEDE introduced in early 2009. in which his appearance comes with a long, scruffy beard (for the most part), and is of his normal appearance of blonde hair and blue eyes minus a distinct pair of tights. Methuselah is his alter/ego and is a gimmick that historically could appear from out of nowhere, usually when Mr.DEDEDE is taken out past the point of return or ability to compete in storyline. Methuselah is mentally unstable, very cryptic, and is symbolic of the biblical character Methuselah that lived 969 years. Methuselah's signature move is the Wings Of Well, a Chair-aided plunge through a Wooden Table usually off the top of the ladder. Mr.DEDEDE has taken on that move into his moveset as well.
The Gawd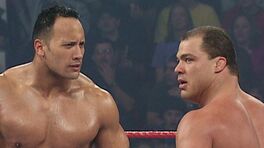 The Gawd is a persona of Mr.DEDEDE taken up in 2008 and Dynasty run in 2009. For The Gawd's appearance he is of a darker skin colour, much more bulked up, undertakes underwear-tights with black hair and usually short cut hair/bald and/or stylized. This transformation of The Gawd is a long process using The Rock picbase, the personality of The Gawd is highly charismatic, extremely cocky and very loud and eccentric. The Gawd is known for his easily imitable promo style, with catchphrases such as "IF YA SMELL WHAT THE GAWD IS COOKIN", "FINALLY, THE GAWD HAS COME BACK.." "BAH GAWD ALMIGHTY", all phrases that DEDEDE will commonly use if he wishes. The Gawd's moveset is mainly The Grand Slam (rockbottom), The Bottomless Elbow (peoples elbow), occasionally the Spear amongst other moves. The Gawd has been hailed as Mr.DEDEDE at his most untouchable and comedic state.
Current MoveSet
Finishers
Signature Moves
DEDEDE DDT (Edgecutioner)
Big Boot
Spinebuster
Snap DDT
Triangle Suplex
Sharpshooter
Running Powerslam
Samoan Drop
The Frogsplash
The Flying Senton, usually done to the outside
Hammerlock
Peoples Punches
ConChairto
Reverse Piledriver
The Grand-Slam (Rock Bottom)
The Bottomless Elbow (Peoples Elbow)
Sitout Powerbomb
Enziguri
DDD-O-Matic
Spinning Heel Kick
Wings of Hell ( setting opponent on a table, climbing turnbuckle or a ladder and connecting a side body press with a steel chair under the arm )
Conchairto
The Equalizer ( Attack using Guitar filled with thumbtacks, shards of glass, nails and occasionally lit on fire )
Con-Ladder-to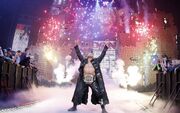 Titantrons
Notable Matches and Results
[SNY] Mr DEDEDE Creates The Rated R Championship ( Later turned into World War Championship )
[Legacy] Mr DEDEDE vs WWExtreme4life: Won and became AWF Champion and National Answers Champion
Created AWF Tag Titles
[Legacy] Mr DEDEDE vs WWExtreme4life inside the Steel Cage: Lost AWF Championship and National Answers Championship
[War] Mr DEDEDE vs Legions Descender: Lost
[Fatal War] Mr DEDEDE vs Deadprez vs Undertaker-Rip: Lost
[War] Mr DEDEDE vs Nobody 4 Rap: Won
[War] Mr DEDEDE and Dirti Diva vs WWEfan and Wild4RKO: Won The AWF Tag Team Championships (2)
[War] Mr DEDEDE vs Deadprez: Won
[War] Mr DEDEDE vs Muhammad Hassan: Won The AWF Midweight Title
[SNY Reunion] Mr DEDEDE vs WWExtreme4life: Won
[War] Mr DEDEDE vs Deadprez: Won The World War Championship ( Later Vacated )
[Battle Front] Mr DEDEDE vs Undertaker-Rip vs Deadprez vs Legions Descender: Won The World War Championship
[Dia Del Diablo] Mr DEDEDE vs Undertaker-Rip: Lost The World War Title
[War] Mr DEDEDE vs Y2J vs Undertaker-Rip(BLT): No Contest (Didn't win or Lose)
[War] Mr DEDEDE w/Dirti Diva vs Jake Kidman: Won
[Legacy] Mr DEDEDE and Undertaker-Rip vs JayJayyyyy and Carlito is Cool: Lost
[War] Mr DEDEDE vs Y2J(BLT): Won
[SNY Reunion 2] ViVa La DEDEDE vs HRDO And Makaveli: Lost
[Night of Supremacy] Mr DEDEDE vs Scrappy: Lost
[Showdown] Mr DEDEDE vs Flashback: Won
[Showdown] Mr DEDEDE vs Mike Waggz: Won
[NSWF] The Ruff Ryderz vs Clean Sweep vs Icon and Showtime: Won
[Dynasty] Mr DEDEDE vs Jaywalker: Won
[Resistance] Mr DEDEDE vs Mr Kennedy's _# 1 Fan: Won
Mr DEDEDE vs Glacial(Buried Alive Match): Won
[Pain for Pride] Mr DEDEDE vs HRDO: Won
[Midsummer Massacre] Mr DEDEDE vs Mr. Knocka: Won
[Showdown] Mr DEDEDE vs Latino Game vs Masters: Won
[King of Extreme] Mr DEDEDE vs Captain Charisma: Lost
[Showdown] Mr DEDEDE and The Dark Emperor vs Captain Charisma and Regulator: Lost
[Resistance] Mr DEDEDE vs Tyler: Won Intercontinental Championship
[Xtrememania] Mr DEDEDE vs Gage vs RTZME vs Abdul Zaheer Ali: Lost
[Rebellion] Mr DEDEDE vs Abdul Zaheer Ali: Lost by DQ
[Showdown] Methuselah vs Captain Charisma: Won by DQ
[Resistance] Mr DEDEDE vs Starr/Stan: Loss lost the XWF Championship
[No More Pain] Mr DEDEDE vs NAD: Win
[Xtremeamania] Mr.DEDEDE vs Gage the Rage Smith: Loss the XWF Championship
[Pain for Pride 2] Mr.DEDEDE vs Jaywalker: Loss the World Heavyweight Championship
[Pain for Pride 3] Methuselah vs Regulator: Won
[Road To Redemption] Returned, speared Ashten Cross, won EAW Championship
[No Regards] Mr DEDEDE vs ADV vs HBB: Retained Title
[King of Extreme 2011] Lost EAW title to Cyclone due to Interference
[Reckless Wiring 2011] Lost to Heart Break Boy via 10 count
[Pain for Pride 2011] Lost to CM Banks, forced Retirement
[Pain for Pride 2012] Mr.DEDEDE vs LC: Won.
[Territorial Invasion IV] Mr. DEDEDE vs Kawajai: Won