OCW Immortality is OCW's Wrestlemania like PPV. It is the biggest PPV they put on and it happens in June.
View the OCW Immortality intro here: Created by Liz idol
History
2006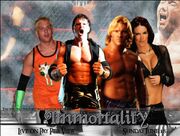 Main Event
Darren Stevens vs. Kevin Sane - Undisputed Championship
Winner: Kevin Sane
Match 7
Martin Tank vs. Drew Stevenson - Intercontinental Championship
Winner: Martin Tank
Match 6
Tara Wilson vs. Justin Klein - Battle of the Sexes
Winner: Justin Klein
Match 5
Lita vs. Ava Scin - Women's Championship
Winner: Lita
Match 4
Johnny Invincible vs. James Farwell - Hardcore Championship
Winner: Johnny Invincible
Match 3
Kurt Eagle vs. Fozzy Ozborne - Internet Championship
Winner: Kurt Eagle
Match 2
Chris Cutter vs. Xtreme 3:16 - Steel Cage
Winner: Xtreme 3:16
Opening Match
Devin Murdock vs. TJ Ursu
Winner: Draw
Ad blocker interference detected!
Wikia is a free-to-use site that makes money from advertising. We have a modified experience for viewers using ad blockers

Wikia is not accessible if you've made further modifications. Remove the custom ad blocker rule(s) and the page will load as expected.