The OIL TV Studio is the home of WNWA Wrestling. The studio is located at 1369 W. Cavanaugh Street in downtown Braddock, TX and is the former KRAP 69 studio. The building was built in 1972. All production for OIL TV programming is based at the studio. WNWA Wrestling is held live every other Tuesday night from the studio. WNWA promos and advertising are filmed here. Fans can contact the studio at 972-423-KRAP to obtain tickets to the tapings of WNWA Wrestling.
Images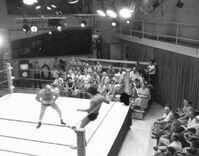 Ad blocker interference detected!
Wikia is a free-to-use site that makes money from advertising. We have a modified experience for viewers using ad blockers

Wikia is not accessible if you've made further modifications. Remove the custom ad blocker rule(s) and the page will load as expected.