OUW
's Conversion started back on November 1, 2005.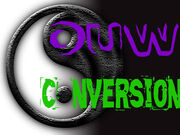 Past Match Cards
2006
Hell In A Cell Match for the OUW Championship

OUW United States Championship Match

Ultimate Submission Match for the OUW Intercontinental Championship

Fight For Your Job Match

OUW FTR Championship Match - Winner becomes the OUW Women's Champion

Street Fight

November 1st, 2005
OUW Heavyweight Championship Match

No Disqualification and No Interference Match for the OUW United States Championship

OUW Intercontinental Championship Match

Gamr's Rush to Glory Tournament Final Match

FTR Match

Fight For Your Job Match-If Wolf loses the match he loses his job

Notes
The First PPV to have All 4 OUW Titles Change Hands in One PPV
Ad blocker interference detected!
Wikia is a free-to-use site that makes money from advertising. We have a modified experience for viewers using ad blockers

Wikia is not accessible if you've made further modifications. Remove the custom ad blocker rule(s) and the page will load as expected.