<< Previous PPV (Ascension)
||
OUW
's Eleventh Hour started back on February 19th, 2006. ||
Next PPV (Paramount) >>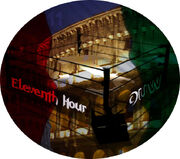 Current Card
2009 (Milan, Italy)
Due to various things in One Up Wrestling, the 2008 Eleventh Hour was canceled but is rescheduled in Milan for the 2009 edition. Date is tentative.
Past Cards
February 18th, 2007 (Tokyo, Japan)
OUW Championship Match

Tokyo Street Fight for the Main Event Rights at Paramount III

X def. Samuel Hessingstock

X rolled up Sam to get the pin fall and the Main Event Rights at Paramount III
Rubber Match Contract Signing

OUW Intercontinental Championship

Tsuyoshi Heishi def. Ben Stevens to become the NEW OUW Intercontinental Champion

Heishi won after Ben was counted out after a 10 count
Regular Match

Regular Match

February 19th, 2006 (London, England)
OUW Heavyweight Championship Match

No DQ OUW United States Championship/GM Match. If Sonic loses, he becomes Plat's bitch

Enthrallment Match for the Main Event Rights at The Paramount

Electric Steel Cage Match

OUW Intercontinental Championship Match

Psyclone def. X to become the NEW Intercontinental Champion

Psyclone pinned X after a Psyclonic Rush
Regular Match

Hunter def. RUGGED

Hunter pinned RUGGED after a 360 Bomb
Notes
Eleventh Hour 06 was the first OUW event to take place overseas in London, England
Eleventh Hour 07 was the first OUW event to take place in Japan
Eleventh Hour 08 will be the first OUW event to take place in Italy
Ad blocker interference detected!
Wikia is a free-to-use site that makes money from advertising. We have a modified experience for viewers using ad blockers

Wikia is not accessible if you've made further modifications. Remove the custom ad blocker rule(s) and the page will load as expected.