P.T. Merciless
Talk

0
11,352pages on
this wiki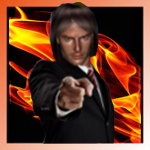 "
P.T. Merciless (born August 18th, 1978) is an American professional wrestler, who was most recently Co-owner of International Championship Wrestling. Known for being one of the most controversial figures in wrestling, Merciless' career has been one of rises and falls.
P.T. Merciless first gained noterity in Cleveland, Ohio based United Championship Wrestling as a member of Ace Styles' Pretty Boys stable. After the two men's egos clashed to a meltdown between them, "The Hot Commodity" P.T. Merciless broke off to form his own stable, The Hot Commodity Society. Merciless' relationship with Ace Styles would soon turn even more sour after Merciless beat him to become the UCW World Heavyweight Champion. The two would feud right until the collapse of the federation.
A month after the folding of UCW, Merciless used his money and influence to strike a deal with the bank, buying the federation's remaining assets. In an interesting move, Merciless brought in former partner, later bitter rival Ace Styles as his Co-owner. The federation enjoyed great success for a number of months as a top-ranked company, until a match between The King of Pain and then-World Champion Mike Phoenix would spark enormous controversy. Merciless was accused by much of the federation of being biased, and Merciless fired back with his scathing temper. The company collapsed not long after, as much of the top-ranked talent departed. 
Merciless had joined Championship Wrestling Entertainment---then a fledgling company known as Midwest Championship Wrestling---in Columbus, Ohio, where he would help run the federation as general manager with owner Paul Erickson. The collapse of UCW occurred during this time. Later, MCW would eventually grow under the leadership of the two men into a major federation and change its name to CWE. At its apex, it would form separate brands. Merciless managed the Decimation brand and Erickson the Annihilation brand. However, the two fell out after the company's first major pay-per-view, WrestlePalooza 1, and the two brands became disconnected. Merciless changed the name of his half of the company to Championship Wrestling Alliance, and the company enjoyed some success before closing a few months later.
Merciless would find himself a free agent for a time, appearing in various federations such as Undisputed Wrestling Alliance, Global Wrestling Alliance, and New Edge Wrestling. His tenure in each of these companies was sporadic, and usually marred with controversy.
Eventually, Merciless was contacted by Paul Erickson to rejoin CWE, and soon eased back into the position of general manager. Merciless wanted to bring a more iron-fisted approach to running the federation, and soon found himself at odds with a new, third party in the equation, "Lucky" Jack Sullivan, who would later become a quasi-co-owner of the company. Things eventually fell apart between PT and Jack, and just days before the two men---who happened to be the top-ranked performers in the company---were scheduled to face each other at WrestlePalooza 2, Merciless was fired by Sullivan, with Erickson backing the move. Merciless was ostracized from the company, and would never return. In June 2011, Merciless was inducted into the CWE Hall of Fame.
Merciless would make sporadic appearances for New Edge Wrestling before again joining Global Wrestling Alliance in 2011. Merciless would go onto sneak attack Classy Mike C and the two would feud with Mike C gaining the upper hand. Merciless later accused GWA owner Joey Falcone of favoritism.
In 2011, Merciless acquired the rights to Anarchy Pro Wrestling, and ran the company for a few months with his new wife, Beulah Hogworth. An invasion angle was attempted between APW and New Wave Wrestling to stimulate ratings for both companies, but never took off. Merciless sold the unsuccessful company a few months later.
Merciless would eventually join New Wave Wrestling, where he would find himself at odds after some months with owner Devin Stone after losing his World Championship to the inferior Kabooki. Merciless would join the stable known as DRAMA, spearheaded by Hunter Valentyne, and the two men revolted against the company's management for months before Merciless finally left in disgust. Despite his reputation as a rabblerousing, controversial figure, Merciless was inducted into the NWW Hall of Fame in 2012.    
Merciless briefly rejoined New Edge Wrestling under its rebirth before joining International Championship Wrestling, owned by the brother of Paul Erickson, Dylan Erickson, who would also be among the first inductees to the CWE Hall of Fame, and also ostracized from the company over controversy. Merciless was made Co-owner of the company. The two men formed a tight alliance and brought ICW to the forefront of the wrestling world, bringing in the talents of Jaguar, Brother Abaddon,  and Dom Jacobs. Merciless competed in the federation as well, becoming one of its highest-rated stars. Merciless would win the first Emperor of the Squared Circle tournament in early 2012 and would later defeat Dom Jacobs to become World Champion, a title he still holds.
Erickson and Merciless would repeat history and fall from favor with one another just as Merciless had with Erickosn's brother Paul back in Columbus. Merciless established the ICW East or ICW Japan branch of the company, buying off former hero Jaguar to join him in the venture. Merciless' ICW Japan and Erickson's ICW West would feud bitterly as Merciless vied for control of the company.
Most recently, however, PT Merciless left ICW after the company was all but abandoned by Dylan Erickson, leaving Merciless to run the place single-handedly. A large drop in ratings signalled the beginning of hard times for the company, and in November 2012, Merciless announced the indefinite closing of the federation.
More recently, P.T. Merciless joined Rebellion Online Wrestling, where his tumultuous career will continue.    
Signature Moves:
Peteplex (Perfect-plex)
Boston Crab
Finishing Moves:
Iron Fist of Fate (Diving Fist Drop off Top Rope)
Apology Not Accepted (Reverse Figure Four Leglock)