Paul Doom
Talk

0
11,354pages on
this wiki
Paul Doom
Statistics
Real name
Unknown
Height
6'9
Weight
305 lbs.
Date of birth
Unknown
Place of birth
Unknown
Debut
2000
Wrestling Style
Powerhouse/Grappler
Paul Doom is a semi-retired professional wrestler from Australia. He currently lives and resides in the United States of America, while still occasionally heading back home to the outback. Doom is most well known for his 5-year tenure with the Extreme Universal Wrestling Corporation, billed as the EUWC's most "baddest man alive" and had a reputation for terrorizing the federation and its ranks.
Background & Wrestling Style
Paul Doom's mindset is that of a stern, serious wrestler. He prefers sticking to a winning strategy and keeps his goals on target. Over the years, Doom has acted as a loner, with only some associations that didn't pan out well in the end. Considering that he has a tremendous size advantage over many opponents, Doom Can take a lot of damage, while resorting to a wide array a powerful and high-damage moves. The size also provides an intimidating factor to relatively smaller opponents.
Arrival in EUWC (2003)
Paul Doom debuted in 2003, just a few weeks after the EUWC Rebirth took place. He was immediately placed in a tournament for the vacant EUWC International Championship, primarily consisting of the 2nd wave of EUWC's Newest Recruits. Doom qualified all the way into the final at EUWC Xodus till he lost the final match to another newcomer Nick Marshall.
However, Paul Doom would not be deterred as he kept his focus on Nick Marshall and the International Championship. Doom challenged Nick Marshall for the International Championship a month later at Onslaught, and also kept pressure on Marshall with repeated steel chair attacks on numerous occasions. However, despite a colossal encounter, Marshall barely managed to retain the title over Doom at Onslaught.
Joining the Regime
Following his loss at Onslaught, Paul Doom was scouted by EUWC Commissioner Matt Pickstock to join his group "The Regime". Doom signed up only on the condition that he would be the leader of the group. As Main Frame went off the air on May 30, 2003, the world was shocked to see Paul Doom completely obliterate both Jordan Lockhart and Lord Alucard at the behest of Pickstock, symbolizing his taking over the Regime as leader.
Becoming World Champion
On the June 6, 2003 edition of Mainframe, Paul Doom participated in the night's main event: a Triple Threat Match for the World Heavyweight Title's # 1 Contender Spot at EUWC eXile. Doom went off against Rayne and the U.S. Champion Lord Alucard. The winner would meet Jordan lockhart for the EUWC World Heavyweight Championship on June 29, 2003 in Phoenix Arizona. However the match itself had some interesing developments as Rayne decided that he would no-show the match, making it a 1-on-1 encounter. But when the match got underway, Rayne was spotted sitting front row ringside. As the match went on, Major Action came down to the ring and took out the ref and then baited Lord Alucard with the U.S. Title Belt. When Alucard gave chase, the ref started to count him out. Rayne jumped the barrier and took the ref out! He then proceeded to destroy Paul Doom with a baseball bat decorated with broken glassand thumbtacks. Finally Rayne woke the ref up and got the victory! Matt Pickstock came out to add a bizarre twist and announced that since Alucard was obviously being counted out and Rayne wasn't in the match since he no-showed, then Paul Doom should be the Number one contender. But being the "generous" man that he is, he made the match at eXile a Triple Threat Match between Jordan Lockhart, Rayne and Paul Doom.
The following edition of Mainframe, Paul Doom issued a challenge to Jordan Lockhart and Rayne for a Hardcore Match this week on the same night. But after the events that took place at the closing of Main Frame, the EUWC President Keith Jackson stepped in and announced that this Friday night on Main Frame, a Tag Team Hardcore Match would take place instead Regime members Samuel Roundtree & Paul Doom would face Rayne and EUWC World Champion Jordan Lockhart. At EUWC eXile, Paul Doom defeated Jordan Lockhart and Rayne to capture the World Heavyweight Championship, his first title in the EUWC.
Fued with Lord Alucard
Paul Doom's victory as the EUWC World Heavyweight Champion had please Matt Pickstock, who now had himself a corporate champion. However, Doom was immediately targeted at eXile by Lord Alucard, who at first congratulated Doom on his victory by shaking his hand. However, the handshake led to an Einhander by Alucard to Doom. The following MainFrame, Alucard put forward the challenge to Paul Doom at Summer Sizzler, which Doom accepted gladly. At Summer Sizzler, Doom successful retained the title against Alucard.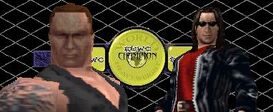 Doom would continue his feud with Lord Alucard as the two met once again at Ultra Brawl V in a Hell-in-a-Cell match. The match itself was very hard-fought, as both Doom and Alucard left no stone unturned. In the end, Doom lost the match and the World Championship to Alucard. After the match, Pickstock was enraged by Doom's loss that he booted him out of the Regime and face an attack from the Regime. However, Alucard provided his assistance as the opponents teamed up to take out the Regime. After that night, Doom and Alucard were still regarded rivals at best, however they now had a modicum of respect and admiration for each other.
The match itself has been regarded as one of the best matches of all time in the EUWC and Ultra Brawl. It is also the recipient of the 2003 Match of the Year award.
The Masked Man
After being booted out of The Regime, Paul Doom went under the radar. Meanwhile, a certain Masked Man decided to take out the Regime one by one. He started off with Scott Samson, attacking him backstage. His next attack was most brutal, as he attacked Nero in a parking lot. This earned him the anger of Nero's tag team partner Big G, aka Lynch Garrison. The Masked Man's attack attempt at Pickstock was thwarted by Garrison backstage. Later, Matt Pickstock challenged the Masked Man to a match at Excessive Force. After defeating Pickstock at Excessive Force, the Masked Man revealed himself to be none other than Paul Doom in disguise.
BloodBath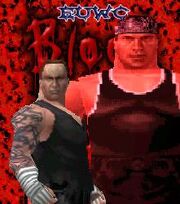 Paul Doom would earn more of Garrison's rage as he attacked Nero once again, this time not only costing n&G the World Tag Team Championships, but also putting Nero in a hospital and on the sidelines for several months. Furious, Garrison challenged Paul Doom to a street fight on BloodBath. Both Doom and Garrison tore into each other as the match was fiercely competitive. However, Garrison managed to overpower Doom and defeated him. The match was, as expected, brutal and barbaric and both men brought it to life! It also ended up being the second-best match (next to the infamous Hell in a Cell match between Paul Doom and Lord Alucard) of the year and became a staple favorite for the EUWC that fans talked about for days to come.
Doom would not be done for the night as he also participated in the Annual 20-Man Blood Bath Cage Match. This is now regarded as the most controversial Bloodbath matches of all times. The final moments of the match were as bizarre as they were incredible. Five men remained at the end; Angel of Death, Sean Taylor, HICAL, Paul Doom and Lynch Garrison. This was Doom and Garrison's second match of the night and as both men went at it one more time. AOD and Sean Taylor were fighting on top of the cage, while HICAL was climbing up to join them. In an unreal display of brute strength, Garrison lifted Paul Doom in a military press and shot him right into the wall where the other three were hanging. Almost on impact, the cage wall dislodged from the rest and fell down outside the ring, taking down Taylor, AOD, HICAL and Doom with it! Garrison took the opportunity and pinned all five men, however due to a technicality, Garrison was NOT declared the winner and the match ended in a draw between the five men.
In a way, Paul Doom has been a party to creating one of the biggest "Holy Shit" moments in wrestling history.
Elimination Chamber
The finish of the Blood Bath match set the tone for EUWC's next PPV offering Only the Strong III where Paul Doomn, Sean Taylor, AOD, HICAL and Lynch Garrison challenged the reigning World Heavyweight Champion Lord Alucard in the EUWC's first ever Elimination Chamber match. Doom and Alucard were the last 2 remaining superstars at the end of the match however Alucard retained the title after a shocking twist as Matt Pickstock assisted Alucard. Doom was then shocked to see that his ultimate rival had now joined hands with Pickstock.
Alucard vs. Doom 3
Considering Alucard to be his peer, Paul Doom attempted to bring back Alucard from the influence of the Regime, citing his own experience as former Regime leader and how it ended. Alucard however was undeterred and Doom challenged Alucard for the World Championship at Maximum Carnage, in a ladder match. This was their third pay-per-view match and with the World Heavyweight Championship on the line, however Doom would end up short of victory thanks to the untimely assist of Matt Pickstock.
Shortly after Maximum Carnage, Paul Doom went on hiatus and would not be seen till Superiority.
Fued with Angel of Death
Two months after Maximum Carnage, Paul Doom returned at EUWC's flagship event, Superiority I, and created an immediate impact after he interfered in the World Heavyweight Championship main event. Doom arrived to the ring while the referee was down and hit then World Champion Angel of Death with a Doomstone Piledriver, allowing challenger Jay Smash to capture the title. Fueled by this attack, Doom and AOD went head-to-head at EUWC Aftershock a month later. In a tight fought contest, Paul Doom picked up the win with another Doomstone.
The Rebellion
Paul Doom was instrumental in the ongoing resistance against the Dominion's Hostile Takeover, as he formed a pairing with "The Definitive" Danny Collins to take on the Dominion's Tag Team Champions: Havoc & Malice. The two teams squared off at Summer Sizzler where Doom & Collins successfully defeated the Dominion to capture the World Tag Team Championships. However, this reign would be short lived as Doom was injured at the hands of the Dominion, and the titles had to be vacated. The reign lasted just 5 days.
Return from Injury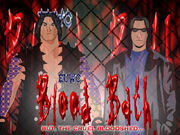 Paul Doom returned from injury a few months later and was once again in the Tag Team title gambit; this time however, he was paired with his arch rival Lord Alucard. The duo was a sound tag team on paper, however due to certain miscommunications, Doom & Alucard went at each other's throats once again. This prompted the second Hell-In-The-Cell match between Paul Doom & Lord Alucard at BloodBath 2004. The match seemingly surpassed the expectations as evident from their last encounter, and both Doom & Alucard brought in the violence. However, Doom would not be denied this time as he defeated Lord Alucard after repeated steel chair shots to Alucard's skull. This is widely regarded as Doom's most violent outing as the incident is recalled as the time that Doom "nearly killed Alucard."
Paul Doom then went on to shake off the ghost of BloodBath past as he entered the BloodBath match at number 15. Doom lasted 15 minutes and 27 seconds till he was eliminated at number 17 by Classy Mike C. During his time in the match, Doom eliminated 3 superstars including former World Champions such as AOD and Holocaust, and Samuel Roundtree. Doom shared the number of 3 eliminations along with Classy Mike C and "The King of Pain" Stephen Greer.
Signing with TakeDown
Paul Doom returned to the EUWC in 2006 during the roster split, where both Matt Pickstock and Leo Silver were vying for Doom signup with their respective brands (MainFrame & TakeDown). During this time, Paul Doom entered a short rivalry against "The Reverend" Jakob McLean, which culminated to a Street Fight at eXile III. Doom was victorious that night, however, his appearances over the next few weeks in Takedown were limited as there was apparently a falling out with Leo Silver.
Ultimate WAR Match

Shortly after, Doom returned to Mainframe, this time at the behest of the new co-GM and his former arch rival Lord Alucard. Doom was picked to lead Team Alucard (comprising of Rocko Daymon, Nero and John Doe) to take on Pickstock's Army (Classy Mike C, Texas Lightning, Buck Naked and Samuel Roundtree) at Summer Sizzler in an Ultimate WAR match. Doom was the last person to enter the match and eliminated Texas Lightning after an assist from Nero. Shortly in the match, Doom repeated shot Buck Naked head first into the cage wall, causing Buck Naked to start bleeding and eventually going through the cage wall and outside towards the entranceway. This prompted another "Holy Sh*t" from the crowd as Scott Marchman called it "Doom's second 'encounter' with a steel cage". Doom was eliminated rather bizarrely as in an attempt to lock a sharpshooter on Buck, he was unexpectedly kicked in the gut by his own partner Rocko Daymon. Daymon then grabbed Doom and hit him with the Brain Rocker right on top of a steel chair, allowing Buck Naked to pin him.
Fued with Rocko Daymon

Doom was furious with Rocko Daymon's actions, citing professional jealousy. They carried their arguments into the Elimination Chamber match at Ultra Brawl VIII. While both were unsuccessful in winning the title, both Doom and Daymon squared off one on one at BloodBath in a Last Man Standing match, which Doom lost at the end.
Reteaming with Lord Alucard
Paul Doom teamed up with his rival Lord Alucard once again in a bid to challenge for the World Tag Team Championships. Doom & Alucard were more successful in their second pair-up, as they defeated two veteran tag teams in Cold Blooded and Team Danger to advance to the finals. They also made a tremendous impact in BloodBath 2008, as both men took out the competition with baseball bats. However at the end, Doom was eliminated in a surprise rollup by Alucard. Both men shrugged it off, but Doom got his revenge by hitting Alucard with a Doomstone, and letting him get pinned by a waiting Jonathan Darkstar.
Appearances in Other Media
The Leage of Extraordinary Wrestlers (film)
Paul Doom p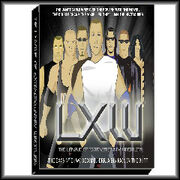 layed a supporting character as himself in the EUWC Feature Film "The League of Extraordinary Wrestlers" (LXW) where he associated himself with Vince McMahon and Holocaust as the antagonists. Doom was showcased with the ability to "suck heat from anyone" where anyone near him would feel his energy being drained. Though originally with a limited role, he had a deleted scene that was made available in the DVD's bonus features.
Doom in Knights Errant

Knights Errant (Novel)
Paul Doom plays a recurring character in the EUWC novel "Knights Errant", which presents a fictional view following the events after Blood Bath 2008. Doom was featured in the second arc of the story where he apparently returns from a suspension to confront Lynch Garrison about Lord Alucard.
Title History
EUWC World Heavyweight Champion
EUWC World Tag Team Champion
Entrance Themes
"The Unforgiven" by Metallica (2003 - 2005)
"Halleluja" By Rammstein (2006 - 2008
Moveset
Finishing and signature moves
Doomsday Powerbomb (Vicious powerbomb)
The Rebirth (rock bottom/chokeslam)
Doomstone Piledriver (tombstone)
Regular moves
References