PrYde Fatal Fool's Day is the second pay-per-view of the year in PrYde Wrestling. Commonly featuring hardcore match-ups, there is always a highly anticipated main event, generally crowning a new World Champion. The pay-per-view last occurred in 2008.
Fatal Fool's Day 2007
The 2007 event was the second ever pay-per-view in the history of the company. It also marked the crowning of the second World Heavyweight Champion in PrYde history It took place April 1, 2007. It was broadcasted live from Memphis, TN at the FedEx Forum.
Fatal Fool's Day 2008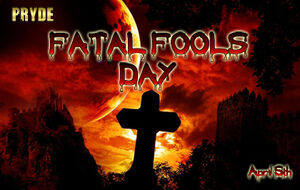 Fatal Fool's Day 2008 marked the second year of the event and took place on April 5, 2008. Also taking place at the event was the second pay-per-view broadcast edition of PrYde's "Money in the Bank" event, it also marked the last time "Money in the Bank" took place in PrYde. Fatal Fool's Day '08 was the last time the event took place.
Fatal Fool's Day: 2011
Fools Day returned in 2008 featuring a new line-up of PrYde Wrestlers. The event included a match-up between Alexander StarrZoë and "Big Bad" Casey Williams to crown a new World Heavyweight Champion. A three way tournament also took place to crown a new Evolution Champion after Starr was stripped of his title.
Fatal Fool's Day: The Future
"We're really hoping to get back to the pay-per-views" a source within PrYde Wrestling responded when asked about the resent lack of events, "I think sooner than the fans expect, Fatal Fool's Day will be ushering in the spring time. PrYde loyal's will always associate the first few days of spring with the most entertaining and impressive talents showcased at Fatal Fool's Day!"
Ad blocker interference detected!
Wikia is a free-to-use site that makes money from advertising. We have a modified experience for viewers using ad blockers

Wikia is not accessible if you've made further modifications. Remove the custom ad blocker rule(s) and the page will load as expected.