PrYde Rise and Fall is the fifth pay-per-view of each year in PrYde Wrestling. Generally considered to be the "flag ship" pay-per-view, fans wait each and every year for three simple hours of sports entertainment and their fill of the best PrYde has to offer each and every year. After the rebirth of PrYde it was announced that the usual August slot of the pay-per-view would be retired and instead the "show of the year" would take place in October. Rise and Fall last took place in 2010.
Rise and Fall 2007
The first edition of Rise and Fall was toted by many as the single event that opened their eyes to the entertainment value of professional wrestling. Many matches were violent, many were pure sport, but all of them were something many haven't seen in years. Even fans that weren't fans of PrYde Wrestling were tuned in to watch the proverbial "fireworks display". The event was hosted in the United Center in Chicago, IL on August 13th, 2007.
Rise and Fall 2010
Rise and Fall was the last edition of PrYde's August event. Unfortunately, without the financial backing in 2009, PrYde was unable to host many pay-per-view events, and their "yearly showcase" was put on hold. Of course, 2008 saw PrYde go out of business and was a "dark age" for PrYde fans. 2010 though saw the return of Rise and Fall, though in November instead of August, with a full head of steam. The event was hosted at the Point Arena on October 31st, 2010. New members of the PrYde roster like Waylon Holladay and returning veterans alike put on a show like none other. Among the highlights were Alexander StarrZoë defeating Jared Black for the PrYde Evolution Championship in a Tables, Ladders, and Chairs match and Ryan Rampage taking on Anarchy Champion Black Jack McGraw in a no-holds barred match-up that Ryan just barely lost. That match though is credited to ending Black Jack's career in PrYde Wrestling. Long time World Champion Taurus Black lost his PrYde World Heavyweight Championship to Samuel Hessingstock.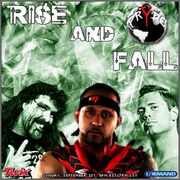 Rise and Fall: The Future
After the 2010 edition of the pay-per-view, many fans are hoping that PrYde will realize just how much the pay-per-view means to the loyal members of the "World of Pyrde" and bring the fans their favorite event of the years for a long time to come.
Ad blocker interference detected!
Wikia is a free-to-use site that makes money from advertising. We have a modified experience for viewers using ad blockers

Wikia is not accessible if you've made further modifications. Remove the custom ad blocker rule(s) and the page will load as expected.