The PrYde World Heavyweight Championship is the most coveted prize in PrYde Wrestling. The championship is the only World Title PrYde has ever featured. In late 2009, the original title history from PrYde (2006 - 2007) was merged the Elite Championship Wrestling World Title history (2007 - 2009) after the EcW/PrYde merger. The current title has been defended since 2009 and the championship boasts over 4 years worth of history. The PrYde World Title has passed through the hands of some of the most talented men in professional wrestling. The list includes names such as Taurus Black, Trey Ortega, and Samuel Hessingstock.
Official Title History
The PrYde World Heavyweight Championship is defended only in PrYde Wrestling Championship Council sanctioned match-ups and only at PrYde events. The official results of each championship match and dates of title reigns can be found at the official PrYde Wrestling website (click the link below.)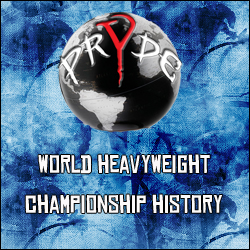 Statistics
| Record | Record Holder | Record Statistic |
| --- | --- | --- |
| Most Reigns | Trey Ortega/Taurus Black | 2 reigns (each person) |
| Longest Reign | Taurus Black | 10 months, 5 days |
| Shortest Reign | Trey Ortega | 43 days |
| Oldest Champion | Harley Reigns | 53 years old |
| Youngest Champion | Claude Baptiste Rainer | 24 years old |
| Heaviest Champion | Harley Reigns | 350 lbs |
| Lightest Champion | Samuel Hessingstock | 212 lbs |
Ad blocker interference detected!
Wikia is a free-to-use site that makes money from advertising. We have a modified experience for viewers using ad blockers

Wikia is not accessible if you've made further modifications. Remove the custom ad blocker rule(s) and the page will load as expected.