Rayne Winters
Talk

0
11,354pages on
this wiki
Redirected from Rayne
Rayne
Billing information
Ring name(s)
Rachel Winters
Rayne Winters
Rayne
Nickname(s)
"The Elegant Assasin"
Height
5'9"
Weight
140 lbs.
Born
January 3rd, 1987 (Age 26)
Place of Birth
London, England, United Kingdom
Date of Death
N/A
Hometown
Louisville, Kentucky, United States
Billed From
London, England
Theme music
"Alive and Kicking" by Nonpoint
Brand(s)
N/A
Stable/Tag Team
N/A
Wrestling information
Alignment
Face
Wrestling Style
All Rounder, but mainly sticks to the areas of Technical and Mixed Martial Arts
Will
-Show respect to all opponents
Won't
-Give up under any circumstance
Notorious Feuds With
Mandy The Monster
Katie Chason
Brittany Kinari
The Paisley Twins
Jen Henderson
Notorious Partnerships With
Laurie Young
Jen Henderson
Trainer
Damian Seth
Handler
MaNon
Professional career
Debut
September 4th, 2011 (US Debut)
Record
45-16-4
Accomplishments
N/A
Previous Federation(s)
Premium Womens Wrestling-(2011 - 2012)
Retired
N/A
Current Federation(s)
Pride Wrestling
Rachel Helen Winters
(Born January 3, 1987) is an English Born Professional Wrestler and heiress, better known by the ringname,
Rayne Winters
, is currently working in PCW's Training Facility,
Premium Academy
, as well as the Louisville, Kentucky based Independent Promotion,
Cardinal City Pro,
where she is the reigning World Heavyweight Champion.
She is the daughter of Daniel Winters, who is currently among the top 20 wealthiest men in the world. She was previously signed to a contract for Premium Womens Wrestling. Throughout her career, Winters has also worked in various independent promotions in the United Kingdom and abroad, including promotions in Japan and The United States, holding seveal womens titles in the promotions as well.
Professional Wrestling Career
Early career
Winters began training under Damian Seth at the age of 17, 2 years after her move to The United States. While training, she competed in a promotion based in Chicago. After wrestling there for 6 months, she would receive a shot at the Womens Title, and came up short. Despite not winning the match, she gained praise from other wrestlers due to her performance. She would travel the midwest and appear in other promotions for the next 2 years.
Tour of The United Kingdom and Japan (2007-2009)
At the age of 19, Winters returned to her native England and appeared in various promotions there for the next 2 years, as well as in Ireland and Scotland. She had even managed to win the womens title of one of the promotions at one point. Winters had also briefly appeared in a promotion in Japan during this time.
Return to The United States
Cardinal City Pro (June 2009 - July 2011)
Winters return to The States in 2009 and began wrestling in the Louisville-based wrestling promotion, Cardinal City Pro, under the ringname Rayne Winters. While there, she very quickly entered a feud with Jen Henderson, who doubted the legitimacy of Rayne's abitlity. The two met in a series of one-on-one matches, the first being in July 2009, wrestling to a 25 minute draw. The two would wreslte again a month later, with the match now being contested under no countouts, and again would wrestle to a draw after Jen hit a Shooting Star Press from a second floor balcany, leaving neither woman able to continue. The rivalry would continue into the fall with the two trading victories over one another, before wrestling one more match in December of that year, this time in a 30 minute Iron-Woman Match, with the stipulation that the winner would receive a title shot. Jen would go on to win the match with 3 falls to Rayne's 2. After the match, the two shook hands as a sign of respect and ending the feud momentarily.
Rayne would bounce from feud to feud for the next year, before she would once again cross paths with Jen, who had turned heel and had just become CCP Womens Champion for a second time. Rayne would earn the right to face Jen for the title after winning a four corners match, only to be attacked by Jen after the matchup. The two faced off in January 2011 for the title, with Jen winning via disqualification after Rayne attacked her with a spike in retaliation for being slapped. They faced off once more in a 2 Out of 3 match in early March, and Rayne managed to win the match with 2 falls, becoming the new CCP Womens Champion. The feud would finally come to an end after the two faced off in a rematch later that month, in a Steel Cage Match, which saw Rayne win after a Diving Elbow Drop off the top of the steel structure. Rayne would hold onto the title for 4 months, before losing it in a triple threat match in her last match for CCP.
In late August, Winters signed a contract to Premium Womens Wrestling under the Rayne Winters ringname, shortening it to Rayne. She made her debut on the September 4th addition of Knockout, defeating Sara Paisly via pinfall. She defeated Alexis Landry on October 2 in a Number One Condenders Match for Momo Uzuki's Womens Television Chamionship at Eve of Destruction, due to interference by Alisyn, who was feuding with Landry at the time. After the match, it was announced that Rayne and Momo would compete for the title in a Tables, Ladders, and Chairs match at Eve of Destruction. Rayne would come close, but ultimately lost the match to Momo.
On PWW.Com, Rayne was announced to be one of the 8 women competing in a tournament to be crowned the first PWW Joshi Champion. She defeated Christina Fierce via submission to advance to the tournament Semi-Finals on the first episode of Bombshell. She lost to Heather Monroe in the semi final round of the tournament on the November 13th addition of Knockout. Although she wasn't on the card, Rayne did appear in a dark match for the PWW pay-per-view, Femme Fatale, defeating Eva Morales after hitting the Broken Lineage Backbreaker. On the January 7th addition of Bombshell, Rayne picked up a victory over Ariel Walker after a roll up pin. The company closed its doors not too long after.
Return to Cardinal City Pro (July 2012 - Present)
Return and feud with Hot & Sexy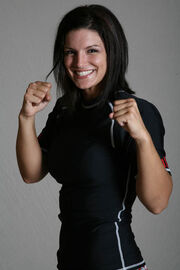 On July 11, under her Rayne Winters name, Winters made her return to the independent promotion Cardinal City Pro as the mystery tag team partner to long time rival Jen Henderson, defeating the tag team of Hot and Sexy after Jen hit The Code Red Senton following The Broken Lineage Backbreaker. After the match, She cut a promo explaining why she was back, as well as her aim to once again become CCP Women's Champion.
A week later, on the July 18th taping, Rayne interrupted a Promo by Hot and Sexy's Katie Chason, who calimed that The CCP Women's Division was hers to rule, and that no-one could stop it. She challenged Katie to a match, but ended up being attacked by Katie and her partner, Brittany Kinari, before Jen Henderson came down for the save. At a show on July 22, Rayne went one on one with Brittany Kinary and forced her to submit to her Assassin's Wrath submission hold. After the match, she was once again attacked by Katie Chason, forcing Jen Henderson to come out and the four to brawl all over the building.
The two teams met again on July 29, and Jen and Rayne won after Jen hit The Tornado Kick on Brittany Kinari. Over the next week, the two teams traded victories over one another, before it was announced by CCP Management that at their August 20 Supershow, Katie Chason will defend her Womens Title against Jen Henderson, with Brittany Kinari being in Katie's corner and Rayne in Jen's corner. On August 6, Rayne compteted in a 10 woman over the top rope battle for a future Cardinal City Pro Womens Championship Title Shot. She lasted all the way to the final two, before being eliminated by Mandy "The Monster" after intereference from Katie Chason.
On August 20, at CCP's monthly Supershow, Rayne went one on one with Brittany Kinari in an impromtu match, winning via Submission after making Brittany tap out to The Assassin's Wrath Submission Hold. Right after the match was over, The Paisley Twins would come down to the ring and assault Rayne alongside Brittany, until the save was made by the debuting Laurie Young. On August 27, Rayne teamed with Laurie Young to take on the Paisley Twins. The two won after Laurie hit Tina Paisley with The Windy City Press. On September 4, Rayne made the save for Laurie after a post-match assault by The Paisley Twins, and later challeneged the two of them to a tag team match for CCP's 498th show. The match was made official by CP General Manager Chazz North. Two weeks later, the two teams met in a tag team match. Rayne had the match won after locking Tina Paisley in the Assassin's Wrath submission hold, but was attacked by Mandy The Monster, earning the Disqualification victory.
Feud with Mandy The Monster
On September 8, Winters was announced via cardinalcitypro.com to be one of 16 competitors who will compete in the Queen of The Mountain tournament for CCP's female exclusive pay-per-view, Girls Night Out. On September 8, Rayne took on Mandy The Monster in a one on one match. The match ended in a Double Disqualification after the women began brawling all over the ringside area, causing officials and other wrestlers to come out and separate them. At a show on September 18, Rayne defeated fellow Chamber Graduate Ash Williams in a match where her spot in The Queen Of The Mountain Tournament was on the line after hitting Deadly Desire. After the match, she was attacked by Mandy The Monster, and chokeslammed twice in the middle of the ring.
The two met one on one at the 497th CCP taping on September 24, with Rayne winning via disqualification after Mandy refused to follow the referee's orders during the match. Afterwards, Rayne attacked Mandy with a steel chair in retaliation, before the two were once again separated by referee's and fellow wrestlers.
On October 7, at CCP's Girls Night Out iPay-Per-View, Rayne took place in the Queen of The Mountain Tournament. She defeated Rachel Robinson in the Quarter Final Rounds after countering a Springboard maneuver into the Broken Lineage, then making her submit to the Assassin's Wrath. She would go on to lose in the Semi-Finals to Mandy The Monster after Mandy blasted her with a steel chair, then laid her out with The F-5. On October 17, Rayne was attacked by Mandy The Monster during a match against Ash Williams. She was chokeslammed 3 times in a row and hit with an F-5. The two are now scheduled to meet at CCP's 500th taping in a one on one match.
On October 24, Rayne competed in a match against a hand picked opponent of Mandy The Monsters. Her opponent, a local comptetitor, was almost as large as Mandy, weighing in at 300 pounds. During the match, in an incredible show of strength, Winters hit a modified walking Power Slam on her opponent before making her submit to a Triangle Armbar Submission Hold. After the match, the two stared down. On halloween, during a show in Lexington, Rayne came out and cut a promo, stating that she doesn't want to wait until PCW 500 to face Mandy and challenged her to a brawl. Mandy accepted and the two women brawled all over the ringside area, before Mandy hit Rayne with a chokeslam. She went for another, but Rayne countered it and managed to get back into the brawl before security pulled them apart.
At a show on November 14, Rayne teamed with Brittany Kinari to take on Katie Chason and Mandy The Monster. During the match, Rayne and Mandy brawled their way backstage and into the parking lot, where Rayne was chokeslammed through a winshield of a car. After this, CCP General Manager made the match scheduled at CCP 500 contested under No Holds Barred, Falls Count Anywhere.
On December 12 at CCP 500, Rayne faced Mandy The Monster in a Falls Count Anywhere Match in the Main Event of the show. Despite taking a large amount of punishment, including being chokelsammed off of the stagework, Winters managed to win after choking Mandy out with the Assassin's Wrath Submission Hold. The two traded victories over the next three shows, before the two met again at CCP: Apocalypes Now in a Last Woman Standing Match, with the Winner becoming the #1 Contender to Laurie Young's CCP Womens Championship. Much like their last encounter, Rayne took a large amount of punishment, but managed to win after using a Rope Aided version of The Assassin's Wrath to Choke Out Mandy.
Rayne would lose her contendership in a Rematch after being Chokeslammed through the announce table at rinside. General Manager Chazz North decided that the two would meet in a Final Encounter Match: 2 out of 3 falls match at The R3bellion iPay-Per-View. The two met at the PPV on February 17, with Rayne managing to win the match 2 to 1.
World Heavyweight Champion
At the CCP 511 Tapings, Winters interrupted an arguemenrt between Kai, Michael Blackfire, and Harrison Andrews, citing her desire to compete for The CCP World Heavyweight Championship. President Chris Callaway made a match between the three to determine a new Number 1 Contender to challenge Andrews at Worlds Finest. Rayne would go on to win the match after The Natural Order faction got involved. She, Kai, and Blackfire would face multiple mumbers of the faction over the next few weeks to keep them from attacking Rayne before the match.
On April 21, At Worlds Finest, Rayne defeated Harrison Andrews to become The New World Heavyweight Champion after forcing him to submit to The Assassin's Wrath. She is the first woman in CCP History to hold The CCP World Title. She defended it successfully at a special CCP Event in San Diego, defeating Harrison Andrews again by submission. She would have several brushes with Harrison and his Natural Order Faction, with them attacking her after her match with John Hunter, and facing off against them in a 6 person Tag Team Match. She and Harrison had a rematch for the title on June 8 at The Public Enemies iPPV, and Rayne once again defeated him via Submission after locking in The Assassin's Wrath. The two met one last time at the Breaking Point iPPV in August, and it would once again end with Winters pulling out the victory. Winters would bring her cross branded feud with Morgan Simmons into Cardinal City Pro, offering Morgan a title shot against her at the Seventh Annual Girls Night Out iPPV. 
In the early morning hours of September 25, Winters signed a contract to work for Premium Championship Wrestling's Training Facility, Premium Academy. She signed alongside fellow CCP and PWW Alumni Jen Henderson. Rayne made her debut on the third episode of PA, defeating Portia Ramirez after making her submit to The Assassin's Wrath submission hold. On the fifth episode of PA, Rayne defeated Momo Uzuki, Destiny, and Kimi Sato to win PA's first addition of The Premium Cup. On the 6th Episode of PA, Rayne interrupted a promo between Mandy The Monster and The PA Champion Desiree Miles. She stated that she with her winning The Premium Cup, she won a title shot against Desiree, but opted to face Mandy in a one on one match to be named the Number One Contender. Later in the night, she faced Mandy and wrestled her to a draw after neither woman could answer the 10 count. PA Authortiy Figure Mariano Fernandez made a Triple Threat Match between them and Miles for the PA Championship on the next episode.
On the 7th Episode of PA, Rayne lost the opportunity after being pinned by Desiree Miles. After the match, both women were laid out by Mandy The Monster to end the show. On the 8th addition of PA, Rayne was called down to the ring by Desiree Miles. After the two praised each other, Miles offered Rayne a title match on the 10th episode, which would be held in Philadelphia. Rayne accepted, and the two shook hands before they were attacked by Mandy The Monster. The two managed to fight her off, before she escaped. She lost her title match on The 10th Episode to Miles after being hit with Florida's Finest. She lost a #1 Contenders Match against Mandy The Monster on the next episode after taking an F-5.
Feud with Morgan Simmons
After winning a match on The 12th Episode of PA, Rayne called out Mandy.  Morgan Simmons came out instead and cut a promo on Rayne's inhability to win The Big One in PA. Rayne challenged her to a match right then and there, but Morgan refused, saying she was "Not on her level". Morgan would attack Rayne on the 13th and 14th episodes after matches against Alisyn and Ray Hoffman, destroying her knee and challenging her to a match. The two met on the 15th Episode, with Rayne winning via Disqualification after Morgan refused to release her Begging For Mercy submission hold. Rayne would finally get a measure of revenge on the 1st episode of Pride Wrestling by attacking her backstage. One the Second Episode under the Pride Wrestling Banner, she challenged Simmons to a Submission Match.
On the 4th Episode of Pride Wrestling, she defeated Christina Fierce, Morgan's hand picked opponent for her, after hitting The Broken Lineage Backbreaker. She attacked her post match as well, locking in the Assassin's Wrath and refusing to let go. She also attacked Morgan later in the event, attacking the knee and locking her in her own submission hold.
On May 2 at The Gang Warfare event in Boston, Massachusetts, Winters defeated Morgan Simmons the Submission Match after locking in The Chamber Lock for the win. The two faced off on the fifth episode of Pride Wrestling after a confrontation at the start of the show over who would challenge Desiree Miles for the Pride Wrestling World Championship. The two fought to a draw, leading to a Triple Threat Match being made for the 6th Episode of PW for the World Title. Rayne had the match won, but the victory was stolen from her by Morgan. She then competed in a Pick Your Poison Match against Morgan's hand picked opponent, Mandy The Monster, on the 7th episod of Pride Wrestling.
Feud With Alisyn
As of late, Winters has been involved in a feud with Alisyn, who has decided to target her in an attempt to find a better challenge in Pride Wrestling. The two have had a series of run ins with one another, as well as a match in which Alisyn has won.
In Wrestling
Finishing Moves

Broken Lineage - Swinging Side slam Backbreaker
Assassin's Wrath - Guillotine Choke (July 2012 - Present)
Chamber Lock - Triangle Style Armbar (October 2012 - Present)
Sin City Vise - Sitting Dragon sleeper (2006- 2012) (Used in tribute to Damian Seth)
Deadly Desire - Swinging Snap Double Underhook DDT (2004 - 2012) (Rarely Used)

Signature Moves

Triple German suplexes
Diving Elbow Drop - (Used as a finisher, 2010-2013)
Cobra Clutch, spun out into a short range Lariot
Superwoman Punch
Spinning Back Elbow Strike

Basic Moveset

Repeated knees to the midsection
Vertical Suplex
Lariot
Double knee armbreaker
Underhooked Side Suplex Slam
Arm drag
Snapmare, followed by a running kick to the face
Judo Hip Toss
Guillotine Leg-drop, sometimes to an apron hung opponent
Tornado DDT
Snap scoop Powerslam
Three quarters facelock
Uranagi overhead throw
Russian Legsweep
High Knee
Missile dropkick
Hangman's Neckbreaker
Diving crossbody
Step Up Enzuigiri
Diving Moonsault
Bow and Arrow hold
Fujiwara Armbar
Exploader Suplex
Swinging neckbreaker
Rope hung figure 4 necklock
Indian deathlock
Dragon screw
Suicide Dive

Nicknames

"The Elegant Assasin"
"The Queen of The Ring"

Entrance Themes

"Shooter" by Jim Johnson (2004 - 2009)
"My Last Breath" By Evanescence/w Countdown Intro (CCP, 2009 - 2011) (CCP, Pride Wrestling, 2012 - Present)
"Alive and Kicking" By Nonpoint (PWW, 2011 - 2012)
Accomplishments
Cardinal City Pro

CCP Womens Champion (1 Time)
CCP World Heavyweight Champion (1 time, Current)
Female Wrestler of The Year 2012 (Won)
Match of The Year (Nominated, vs Rachel Robinson at CCP: Girls Night Out)

Premium Womens Wrestling

PWW Award for Rookie of The Year (Tied with Mariah Lopez and Hikari Richards)

PCW: Premium Academy

Premium Cup Winner (1st addition)
Personal life
Winters was born in London, England, to Katherine, a Nurse, and Daniel, a business man, and is the only child of the two. In her youth, she and her family moved between numerous exclusive homes in Great Britain, never staying in one home longer than a year at a time. As she grew older, she became more cynical towards the wealthy lifestyle she had been raised in, citing the change in behavior and attitude of her father, which lead to a falling out between the two. She moved in with an aunt on her mother's side, and the two moved to America in 2002.
Rayne has only one tattoo on her body: A "Made In The Chamber" tattoo on her left hand.
While training to become a wrestler, she studied and took classes at The University of Chicago, earning a degree in Fine Arts. She also worked as an ER Tech at a local hospital to help pay for her training, refusing to accept financial help from her parents, still maintaining a strained relationship with her father. She is very close to fellow Wrestler Laurie Young, as well as Damian Seth, who trained both of them.
In April 2013, Winters began training in Brazilian Jiu-Jitsu under Relson Gracie.