Reck Maverick


Real Name
Reid Flanagan
Date of Birth
September 16, 1986
Billed From:
San Jose California
Height
5'11"
Weight
220 Pounds
Entrance Music
His World - Crush 40 Remix
Current federation(s)
Power On Wrestling(2007)
Career
More Power Wrestling
Reck Maverick debuted during MPW's original run in mid-2003, serving to fight off an invasion from a rival federation. He was awarded the MPW United States Championship for his service - and although behind the scenes Maverick was not happy about simply being handed a Championship belt he held the championship for several months, even outlasting several World Champions in the length of the title reign.
Finally Maverick was defeated by long-running rival: Tenacious D in a match up of Reck Maverick's own design, The Maverick Death Match. Not one to be held back, Reck Maverick set his sights on becoming the World Heavyweight Champion - a goal he accomplished a couple of months later. But due to company troubles Maverick was forced to vacate the World Title in favour of his half-brother Flap Flanagan and take a position backstage as the chief of staff.
He made his in-ring return at MPW-Mania in March 2004 as he defeated MPW Owner Jamez in the second Maverick Death Match. After Mania, Reck and his newly introduced Tag Team partner Omega Storm won the MPW Tag Team Championship, but when Omega Storm was arrested - Reck had to again forfeit and he took a long leave of absence (it was reported on Reck Maverick now-defunct website that he was "Sick and tired of all the garbage that MPW was producing and that the owners didn't know their heads from their asses." - Similarly Reck would again make these comments when he was fired from UWL in 2006.)
PSW
The summer of 2005 saw Reck Maverick, Flap Flanagan and long time friend Josh Eagles team up in a faction called Pure Soul Wrestling. PSW has successful in defeating the best that MPW had to offer, Reck also won the newly created United Kingdom Championship, which he held briefly before losing it to fellow PSW member Eagles. Rather than cause chaos in PSW, Reck and Flap opted to win the Tag Team Titles, which they done and renamed the FLA Tag Team Titles and created several new rules and regulations before MPW closed it's doors in the fall.
UWL - Return of the Reckless Storm
- UWL Record: 8 wins, 8 losses, 0 draws -
Shortly after MPW closed shop, representatives of the Universal Wrestling League contacted PSW and offered them contracts. Eagles and Flanagan quickly signed but Reck held out for a couple months until Omega Storm could work out his personal problems. The duo debuted and traded the Tag Titles back and forth with End of Days before Omega quickly found himself back in rehab. Maverick than disappeared for a few months to work out a new gimmick for the UWL fans.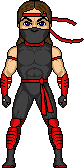 === Team Super Cool 2006 ===
Near the end of 2006 Reck Maverick returned to UWL with long time friend Jayde Nightwood, he claimed that he had studied Ninjitsu during his sabbitacal and that he was UWL's new hero. The duo was very popular with the fans but his win-loss record was worse than during his "Anti-Social Soldier" era. Slowly Reck Maverick started to lose his mind, and formulate wild conspiracy theories about UWL - most of which were planted by members of UWL who were angery at the company. Maverick started to "shoot" at every available opportunity, however this only served to distracted him and losses continued to mount, which lead to more conspiracies. Finally during a highly promoted best of seven series against Josh Eagles, Reck told the company to go to hell and walked out.
CCWA
Maverick and Jayde where quickly hired by Josh Eagles for his newly created Cross-Continental Wrestling Alliance. They quickly won the Tag Team titles (they were an inter-gender Tag Team) but shortly thereafter Josh stopped answering their phone calls and Maverick learned that CCWA had quickly closed.
Power-On Wrestling
- Current Stats: 23 Wins, 9 Losses, 1 Draws -
Reck Maverick signed on to POW on January 31, 2007. He made his in ring debut on the Feb. 8th "Road to First Rights" show, pinning Dan Real with his Back Suplex finisher. The following week he defeated Butch Skull in one on one action. At POW's first DVD taping - First Rights, Reck Maverick pinned Cran Landom for the chance to fight in a number one contenders match for the POW Valor championship. The match was originally scheduled to be a Triple Threat contest but the third man - Jason Lee was hospitalized backstage by Rich Morrison. However Reck Maverick failed to beat Macros Vitruvious at the Road to All In show on March 1. Maverick and Macros have debuted their new team at the March 8th "Road to All In" show, defeating POW Valor Champion George Duke and Jason Dread when Macros made Duke pass out to the Vitruvious Claw. At the following event Maverick and Macros defeated the Hunter Brothers by DQ when Jason Dread appeared and blasted Maverick in the face with a steel chair. Upon regaining his senses Maverick challenged Dread to a contest for POW's second DVD taping - All In. At the DVD Taping Reck Maverick defeated Dread by DQ when Jason attacked both the original and replacement Ref in the match, but when Dread attempt to attack another official Reck Maverick intercepted him and nailed the Maverick Cutter. Later on in the show M & M (Macros & Maverick) confronted the new POW Tag Team Champions - Murderous Intent. When M.I. sucker punched Macros' manager - Riley, the two quickly broke out into a brawl...
The following week at the TV taping M & M along with Mr. Showtime and Fire where defeated by Murderous Intent, George Duke and Victor Bloodmoon after Macros was pinned by a member of the other team. The following week, Maverick's bad luck continued with a loss in a highly competitive match against Rich Morrison. After learning about Riley's black-mailing of POW Owner Tito Capaci to get a Tag Team title shot for M&M, Reck ended the partnership - telling Riley that he earns his title shots, and not by shady tactics like black mail. Later in the show Maverick continued his feud against Murderous Entertainment (Formerly Murderous Intent) when Maverick and Shawn Stevens defeated Midnight Felon and Night by DQ.
At POW Spring Breakage Reck Maverick and Josh Eagles started a best of 5 series to crown a number one contender for the POW Midwestern Heavyweight Title. Maverick won the first match and leads the series 1-0.
POW - Enter the Horsemen
At the first show of The Road to SuperMania III. Reck Maverick faced off against his half-brother Flap Flanagan and current rival Josh Eagles in a Triple Threat match. Maverick lost this match to Eagles after Flap turned his back on Maverick and allied with Eagles. Later on in the show Reck came out and helped Shawn Stevens, Lance Erickson, Big Ci and Dave Hunter from a gang assault by Murderous Entertainment. Afterward Ci offered Maverick a place in the his Four Horsemen XE stable and Maverick accepted. In the weeks that followed Maverick continued his feud with his brother when Flap cost Maverick the second match of the best of 5 series with Josh Eagles - bringing the series to 1-1. Maverick got his revenge against Flap at POW/UWC SuperMania III: United Power. After the match Flap and Reck dropped their vendetta and became friends again.
Following SuperMania, Maverick and Eagles had their third match in the series - in which Eagles pulled off the win to bring the series to 2-1 in his advantage. The next week Josh continued to rub it in Maverick's face when Josh and George Duke defeated Maverick and fellow Horsemen Big Ci in a tag match. After that Reck and Josh met again in match 4 of the series in which Reck won after Josh got disqualified when Shawn Stevens and the rest of the soon-to-be-named Royal Flush got involved and inducted Eagles into their flock. Maverick was saved by Big Ci and the two newest Horsemen - Kailus "Kez" Holmes and the POW World Champion Flying Diamond Cutter (Who replaced Lance Erikson and Dave Hunter after Hunter retired and Erikson jumped to the Royal Flush). POW Dixie Slampede was the stage for the final match in the Series - in the end Reck Maverick defeated Josh with the Cat's Eye Slash to become the number one contender for the Midwest Heavyweight Championship.
Following Dixie Slampede the Royal Flush and The Four Horsemen XE continued their feud leading into Americana, First it is was a 8 man Tag Team match pitting Maverick, Ci, Kez and FDCM of the Horsemen against Stevens, Morrison, Shadix and Eagles of the Flush, the Horsemen ended up winning that match which lead to two matches being booked the following week. Maverick and Flying Diamond Cutter Man versus Rich Morrison and Shawn Stevens as well as Kailus Holmes against Josh Eagles - Again the Horsemen were dominate as Reck and FDCM defeated Rich and Stevens in addition to Holmes injuring Josh Eagles and putting him out of action. Reck Maverick is now slated to fight Shawn Stevens at Americana for the Midwest Heavyweight Championship.
POW: Main Event
Reck Maverick and Shawn Stevens fought to a draw at POW Americana when the 60 minute time limit expired. Acting General Manager Jay T. Nitro quickly made a rematch between the two for Legendaria. Following Americana, Reck Maverick battled and defeated Lance Erikson in a "Pick Your Poison" match - Erikson was chosen by Stevens to be Reck's poison. After the match Stevens attacked Reck from behind with the Championship belt. Reck quickly responded by informing Shawn that his poison was going to be Kailus Holmes... and Reck Maverick which caused Nitro to book a tag match for the following show - Reck and Holmes against Stevens and Flying Diamond Cutter Man.
Earlier in the night the newly introduced POW Commissioner Nick Pickles announced that the Reck vs. Stevens II match was going to be a three stage of hell contest.. the first fall is a Submission Match, the second is a Last Man Standing and the final is to be chosen by the POW fans via a poll on the POW forums. Also during this time Reck Maverick replaced Big Ci as the Leader of the Four Horsemen - it is not known if Ci is still a member or not. Also Reck Maverick gained a manager in Reiko Kasumi - a former "assistant" of FDCM's.
At the August 3rd Road To Legendaria show Reck's partner Kailus Holmes didn't participate in the Tag Match because of a Head Cold - Holmes was replaced by his body guard Issac Marshall... Reck and Marshall would lose the match via DQ when Holmes got involved and attacked Flying Diamond Cutter Man. In a bizarre Tag Match a week later Reck Maverick and Shawn Stevens were declared the Best of the Best after defeating JR Zevon and John Anthony of POW North East as well as Kailus Holmes and FDCM in a Triangle Tag Match
POW: The Champ is Here!
At Legendaria Reck Maverick finally won the POW Midwestern Heavyweight Champion from Shawn Stevens after making Stevens submit with his Dragon Buckler finisher in the first fall and climbing the ladder to secure the belt in the third.
Following Legendaria Maverick found himself in a series of tag matches teaming with Big Ci to battle Oni and Jason Resurrection. Then teaming with John Anthony to battle No Remorse (The team of Kailus Holmes and Kyle "Fate" Neverwinter) and finally teaming with Ci again to battle Anthony and Buddy Johansson in a special Midwest Champions vs. North East Champions challenge. During the time between show Reck Maverick and his former partner / current girlfriend was attacked by The Green Ranger and he kidnapped Jayde... This sent Maverick into a rage and he brutally attacked Night at the next show before being restrained by his manager Reiko. Reck is currently scheduled in a triple threat Winner Take All Match at POW Reckless Abandon when Reck puts the Midwest Heavyweight Championship on the line against John Anthony's North East Heavyweight Championship and Josh Eagles' World Heavyweight Championship.
Maverick unified the Midwest, North East and World Championships at Reckless Abandon by making John Anthony submit to the Dragon Buckler and renamed the belts the POW Triple Crown Heavyweight Championship. He was successful in his first defense by defeating UWL World Champion Shawn Stevens in a surprisingly short match that saw Reck win by pinfall following a chokeslam.
Move Set
Finishers
Dragon Buckler (Full Nelson Back Cracker into Full Nelson Camel Clutch.)
Maverick Cutter (TKO)- Also has a Top Rope Version called the "Kage Maverick Cutter"
Ninjetti-Plex / Reider-Plex (A Bridging Back Suplex)
Signature Moves
Aftershock (Chokeslam w/ Thumbs Up - Tribute to Omega Storm)
Cats Eye Slash / Reider's Edge (Outsider's Edge)
Diet Pepsi Driver (Schwein aka Kryponite Krunch)
Double Arm DDT
Pepsi Myst (Poison Mist)* Only if opponent tries to remove the mask.
Rolling Corner Clothesline & Bulldog
Spine Buster
Ultimate Armbar of Ultimate Destiny (6 Seconds Magic)
Regular Moves
9-Punch in corner followed jumping Mongolian Chop
Airplane Spin
Body Slam
Crossface Chickenwing
Diving Crossbody Pin
Dragon Dropkick (Rope Assisted Drop Kick to Opponent tied in the Tree of Woe)
Dragon Sleeper
Fisherman's Suplex
Indian Death Lock
Jumping Face Buster
Ninja Kick (Scissors Kick)
Piledriver
Second Rope Leg Drop
Snake Eyes
Snap Suplex
Snapmare & Dropkick to back
Spinning Belly to Belly Suplex
Superfly Leap (during No DQ matches will wear Dragon Armour for extra damage)
Triple Leg Drop
Underhook Trapping Headbunts
Taunts / Poses
Big over-exaggerated Thumbs up
Various Ninja poses
Kip-up (Response to normal knock down moves)
Nin-Ja-Roonie (Response to be hit with a big move during an adrenaline rush or after drinking Diet Pepsi.)
"You Can't See Me" hand in front of face.
9 gestures of the Kuji-in (see http://www.ninjaa.com/kuji2.htm)
Spider-Man like crouch on Opponents chest (That's how he pins)
Career Highlights
MPW
World Heavyweight Champion
United States Champion
United Kingdom Champion
Tag Team Champion (with Omega Storm and Flap Flanagan)
PWF
United States Champion
Television Champion
UWL
CCWA
Tag Team Champion (with Jayde Nightwood)
POW
Midwestern Heavyweight Championship
North Eastern Heavyweight Championship
World Heavyweight Championship
Links
Ad blocker interference detected!
Wikia is a free-to-use site that makes money from advertising. We have a modified experience for viewers using ad blockers

Wikia is not accessible if you've made further modifications. Remove the custom ad blocker rule(s) and the page will load as expected.