Members of the Reservoir Dogs are Jason Steiner and L.E.T.T.E.R.M.A.N.
Jason Steiner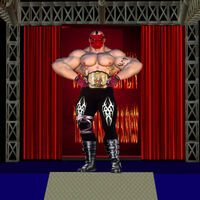 Name: Jason Steiner
Alias: Sickest S.O.B in the Business; Animal Thug; Master of the Suplex (formerly known as the "Super-Sayian")
Hometown: Detroit, Michigan
Height: 6'8"
Weight: 300 lb.
Appearance: Steiner is an extremely over muscular Caucasian male, who prefers to sport a skin head (hair is normally blonde). He has a tribal symbol on his left bicep for lightning when he was known with former JT Thunder as the tag team Thunder and Lightning. He wears black long tights with white tribal symbols on each leg, black boots, a chrome knee brace on his right leg, and maroon red Mechanix gloves. When coming to the ring he sports a chrome blood red Jason X hockey mask, which he takes off during regular matches, but will keep on during hardcore matches.
Alignment: The one of the most extreme and mentally unstable wrestlers in the business, combined with his sheer brute strength and unbelievable endurance, Steiner is the epitome of a walking wrecking machine.

TRAINING:
Steiner was trained at a young age by his father deceased wrestler Jack Steiner; he's also been trained under the Killer Kowalski School of wrestling. His later training was done in Japan by Jushin Thunder Liger, Big Van Vader, and finally former ECW World Champion Tazz when he returned to the states.

STRENGTHS:
Unbelievable Power and Resilience, Mastery of various suplexes: At 6'8" inches, 300 pounds of muscle with 10 percent body fat, Steiner is nothing short of power personified in the ring. Each blow from the juggernaught is like being hit by a freight train or raw steel. Those fortunate enough to walk away with a victory over Steiner end up walking out with a severe limp at best after the match is done. That fueled by his unstable psyche makes Jason absolutely dangerous in the ring. If it does damage Steiner has already tried it, or is going to try it be sure of that. Along with his mastery of the suplex which he can hit from anywhere using almost any variation makes Steiner practically the most deadliest opponent one would want to face.
WEAKNESSES:
Reoccurring Injuries: Steiner is the victim of many injuries during his wrestling career due to his hardcore nature. He's suffered from a broken neck, reconstructive surgery on his right knee twice, a torn bicep, and dislocated left shoulder. Many feel that these injuries which have put him on the shelf for majority of his career is what has limited his career to the potential it could have actually gone. Potential Achilles heels for him many feel that Steiner should seriously tone down his extreme behavior, or retire all together in order not to risk permanent damaging injury. But as the horror movie character he models himself after Steiner keeps on coming back, and he wouldn't be the sickest son of a bitch in this business if he didn't.
L.E.T.T.E.R.M.A.N
Name: L.E.T.T.E.R.M.A.N
Alias: Ghost Dog, Human Pitbull, Headbanger
Hometown: Brooklyn, New York
Height: 6'2"
Weight: 260 lb.
Appearance: TBA
Alignment: Neutral - TBA

TRAINING:
Graduate of the Killer Kowalski School of wrestling.

STRENGTHS:TBA

WEAKNESSES: TBA
Strenghts
TBA
Weaknesses
TBA
Combined Weight
560 lbs.
History
Jason Steiner's History
Steiner's past is one of controversy, trained at a young age of 12 by his father former wrestlers and heavyweight champion Jack Steiner; Jason would lose his father at the age of 16 to a car accident while coming back from an event. Steiner would continue his father's legacy finishing his training at the Killer Kowalski School of wrestling. After graduating, and wrestling in a couple of mini-circuits winning a minor heavyweight title here and there Steiner would be picked up by the @IW (At-bay Wrestling) and offered a contract with the GWF (Global Wrestling Federation) were he would go by the name Super Saiyan. His first match as a cocky overgrown hot tempered rookie would be against a veteran known as Pro-Pain at the first GWF Pay-Per-View. The match would start with Steiner dominating, only to end with Pro-Pain taking the then brash rookie out with his patented Dirt Nap. The defeat would not only anger Steiner, but teach him that he had a lot still to learn. It wouldn't stop Steiner however as he would form a rookie stable with two well known rookies (Pyro-Mainac and Brazyl Grazie) known as the SPG. They would prove to be a severe annoyance in the GWF as a group of rebel rousers. One of their infamous acts (implemented by Steiner) is when Jason would powerbomb then Dark Asylum leader Dante DeAngelis 15 feet off a platform through 4 tables. The assault would put Dante on the shelf as a wrestler for months, and spark the never ending hatred the two would possess for years to come. Dante would get his vengeance however at the next GWF Pay-Per-View, when in a well devised plan aided with the Dark Asylum, and Steiner's former members of the SPG who would betray him in Pyro and Grazie as they all would turn on him, beat him within an inch of his life, and put him through a table from a ladder.
Down but not out, Steiner would return with another stable known as the SPF, this would include him and a tag team known as the Suicide Blondes and Mondo Brown. Steiner would go on to battle with many occasions with the Dark Asylum now bigger with his former stable mates included. He would also make a run for the GWF Heavyweight title in a tournament only to be stopped in the semi-finals by former stable mate Pyro-Mainac. Another one of Steiner's infamous acts along with his stable would be to steal the legendary name of the Xtreme Kings from the GWF's sister federation WCWF (World Championship Wrestling Federation) consisting of Dangerous Doug Nichols, Revelation, Doomsday Machine, Armageddon, and Eddie Trash. Nicoles would provide the first assault by personally coming over from the WCWF to the GWF to attack Steiner in his own locker room, but the remaining former members would finish the job, by kidnapping the entire stable of the SPF, and beating them with ball bats while they were in coffins in front of a live audience.
The GWF would soon close down, and all GWF wrestlers were immediately drafted to the WCWF. Within a month of being in the WCWF Steiner would be shelved as a returning Dante with the aid of the Dark Asylum would set him on fire during a match. Along with a damaged knee Steiner would go through months of rehabilitation; he would also venture to Japan where he would hook up with Jushin Thunder Liger and Big Van Vader who would take him under their wing and reinvent his wrestling style.
Steiner would return under his real name, but keeping the Super-Saiyan gimmick close hunting Dante personally for revenge. Their grudge match at a WCWF Pay-Per-View would end in a no contest due to interference, and Dante would head over first installation of the IEW to compete. With Dante gone, Steiner for a time would refocus on his career, teaming up with a new rookie to the WCWF known as JT Thunder to form Thunder and Lightning; they would prove to be an impressive tag team but would fall short of tag title gold. Singles gold wouldn't prove to be a problem for them as Steiner would pick up his first singles title in the WCWF New Breed title, afterwards followed by a run as the WCWF Extreme Champion. Steiner would be personally known for his battle with Billy Bishop (Former multi-time UWA Heavyweight and World Champion) where he would force Bishop to retire in one Japanese Death Match, and force his sister Mary Jane Golden to be his slave. Steiner would once again call himself the King of Extreme boasting greatly over it only to be challenged by former Dark Asylum member Jacques Armato in a boiler room match, the match would prove to be brutal, but in the end Armato would prevail in his specialty match which would bar Steiner from the Extreme Division for a year and cause him to public ally announce that he was no longer the King of Extreme.
Steiner would do so, but in an act of defiance level Armato with a steel pipe, an announce that though he was no longer the King of Extreme but he was still the Sickest Son of a Bitch in the Business there by giving birth too his new image.
Fueled by his new persona, Steiner upon being recruited by the IEW would capture the IEW Solid Steel title and go onto to the huge @IW Pay-Per-View Overflow to battle second tier counterparts, Poseidon (WCWF Intercontinental Champion), Armageddon (CWU Steel Cage Champion), and Titan Terror (GWF International Champion) for the @IW International title. Though Steiner would eliminate both Armageddon and Poseidon, Terror would have Steiner's number taking the Umbrella title.
Black Friday would hit closing the @IW for good, Steiner retiring the last IEW Sold Steel Champion, would take time off to train and address the reoccurring injury of his battered knee again. He would return to the opening of the UWN (Unified Wrestling Alliance) recharged and armed with a chrome Jason X Hockey mask which would be his train mark more build then before making a severe impact as he would head to the CWU (Colossal Wrestling Unified) to capture the CWU Steel Cage title from former champion Justin Justman in steel cage match. Steiner would also go onto win the CWU Blue Collar title (a hardcore variation title) on three difference occasions.
Steiner's noted highlights in the CWU would be his bloodied glass shards battle with Scott "The Game" Smith, among with many famed Seven Stages of Hell matches he'd be in. Some of his most famous stints would be the use of a glass baseball bat on Chris Clock a.k.a "The Body", putting heating cream in the entire rival stable of Badd Productions underwear, and aiding then tag partner Apocalypse in capturing the CWU Blue Collar title, by powerbombing then champion Brian Clothier through a Hell in a Cell Cage right through a table.
His greatest achievement would be capturing the CWU Heavyweight title from none other than the man who caused him to relinquish his King of the Extreme name, current champion Jacques Armato. After running through a tournament to get the title shot, Steiner would come face to face with the champion at the up-and-coming CWU Pay-Per-View. The match would be nothing short of explosive as Steiner would battle Armato from ring post to ring post in the end hitting the Saiyain's Hammer, and making Armato relinquish his title as champion as Steiner would be crowned the new CWU Heavyweight Champion.
Steiner would go onto to defend the title until the untimely closing of the CWU, but the final CWU Heavyweight title match would take at GWA Ferdaheluvit June 14, 2003 at Arco Arena - Sacramento, CA. Steiner would once again battle rival Armato at in a Dark Asylum Boiler Room match which Steiner would personally choose. Brutality at its finest would be an understatement for this match, as the two would battle in the most bloodied boiler room match ever. Steiner would gain the upper hand with a well placed fire extinguish to the head, and then hitting a Tiger Driver from off top level of the boiler room putting Armato through some crates below, but it wasn't enough to put the challenger down as Armato with a well placed Flying DDT would take back his title.
The battle would leave Steiner with a torn bicep and dislocated shoulder shelving him for many months until he would make his return in the second installation of the IEW. His returned would be shorted lived in a heated battled with returning Dante DeAngelis. Steiner would suffer a broken neck due to a nasty spot he took during a match. Steiner's career would possibly be shelved for a year or so with no possible return.
Jason however would not refuse to surrender to his most devastating injury as he would go through months upon months of rehabilitation enforcing the muscles in his upper body specifically, he would also train under former ECW World Champion Tazz's camp redeveloping his skills and master several variations of the suplex to perfection. Steiner would raise from the dead one more time, more jacked then ever, and once again dawning his trademark Chrome Hockey Mask now blood red returning the reopened FCW on a mission. He would team with former multi-time Heavyweight and World Champion Letterman to former the team known as the Reservoir Dogs getting several shots of at the FCW Heavyweight and Tag titles. Though coming up short on it proved that this time Steiner was here to stay, the Reservoir Dogs would expand into a stable headed by Layne Anderson, and including Jersey Joe Hoar a rookie from the Machine (Small training Federation).
The stable would make a respectable impact on the FCW until its untimely closing. Steiner would once again return to the dungeon of Tazz for about a month honing his skills until resurfacing once again in the PWF (Phenomenal Wrestling Federation) within the PWF World Heavyweight Division locking horns once again with arch-rival Dante DeAngelis. His mission clear as he continues to fulfill his father's legacy and become a famous well-known wrestler and World Champion with one twist…this time…to bring the Sickness which is Steiner…to everyone.
L.E.T.T.E.R.M.A.N's History
TBA
Reservoir Dog's History
TBA
Future Goals
Still raising hell and looking to win more tag championships...
Previous Leagues
BWI Battlefield Wrestling Industries/originally UWN (Superior Wrestling Alliance and Phemonial Wrestling Federation)
Tag Team Accomplishments
Jason Steiner's Tag Team Accomplishments
EEW World Tag Team Championship 2-times (L.E.T.T.E.R.M.A.N – Reservoir Dogs)
L.E.T.T.E.R.M.A.N's Tag Team Accomplishments
EEW World Tag Team Championship 2-times (Jason Steiner – Reservoir Dogs)
SCW Tag Team Championship (w/ sister Alize)
Reservoir Dogs' Tag Team Accomplishments
EEW World Tag Team Championship 2-times
Other Awards
TBA
Signature Moves
Insane in the Membrane: With the Reservoir Dogs and their opponent's in the ring, L.E.T.T.E.R.M.A.N starts out administering a 40 oz. of Whoop Ass on his opponent, while Steiner pummels his into submission, they both will back up and rush their opponents clotheslining them over the top ropes to the ringside floor. Theatrics usually come with them cursing their opponent's out. They will then turn to each other nodding rush the ropes again, and dive over the top rope onto their opponents. Steiner with a cross body block, and L.E.T.T.E.R.M.A.N with either a cross body block or a hurricanrana driving opponent into the floor.
Finishers
D-Block – Lock Down 1: The Reservoir Dogs both grab Legal Opponent, locking him into a double forearm choke. The Reservoir Dogs hoist Legal Opponent into the air and the sweep his legs out from underneath him while drilling him into the mat .The Reservoir Dogs leap to their feet, as Illegal Opponent tries to get into the ring, but Steiner charges and nails him in between the ropes with a hard shoulder thrust to the gut. As Letterman breaks into a run himself, and dives over both Steiner and Illegal Opponent into a sunset flip grabbing Illegal Opponent on the way down to ringside floor, Steiner leaps up into an explosive 300 pound drop kick knocking Illegal Opponent off the apron allowing Letterman to powerbomb him into the floor. In the midst of all the commotion Letterman joins Steiner back into ring, Legal Man of RD goes for the pin on Legal opponent.
D-Block – Lock Down 2: The Reservoir Dogs both grab Legal Opponent, locking him into a double forearm choke. The Reservoir Dogs hoist Legal Opponent into the air and the sweep his legs out from underneath him while drilling him into the mat. The Reservoir Dogs leap to their feet, as illegal opponent rushes into the ring, Letterman cuts him off by rocking him with straight rights, cocking back and bitchslapping him across the face! Steiner then takes a stunned illegal opponent from behind hoisting him onto his shoulders in an Argentine backbreaker rack position, he lines himself of with a stunned legal opponent still on the mat and the turnbuckle, as Letterman runs and leaps on the top turnbuckle behind Steiner. Letterman leaps off and double foot stomps illegal opponent on Steiner's shoulder as Steiner drops down, and hits an over the shoulder backbreaker. Letterman then somersault over Steiner into a 450 splash crashing down on Legal opponent. Both Steiner and Letterman get to their feet as Legal Man of RD dives on top of Legal opponent holding him for the pin.
Ad blocker interference detected!
Wikia is a free-to-use site that makes money from advertising. We have a modified experience for viewers using ad blockers

Wikia is not accessible if you've made further modifications. Remove the custom ad blocker rule(s) and the page will load as expected.