Rhiannon
Talk

0
11,337pages on
this wiki
Rhiannon Leblanc

Billing information

Ring Name(s):
Rhiannon
Height:
5'8 (Five Foot, Eight Inches)
Weight:
120 lbs.
Date of Birth:
January 1st, 1992 (21 years old)
Date of Death:
{{{DOD}}}
Place Of Birth:
Westfield, New Jersey
Resides:
Trenton, New Jersey
Billed From:
Trenton, New Jersey
Family:
{{{family}}}
Theme Music:
"My Derailment" by Adelitas Way
Affiliation(s):
{{{affiliation}}}
Federation(s):
World Elite Wrestling
Brand(s):
{{{brand}}}
Previous Federation(s):
N/a

Wrestling information

Alignment:
Heel
Wrestling Style:
Technical
High Flyer
Dirty

Finisher(s):
{{{finisher}}}
Manager:
{{{manager}}}
Trained By:
Alakai Burke
Handler:
Zoey EWIKIA USERNAME: ZWaltersxo

Professional career

Debut:
December 18th 2011
Record:
{{{record}}}
Rhiannon Francesca Leblanc better known in the wrestling world as just Rhiannon is an American professional wrestler and valet currently working for World Elite Wrestling on its Friday Night Adrenaline brand where she is a two-time and current WEW World Champion sharing the record for most reigns with rival, Shady Layne. Leblanc is also former WEW Women's Champion holding the longest reign for that belt at two hundred and ninety five days. Rhiannon was the fifth person to reach the 200 day mark in her championship reign and is the longest reigning champion in the history of WEW.
Training
Before Rhiannon's first run with World Elite Wrestling she knew she had to go through some sort of training. Right after Alakai Burke was able to get her out of the mental facility he offered to give her some official wrestling training. She accepted the offer and went through various mental and physical tasks before eventually getting the 'ok' from Burke to begin her career as a professional wrestler.
First World Elite Wrestling Run(2011)
Debut, Contendership, and leaving the company.
Rhiannon made her debut by winning an open battle royal to determine one of the few first contenders to the brand new WEW TV Championship. Leblanc won that battle royal and was named one of the contenders. In her final match as a Starlet she had to face Emily Martin, Rhiannon lost the match and was released from the company. Her championship shot was then handed to Emily Martin. After being released she was taken back to the Trenton Psychiatric Hospital.
World Elite Wrestling(2012-)
Return, WEW Women's Championship, and Feud with Trish Newborn
The Starlet was rumoured to making a World Elite Wrestling return after WEW founder and co-owner Alakai Burke went to the Trenton Psychiatric Hospital and sat with Rhiannon as she spoke with her therapist about the possibility of being able to leave the Hospital. Eventually the founder of World Elite Wrestling was able to help Rhiannon convince everyone that she was better mentally and they let her go a year before her actual release date. Right after being let out of the hospital Rhiannon needed work and the only thing she knew was wrestling. Alakai Burke signed Rhiannon to a deal with World Elite Wrestling.
In her return match Rhiannon was defeated along with many other Elitist and Starlets in an over the top rope battle royal match at WEW's first draft supershow. After Zharya Burke pulled Rhiannon out of the ring and beat on her she threw Rhiannon back into the ring causing her to be eliminated by Danny Blade. The following week Rhiannon defeated Kelly Kelly in a singles match. After, Rhiannon was set to face Dezirae Spencer for a chance to be in the fatal four way WEW Women's Championship match at WEW Crossroads. Rhiannon defeated Dezirae. At Crossroads Rhiannon pulled off a shocker and defeated Waverly Tollerod, WEW vetetan Brooklyn Carter, and one of the best and Adrenaline General manager's handpicked Starlet in Trish Newborn to win the vacated title and upset Team Nathan.
The following weeks Rhiannon picked up multiple wins, at the same time Trish Newborn was named number one contender for a singles match against Rhiannon after she claimed Rhiannon's win a fluke. Stating Rhiannon never pinned her. At WEW Beach Brawl Rhiannon successfully defended her WEW Women's Championship by pinning Trish Newborn.
Feuding with Nova Wonder
After Beach Brawl Rhiannon would go on to defeat the Legacy Case Cash-in winner, Jazzy Lynch. The following weeks became hard as the Women's champion would lose two matches back to back. A tag team match teaming with Hannah Walters to lose against Cassidy Hightower and Shady Layne, Layne pinning Walters in the end. The second was a three on one handicap match on Nathan Parker appreciation night. The team of Shady Layne, Ruby Winters, and Nova Wonder beating Rhiannon. Layne again getting the pin. Nova Wonder began to brag on twitter about two wins she had over Rhiannon in a six woman tag and the handicap match. She called Rhiannon multiple names related to animals but Rhiannon called Nova out on lies that eventually cost Wonder her boyfriend in Calvin Harris along with getting multiple people on twitter to disagree with Nova's claims that Rhiannon was ugly and looked like a dog. They in fact said Rhiannon was beautiful. The feud got taken to a new level after that. The week before Third Degree Burns Nova said things along the line of 'you can't beat me.' And 'you lose every fucking time we face off.' At Third Degree Burns Rhiannon defeated Nova Wonder by pinfall in their third and final match a singles match to retain her title and prove she was the better Starlet. Nova quit the company a day after the pay-per-view.
Various matches and Free Fall to Fury Match
In the weeks after the heavily anticipated match with Nova Wonder at Third Degree Burns, the Goddess Of Adrenaline competed in various matches. From winning against former World Wrestling Headquarters star Jessie Goldberg to losing a triple threat match via Shady Layne pinning Hellcats member, Shauvon. Rhiannon maintained not being defeated in a singles match since her return back in June 2012. During the month of November however, Rhiannon developed a hate for a new Starlet, Ruby Winters. Ruby had been attempting to make a name for herself at the Goddess' expense. Attacking Rhiannon on two different occasions, Ruby was suspended for it. Rhiannon has made it known that she'd be coming straight at Ruby when she returned to action. Meanwhile a new Number one contender for the WEW Women's Championship was named when Mercedes Vargas defeated Rosa Acosta to claim the spot for a match with Rhiannon at WEW's second Free Fall To Fury pay-per-view. At Free Fall to Fury Rhiannon defeated the Veteran Mercedes to retain her Championship again for the third time. Following that win Rhiannon demanded a match against Ryan Jackson due to him attacking a good friend of hers in Kameron Copeland during his wedding with Sophia Gabriella-Copeland. The next Adrenaline Rhiannon was set to face Zharya Burke but before Zharya could make her way to the ring Brutus Magnus and Tom Sykes ambushed her backstage. Rhiannon ran backstage to help her. The match was considered a no contest. That same night Rhiannon attacked World champion, Ryan Jackson, in the ring when he was beating on Collin Cole. Due to the heat Rhiannon and Ryan had, and the fact that the Goddess was fighting for both her best friend, Shady Layne. And her favorite wrestler in Kameron Copeland, Haylee Beaulieu set up a main event match for the two set for the next show. Rhiannon would win that match the next week, Copeland got some pay back against Jackson.
Injury, Return, and Battlefield
From there on Rhiannon would defend her championship against Mercedes Vargas a second time successfully and become the longest reigning champion in WEW history. After a match with the WEW TV Champion, Adrian Jobs, multiple minor injuries required Rhiannon to take a month break from WEW. Upon returning she picked up a win with Kevin Kilbourne against Adrian Jobs and her new number one contender, Caroline. At Battlefield, Rhiannon's historic WEW Women's Championship reign came to and end against Caroline when her former best friend, World Champion Shady Layne turned on her and cost her the title. Ending her time in the Women's division.
Feud With Shady Layne, Heel Turn, and World Championship Reigns
After losing her championship and her best friend Rhiannon became silent in all social media excluding one photo titled betrayal. Rhiannon confronted Shady the next week. The two obviously had a lot of heat. Shady felt like Rhiannon was fake. Rhiannon was just upset. It eventually started to build up to a Retribution Championship match between the two. A week before the Retribution pay-per-view event Rhiannon viciously attacked Shady causing her to be stripped of the World Title after being deemed injured and unable to compete. In addition Rhiannon attacked both JJ and Jessie Goldberg. Near the end of the show general manager Haylee Beaulieu rewarded Rhiannon. Giving her a World Championship match against the Case Cash-In holder, Jazzy. At the Retribution pay-per-view event Rhiannon captured the
WEW World Championship
, her first world title run period.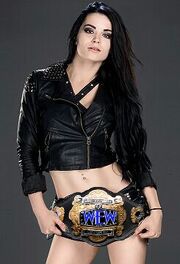 The following weeks Rhiannon continued her reign of terror. Then during the middle of an Adrenaline main event match against Jessie Goldberg chaos erupted, Shady Layne returned clearing the ring out. Then attacking a downed, tired out Rhiannon making her presence known. In the weeks following Zharya Burke had placed Shady Layne into the triple threat match making the Legacy main event a fatal four way. Rhiannon would defeat Titan Champion,
Trish Newborn
, for a third time overall on the fiftieth episode of Friday Night Adrenaline. At Legacy the fatal four way took place, during the match all four participants battled it out until Rhiannon hit the 2013 Retribution Rumble winner, Gabriel Asar, with the Candy Land finisher pinning him. At the same exact time Shady Layne had her arm over the chest of Adrian Quinn, the man who was placed into the match without any real claim to it. The referee counted to three. Everyone thought the match was a draw until Shady Layne was announced the new World Champion. Only acknowledging her pin. Exactly one week after Legacy, Rhiannon had announced that she and Gabriel Asar were forming an alliance. Then Rhiannon took two weeks off. At Beach Brawl in her official rematch, Rhiannon defeated
Shady Layne
to reclaim the WEW World Championship. Making her a two time champion. More importantly, ending Shady Layne's year long undefeated streak at twenty six wins and one loss.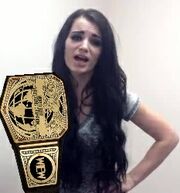 Wrestling Information
Finishing Moves

Candy Land (Double Knee Backbreaker) -2012–Present
The Rhivision (Savate Kick) -2013–Present
Signature Moves

Suicide Note II(High Impact Clothesline)
The deadline(Missile Dropkick)
Hammerlock
German Suplex
Russian Leg Sweep
Bulldog
Side Kick
Sitout Facebuster
Arm Drag
Diving Crossbody
Springboard Clothesline
Bite to the cheek
Strong Irish Whip to the corner
Entrance Music

"Decode" by Paramore (WEW)
"My Derailment" by Adelitas Way (WEW)
Nicknames

Goddess Of Adrenaline(WEW)
Divine Diva(WEW)
Championships and Accomplishments
WEW Awards
The WEW Awards are awards given out annually by World Elite Wrestling to celebrate members of its roster. Part of the awards are awarded to Superstars via an exclusive voting committee while the other half are fan voted (the Viewer's Choice Awards).
| Year | Nominated Work | Award | Result |
| --- | --- | --- | --- |
| 2012 | Herself | Comeback Of The Year | Won |
| 2012 | Candy Land | Finisher Of The Year | Nominated |
| 2012 | Herself | 2012 People's Champ | Nominated |
| 2012 | Herself | Cutie Of The Year | Nominated |
| 2012 | Rhiannon vs. Nova Wonder | Feud of the Year | Ranked #18 |
| 2012 | Rhiannon vs. Trish Newborn | Feud of the Year | Ranked #20 |
In Other Media
On July 22 Rhiannon took her first photoshoot for World Elite Wrestling for crossroads hours before her first Championship match. These pictures can be seen at WEW.com on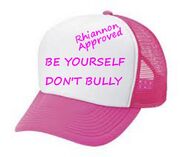 Rhiannon's profile page. In September 2012 Rhiannon was featured on the poster for WEW Third Degree Burns with WEW Champion,
Chance Rugani
. On October 11 Rhiannon announced that her brand new "Be yourself, Don't bully" hat was on sale at WEW.com.Rhiannon also takes part in her fair share of WEW based commercial media.
Personal life
Rhiannon was born in Westfield, New Jersey in a peaceful neighborhood to middle class parents, Aurore and Apollo Leblanc. Throughout her early childhood Rhiannon was a troubled child never doing good socially at home or at school. She suffered from having bi-polar disorder. At the age of thirteen she was sent to live with her aunt, Nancy, in Trenton, New Jersey. There she didn't improve at all. Rhiannon went as far as to choke another girl her age to the point where she passed out. After that Nancy sent Rhiannon to a mental hospital in Jersey at that young age of fifteen. There she got into the sport of wrestling. Spending the majority of her time watching Alakai Burke - then called Dominick Starr on UFL! One day when Rhiannon turned eighteen Nancy arranged a meeting between the Starr/Burke family and Rhiannon. From there on Alakai noticed a passion in Rhiannon for wrestling and the Burke family decided to keep in contact with the young Rhiannon, even providing her with material things when she didn't have them. She slowly improved until she was released at age 19 to wrestle for World Elite Wrestling. After her first run's failure she had a melt down and was sent back. In June 2012 WEW owner, Alakai Burke, helped Rhiannon convince the people in charge of the Hospital that she was ready to leave. It worked and Rhiannon was then signed to World Elite Wrestling again. Currently, Rhiannon owns a house in Trenton, New Jersey. Her former best friend is fellow starlet Shady Layne.
External links