Ri'chard Reiner
Talk

0
11,330pages on
this wiki
Ri'chard Reiner
Billing information
Ring name(s)
Ri'chard Reiner (AWE, WCW, GOW, WAW, ECWF)
Ri'chard von der Haar (GOW)
Hexen (EWF, DGE, ECWF)
Riley Manson (EWF)
"Ace of Spades" Robert Romano (EWF)
Muhammed Azhar (ECWF)
Mars Lee (TW, LWR)
Height
6 ft. 9 in.
Weight
299 lb.
Born
August 12, 1964
Birthplace
Perth, Western Australia
Hometown
Las Vegas, Nevada
Billed From
Berlin, Germany
Perth, Western Australia
Sin City
Theme music
"Mauled/Iris Remixed" by Ri'chard Reiner, Scott Jones, ASCAP Pub
Affiliation(s)
Syria, Ghost Reiner, Savannah Reiner, Jordan Lee, Kid-X
Federation(s)
Attitude Wrestling Evolution
Brand(s)
Previous federations
Wrestling information
Alignment
Face
Wrestling style
Technical, All-Rounder, Submission, Powerhouse
Finisher(s)
The Widowmaker
Chaos Theory
Bones HARMony
The Laughing Corpse
Adios
Will
Won't
Trainer
Till Lindemann
Handler
Rob
Professional career
Debut
ECWF (1996)
Record
Accomplishments
Retired
Aliquis Ri'chard "Alex" Odala (born on August 12, 1964 in Perth, Western Australia, Australia) is an Australian born professional wrestler of German descent, as well as notable graphics designer, actor and musician, better known by his ring name Ri'chard Reiner. He is best known for his long-time tenure with Tainted Wrestling, World Attitude Wrestling, World Class Wrestling and more recently, Gods of Wrestling. He is currently signed to Attitude Wrestling Evolution where he is the vice president.
History
Odala was born in Perth, Western Australia. As Australia is heavily influenced by American culture, many American television programming was also available, including professional wrestling which caught Odala's interest. He travelled to Miami, Florida where he trained to become a professional wrestler. He met his wife, Jordan, an actress and model while travelling to the United States. The couple wedded in 1996. Unfortunately, Jordan was murdered in 2007 during a random home invasion but her body was never found. He later met his current wife, Jennifer Styles better known as Syria in 2007.
Extreme Canadian Wrestling Federation (1996-1997)
Ri'chard was recruited by the Extreme Canadian Wrestling Federation (ECWF) in late 1996 due to a shortage of roster talent and remained in their version of a development camp where they trained Ri'chard.
In 1997, he started his path of destruction as a masked character, Hexen. The ECWF had only one championship title so Ri'chard never was booked in championship matches as the main event stars who had been with the federation much longer were given priority. Ri'chard earned his way up the ladder into main event matches in the ECWF, but later resigned as he was awarded with no title shots when promised otherwise.
Dangerous Ground Entertainment (1997-1999)
Ri'chard moved on to Dangerous Ground Entertainment (DGE) in late 1998 where he continued his Hexen character, quickly reaching main event status and held numerous titles such as the DGE Tag Team Titles, DGE UK Championship and of course, the federations's most prestigious title, the DGE heavyweight championship. After repetitive competition and a "never-changing" roster, Ri'chard became a free agent, joining another federation known as the Extreme Wrestling Federation, although remained actively in DGE as a trainer, then later being inducted into their Legends category in 2003.
Extreme Wrestling Federation (1999-2005)
Wrestling mega-power, Extreme Wrestling Federation (EWF) was perhaps the largest part of Ri'chard's professional wrestling career. Debuting as his character, Hexen, he maintained the same gimmick and in turn, promoted the ECWF and DGE when referring to them to somewhat prove his reek of havoc and his history in the wrestling industry. Due to the federation's extremely large roster, there were two shows, RAW and SMACKDOWN! with the roster divided between the two. Ri'chard was signed to its SMACKDOWN show.
As Hexen, he quickly made a name for himself in the big leagues with an undefeated streak, earning himself shots at numerous EWF titles such as the Hardcore, European and International Championships. He was eventually introduced into main event matches for the main event listed stars to attempt and break his undefeated record. Instead, Ri'chard won the EWF Championship and reigned the champion in 2001, remaining the champion for 18 months due to only having to defend the championship at pay-per-views due to its prestige.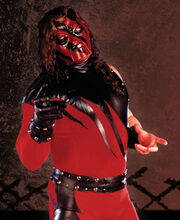 It was then when EWF star,
ThaPat
stepped forward and announced that Hexen was his brother (kayfabe). After numerous weeks in ThaPat interfering in Ri'chard's matches, the two finally squared off in a match would resulted in the two "reuniting". As ThaPat was already in a stable called the
666 Mafia
, Hexen became a member of the mafia, along with already members
Foxxxy
, and
Kid Devil
. ThaPat influenced Ri'chard to lose the masked gimmick, soon reverting to his real name and appearance (kayfabe), Riley Manson, the brother of ThaPat, Patrick Manson.
As Riley Manson, he also formed a tag team with British Wrestler, Steve Williams, as 'The United Nations' in 2003, while apart of the 666 Mafia. Riley was soon disbanded from the 666 Mafia when he and Steve were drafted to the RAW show, while the remaining members of the 666 mafia remained on SMACKDOWN! Ri'chard was perceived as a heel after the antics of Steve. The tag team was short-lived soon after as Ri'chard reinstated himself as a face and a main event, singles star.
Ri'chard was transferred back to SMACKDOWN! due to disagreements with the general manager of RAW, rejoining the 666 Mafia. However it would all come to an end when ThaPat announced that he was not the brother of Hexen, and lied to destroy the honor of Hexen and to help the wrestlers of the EWF have an opportunity at writing history for softening Ri'chard up in order to get his undefeated streak broken. Ri'chard reverted to the masked Hexen character once again and severely injured ThaPat and Kid Devil, then taking a hiatus from the EWF due to further disagreements when Ri'chard was meant to take over the managerial services of the SMACKDOWN! brand.
Ri'chard also signed on as another character on RAW, 'The Ace of Spades' Robert Romano where he competed in dark and lower card matches, but this character was also abadoned due to Ri'chard's departure after being rejected of the RAW General Manager position.
Chemical Burn Wrestling (2003-2004)
Ri'chard opened his own federation called Chemical Burn Wrestling (CBW) while in the EWF and remained mediochre till its closing doors in early 2004. With its small roster talent, it was set to be merged with the EWF when Ri'chard was promised the RAW General Manager position, but after being denied the position and departing the EWF, Ri'chard continued running the company, holding numerous championships along with EWF star and former tag team partner, Steve
Williams who would later take over CBW and rename it to Ultimate Wrestling Alliance (UWA).
Lawless Wrestling Renaissance (2005-2006)
Ri'chard was influenced to join Lawless Wrestling Renaissance (LWR) by former best friend and fellow wrestler, Attax. Ri'chard joined under the name, Mars Lee and was worked together with a female star who would become his on-screen wife, Jordan Lee. Although Attax and Ri'chard were never in an official tag team together, they frequently tagged with one another, but focused on their own individual careers and exhibited their friendship on-screen.
Both Attax and Ri'chard were two of LWR's biggest names and eventually clashed when they were in a triple threat match to win the LWR World Heavyweight
Championship. Attax won the championship and the two remained friends until later down the path when they were set to face each other again. Ri'chard won the championship on this occasion and held the title for four months before the LWR closed it's doors. Ri'chard was sold the title.
Tainted Wrestling (2006-2007)
Off-screen, Attax and Ri'chard started a service called Tainted Graphix. This led to opening up a federation together called Tainted Wrestling. It eventually became a large promotion. He continued using his Mars Lee character and Jordan Lee followed. Ri'chard introduced the LWR World Heavyweight Championship as an alternate world title for the growing roster which caused a downfall, much to the federation's dismay. However, Tainted Wrestling remained open until Jordan was murdered in a random home invasion. Ri'chard decided to take grievance leave.
Extreme Championship Wrestling Federation (2007)
In 2007, Ri'chard joined Extreme Championship Wrestling Federation and jumped straight into the federation's 24/7 hardcore league, which he considers his as Muhammed Azhar, disguising himself wearing a mask and traditional middle-eastern clothing. Due to ECWF's large roster, the show was divided into two brands, RAGE and Download! Ri'chard was signed to RAGE and remained with the show while competing in the hardcore league.
Restricted by the company's vision on race, Ri'chard abandoned the middle-eastern character and signed up as 'The Fallen Angel' Ri'chard Reiner. He climbed the ladder, eventually winning the EWF World Championship. Ri'chard forfeited the title because, in the words of Ri'chard, "the owner is an asshole".
World Attitude Wrestling (2008)
After a hiatus from the wrestling scene, Ri'chard Reiner debuted as 'The Fallen Angel' Ri'chard Reiner. in World Attitude Wrestling (WAW) in 2008. Due to name conflicts with another wrestler in the WAW, Ri'chard changed his nickname to 'Der gefallene Engel', the German translation of 'The Fallen Angel', but this was soon reverted after The Fallen Angel disappeared from the federation. After a month in, Ri'chard Reiner died shortly, appearing in a mere four
WAW shows, which was discovered to be just a gimmick to intensify the introduction of Ri'chard in a planned future event, however the original owner of WAW walked off and handed the federation over to two WAW main eventers who refreshed the federation. Ri'chard left the WAW.
World Class Wrestling (2008-2009)
Ri'chard Reiner founded World Class Wrestling with long-time friend, Robin Banks where he introduced the LWR World Heavyweight Championship to the WCW which was renamed to the WCW Global Championship. He is the CEO as well as a wrestler nd appears with Syria. After a few months, World Class Wrestling was closed and the website was shutdown.
Gods of Wrestling (2009)
In mid 2009, Ri'chard joined Gods of Wrestling (GOW), a spin-off of the WAW. Ri'chard Reiner introduced his current real-life partner, Syria Styles to the GOW, acting as Ri'chard's manager and motivational figure. The two soon joined forces with The Fallen Angel in June 2009, forming the faction called The Devil's Rejects. In July 2009, Ri'chard had plans to make his real-life marital arrangements with Syria public through GOW, however Ri'chard's ex-wife, Jordan kidnapped Ri'chard on his way from Denver to Las Vegas, proving that she had never died and had closely followed him. Veritas split in late September 2009 after differences of opinions between The Fallen Angel and Ri'chard. In October 2009, Ri'chard officially changed his show name to Ri'chard von der Haar.
Attitude Wrestling Evolution (2010)
In January 2010, Jus Huntley and Ri'chard formed a partnership and launched Attitude Wrestling Evolution. In January 2010, Jus Huntley and Ri'chard formed a partnership and launched Attitude Wrestling Evolution. Initially, Ri'chard feuded with Griffin Hawkins and defeated him in a ladder match at Full Throttle and became the first ever AWE Freedom Champion. The same night, Ri'chard joined Chaos Without Limits lead by Nova Huntley, Jus Huntley's brother.
In Wrestling
Finishing Moves

The Widowmaker (Fireman Carry Slam)
Chaos Theory (Jackhammer)
Bones HARMony (Inverted Full Nelson to Face Buster)
The Laughing Corpse (Running Bicycle Punt Kick)
Adios (Cobra Clutch)
Chokeslam - as Hexen
The Hexen Effect (Evenflow DDT) - as Hexen
The Mars Effect (Evenflow DDT) - as Mars Lee
Shooting Star Press - as 'Ace of Spades' Robert Romano
Entrance Themes

"Mauled/Iris Remixed" by Ri'chard Reiner, Scott Jones, ASCAP Pub BY Freeplaymusic.com - as Ri'chard von der Haar/Reiner (Current)
"Iris" by Scott Jones, ASCAP Pub BY Freeplaymusic.com - as Ri'chard von der Haar
"Iris (Extended Australia Mix)" by Ri'chard Reiner, Scott Jones, ASCAP Pub BY Freeplaymusic.com
"Iris" by Scott Jones, ASCAP Pub BY Freeplaymusic.com - as Ri'chard Reiner
"Born Slippy" by Underworld - as Ri'chard Reiner
"Mein Teil" by Rammstein - as Ri'chard Reiner
"Out of the Fire" by Jim Johnstone - as Hexen
"Burned" by Jim Johnstone - as Hexen
"Ace of Spades" by Motorhead - as 'Ace of Spades' Robert Romano
"Desert Warrior aka Muhammad Hassan Remix" by Jim Johnstone - as Muhammed Azhar
Stables

The Devil's Rejects/Veritas (GOW)
666 Mafia (EWF)
United Nations (EWF)
Accomplishments

World Class Wrestling Global Champion (1)
World Class Wrestling CEO & Founder
Lawless Wrestling Renaissance World Heavyweight Champion (7)
Lawless Wrestling Renaissance International Champion (1)
Lawless Wrestling Renaissance Tag Team Champion (2)
Lawless Wrestling Renaissance Hall of Famer 2005
Tainted Wrestling World Heavyweight Champion (3)
Tainted Wrestling International Champion (1)
Tainted Wrestling South Pacific Champion (11)
Tainted Wrestling Tag Team Champion (1)
Tainted Wrestling Hall of Famer 2007
Extreme Championship Wrestling Federation World Champion (1)
Extreme Championship Wrestling Federation Showtime Champion (4)
Extreme Championship Wrestling Federation Hardcore Champion (27)
Extreme Wrestling Federation World Champion (8)
Extreme Wrestling Federation Intercontinental Champion (1)
Extreme Wrestling Federation Hardcore Champion (12)
Extreme Wrestling Federation Tag Team Champion (17)
Chemical Burn Wrestling Global Champion (5)
Chemical Burn Wrestling State Champion (1)
Chemical Burn Wrestling Tag Team Champion (1)
Dangerous Ground Entertainment World Champion (1)
Dangerous Ground Entertainment United Kingdom Champion (3)
Dangerous Ground Entertainment Oceanic Champion (9)
Dangerous Ground Entertainment Tag Team Champion (1)
Dangerous Ground Entertainment Hall of Famer
References