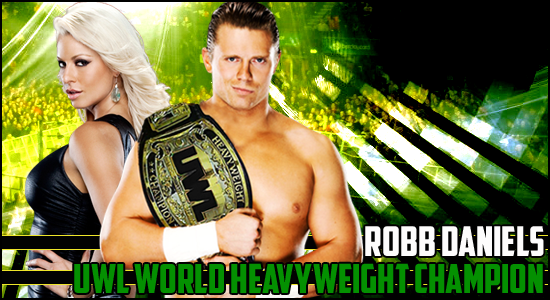 Name = Robb Daniels
 Aliases = "The Headliner"
 Age = 33
 Debut = 1998
 Height = 6'6"
 Weight = 235 lbs.
 Birth Date = May 29, 1980
 Birth Place = Lexington, KY
 Home Place = Knoxville, TN
 
 Wife = Lauren Parker
 Manager = Bret Hamilton 
 Public Relations = Dexter White

 Entrance Music:  "Gangsta's Paradise" by Coolio   
 Home Promotion = Universal Wrestling League

Background Info
Born in Lexington, Kentucky--Robb Daniels was destined for greatness. Early on his childhood he was fascinated by pro-wrestling among other sports. During his adolescence he spent much of his time either in the basketball gym or on the football field earning several college scholarships to various schools. Daniels would choose to learn the ways of corporate america earning a business degree while studying economics, finance and marketing. Daniels is sometimes mistakenly billed as a Toronto native however that is not the case. He did receive his wrestling from the many of the elite technical wrestlers in the business. Although the personality, confidence and swagger came natural to Robb Daniels.
Daniels would eventually get his break into the business during his rookie year shortly after his marriage to his first wife Jessica. The two were childhood sweet hearts and travelled all over the states before heading over seas along with his tag team partner Jay Jefferson. Daniels and Jefferson were a dominant tag team. Winning tag team gold everywhere they went they were known for there cohesiveness and expertise as a team. After the tag team era for the team was over many of the promoters in each fed they were in feuded the two against each other. The two battled for years for each promotions top singles titles. Over Daniels 13 year career he managed to have a total of 14 Heavyweight Championship reigns.
Daniels made a return to the ring in late 2009 in the fed that he calls home...the Universal Wrestling League. He came back with an old friend in Flap Flanagan and formed a stable known as The Flanchise along with there good friend "The Phenomenal" Blu. Robb & Flap were defeated by the at that time Tag Team Chamions—The Maxx and Robbie Venom. After that loss the two were to dissolve there team.
It wouldn't take long for Daniels to find new friends especially after acquiring the services of a dear old friend, Bret Hamilton. With Hamilton resetting Daniels' career path he helped align him with a new up and coming faction known as the War Machines. For the next year Daniels and the War Machines would dominate UWL. They injured and retired as many as 10 Superstars. Daniels won his first singles gold in over 3 years when he defeated The Bronx Bomber in a cage match to become the Heritage Champion. 2 Months later Daniels would lose the title in a Fatal Fourway match against Robbie Venom. Daniels would invoke his rematch clause a couple months later and successfully regained the title by defeating Venom.
Over the next three months Daniels would see his relationship with the War Machines dissolve especially with his at that time greatest ally Michael Sharp. Sharp had become the #1 Contender to Daniels' Heritage Championship. Leopold Jakobs had solidified himself as a true contender also. The three would square off in an epic triple threat match which would eventually lead to Sharp winning the Heritage Championship. Not only did he leave the ring with Daniels' title but he also left with his wife Jessica.
Robb & Jessica were soon after divorced. Daniels left the War Machines to align himself with John Anthony and Stephen Callaway. With his new found stablemates he would from that point on be referred to as "Mainstream". The group would go on to have several different members with the departure of Anthony and expulsion of Callaway--Daniels would begin teaming with Joey Hollywood under the name of Mainstream and would become the UWL Tag Team Champions during the Summer of 2011 and hold the titles until early 2012. After losing the titles to Bad Company in January 2012 both Daniels and Hollywood recruited a young talent by the name of Justin Brooks to be the third member of Mainstream. Both Daniels and Hollywood would receive title shots against the UWL World Heavyweight Champion and both would come up empty handed. Shortly after there contracts would expire and both left UWL. Hollywood for good and Daniels for several months.
Daniels would travel the indy scene making multiple appearances during the Spring and Summer of 2012 in companies such as Immortal Pro Wrestling and WARPED Wrestling. Although Daniels enjoyed his time of being the big fish in a small pond he would grow home sick and return to the Universal Wrestling League just in time for the 7 Year Celebration and to reform the group of Mainstream with Justin Brooks and new ally Jacob Davies. The three would take the wrestling world by storm--acquiring each of the Championships and adding another member in Angelo Valour.
Entering 2013, Davies as the UWL Heritage Champion, Daniels as the UWL Television Champion--Brooks & Valour as the UWL World Tag Team Champions the main focus was the UWL World Heavyweight Championship. The goal was to acquire the title at all costs and it didn't matter who won it as long as a Mainstream member did. Devouring all the other competition it would come down to Davies, Daniels and Valour at Honor & Glory in March of 2013 to decide the UWL World Heavyweight Championship. Daniels would lose in his second opportunity at the title where Angelo Valour would become the UWL World Heavyweight Championship taking the title from Jacob Davies.
Daniels would spend the next month feuding with former Champion and stablemate Jacob Davies on who would be the next person to challenge Valour for the World Title. While Valour would defend the title against Troy Vincent at Tokyo Experience--Daniels and Davies faced in a bull rope match. Davies would ultimately win leaving Daniels on a horrible losing streak and in a moment of disarray. He would at that time step away from the company to gain his composure and return at Windy City Navigation to declare himself as the first entrant in the illustrious 2013 Coronation Cup tournament.
During his month away from the ring he would target men such as Drew Stevenson, Jason Michaels and Jacob Davies. Each of these men had defeated Daniels earlier in the year and he was hell bent on his 'Revenge Tour' to get some redemption on the indivduals. Although Stevenson and Daniels would not meet again--Stevenson would suffer an attack at Windy City Navigation at the hand of Daniels. Daniels would spend the next several weeks going undefeated in Coronation Cup block stage competition securing Block A by defeating his arch rival Jacob Davies.
At Destiny VII he would defeat Jason Michaels in the semi-finals and then Xplode in the finals to become the 2013 Coronation cup winner. he would go on to face the champion Frankie Cocheese at Nightmare IV in October and defeat him to fulfill his destiny and become the UWL World Heavyweight Champion and first ever UWL Grand Slam Champion. Although Daniels reign would only last to the 8 Year Celebration he would finish his career strong with wins over several hall of famers and leaving the sport in a better way than he came into it. Daniels final match in UWL would be in a loss to Arch Stanton and Justin Brooks in a triple threat elimination match for the UWL World Heavyweight Championship at Access Denied VIII.
After Daniels elimination in which he was dog piled pinned by both Brooks and Stanton the two would step back as Jay Jefferson joined by the rest of the UWL Roster would give him a round of applause. Daniels would exit the arena by a standing ovation from the audience.
Championship History: (E-Feds in Chronological Order)
FWEN (Fantasy Wrestling Entertainment)
United States Champion
Tag Team Champion w/Jefferson
CWEF (Championship Wrestling E-Federation)
World Heavyweight Champion x2
Tag Team Champion x9 w/Jefferson
WCWE (World Championship Wrestling Extreme)
World Heavyweight Champion x2
POW (Pro Organizational Wrestling)
World Heavyweight Champion x2
WWE-Fed (World Wrestling E-Federation)
International Champion Intercontinental Champion
WWE (World Wrestling Extreme)
World Heavyweight Champion x2
D2D (Dare 2 Dream)
OMEGA World Heavyweight Champion
Defeated Jay Jefferson to become Champion
MPW (More Power Wrestling)
World Heavyweight Champion
United States Champion x5
Extreme Champion
Tag Team Champion x4 w/Jefferson
UWA (Universal Wrestling Association)
World Heavyweight Champion
Tag Team Champion w/Jefferson
KAW (Kick Ass Wrestling)
World Champion x2
PWF/AWA/Zero-One (Pro-Wrestling Federation/American Wrestling Alliance/Zero-One)
United States Champion
Tag Team Champion x2 w/Jefferson
EWE (Extreme Wrestling Entertainment)
World Heavyweight Champion
HWL (Honor Wrestling League)
Tag Team Champion w/Jake DeMarte
UWL (Universal Wrestling League)
World Heavyweight Champion World Tag Team Champion w/Joey Hollywood Heritage Champion x2 Television Champion 2013 Coronation Cup Winner
Ad blocker interference detected!
Wikia is a free-to-use site that makes money from advertising. We have a modified experience for viewers using ad blockers

Wikia is not accessible if you've made further modifications. Remove the custom ad blocker rule(s) and the page will load as expected.