Roland Bishop
Talk

0
11,352pages on
this wiki
Roland Malcolm Bishop

Billing information

Ring name(s)

Roland Bishop

Height

6'2"

Weight

230 lbs.

Date of Birth

October 24, 1983 (Age 28)

Hometown

Atlanta, Georgia

Theme music

"Ambitionz Az A Ridah" by 2Pac

Affiliation(s)

N/A

Federation(s)

N/A

Previous federation(s)

Ultimate Fighting Association

Wrestling information

Wrestling style

Technical/Aerial

Signature Move(s)

"A-Town Stomp"
"New School"
Multiple German Suplex

Finisher Move(s)

"Blackout"
"Southside"

Trainer

Ray Johnson

Professional career

Debut

December 6, 2004

Accomplishments

Ultimate Fighting Association World Champion

Retired

N/A
Roland Malcolm Bishop (born October 24, 1983) is an American Professional Wrestler and former amateur wrestler best known for his tenure in Ultimate Fighting Association. Bishop has an amateur wrestling background, including wrestling in high school and college.
Early life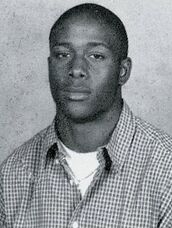 Roland Malcolm Bishop was born in Decatur, Georgia, the son of Malcolm Bishop, a US Army Infantry Officer, and Kamira Bishop, a former jazz singer. Roland was raised in what he referred to as a "daily hell." His childhood house was one of continual violence and abuse, stemming from his alcoholic father. After his parent's separation at the age of six, Roland and his family relocated to a poverty-stricken urban neighborhood that was plagued by gang violence in the inner city of Atlanta, Georgia. From then on he was raised solely by his mother. Roland hasn't seen his father since, nor does he ever care to.
He endured a complicated relationship with his mother who turned to drugs after barely surviving an abusive relationship with Roland's father. This led Roland to fully embrace the street life, where he spent years in and out of group homes and juvenile detention due to numerous misdemeanors and a few serious crimes. Throughout his youth, Roland continued down this dark path, where he was frequently involved in robberies, fights and gang violence.
It wasn't until his sophomore year in high school, where a near-death experience turned his life around. A man, accompanied by three others, beat Roland nearly to death over a misunderstanding. As Roland attempted to flee, he was shot in the arm by one of the assailants. While recovering in the hospital from his wounds, he made a choice to leave the streets behind before the things that come with the street life style, getting killed or going to jail, would catch up to him again. He knew he wouldn't be so lucky the second time around.
It was around this time that his mother Kamira passed away from a drug overdose. Roland recalls the relationship with his mother as "tough love," stating that she had done the best she could to provide for him but was unable to survive living in terror for years. To this day, Roland has stated that he holds no resentme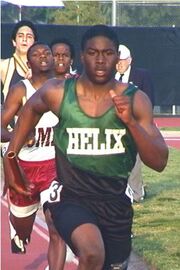 nt towards her and wishes he could've done more to protect her from the abuse she endured. "I fight and do this everyday to let my mom know that she didn't do a bad job. That every punch and beating she took… it wasn't for nothing." Following her death, Roland moved into his grandparent's home on the outskirts of the city and quickly found solace in sports.
He involved himself in many high school sports to keep off the streets, and was named one of Georgia's finest high school athletes. He starred in wrestling (heavyweight state champion his junior and senior years), track (state 100 meter champion), and basketball (two-time All-State selection and MVP of the year, and GHSA Champion). Roland is known to credit wrestling for saving his life, stating that "The only reason I finished high school was because I needed to keep up my G.P.A. to stay on the team." Roland acknowledges how lucky he is to have made it out of his neighborhood, stating that very few people get a second chance at life.
College
He then went on to Coastal Georgia Community College, where he again starred in wrestling and track and became a NJCAA All-American and NCJAA Champion before transferring to the University of Georgia, where he continued his success. During this time, Roland also picked up an interest in boxing and began training outside of school.
In his senior year of college, Roland was arrested for beating another male student (for undisclosed reasons) and was expelled from the University of Georgia. He spent two years in prison on battery and assault charges and his dreams of continuing his amateur wrestling career or perhaps even trying for the Olympic team were gone. However wrestling saved his life once, and it would prove to save his life again.
Ultimate Fighting Association
As a lifelong pro-wrestling fan, he jumped at the opportunity to become a professional wrestler. After a few independent wrestling circuits, Roland joined his first federation, the Ultimate Fighting Association. His rookie years were quite unsuccessful. He dated UFA fighter Kellie Kwik briefly, before quickly developing a cocky personality. By the following year, he was hated by nearly the whole locker room. Roland had some minor feuds against fighters Alex Matthews and Ace before he suffered a career-threatening injury in a match against Dieter Stryker, where he was thrown off the top of a steel cage and sent crashing on to the announcer's table.
The leg injury required an operation a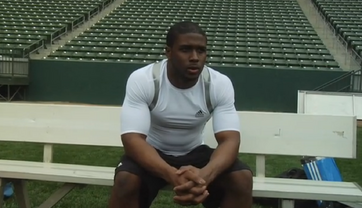 nd the rigorous rehabilitation process kept Roland out of action for over 6 months. Roland to this day wears a knee brace on his left leg because of this injury.
It was in this time where Roland re-evaluated his current status as a fighter. He decided to shed himself of his cocky attitude and show the UFA who the true Roland Bishop was.
A month later, he returned to the ring. Without winning any titles, he gained the respect of his fellow fighters quickly, climbing his way to the top until the UFA closed down. Nearly a year later, the UFA re-opened and Roland continued his streak of dominance with wins over fighters The Vampyre Lestat, Enigma and James Lightening and eventually claimed the World title.
Present
After a long three year hiatus, Roland has finally decided to make his return in the professional wrestling world.
Personal life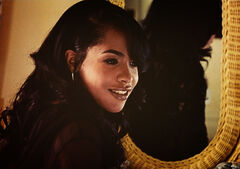 Roland currently resides in a suburban home he inherited from his grandparents (after they passed away during his time in the UFA), which is located just outside the city of Atlanta.
Roland has two cousins, Layla Jackson, a make-up artist and the owner of a local beauty salon, and Tyrone Jackson, a mechanic. The three have a close bond and are the only members of his family that Roland remains in contact with.
Features
Roland has quite a few tattoos and scars. A bullet-wound scar on his upper right arm remains barely visible as it now covered by an elaborate tattoo of a cross. He also bears a large scar on the right side of his chest. The phrase 'Until the End of Time' can be read travelling up his left forearm. A faded Wu-Tang clan logo tattoo sits on the back of his left calve while a black panther tattoo rests on the back of his right calve. Three-dots are tattooed on the web of his hand between his thumb and index finger. The letters 'G D' with the numbers '74' can be seen behind his ear. When asked about the three-dots and the GD tattoo he says that "They mean absolutely nothing to me, except the mistakes that I've made in my life."
Personality
Passionate may be the best word to describe Roland. At first glance, you would not suspect Roland to be the superstar that he is.
But look into Roland's eyes and you'll find anger there. Not just a flash of anger, but a boiling, deep-seated anger that betrays something important about him. He doesn't let it flash too often, but when he does, you can tell it means something. From his troubled childhood, from being viewed as the underdog from the streets, a giant chip forged from anger formed on his shoulder. It filled his whole being. But Roland uses this as fuel to his fire.
He grew up on the troubled streets of Atlanta and rarely speaks of his former life (something that he is trying hard to forgive and forget). Roland has a street edge to him, but is not the type of person to glorify it like some. Despite his past, Roland isn't ashamed of where he came from and proudly represents his Southern roots. Known to speak his mind without regret (foul-mouthed), but also known to back up his game. Always the guy who surprises you, the guy who's tougher than you think, they guy you can never break.
Relationships
Rachael Mills
Roland's only significant relationship was with childhood friend Rachael Mills.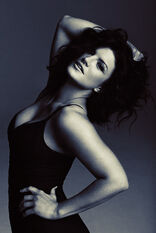 Their friendship was born in Atlanta and grew from their love of wrestling and similar family backgrounds. He developed a close relationship with her that lasted until college. The two split in their senior year for undisclosed reasons and have not been in contact since. Rachael went on to become a successful professional wrestler herself in various promotions across the U.S. and Japan. When their past relationship became public and she was asked to comment about Roland, Rachael stated that "He was one of my best friends. He was someone I could trust completely. It was beyond friendship for us. The type of relationship we had... you only get that once in a lifetime. But time has passed and things have changed. I'm not sure if we could ever go back to before." Roland has yet to comment on his relationship with her.
Destiny Rollins
R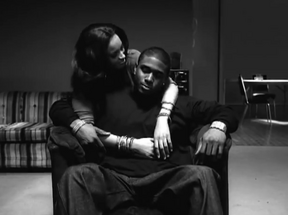 oland is currently in an on-again, off-again relationship with aspiring singer Destiny Rollins. The two met at a mutal friend's party and instantly connected. Their relationship appeared to be ideal on the outside, but one can't build a relationship based solely on dreams and illusions. Roland is known to have a huge heart but is sometimes burdened by his inability to achieve what he is capable of. He is constantly reminded of his troublesome past and is wounded by the lack of love from his family at a young age. Both have skeletons in the closet that they are afraid to reveal and their relationship has progressed through a lot of ups and downs, but they are learning to cope with each other's flaws.
Links