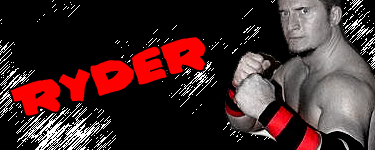 COMPANY: Global Wrestling Coalition
---
CHAMPIONSHIPS: GWC United States Champion (4/18/07-6/25/07)
---
GIMMICK: Unpredictable. Fearless. Master of the mind games. Ryder is the Global Wrestling Coalition's resident egomaniac. This man is a loyal staple of the company, despite his distaste for his fellow superstars. He cares about nothing but gold, glory, and himself. His dark past only furthers the mystery surrounding his true nature. Ryder walks with the elite and accepts nothing less. Remember, it's HIS kingdom come, HIS will be done. And God help anyone who dares to tread on HIS Path to Hell.
---
APPEARANCE/ATTIRE: Ryder has short blonde hair and a piercing set of deep blue eyes. His ring gear consists of black wrestling boots, black wrist tape, and black tights with white fire coming up the sides. Outside of the ring, he is usually seen in black pants, black boots, and a grey t-shirt with black smoke printed on the front and back and the word "GLORY" printed across the chest in white lettering.
---
ENTRANCE/MUSIC: "Kingdom Come" by Godflesh plays throughout the arena as strobe lights go off on the stage. Ryder emerges from behind the curtain to drink in the jeers of the audience. He ignores them and begins his arrogant stride down the ramp and toward the ring. He pauses halfway down to shoot his fists out to the sides and tilt his head back as an impressive amount of pyro explodes behind him on the stage. Once the pyro finishes and the strobe lights stop, he continues to the ring, jumps up to the apron, and steps inside. Ryder goes to the oppositie side of the ring to climb the turnbuckles and again shoots his fists out to the sides as the crowd continues to boo him mercifully. Finally, the music fades and we are left with Ryder in the center of the ring, wearing his ever present smirk of confidence as he awaits the start of the match.
---
HOMETOWN: Truth or Consequences, NM
---
ALIGNMENT: Heel
---
STYLE: X Division
---
HEIGHT/WEIGHT: 6'4", 245 lbs.
---
STABLE: Former Leader of the now defunct Affliction
---
FAVORITE MOVES: European uppercut, release German suplex, spike piledriver, sit out powerbomb, double arm DDT, superkick
---
SIGNATURE MOVE #1: Ryderplex (Capture Suplex)
---
SIGNATURE MOVE #2: Vodka Sunset (Dragon sleeper is applied while Ryder digs his knee into the back of his opponent)
---
FINISHING MOVE: Last Ryde (Tornado DDT hit off of any available surface)
---
QUOTE: "My kingdom come, My will be done."
Ad blocker interference detected!
Wikia is a free-to-use site that makes money from advertising. We have a modified experience for viewers using ad blockers

Wikia is not accessible if you've made further modifications. Remove the custom ad blocker rule(s) and the page will load as expected.