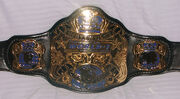 The Supreme Federation Wrestling (SFW) Galaxy Championship is a professional wrestling title contested in Supreme Federation Wrestling. The title is a combination of the TEW United States belt and the LFW Brute Force title. The current holder is Val Alcan. The belt is thought to be a more Mat-Wrestling and Scientific/Technically-Gifted title, directly opposite of the United States Brute Force Championship, which has the stigma of being more geared towards Brawling-Oriented or Power-Oriented Wrestlers.
History
SFW Galaxy Championship
Pyro (aka Barrett) defeated Sean "The Electric Lightning" Hawkwind at LFTEW Unholy Clash I
Sean "The Electric Lightning" Hawkwind defeated Barrett at TEW Cutting Edge
Sean "The Electric Lightning" Hawkwind Relinquished title to The Dragon
The Truth defeated The Dragon
"The Mastermind" Christian defeated The Truth at Maximum Impact
Christian relinquishes title
Victor Von Braun defeated Sean Hawkwind in the Ultimate X at SFW Redemption
The Franchise defeated Victor Von Braun at SFW Cutting Edge
The Dragon defeated The Franchise at SFW City of Kings III
The Reaper defeated The Dragon at SFW Lethal Lasceration;
The Reaper and Tommy Polo simultaneously win the belt in an Ultimate X match at No Remorse
Tommy Polo defeated The Reaper at SFW Vendetta; April 8, 2007
The Franchise defeated Tommy Polo and Sean Hawkwind at SFW Never Surrender; April 29, 2007
The Rise defeated The Franchise at SFW Exodus; October 28th, 2007
The Franchise defeated The Rise atSFW Awakening; December 16th, 2007
Val Alcan defeated Charles Forde, and Franchise at SFW: Vendetta
Current Champion
Val Alcan is the current SFW Galaxy Champion. He defeated Charles Forde, and then-champion The Franchise in a Triple Threat match at Vendetta.
Facts
The Galaxy belt is the only singles title from the LFW and TEW era without a counter-title on the other show
Reaper and Tommy Polo are the first Dual Champions after simultaneously winning the belt in an Ultimate X Match
As of yet, the SFW Galaxy Championship has seen a total of ten different champions
The Franchise has been Galaxy Champion more than any other SFW Wrestler, a total of three times!
The Rise has the distinction of the shortest title reign without it ending via a relinquish
See also
External links
Ad blocker interference detected!
Wikia is a free-to-use site that makes money from advertising. We have a modified experience for viewers using ad blockers

Wikia is not accessible if you've made further modifications. Remove the custom ad blocker rule(s) and the page will load as expected.