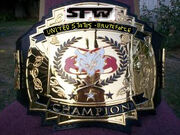 The Supreme Federation Wrestling (SFW) Brute Force Championship is a professional wrestling championship contested in Supreme Federation Wrestling. The Title is a combination of the TEW United States belt and the LFW Brute Force title. The current holder is Ty Patterson. The belt has the stigma of being more geared towards Brawling-Oriented or Power-Oriented Wrestlers, directly opposite of the SFW Galaxy Championship which is thought to be a more Mat-Wrestling and Scientific/Technically-Gifted title. Although the newest champion Ty Patterson breaks this long held stigma, though he won the match in a Steel Cage.
Lineage
LFW Brute Force Championship
Millenian awarded the Brute Force title.
TEW United States Championship:
Barrett defeated Night Wolf, The Franchise, & Christian at LFTEW Unholy Clash
Barrett Relinquished the title
The Franchise Defeated Night Wolf at TEW Cutting Edge
Zero Defeated The Franchise
SFW United States Brute Force Championship:
Zero Defeated Millenian at Unholy Clash to unify the belts
The Anarch Defeated Zero at City Of Kings II
Barrett Defeated The Anarch
The Anarch Defeated Barrett & Zero
Tommy Polo Defeated Zero by default at Maximum Impact
Sean Hawkwind Defeated Tommy Polo
Sean Hawkwind Vacates title at SFW Cutting Edge II
Smooth Sonny Defeated Tommy Polo at SFW Cutting Edge II
The Don Defeated Smooth Sonny at SFW For Your Life
Smooth Sonny Defeated The Don at SFW City of Kings III In a TLC Match
Jim Rourke Defeated Smooth Sonny at SFW Vendetta
Jim Rourke is stripped of the title
Skar wins a 29 man Battle Royal to become the new champion at SFW For Your Life
Ty Patterson Defeated Skar at SFW Never Surrender
Current champion
"The Suicidal Surfer" Ty Patterson is the current champion, ending the near month long reign of Skar at SFW Never Surrender in a Steel Cage match!
See also
External links
Ad blocker interference detected!
Wikia is a free-to-use site that makes money from advertising. We have a modified experience for viewers using ad blockers

Wikia is not accessible if you've made further modifications. Remove the custom ad blocker rule(s) and the page will load as expected.